Keeping your company's name in the forefront of your client's mind is a continious struggle that business owners have to battle. Although we specialize in business cards and gift cards, we have a variety of marketing materials that can help you stand out from your competition.
The most important aspect of planning out your company's presence is consistency. You want your branding to be the same whether you are looking at an email, your website, signage or even your membership cards.
Here are some of our top marketing materials for your business
Price Tags
From delis to clothing stores, price tags are a big part of their business.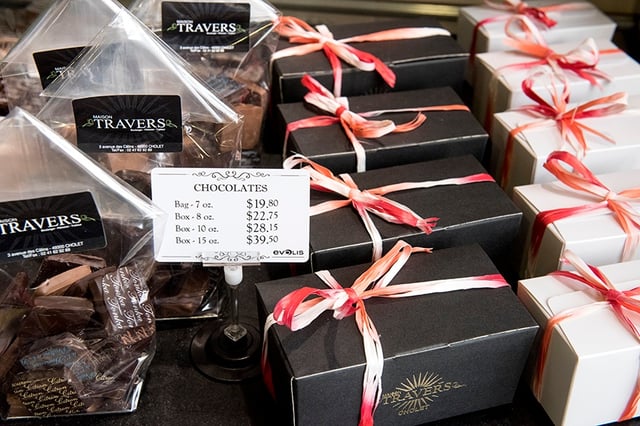 Clear Gift Certificates
A gift certificate is a great way to bring in new business. Whether you give them away to potential clients at an expo or sell them at your location, they are a great way to increase revenue and get more traffic in your location.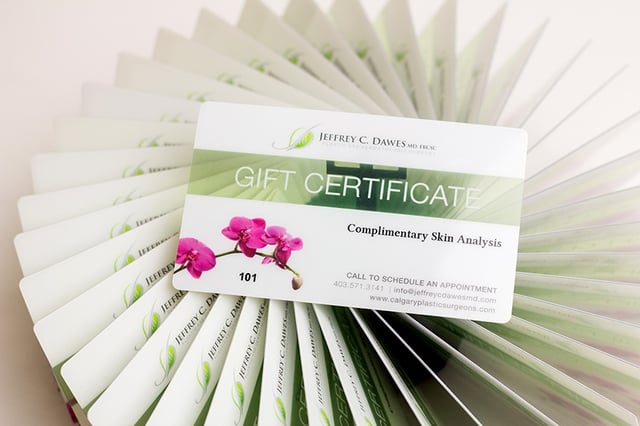 Plastic Coasters
Nobody likes rings on their tables, plastic coasters are a great way to prevent that. Not only will they protect your customer's table, but they will also have your branding in front of them to keep you fresh in their mind.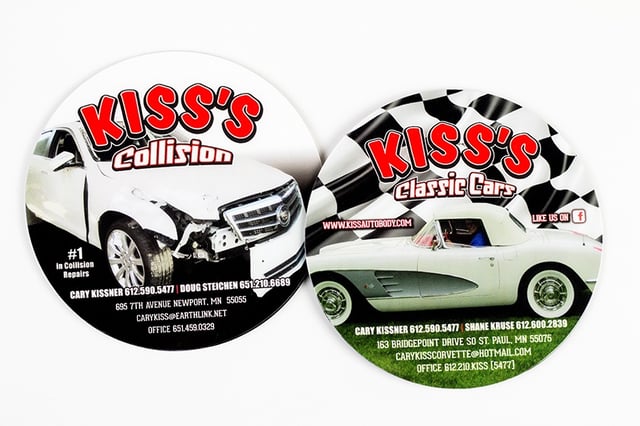 Custom Luggage Tags
A great way to keep your business memorable is to have multiple uses for your marketing materials. Custom luggage tags give your marketing pieces an added purpose that will ensure they are used and don't get thrown in the trash.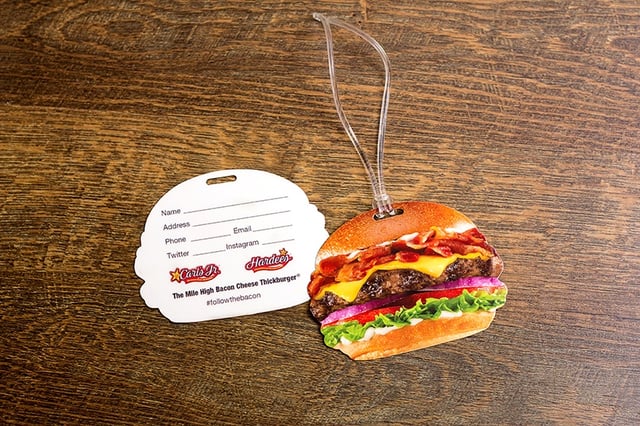 Bookmarks
Similar to luggage tags, our custom bookmarks give your marketing the extra kick with a unique second purpose.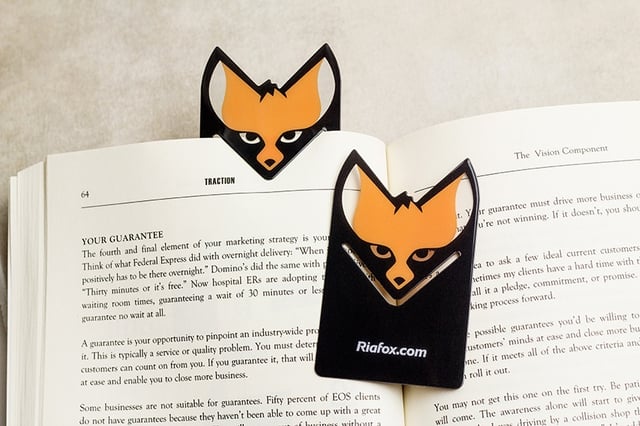 Promo Cards
A great way to bring new clients in to your business is with promo cards similar to the "have one on me" cards for Morrissey's Irish Pub. Carry a small stack with you and when you meet someone that you feel is a good match for your business you can give them one of your promotional cards.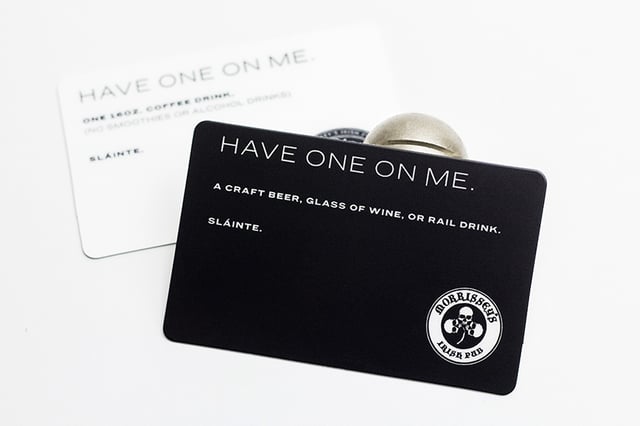 Door Hangers
Whether you are using door hangers in a door to door promotion or handing them directly to clients, these are an excellent promotional piece. For instance, many of our realtor clients use them to welcome their new clients to their new home or our wedding clients give them to guests as Do Not Disturb door hangers.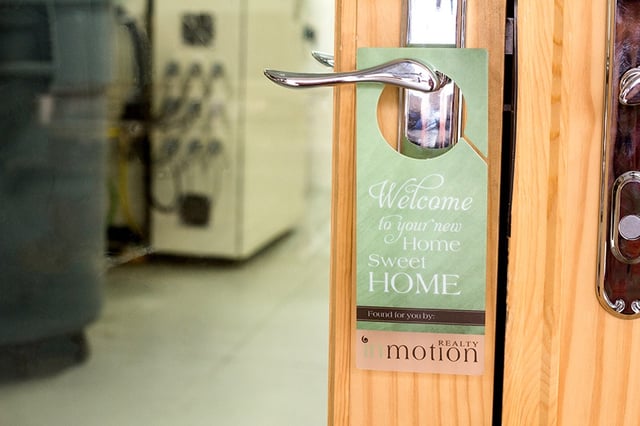 Fundraising Discount Cards
Our fundraising cards are great for silent auctions as well as traditional fundraisers for organizations. You can choose from a custom shape that is eyecatching for the auction or our standard credit card size with supporting businesses and their discounts listed.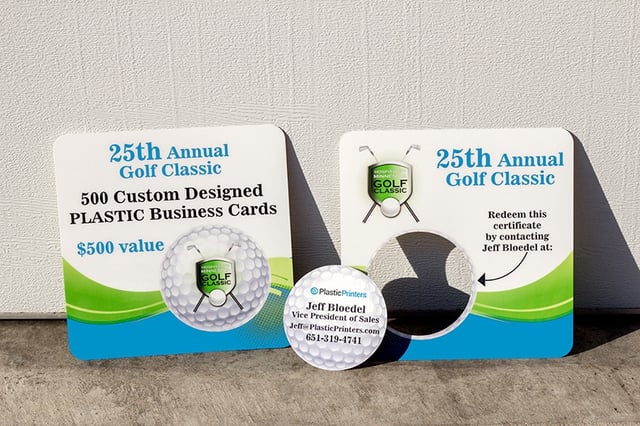 Gift Cards
Gift cards are often thought of as only a source of payment, however if given the opportunity they can be a fantastic marketing piece as well. Many businesses use them to help increase sales with "Buy X, Get Y" promotions as well as keeping them in a highly visible area which often sparks the clients mind to buy them for friends and family.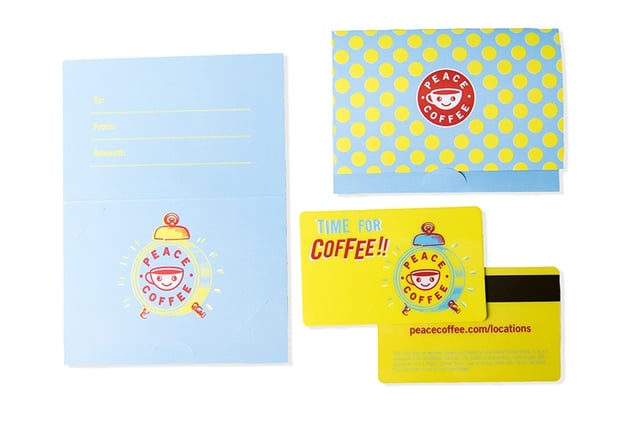 Custom Hotel Key Cards
Many conventions opt for custom hotel key cards for a unique marketing piece, that they can include event information on, that their attendees will already be carrying with them.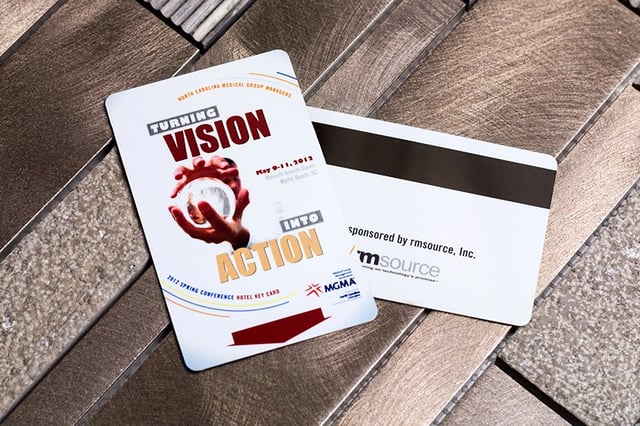 Indoor Signage
Items such as indoor signage are especially important in your marketing materials. They are something that every single person that comes into your business will see. Rich Coast Coffee Roasters and Extrava Coffee Roasters utilize plastic cards to label the different blends that they offer. A large beneifit that they receive is the durablity of the plastic and they won't have to dispose of a label every time coffee is spilled on it.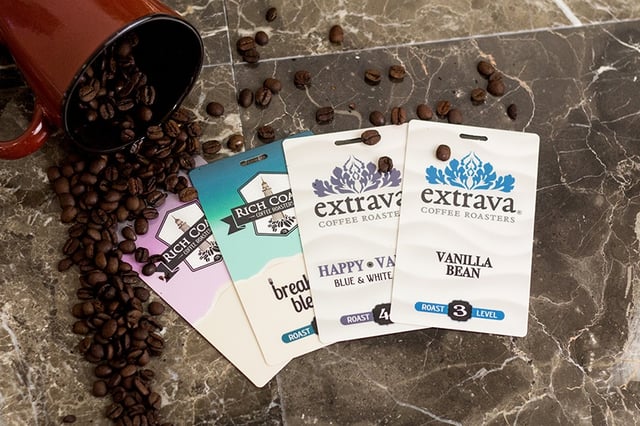 Key Tags
Whether you are using key tags as a tracking device or just a promotional product, these plastic marketing materials are sure to keep your company within arm's reach.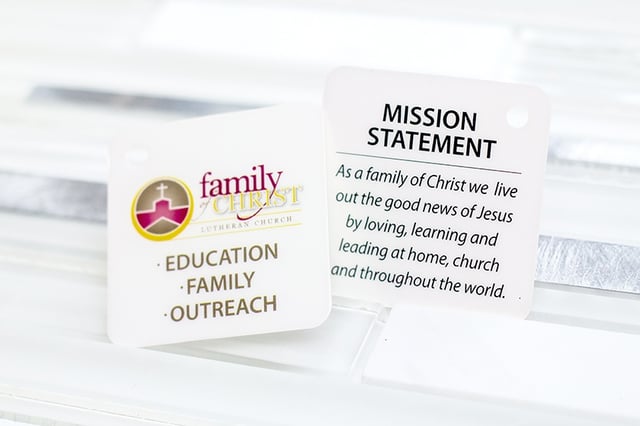 Membership Cards
A great way to thank your most frequent or your best clients is by offering a membership program. These programs can be set up to treat your customers after a certain number of visits, a certain dollar amount, or even with different point systems.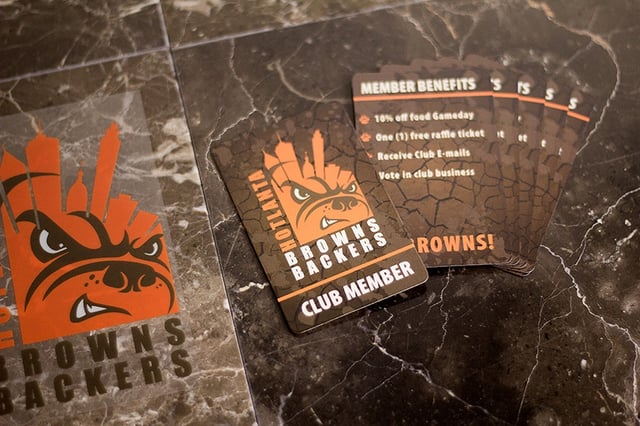 Parking Permits
If you have limited parking spaces available, a great way to give your clients that little extra warm fuzzy is to give them a reserved parking space.
Membership Rewards
Our clear plastic cards give a great alternative to traditional Spot UV printing by printing on the reverse side of a clear plastic card. When you move the card around, the light will catch the gloss finish of the plastic making it shine. Another great option to achieve this look is to utilize our foil stamping option.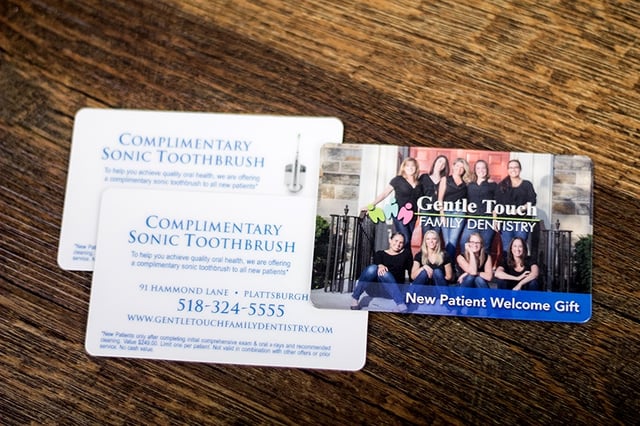 Photo Booth Props
Interactive business cards have been and continue to be a very popular choice for our clients. When you hand someone a unique photo booth prop-style card, chances are they are going to immediately start playing with it. To get the most out of these cards, include a hashtag on the card and encourage clients to share photos with these cards socially.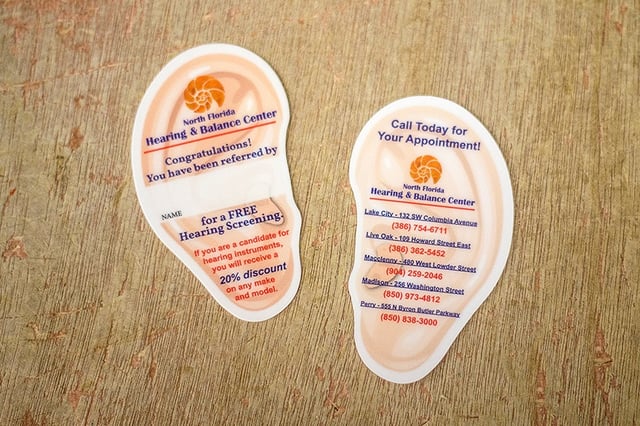 Frosted Business Cards
Similar to clear business cards, our frosted business cards are very eye-catching because they give a transparent card look, while minimizing the area behind the card. They also feature a silky-smooth and luxurious texture, which brings your business cards to the next level.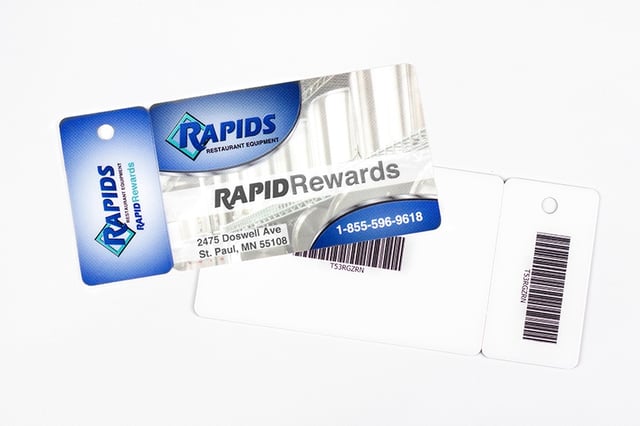 Matte Finish
Our premium press offers a matte-textured finish that screams prestige. Once you hand your card to someone, they are going to hold on to it a bit longer just to feel that texture.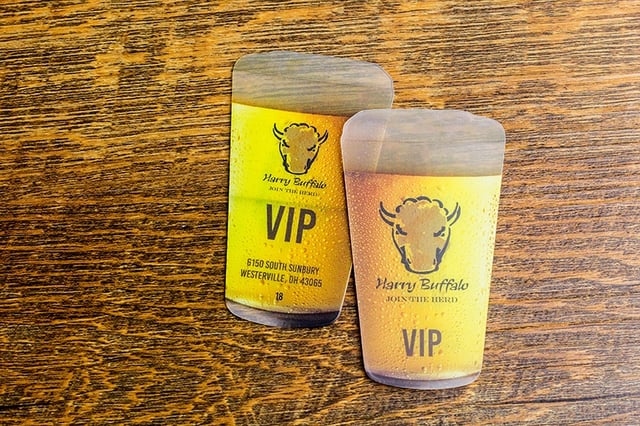 Wood Business Cards
No need to get splinters when you hand out your marketing materials with wood-finished cards printed on plastic. When printing wood finish, we are also able to control the grain and design of the wood through a variety of imagery choices.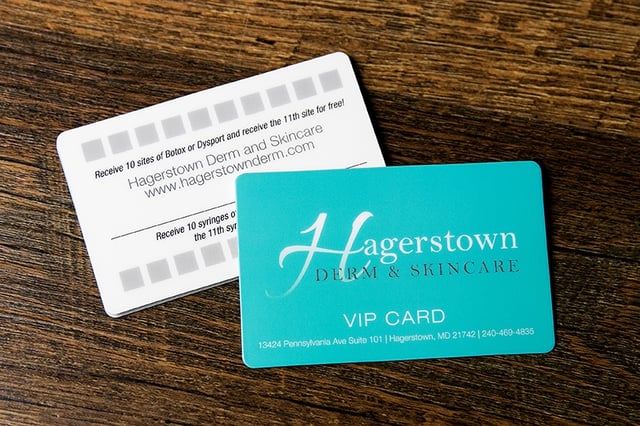 Let our team of expert consultants help you design a custom business card that will last the test of time.