The holiday season is just around the corner, which means now is a fantastic time to stock up on all of the custom marketing tools you'll need. Gift cards are one of the most impactful marketing tools for the holiday season for reasons I've explained a million times:
Gift cards are the most profitable product your business can sell.

Gift cards act as a referral, helping you to reach new customers.
The list goes on and on. Your business should consider using gift cards for the holiday season, but simply having gift cards isn't enough. Having a timely design helps capture your customers' attention and showcases that your gift cards can be used as a gift. Luckily, we're experts at that, and we've created ten generic holiday gift card designs that are just what your business needs this holiday season! Let's take a look.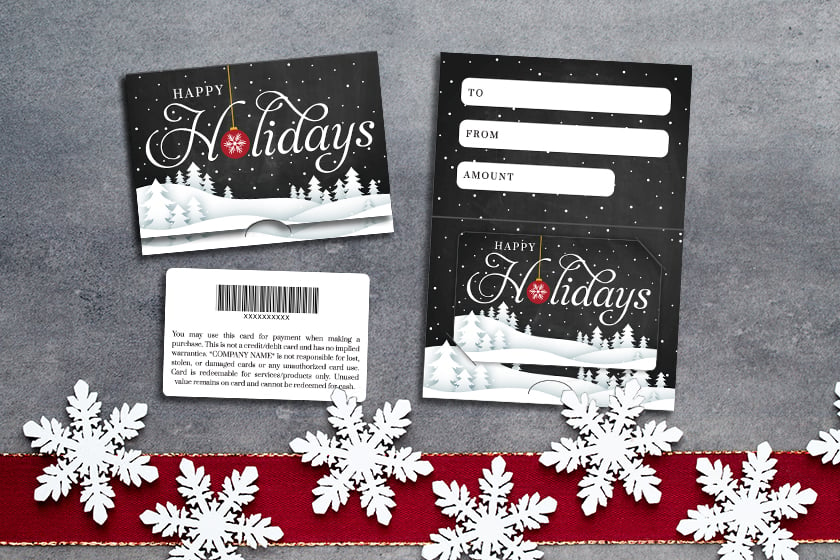 Holiday Gift Cards
This gift card design features a snowy backdrop that's sure to set the mood for some holiday shopping. Remember, inclusivity is important, and there are many holidays celebrated in the winter. The "happy holidays" message on these gift cards and backers is simple but inclusive; it is generic enough to celebrate any winter holiday.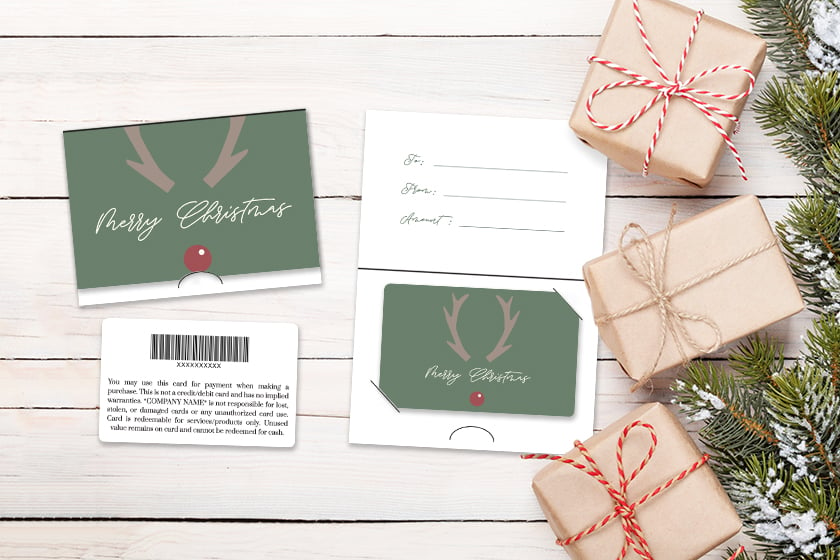 Christmas Gift Cards
While it's a good idea to keep your holiday gift cards inclusive, it's also okay to offer a Christmas-specific design or two. This Christmas gift card has a design inspired by Rudolph the Red Nose Reindeer. Using relevant imagery and symbols is a great way to help capture holiday shopper's attention. For more information on that topic, click here.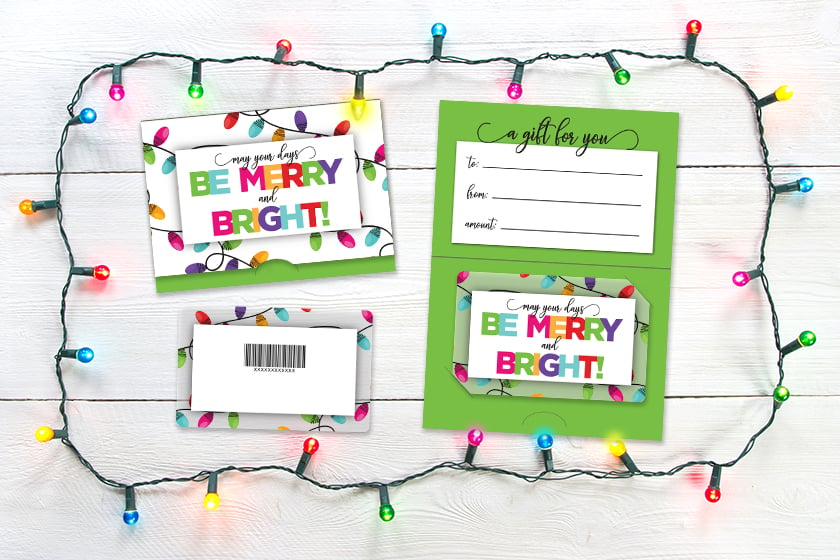 Gift Cards with a Bright Design
Get into the holiday spirit with gift cards that will help brighten your customer's day. With holiday lights adorning this gift card design, it is perfect for any winter holiday. The rainbow colors are fun and eye-catching.
Holiday Gift Cards & Gift Card Sleeves
While the gift cards we've looked at so far have all featured gift card backers, this holiday gift card has a gift card sleeve with a holiday design. Gift card backers and sleeves are designed to make your gift cards more gift-ready. Gift cards are often an impulse purchase, meaning customers buy them without originally intending to. Since sleeves and backers make gift cards more gift-ready and convenient, they can help encourage customers to make an impulse purchase.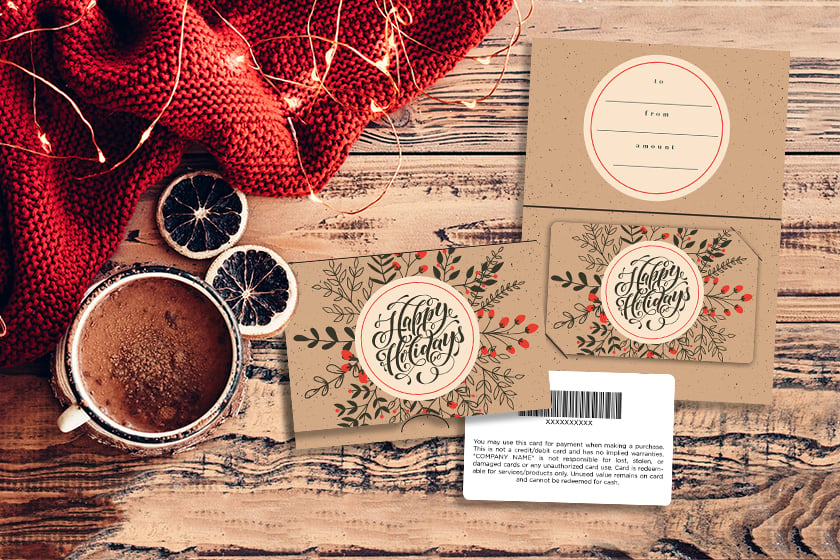 Holiday Gift Card Designs
Inspired by kraft paper, which is commonly used to wrap gifts, this gift card design is sophisticated and fun. The red flowers on the floral arrangement really pop to help make this gift card design a holiday standout.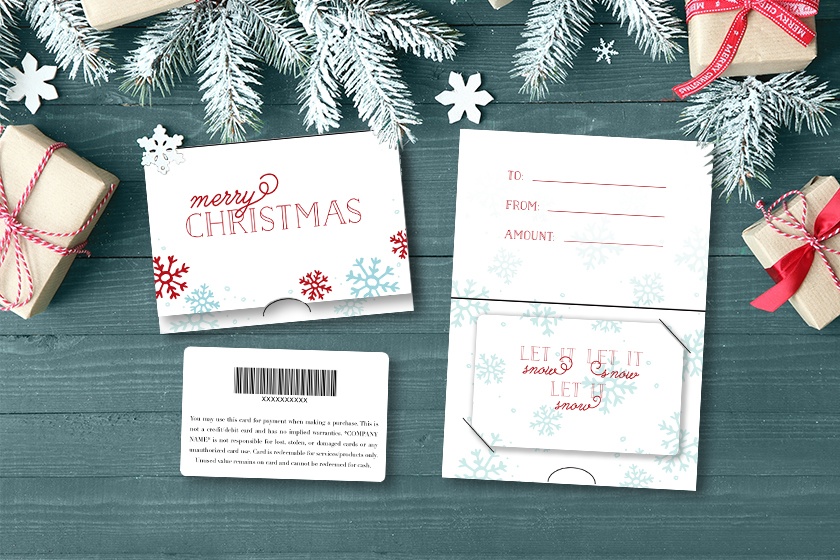 Christmas Gift Card Designs
Make it a white Christmas this year with this snowy gift card design. The card's message, "let it snow" is a reference to the famous holiday song. Whether you like or hate snow, there's no denying that it is a strong reminder of the holiday season.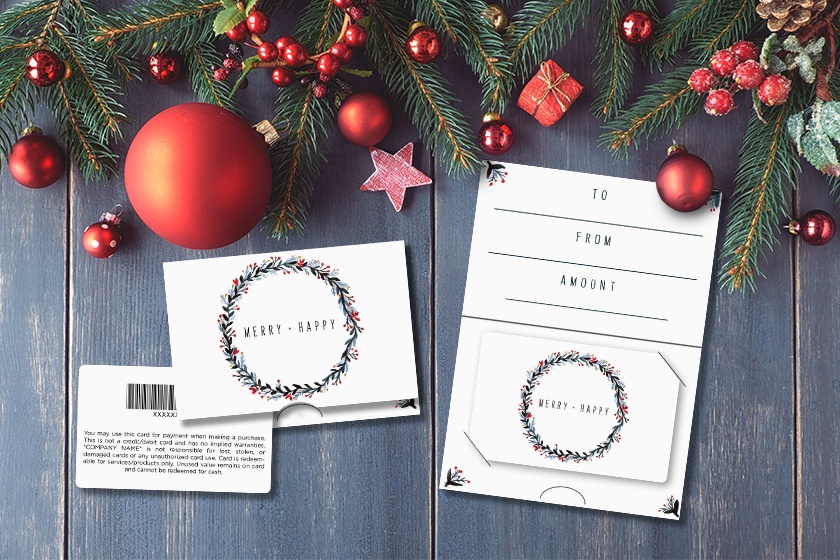 Holiday Gift Cards with a Wreath Design
I don't know about you, but just about everyone puts up a holiday wreath in my neighborhood. This holiday gift card uses generic text to include all winter holidays, and the design is a subtle but classy nod to the holiday season.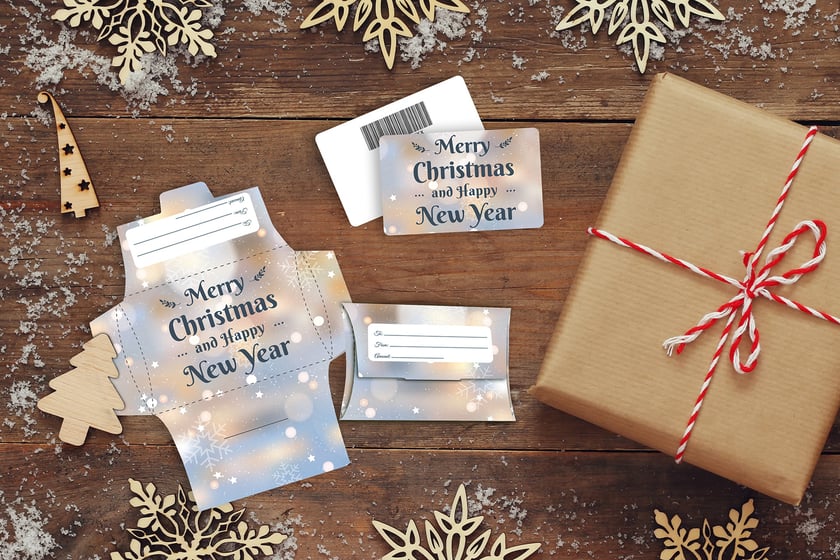 New Year Gift Cards
When you're choosing your holiday gift card designs, don't forget about the New Year! Believe it or not, three of the ten busiest shopping days of the year come in the days following December 25. That means some customers might be looking for New Year themed gifts. This gift card design mentions both Christmas and the New Year.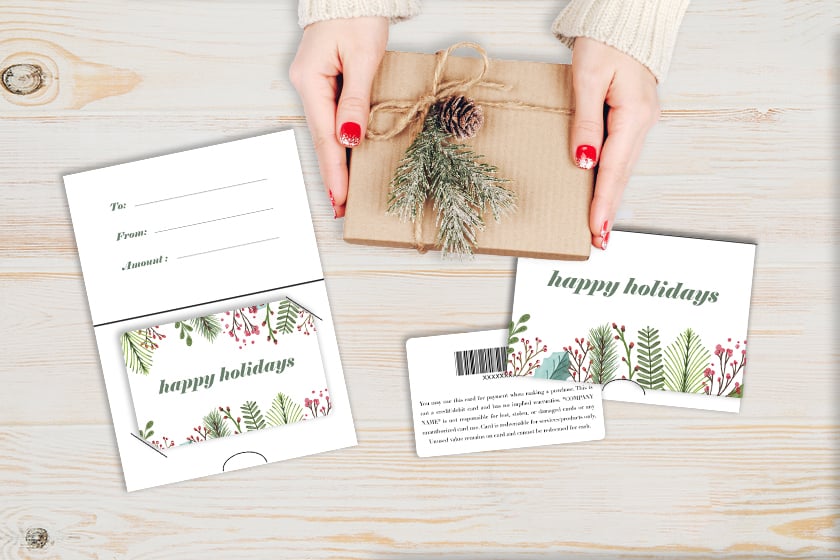 Gift Cards with a Simple Holiday Design
Sometimes simplicity can go a long way. While these gift cards are predominantly white, the colorful holiday branches really set this card apart. We love the way the branches frame the holiday message in the center of the card.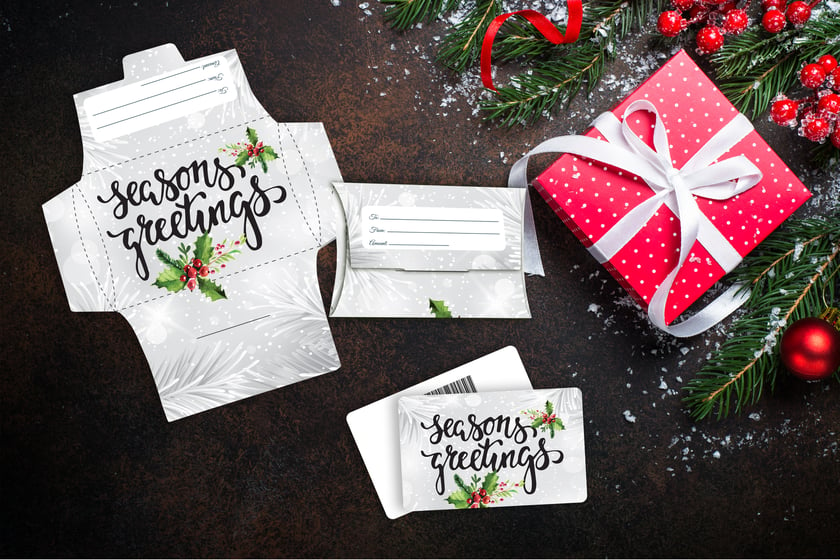 Seasons Greetings Gift Cards
"Season's greetings" is a salutation that can be found on millions of holiday cards every year. However, did you know that the phrase wasn't coined until the 1920s? That's a fun holiday fact. "Season's greetings" is a term ubiquitous with the holiday season, making this design perfect for the upcoming season.
---
Now is the time to stock up on holiday gift cards! We are happy to help you prepare for the holidays with any of these ten generic holiday gift card designs. Don't see the perfect design for your business? Don't worry; we specialize in creating custom gift card designs as well! Reach out to us today; we're happy to help!