While most people immediately think of retailers as businesses that benefit from the holiday season, restaurants can get a significant boost from the holidays as well. The impact of the holiday season on restaurants may be less publicized and subtler than the effect on retailers, it's still an excellent opportunity to boost revenue, foster growth, and more.
2020 has been a tough year for all businesses, but restaurants have been among the hardest hit. However, taking advantage of the holiday season can help lead you to the road of recovery. Need ideas on how your restaurant can capitalize on the holiday season? We've got you covered. Here's a look at three ways your restaurant can maximize the holiday season.
Use Your Restaurant To Host Holiday Events
The holiday season is a time of coming together, and where's a better place for a group of people to gather than your restaurant? You have the capacity to host groups, and you have delicious food for everyone to enjoy. From office holiday parties to family celebrations, your restaurant is the perfect spot to host holiday events.
Before you host an event, ensure that you, your staff, and customers will be safe and that the proper safety measures have been put into place. Depending on your location, your restaurant may have limitations on the number of people that can sit at a table or be in your restaurant. Check your state's guidelines for this information to see if hosting events is possible for your restaurant.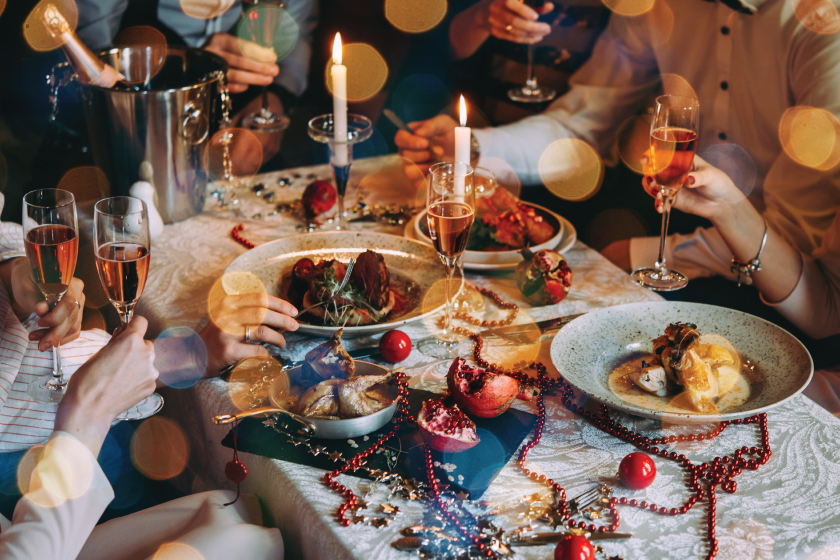 Hosting events at your restaurant for the holidays can be incredibly lucrative. Generally, events bring in parties that are larger and spend more money. Events bring in five to 20 times more revenue than a typical table. Additionally, margins are typically significantly higher with events versus a typical table. Events will also expose your restaurant to new customers, allowing you to build new relationships and hopefully drive future sales. All in all, events are a great way to bring in revenue during the holidays and help promote growth as well.
While hosting holiday events at your restaurant has many benefits, it will also take some work. For starters, you'll have to market this new service to ensure your customers are aware you offer it. Additionally, you'll need to be prepared to serve groups, which could require additional staff. Finally, you have to ensure you can serve these groups while keeping everyone safe. This may require safety supplies, PPE, and new safety regulations.
If your restaurant has the capacity to handle them, hosting events during the holiday season will almost certainly benefit your restaurant.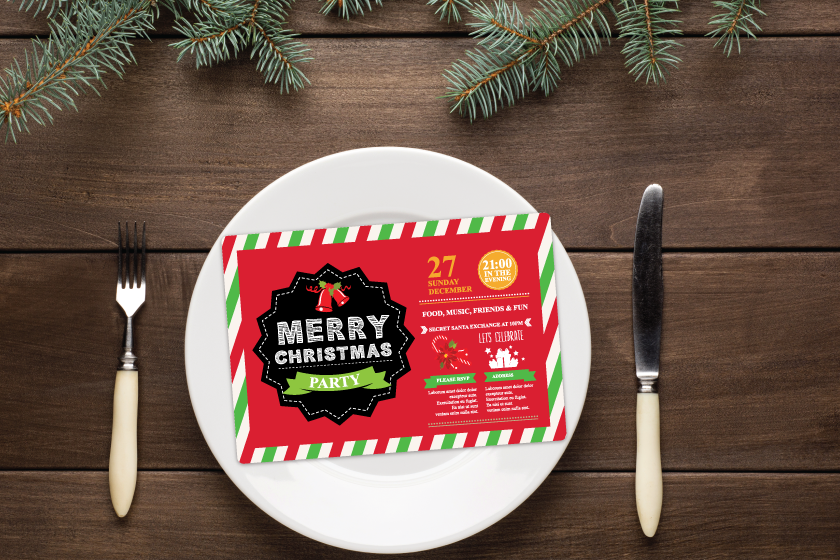 Pro Tip: If you need products to help you prepare for hosting events, like table numbers, invitations, PPE and safety supplies, we have you covered.
Stock Up On Gift Cards
Don't miss out on offering custom gift cards to your restaurant this holiday season. Did you know that gift cards have been the most requested gift 13 years in a row? Even better, restaurant gift cards are incredibly popular; 34% of consumers want a restaurant gift card, tied for first with department stores. Plus, 54% of people believe gift card sales will increase this holiday season compared to last year. Gift cards are an excellent way to boost revenue, acquire new customers, promote your brand, and so much more.
Designing Your Gift Cards
Customize your gift cards to feature your logo, branding, holiday designs, and so much more. Use unique gift card design features such as clear accents, custom shapes, metallic elements, and more to help your cards stand out. Additionally, using gift card accessories such as backers and sleeves can help make your restaurant gift cards more gift-ready.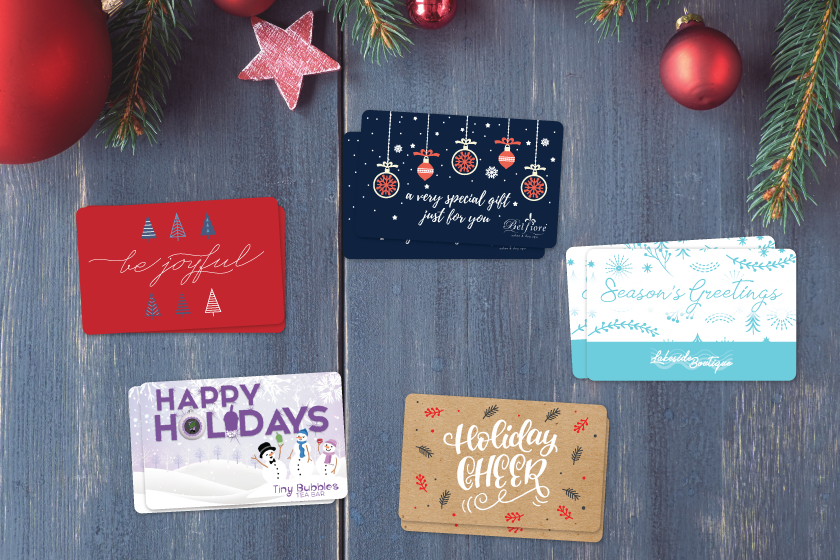 How to Increase Gift Card Sales
To optimize gift card sales during the holiday season, be sure to display them in a prominent location of your restaurant. Gift cards are often bought on impulse, meaning people didn't walk into a restaurant or store intending to buy them, but they purchase them anyway. You can display your restaurant gift cards at the host stand. You can also use your table tents to inform customers about your gift cards.
If you're looking to boost gift card sales during the holidays, consider offering your cards at a slight discount. That way, customers will feel like they've scored a discount, and you sell more gift cards, plus, most customers overspend the value of their gift card anyway.
Introduce A Holiday Menu For A Limited Time
Consumers love feeling like they are a part of something special. Limited time offers work really well during the holidays because they incite customers to act now rather than in a month or two, that's part of the reason why people go crazy for Black Friday. While introducing a holiday menu for a limited time likely isn't going to cause stampedes at your restaurant, it does incentivize your customers to stop in to check out your latest offerings.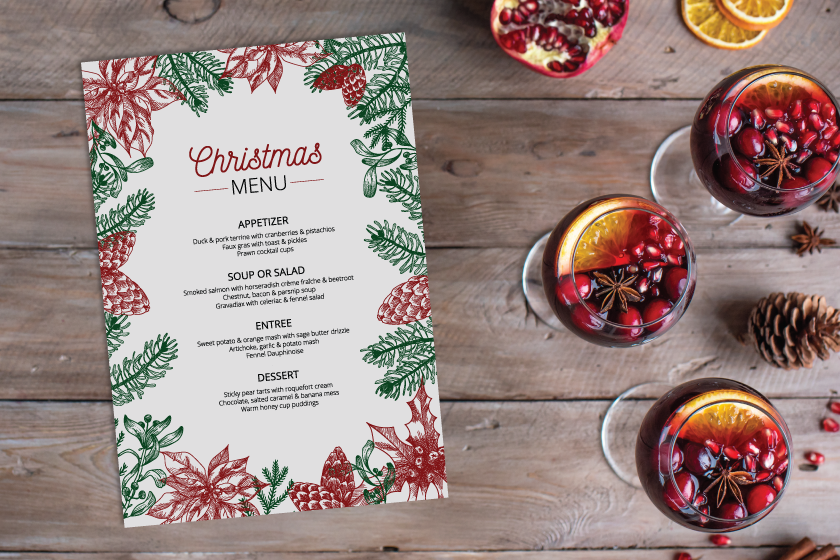 There are plenty of examples of limited time only menu offers, but one of the best is the Pumpkin Spice Lattes from Starbucks and other coffee shops. Every fall, coffee shops roll out the Pumpkin Spice Latte for a few weeks to build brand excitement and drive sales. It's been found that the Pumpkin Spice Latte and similar limited time offers can be used to encourage customer loyalty. The NDP Group found that seasonal limited time offer buyers "typically visit more and are more valuable customers."
To get the most out of your holiday menu, you'll want to come up with creative dishes that fit the holiday theme. You'll also want to promote your new menu to ensure your customers are fully aware of your delicious new offerings. Be sure to take plenty of great photos of your new menu items to show off on social media, your website, and any advertising you do.
---
The holiday season is approaching fast, and hopefully, now you have some ideas on how your restaurant can take advantage. If you need help preparing for the holiday season by stocking up on gift cards, table tents, invitations, table numbers, and more, we have you covered! Just reach out to us and let us know what you need; we're happy to help.