Thousands of companies have found that selling gift cards is a great way to bring in new customers, boost revenue, promote growth, and more. Whether your business has already established a gift card program or you're just getting started, the holiday season is the perfect time opportunity to get the most out of your gift cards.
Gift cards are always a holiday best-seller, but how do you ensure you boost gift card sales this holiday season? After helping businesses with their gift card programs for over two decades, we have some great ideas. Read on to learn ten ways to boost gift card sales this holiday season.
1. Utilize Gift Card Display Stands
How you display the products in your store can have a massive impact on sales, and that same concept applies to your gift cards. Gift card display stands can help you display your cards in an attractive way and keep them organized. Gift card display stands come in a variety of styles, so you can get a style that works best for your needs. If you have multiple gift card designs, you can get a gift card display stand that displays all of your designs. Another option is gift card display stands that allow you to put in a printed sheet to help capture your customer's attention.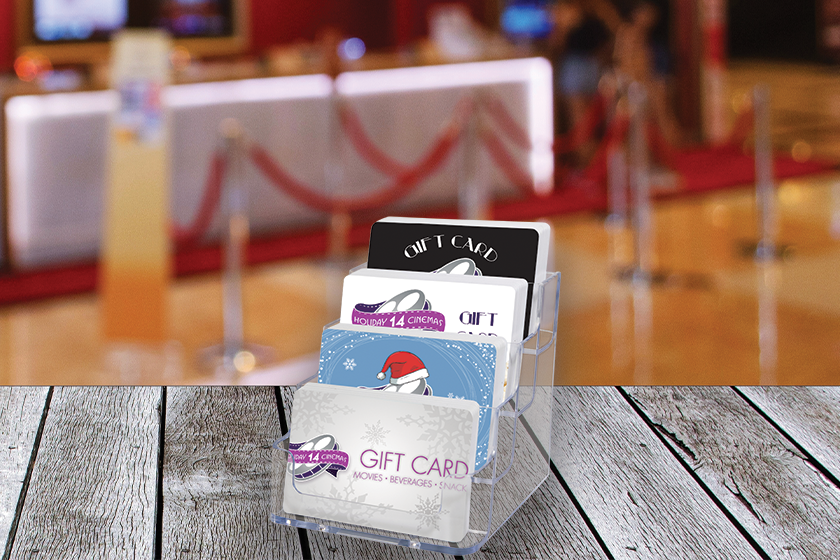 2. Offer Discounts or Gift Card Bundles
Consumers love a good deal, especially around the holidays. You can help make your cards appeal to the price-sensitive shoppers out there by offering gift card bundles or slight discounts. While offering deals on your gift cards might not sound very appealing, it's a good strategy. Not only will it help increase gift card sales and expose new customers to your business, but according to research, 69% of consumers spend more than the value of their gift card! That means it's very likely you'll get back more than what you discounted your cards at.
3. Use Eye-Catching Gift Card Design Features
Did you know that you can customize your gift cards to include features designed to help make your cards stand out? There are custom shapes, clear accents, metallic elements, foil stamping, embossing, and more! The key is to create a gift card design that stands out and wows your customers to create a must-have gift card. Your gift card customization options are limitless, so your cards can be as creative as you are.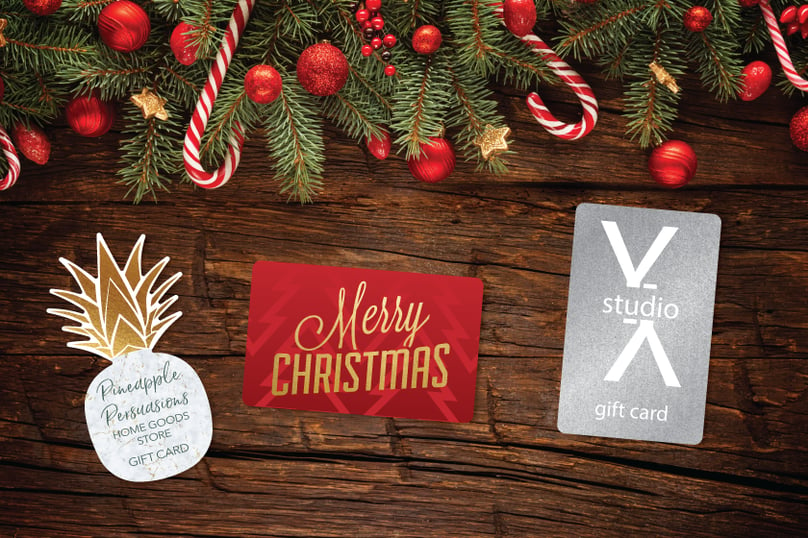 4. Display Your Gift Cards in a Prominent Location
We've already been over why you should use gift card display stands, but selecting where to put them is critical. If your customers don't see your gift cards, how can they buy them? That's why it's important to expose your gift cards to as many customers as possible. Choose a location that's highly visible and maximizes the number of customers who will see them. More eyes on your gift cards will translate to more sales.
5. Use Gift Card Accessories
Gift cards are almost always purchased as a gift, and oftentimes, a last-minute gift. For that reason, making your gift cards gift-ready is a must. Think about when you receive a gift card, do you usually just receive the card? No, oftentimes, it's in an envelope, sleeve, or backer. All of those items are gift card accessories, and they help make giving gift cards even more convenient to your customers, which can help lead to more sales. Just a quick note, you can also customize your gift card sleeves and backers to match your gift cards and display your branding.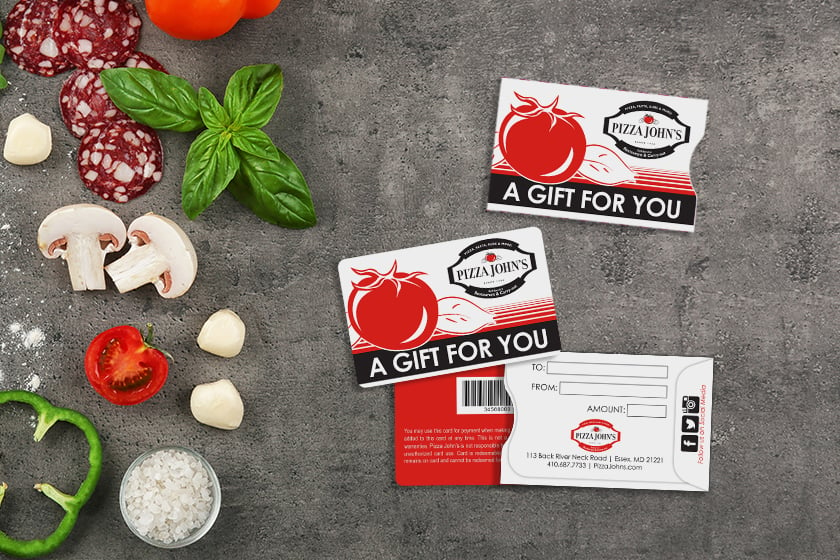 6. Have Your Employees Remind Customers About Your Gift Cards
If you don't sell a lot of gift cards or are new to the gift card game, it's possible that customers simply don't know you offer gift cards. Ask your employees to remind customers about your gift cards. This is a tactic used by many businesses to much success. While you can have your employees on the floor point out your gift cards, another strategy is to have your cashier bring it up at checkout, giving your customers one final chance to make a gift card purchase.
7. Use Holiday Gift Card Designs
The holiday season is a special time of year for a lot of people, and you should commemorate that by using holiday gift card designs. By using timely and relevant imagery, you can help capture your customers' attention. Gift cards are often impulse buys, meaning that the customer didn't come to your store to purchase a gift card but purchased one because it caught their eye or reminded them that they need a gift for an upcoming event. For more information about seasonal gift card designs, check out this blog. Looking for holiday gift card design inspiration? This blog can help.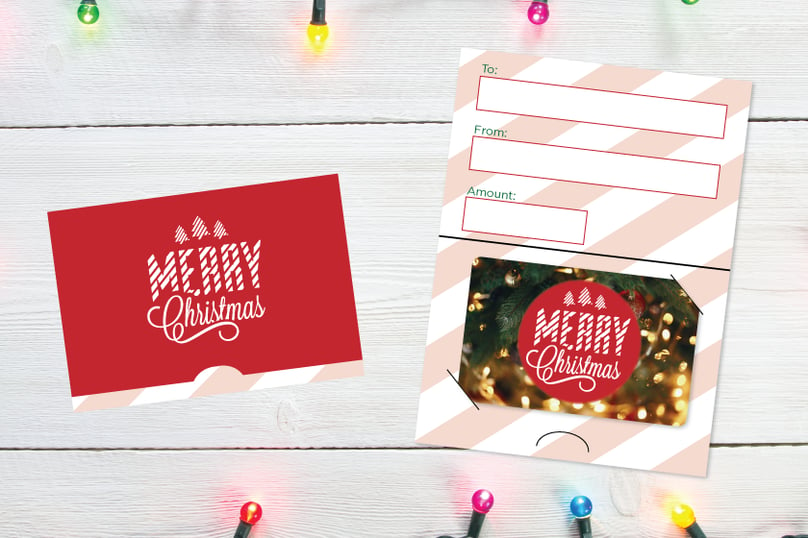 8. Do a Holiday Gift Card Giveaway
Giveaways are a popular way for businesses to build hype around their brand while also engaging with customers. Do a gift card giveaway this holiday season! Your customers will be excited about the giveaway, plus it will serve as a reminder that your business offers gift cards. This simple tactic is a great way to build excitement around your gift card program.
9. Feature Gift Cards in Your Holiday Marketing Campaign
Marketing your business during the holidays is essential; the holiday season is an ultra-competitive time for businesses, and you need to make your business stand out. No matter how you do your holiday marketing, whether its TV advertisements, email marketing, or something else, be sure to feature your gift cards. Building awareness about your gift cards is the best way to boost sales.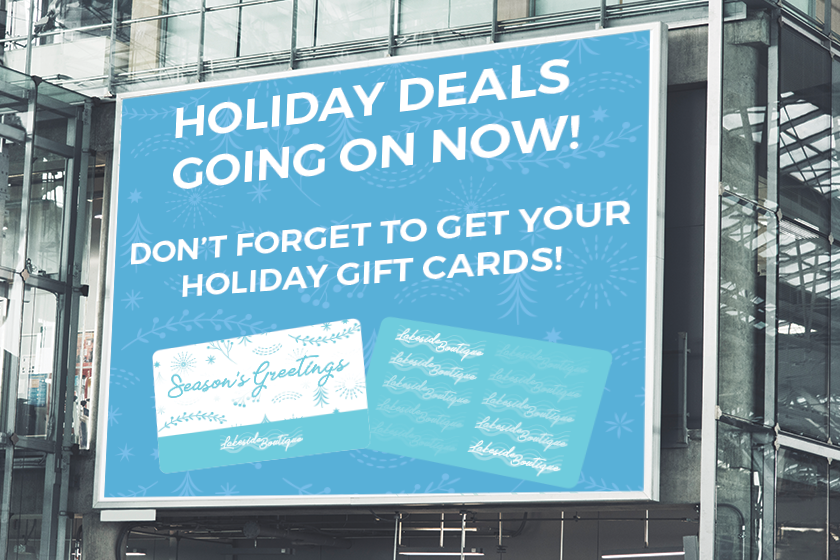 10. Offer a Variety of Gift Card Pricing
Some gift cards can be loaded with any amount the customers want, and if your gift cards are like that, disregard this point. However, if your gift cards already have a value assigned to it before checkout, you'll want to make sure you offer a variety of gift card options to appeal to buyers of every budget. Otherwise, you will miss out on potential gift card sales.
---
There you have it, ten ways to boost gift card sales this holiday season. If you need to stock up on gift cards ahead of the holidays, please reach out to us; we make getting custom gift cards your business needs fast and easy.