In 2020, uniqueness is a major selling point. Lady Gaga is a star because she has an amazing voice and a unique persona. Flip phones were mostly a thing of the past until Samsung created the Galaxy Z Flip, which is unlike anything we've seen before. Creativity and uniqueness sell, and that's one reason why your business needs to create your own custom gift cards.
Not sold on custom gift cards yet? Don't worry; I have plenty of more reasons why your business needs them. Here's a list of five reasons why your business should create your own custom gift cards.
1. Your Business Is Unique
Gift cards aren't anything new, and most designs typically aren't inspiring; most gift card designs are pretty generic. However, with custom gift cards, your cards will be as unique as your business. After all, your business isn't like any other business; it's special, so your gift cards should reflect that.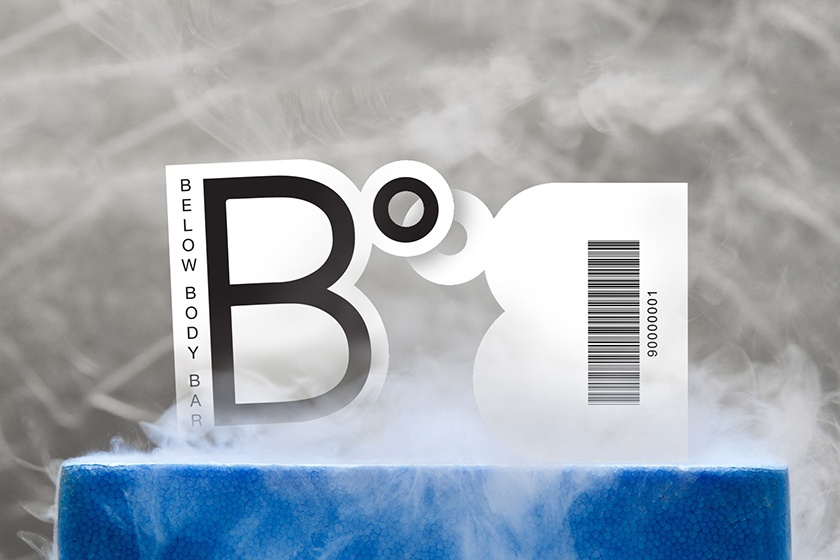 With custom gift cards, you can highlight your logo, colors, branding, industry, location, products, and so much more! What makes your business special? Put it on your gift card. By creating a gift card that embodies your business, your design will help you stand out, add to your brand experience, and create awareness that truly represents your business.
2. Custom Gift Cards Allow You To Promote Your Business
Promoting your business isn't easy, and it usually isn't cheap either. But custom gift cards are a cost-effective way to promote your business. Adding a custom design to your gift cards helps make your brand more recognizable, can boost your business's perception, and help take your promotional strategies to the next level.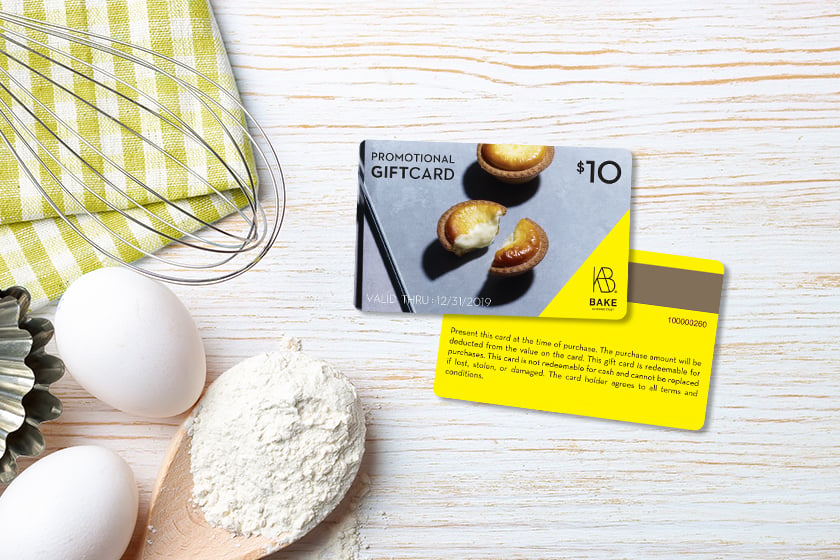 Need promotion ideas for your gift cards? We have plenty! Give some away in a social media contest. That way, you help drive customer engagement, build hype around your business, increase goodwill, and encourage people to do business with you. You can also hand out your custom gift cards at events to give people an incentive to visit your business. Or give promotional gift cards ($5, $10, or $15 gift cards) to your customers that spend a certain amount with you to help increase customer loyalty and encourage them to come back.
3. Custom Gift Cards Are Eye-Catching
In a world where most gift cards look the same, a custom design can be a huge advantage. With a custom design, your gift cards will help you stand out from the competition because they're unique to your business, as I mentioned above. At Plastic Printers, we offer amazing features that are sure to make your custom gift cards pop. Some of our most popular features include: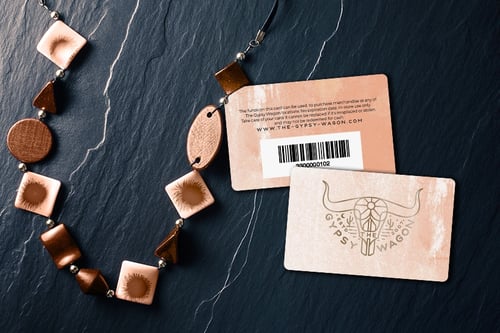 Custom Shapes

Clear or Frosted Cards

Metallic Elements

Foil Stamping

Embossing
All of these features can be used to create a dazzling gift card design that's totally unique. It's very likely that many of your customers have never seen gift cards with these features before, so that can be another incentive for them to purchase your cards. With more attention being paid to your gift cards, you can expect sales to increase.
4. A Custom Design Turns Your Gift Cards Into a Marketing Tool
Generic gift card designs do very little to market your brand. However, with a custom gift card design, your gift cards are transformed and double as excellent marketing tools. Think of your custom gift cards as a mini-billboard for your business. They're a great way to raise brand awareness and show off what your business is all about.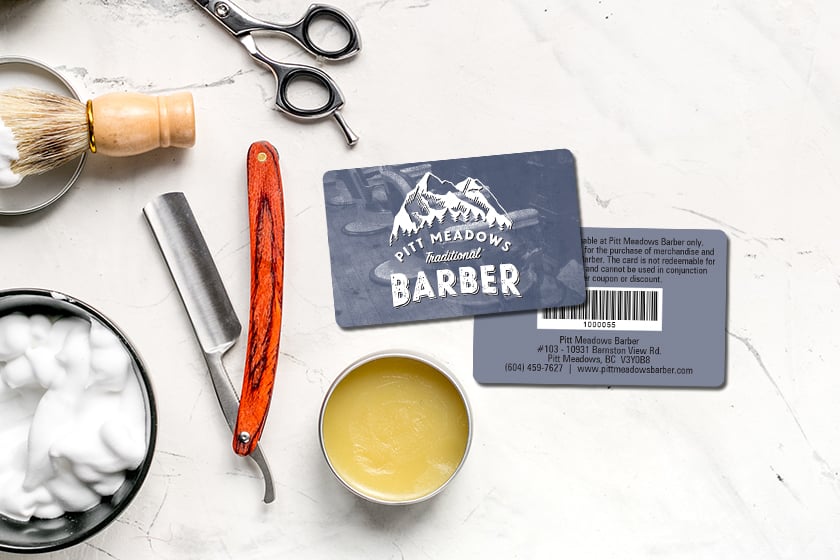 Many people are exposed to your business for the first time due to a gift card, which is why it's essential to make a great first impression using your gift card design. Generic gift card designs don't say much about your business, but custom gift cards allow your brand's personality to shine through.
If you're going to spend money on gift cards for your business, shouldn't your cards help market your brand? That's why custom gift cards are such a great deal; not only do they help you bring in revenue due to sales, but they're also a cost-effective marketing tool. Custom gift cards help you solve two problems in one fell swoop.
5. Custom Gift Cards Can Be Timely & Perfect For All Occasions
Gift cards are commonly purchased for special occasions such as holidays, birthdays, or personal milestones. To appeal to customers looking to buy gift cards for any of those occasions, you can create custom designs that are timely and perfect for all occasions! Creating a variety of gift card designs that cover major holidays and events can help you sell more gift cards.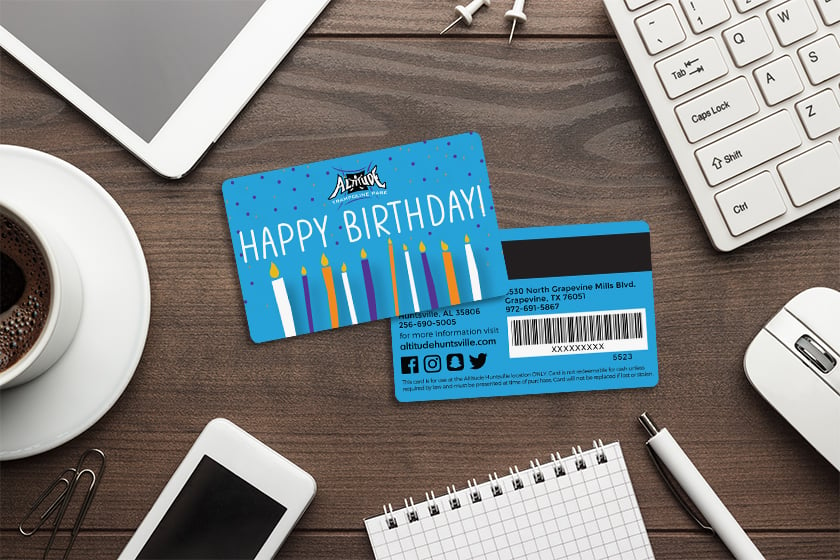 Want more information on creating seasonal gift card designs? We have a whole blog on the subject; check out our blog here to become an expert on seasonal gift card designs!
---
There you have it, five reasons why you should create your own custom gift cards. Hopefully, now you understand how making the switch from generic gift cards to custom ones can make a world of difference for your business. Do you have questions about getting custom gift cards for your business? We're the custom gift card experts! Please reach out to us; we are happy to help answer any questions you may have or help set your business up with custom gift cards.