Due to the COVID-19 pandemic, more and more businesses are capitalizing on the benefits and importance of gift cards. Whether you're a gift card veteran or rookie, there's plenty you can learn about using gift cards at your business effectively. From the basics to the more complex topics, let me tell you everything you need to know about implementing a gift card program at your business in 2020.
Why Use a Gift Card Program in 2020?
Are you wondering why there's so much hype around gift cards? One reason is that businesses of all sizes and industries can use gift cards to help their businesses in a variety of ways. In 2020, due to the coronavirus, gift cards have been a method for companies to help obtain cash flow, whether open or closed. It's been a challenging time for businesses everywhere. With some stores having to close for an extended time, buying gift cards are one way that consumers can help support their local businesses. This idea has been supported by The Washington Post, Forbes, and USA Today.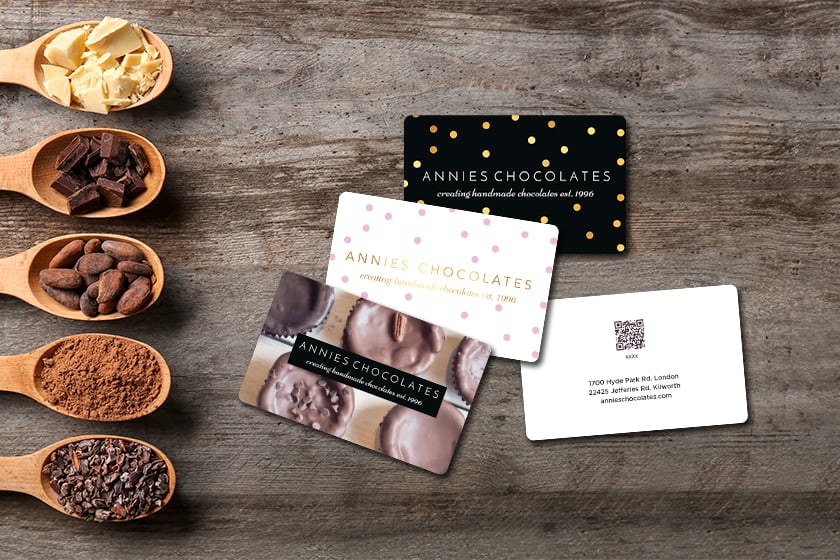 When your business is back open, you'll find that gift cards help encourage customers to come and spend money with your business. Plus, most customers will spend the full value of their gift card, and then some. According to a 2018 study, the average consumer spends $59 more than the original value of their gift card. That extra revenue is incredibly valuable, especially during times like these.

Another benefit of gift cards that is often overlooked is that they help bring new people into your business. Encourage your loyal customers to buy gift cards for their loved ones, so they can enjoy your services once you re-open. 34% of people say they visited a store they otherwise would not have because of a gift card. Promoting gift cards might help you ensure that loyal customers and new customers are visiting your company when you re-open.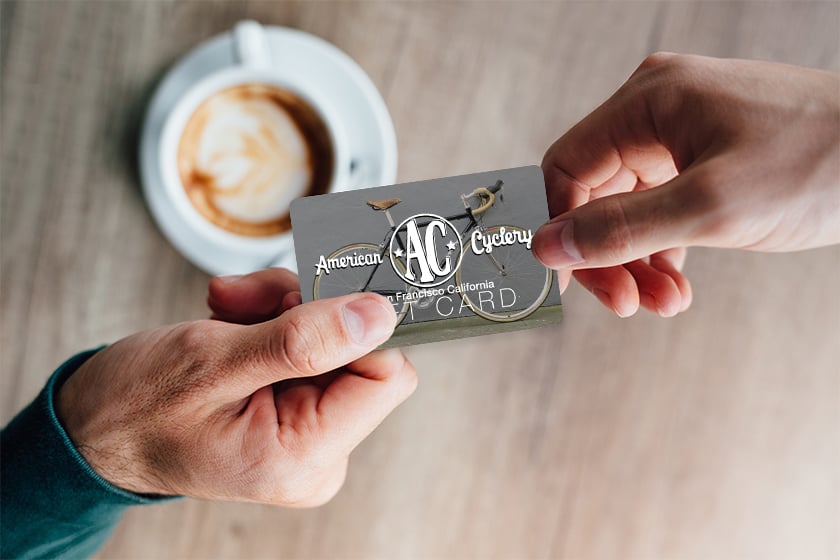 One more reason that gift cards are a must-have for businesses is the fact that gift cards are insanely popular. 60% of consumers would like to receive a gift card for the holidays. For the last 13 years, gift cards have been the most popular items on wish lists. What does this data tell you? That gift cards are in high demand, and consumers love them.

For all of these reasons, gift cards are an incredibly helpful tool during this pandemic and everyday business. They can help produce a multitude of benefits for your company, but how do you get your gift card program started? Let me tell you!
What You Need to Know to Get Started
Gift Card Materials
As the printing industry expands, more options become available for gift card materials. We recommend using plastic for your gift card material because it's durable, gives off a quality feel, is easy to customize, provides you with an abundance of design opportunities, and can be optimized to work with your point of sale system.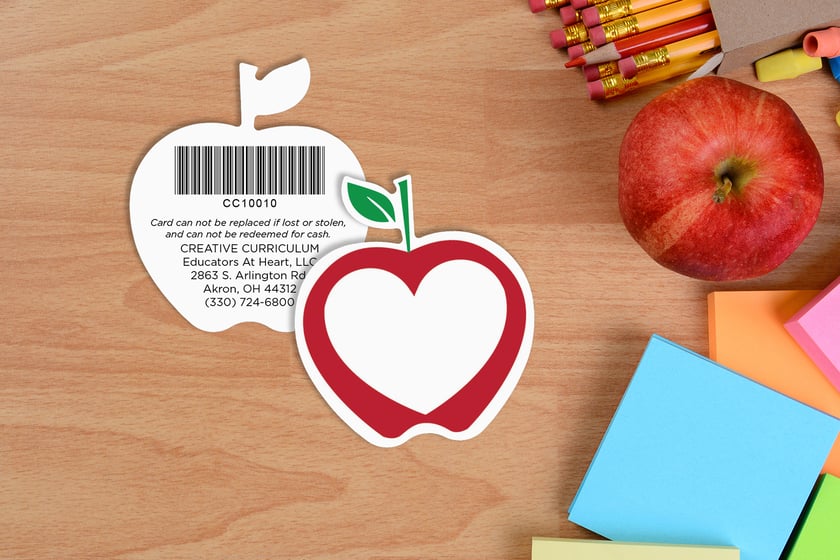 Once upon a time, paper gift cards or gift certificates were popular, but the problem with paper gift cards is they are easier for customers to lose or damage. They also most likely do not connect to your point of sale system. Some businesses use egift cards or virtual gift cards, but customers tend to prefer physical gift cards. 75% of the volume in gift card program redemption is still in physical gift cards.
Within the plastic material, there are different stocks that you can choose from that give your gift card a different look and feel. To find out more, click here.
Gift Card Point of Sale Compatibility
Many businesses use a point of sale (POS) system to monitor transactions and process payments. Most POS systems also allow for gift card processing. When you're ordering your gift cards, tell your project specialist what POS system you use. The system that you use will let them know whether your cards need a magnetic stripe, barcode, or QR code.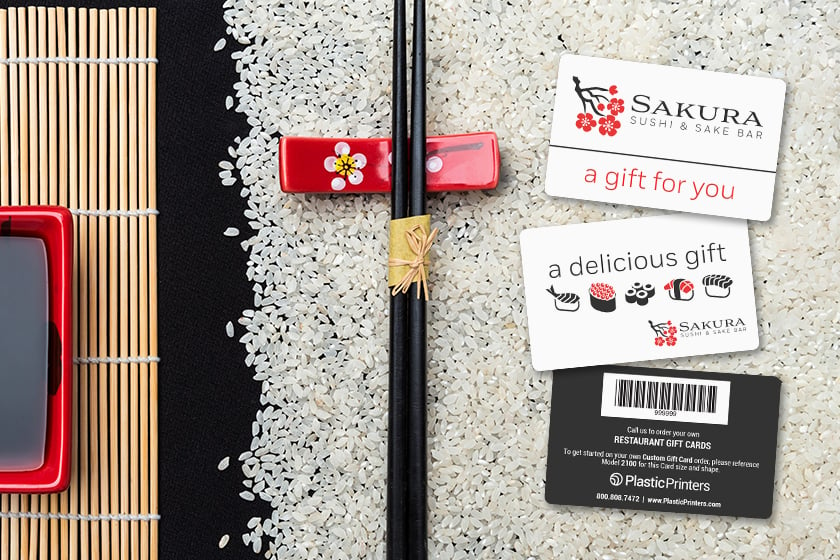 Don't worry if your business doesn't use a POS system to process payments; you can still get custom gift cards! Your gift cards won't have a magnetic stripe, barcode, or QR code on the back. For businesses without a POS, you have two options: human-readable numbers and face value cards. With human-readable numbers, there are numbers on the back of your gift card that your employees will type in to pull up the gift card account. With face value gift cards, the value of the gift card is written right on it.
Whether you have a POS or not, gift cards are still an excellent investment. Be sure to tell your project specialist how you collect customer payment, and they will help you determine what kind of gift card your business needs.
Gift Card Design
There's surprisingly a lot to consider when it comes to creating a design for your gift cards. If you aren't a graphic designer, you might be overwhelmed by all of the customization options. Worry not, Plastic Printers has a team of professional designers on staff to ensure you get a gift card design you love. Of course, if you're a designer yourself and already know what you want, we have free templates available for you to use.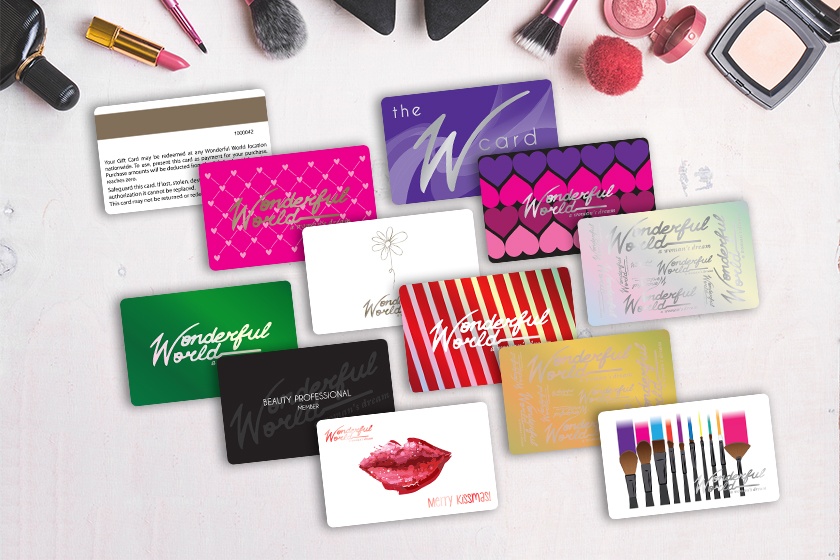 You might be wondering why a gift card design is important. First, your gift card design helps sell the card; it should stand out and attract customers. Second, your gift card is a chance for you to promote and show off your brand. Sometimes when a person receives a gift card to your company, it might be the first time that they interact with your brand. It could be their first impression, use your design to make it a good one.
At Plastic Printers, the possibilities for your custom gift cards are endless. Let me take you through some of our most popular design features:
Custom Shapes: Get cards in any shape imaginable! Custom shapes are a great way to make your cards stand out, bring your brand to life, or reflect your industry.

Clear & Frosted: Whether you opt for a fully transparent or a frosted finish, this dramatic design will make your branding pop and leave a lasting impression on your customers.

Embossing: Take your gift cards to new heights with embossing. Embossing is often used to mimic the look of a credit card or highlight important information.

Foil Stamping: Bring some shine to your custom gift cards with foil stamping. Foil can help create an eye-catching project.

Metallic: Recreate the look of precious metals on your plastic gift cards. We can replicate the look of gold, silver, bronze, and platinum.
That might seem like a lot to take in, but we're here to ensure you get the perfect look for your gift cards. For inspiration, check out our inspiration gallery; you'll find all kinds of amazing cards in there.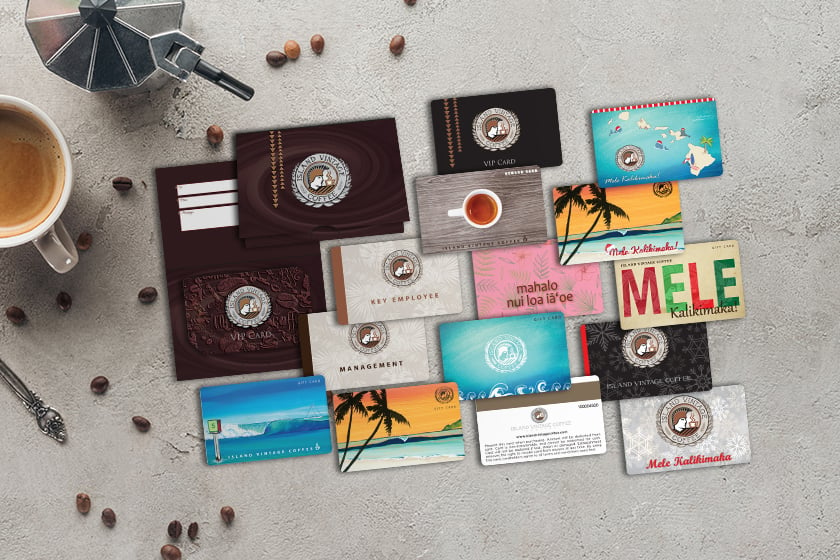 Many businesses only use one gift card design when they debut their gift card program, but there are some perks to stocking up on multiple gift card designs. Using multiple designs helps your gift cards appeal to more people and their interests. Also, gift card designs for specific occasions like birthdays or holidays can help customers identify your company as a gift for a loved one.
Selling Your Custom Gift Cards During COVID-19
Once you've designed and received your gift cards, its time to start selling, as mentioned previously, you can sell your gift cards whether your business is open or closed. When you're ready to sell your gift cards, the first thing you should do is let all of your customers know. Send out emails, post about it on your website and social media channels. If your store is open, put up signage advertising them. Customers can't buy something they don't know you have, so you should try to spread the word about your new gift cards.
If your business isn't open right now, try selling your gift cards online. Selling gift cards online is easy; like I said before just be sure that your customers know they're available. Use different channels to spread the word about your gift cards being for sale online. To really drive the message home, consider posting a thoughtful message on why gift cards are so vital to your business right now.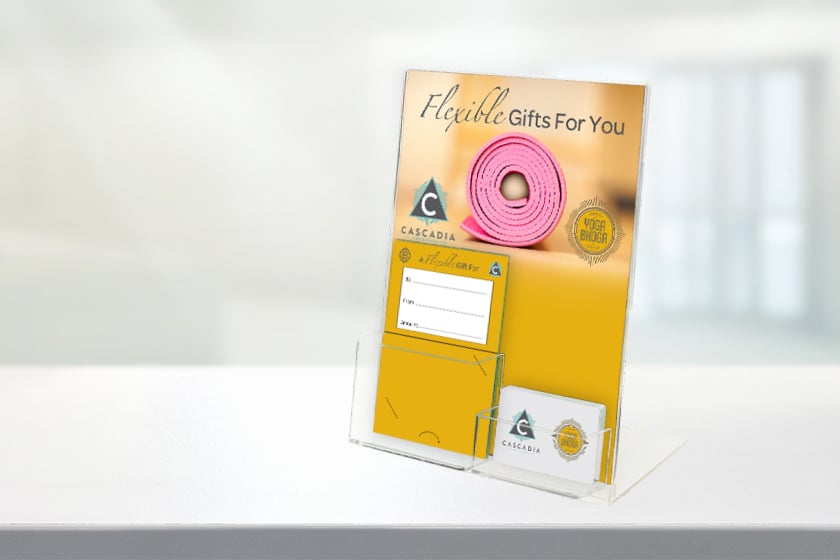 If your business is open, you should also think about where you're placing your custom gift cards. You want your gift cards in a prominent location in your store, a high traffic area that every customer will see. For most businesses, that location is right next to the checkout counter. Gift cards are commonly an impulse purchase, meaning the buyer did not come to your store intending to buy one. Placing your gift cards near your registers can encourage customers to impulse buy your gift cards.
There are many other ways to get customers to interact with your gift card program. Try offering them a discount to draw attention to the product and boost sales. You can also use them as a prize in loyalty or rewards programs. Additionally, gift cards are a great promotional product, simply hand out low-value gift cards to give customers a reason to stop back in or encourage new customers to visit for the first time.
---
As you've learned, gift cards are a valuable tool, and we make starting up your own gift card program quick and painless. Are you ready to get your gift card program started, or update your current one? Give us a call; our experts are always happy to help!