There's still time to get your next best-selling product in time for Black Friday: custom gift cards to your business! Gift cards are the most requested gift for the 2020 holiday season, making them an excellent opportunity to help your business boost holiday sales. However, the clock is ticking, and time is running out to get your gift cards in time for Black Friday. Don't worry; we have you covered with all of the gift card design inspiration you need to spark your creativity. Let's take a look at ten inspirational gift card designs for Black Friday.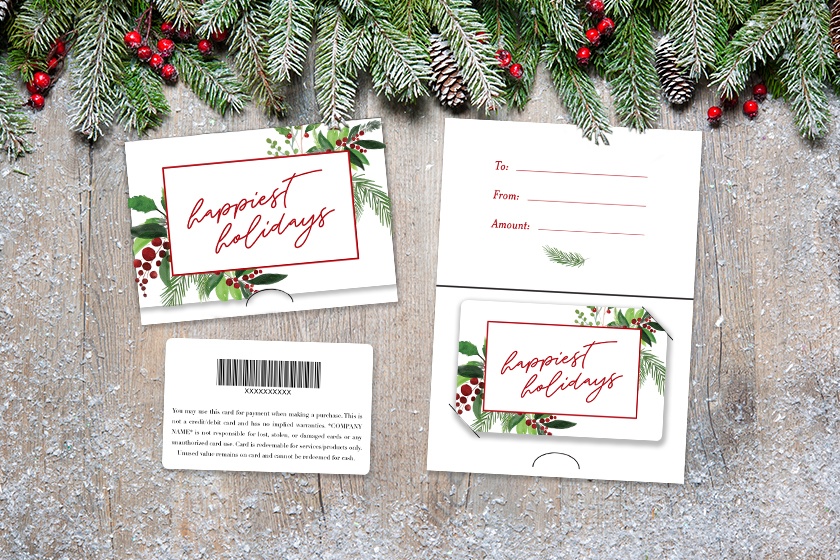 Holiday Gift Cards
This gift card design wishes the receiver the "happiest holidays," making it a perfect design for the season. There are many benefits to changing your gift card designs to match the season, which you can read about in this blog. Incorporating timely imagery in your gift card design will help make your cards stand out to consumers doing their holiday shopping.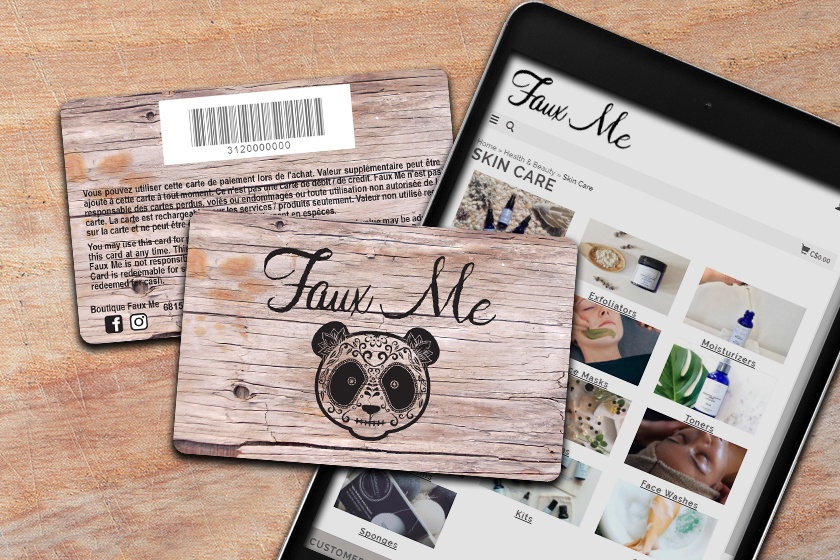 Wood Gift Cards
Replicate the look of wood in your gift card design like Faux Me did in this amazing design. Faux wood is all the rage; you can find it in flooring, blinds, cars, and yes, gift cards. By using a faux wood design, you help set your gift cards apart from the competition; after all, most gift cards have a plastic look. Being unique is a good thing, and with this gift card design, your gift cards will certainly be unique.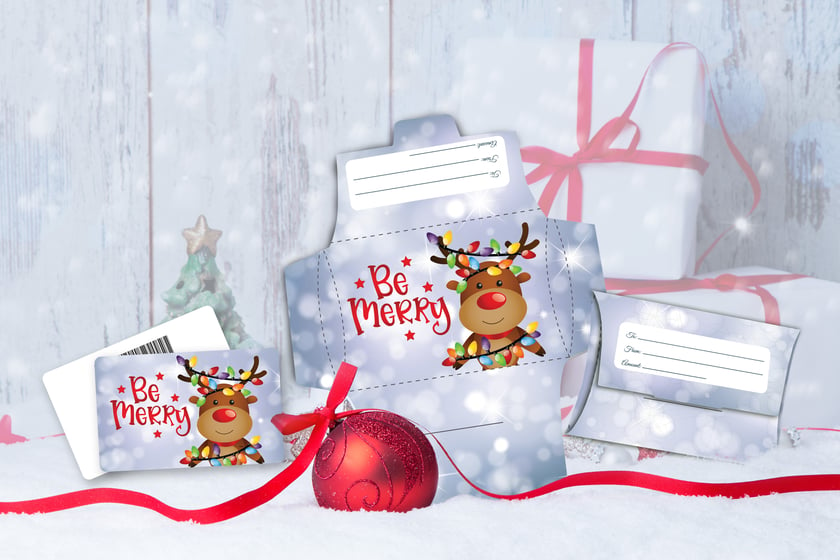 Be Merry Gift Cards
This gift card design is adorable and perfect for the holidays! This design features a cute cartoon reindeer wrapped in holiday lights. Including cute characters in your gift card design can help your gift cards appeal to children. If you can create a gift card design that kids love, they'll be more likely to ask for it on their wish list. It's important to remember the kind of people receiving your gift cards; if you run a hardware store, kids probably aren't asking for a gift card to your business. Your intended audience should influence your gift card design.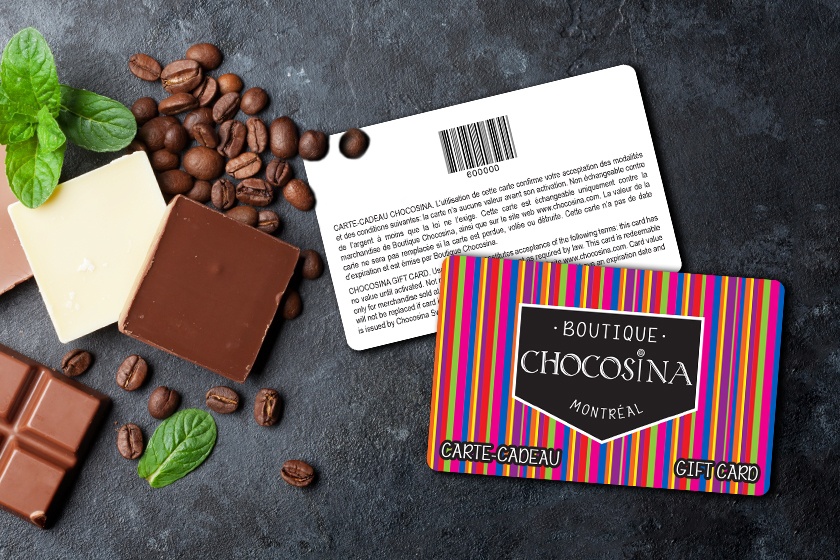 Colorful Gift Cards
While red, green, and white are commonly associated with the holidays, you can switch things up and feature a rainbow of colors. Boutique Chocosina used their colorful gift card design to exude the joy of their candy shop. On top of being fun, this gift card design is very eye-catching.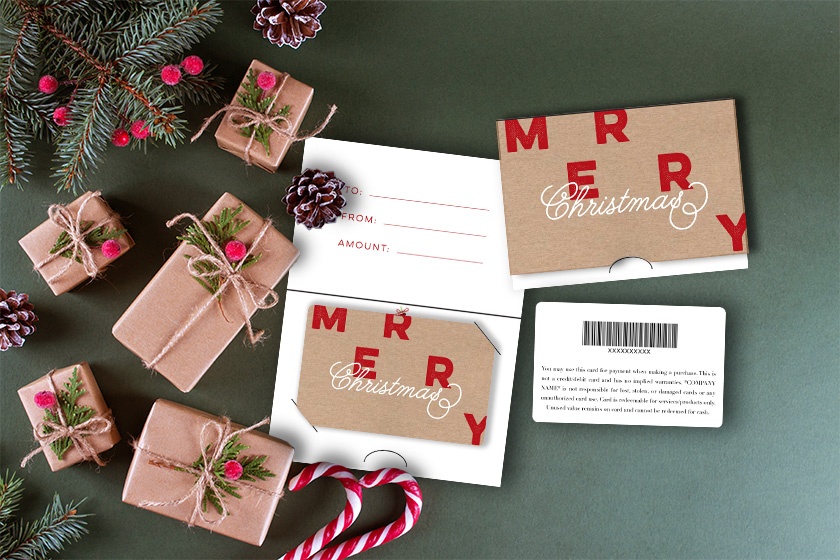 Christmas Gift Cards
Give your customers the option of wishing their loved ones a Merry Christmas with this seasonal gift card design. While being inclusive in your gift card design is always a good choice, having gift card designs for specific holidays is excellent too. Just remember, if you choose a specific design like this, you might be missing out on sales from customers who don't celebrate Christmas. For that reason, having multiple gift card design options available is for the best.
Clear Gift Cards
Another way to elevate your gift cards and distinguish them from others is to use our clear feature. Clear gift cards create a bold look that many of your customers haven't seen before, adding to the novelty factor and further encouraging impulse purchases. Thunder Blades Roller Rink used gift card backers to help their clear gift cards pop; we love that we can see their roller skate designs through the card. Very unique!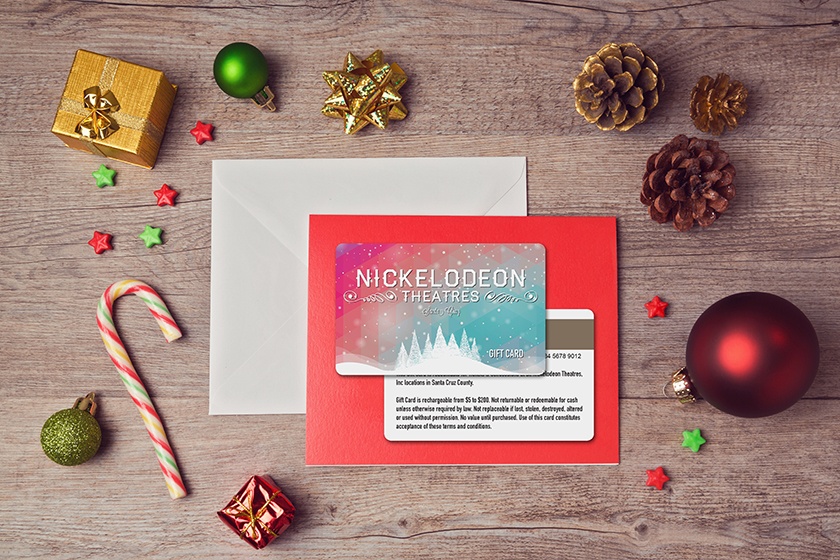 Snowy Gift Card Design
A subtler way to make your gift cards perfect for the holiday is to use generic holiday imagery. Nickelodeon Theatres did that to perfection on their gift card design with the snowy trees and falling snowflakes. The colors don't scream "holidays," but they bring some brightness to the snowy setting.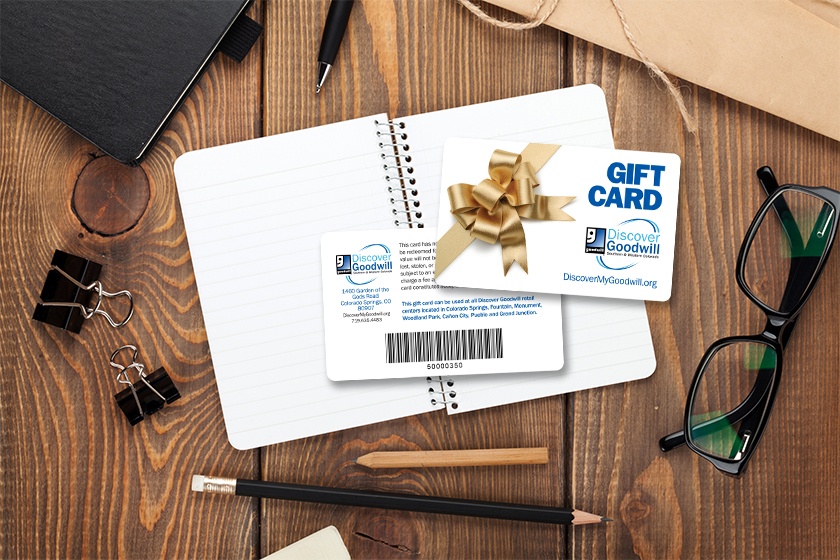 Put a Bow on your Holiday Gift Card Design
Your gift card will probably be given as a gift; that's how gift cards work. What do you commonly find on gifts? Bows. Discover Goodwill put a bow on their gift card design to play on the gift theme. Try decorating your gift card design with red or green bows just to add a little bit more holiday flavor to your design.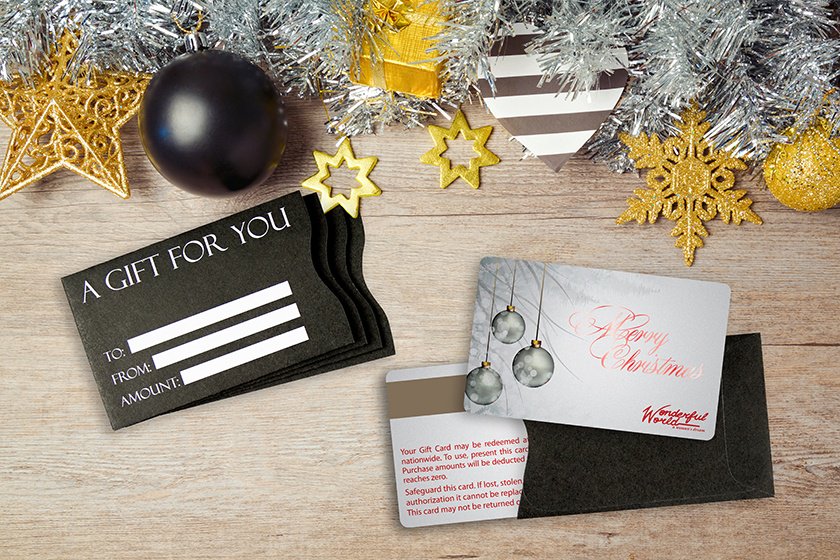 Gift Cards with Foil Stamping
Wonderful World used ornaments hanging from tree branches to create a creative holiday design. Adding to their creativity, they used foil stamping to write "Merry Christmas." If you're unfamiliar, foil can be used to make your gift card shimmer and shine in the light. Foil can come in all different colors and are a great way to make your cards stand out in a significant way.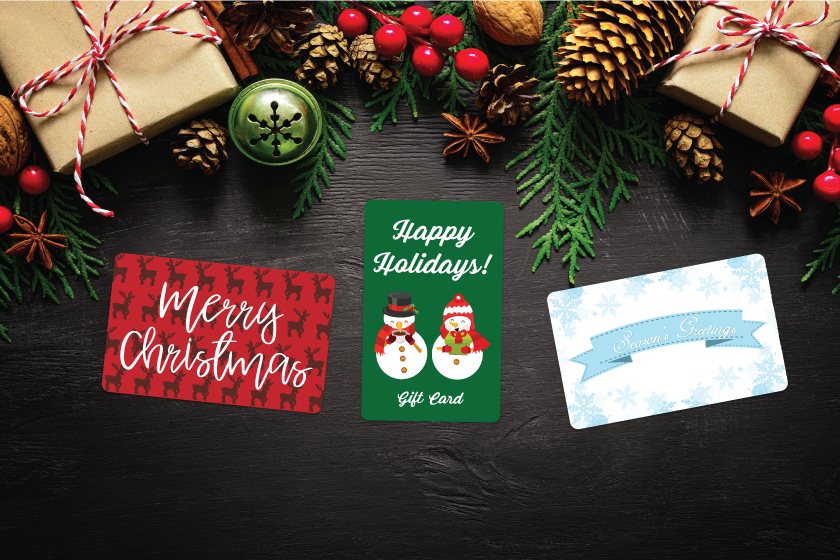 Reindeer, Snowmen, & More!
These holiday gift card designs incorporate reindeer and snowmen to help spread holiday cheer! There's so much holiday imagery you can use in your gift card design to create a look that will be a holiday favorite. For a list of more holiday imagery and tips for designing holiday gift cards, give this blog a read.

---
Remember, there's still time to stock up on gift cards before Black Friday! Black Friday is the busiest shopping day of the year, and you don't want to miss out on selling gift cards. Looking for more holiday gift card design inspiration? Check out this blog. If you want to get your custom gift cards before Black Friday, reach out to us; we're ready to help!