Gift cards are the most popular gift in the world, which means a multitude of people are buying and gifting them each day. How do your gift cards stand out from the thousands of others? Does it catch their eye when they are walking by? Gift cards are a fantastic opportunity to help boost revenue and promote growth in your business. However, without an eye-catching gift card design, your cards might fall short of expectations.
Lucky for you, at Plastic Printers, we understand the importance of an excellent gift card design. Our team of professional designers specializes in creating designs that help attract attention and highlight your branding. Want to get inspired for your next gift card design? Check out these 20 fantastic gift card designs; they could be the inspiration for your next order!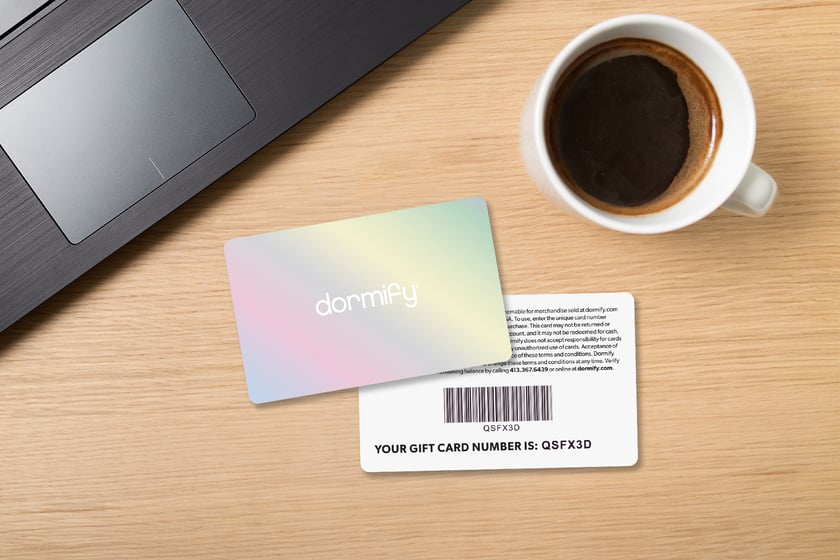 Plastic Gift Cards with Platinum
Bring some shine to your gift cards, as Dormify did with the help of our platinum feature. With platinum, your gift cards will shimmer and shine in the light, making these cards an excellent attention-getter.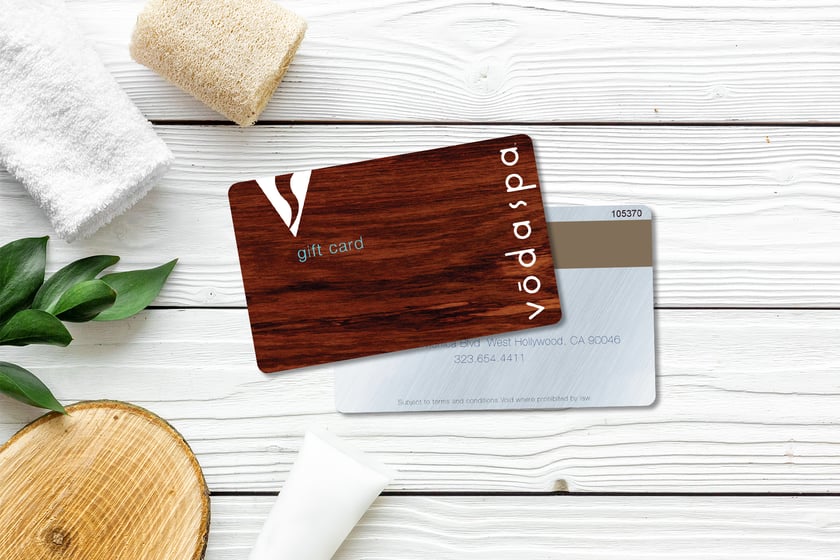 Wooden Gift Cards
Voda Spa replicates the look of wood to create a truly unique gift card design. While most gift cards are printed on plastic, your design can recreate the look of other materials such as wood and metal. With thousands of plastic gift cards available, making your design look like something it's not is an excellent way to help you stand out.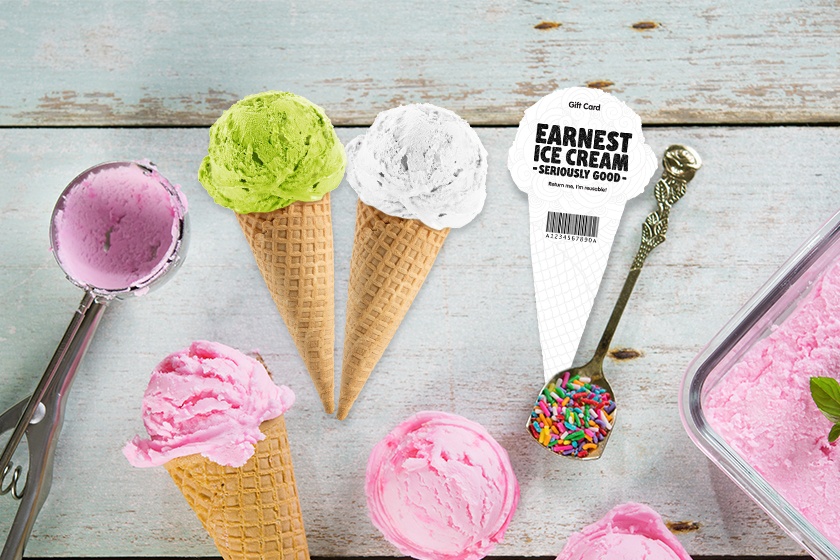 Die Cut Gift Cards
Bring your brand to life with die cut gift cards! By using dies, we can print your plastic gift cards in any shape you like. We have an inventory of thousands of shapes. Don't see the shape you want? We can make it just for you! Die cut gift cards create a high-impact design that is sure to wow your customers.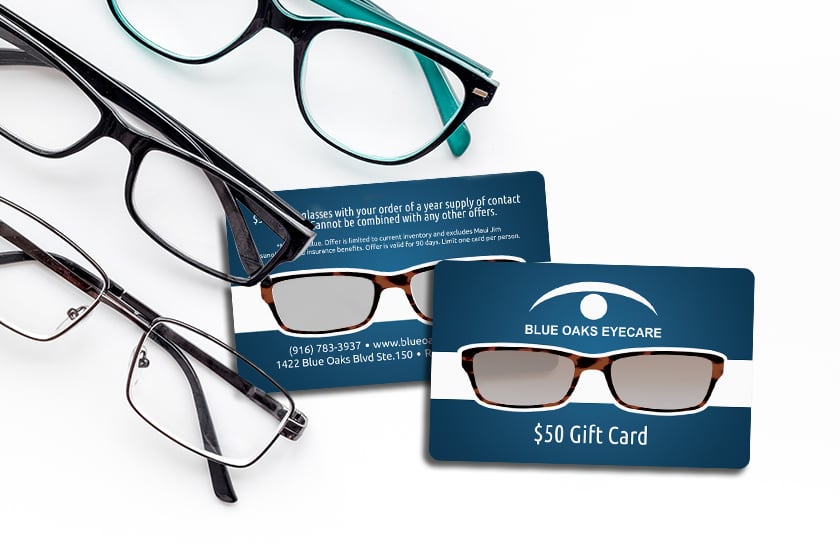 Clear Gift Cards
Are you looking for a bold gift card design? Give clear gift cards a shot. Blue Oaks Eyecare used a clear gift card so that the glasses lenses are transparent! This design feature is an excellent way to help highlight your industry, branding, or important information. Keep in mind that these cards offer some level of transparency, which can make designing them a little trickier than the standard plastic gift card. Don't worry; our team of amazing designers are experts at crafting beautiful clear gift card designs. For more information on clear gift cards, click here.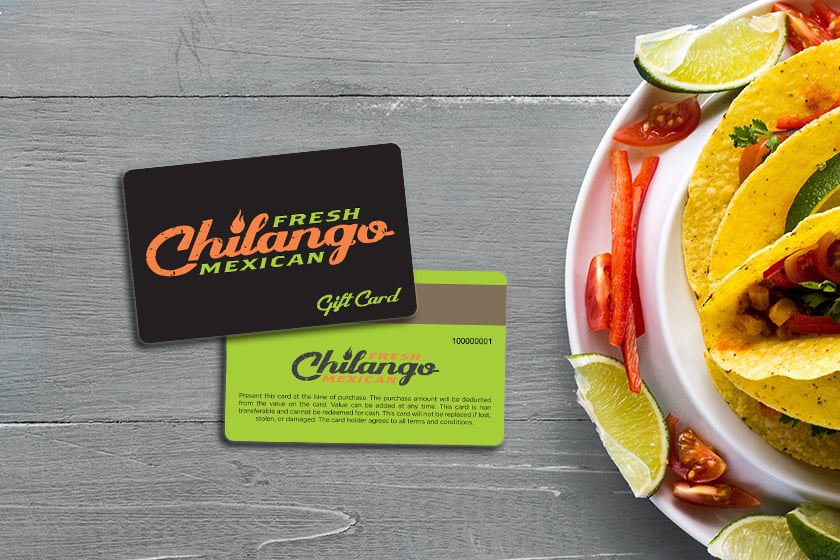 Restaurant Gift Cards
Restaurants are one of the most common places where customers purchase gift cards, so if you own a restaurant, you should consider getting restaurant gift cards. Your design doesn't have to be anything fancy; Chilango Fresh Mexican uses their unique logo and colors to create a restaurant gift card that looks exceptional.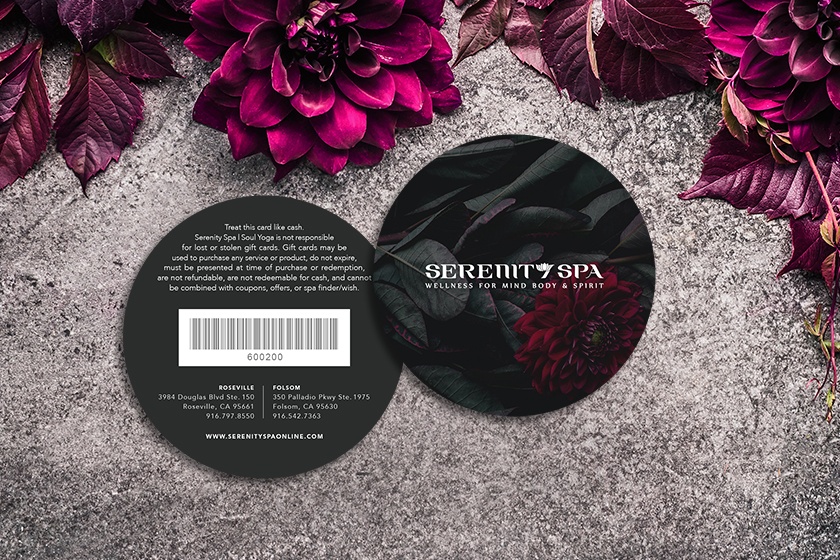 Custom Gift Cards in the Shape of a Circle
It seems like 99% of gift cards come in the standard rectangle shape, but that doesn't have to be the case for your custom gift cards! Using different shapes such as circles, squares, or triangles can be an effective way to make your cards stand out. These unique gift cards for Serenity Spa are excellent examples of how using a different shape can make for a more exciting gift card.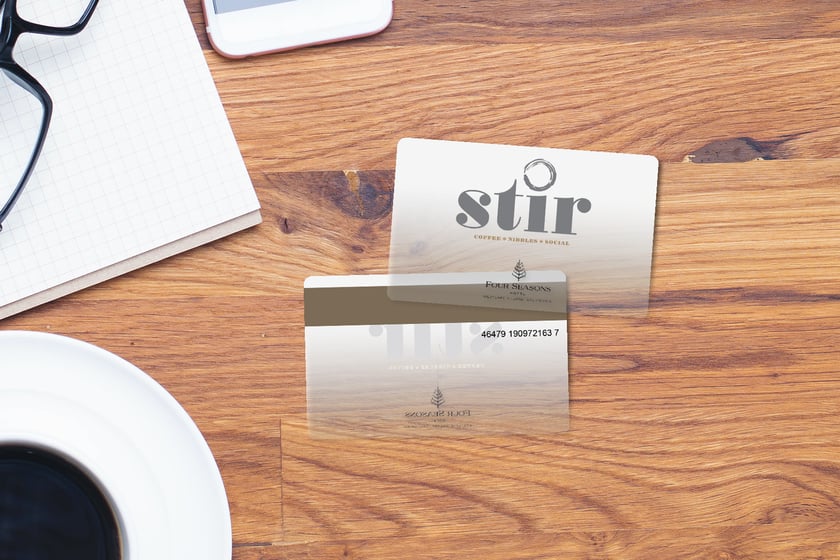 Frosted Gift Cards
While Stir's custom gift cards may look clear, they're actually using a slightly different feature - frosted. With frosted gift cards, the design isn't quite as transparent as clear gift cards. Additionally, frosted gift cards have a matte finish, giving them a premium look and feel.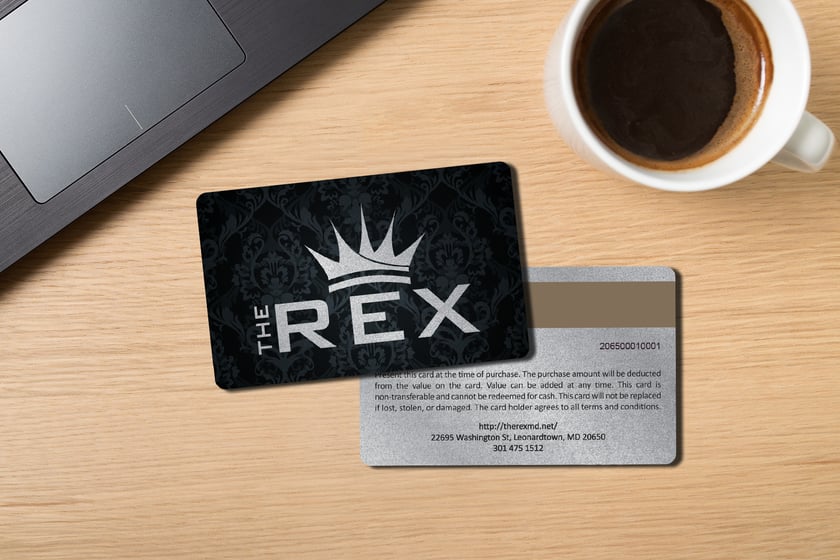 Plastic Gift Cards with Metallic Elements
You've already seen gift cards that imitate the look of wood, how about these gift cards styled to look like metal? The Rex uses metallic elements to create a gift card design that's bold and luxurious. Whether you need to recreate the look of gold, silver, or platinum, we have you covered.

Plastic Gift Cards Perfect for Any Business
Up to this point, all of the plastic gift cards had a barcode or magnetic stripe on the back. With a barcode or magnetic stripe, you can ensure your gift cards are compatible with your point of sale. But what if you don't have a point of sale, or your point of sale doesn't offer a gift card program? These gift cards from The Burren Perfumery have letters and numbers in the bottom right corner. We refer to those as human readable numbers, and you can manually input them, making them easy to use, no matter what kind of system your business uses.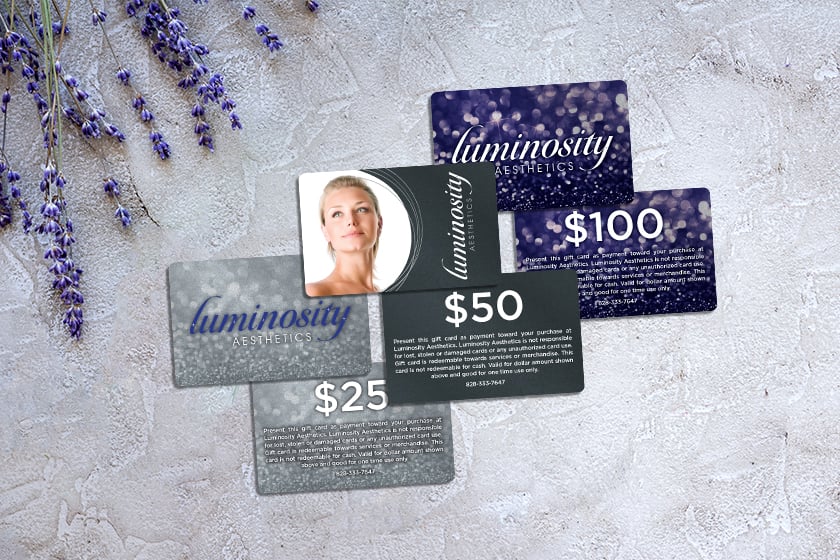 Face Value Gift Cards
Similarly, face value gift cards are another type of gift card that can be used by any business. With face value gift cards, the number on the front or back reflects the gift card's value. These gift cards don't require any sort of point of sale. If there's money left on the gift card after a transaction, simply write the new value on the card with a permanent marker.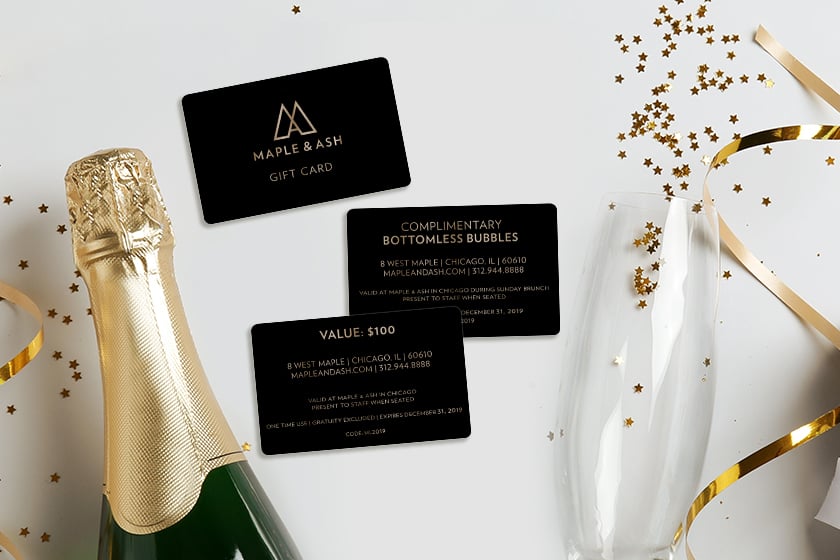 Foil Gift Cards
Foil stamping is another way to bring shine to your gift cards. Maple & Ash use gold foil on a black card to create a dynamic look built off of contrast. All in all, this gift card has a pretty simple design, but the foil stamping makes it stand out in a major way.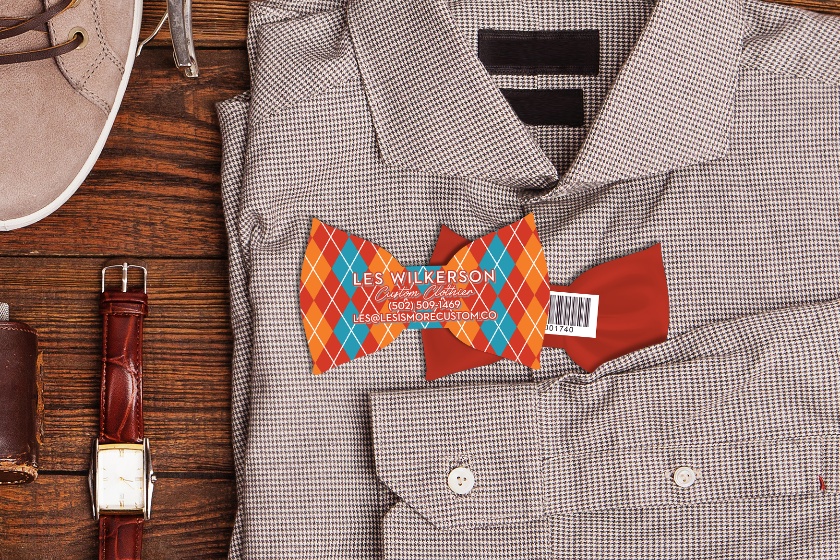 Custom Shaped Gift Cards
We can't get enough of custom shaped gift cards, and we'll bet your customers will feel the same way! Custom shaped gift cards allow you to create a gift card design that is truly one-of-a-kind and unique to your business. We love this design for Les Wilkerson; not only does it reflect the industry that he works in, but the colors are so warm and inviting.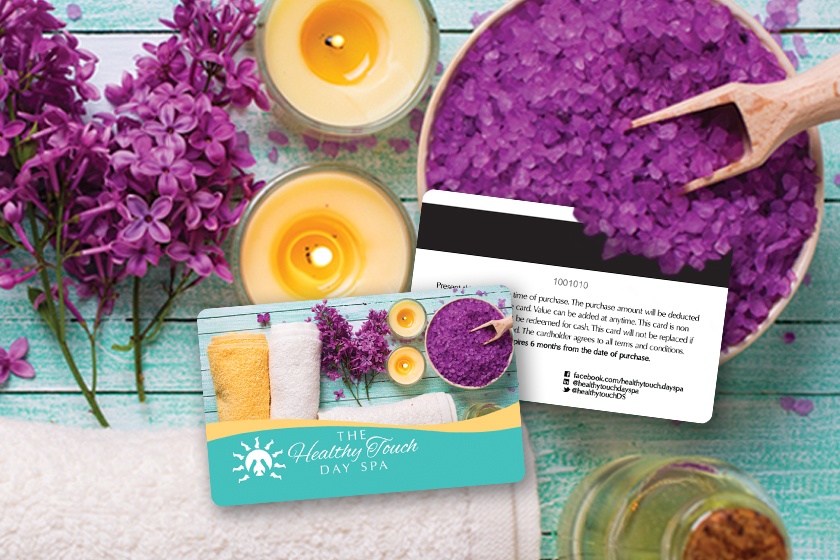 Spa Gift Cards
The Healthy Touch Day Spa uses a photo on their gift card design to show customers the relaxing services that they can look forward to. Using photos can help give customers an idea of what they can expect from your business. For your spa gift cards, consider using calming images.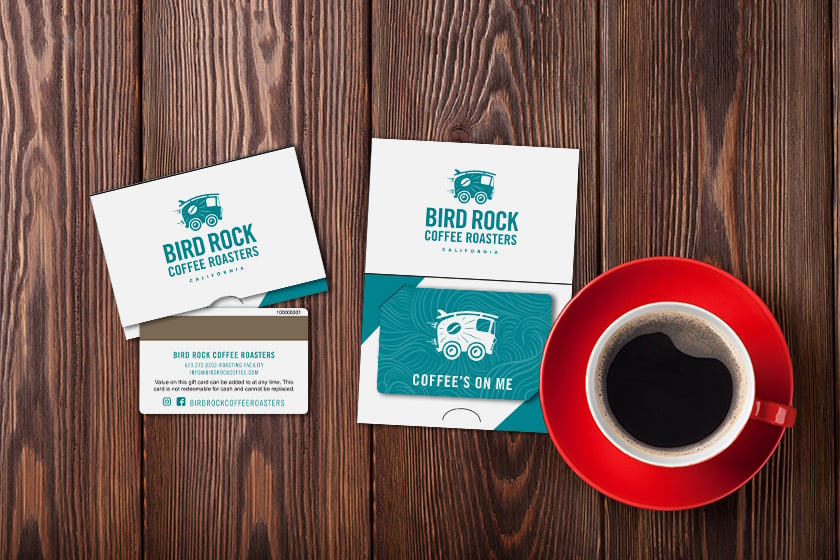 Custom Gift Cards With Matching Gift Card Holders
This is your reminder not to overlook the benefits of gift card holders! Gift cards are frequently impulse buys, meaning a customer doesn't go into your business with the intention of buying it, but they walk out with one anyway. Gift card holders are perfect for the impulsive buyer because they make your cards more gift-ready. We love the way Bird Rock Coffee Roasters combines their custom gift cards with matching holders to create a professional and cohesive look.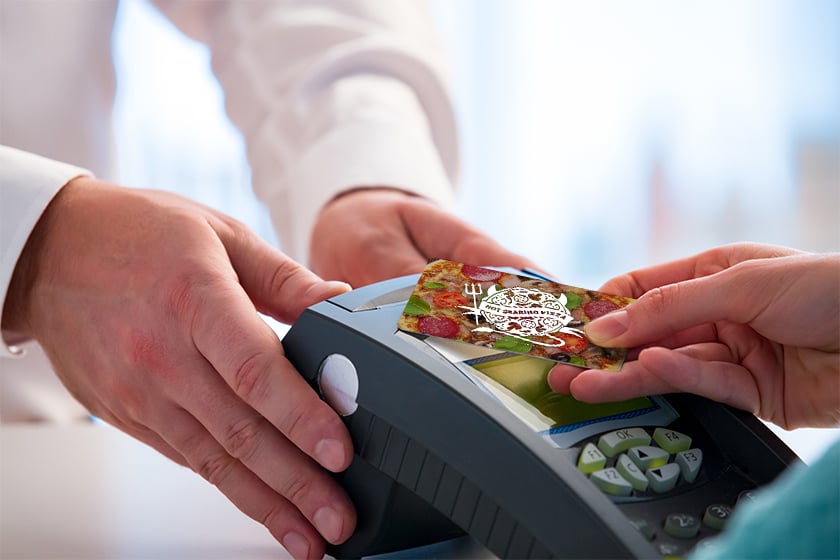 NFC Gift Cards
Near Field Communication (NFC) technology is the latest innovation for plastic cards. By adding an NFC chip, your custom gift cards don't need to be swiped or scanned during a transaction. Instead, with a simple tap, you can complete a transaction thanks to your NFC gift cards. If you want to bring your business into the future, you should consider using NFC gift cards.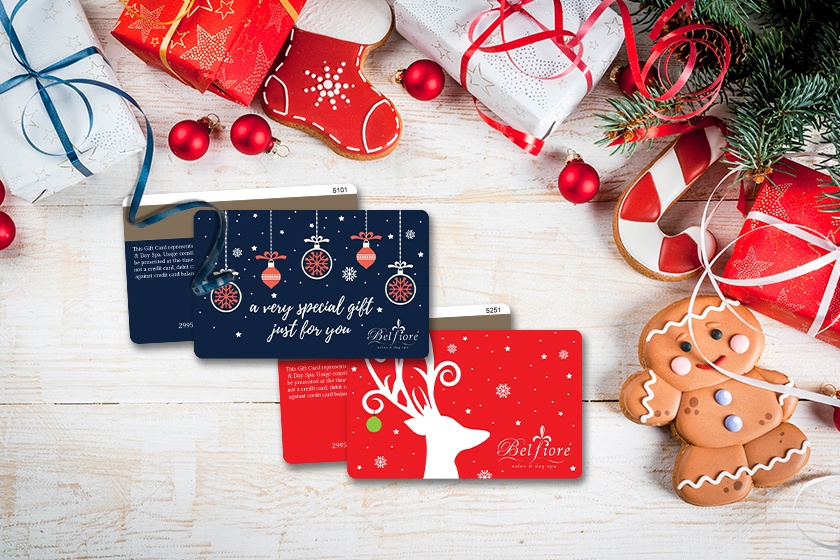 Holiday Gift Cards
Belfiore Salon & Day Spa kept the holiday season in mind with their gift card design. Using images and symbols associated with holidays or specific times of the year is an excellent way to help grab your audience's attention and help them associate your services as a gift. For more information on the importance of seasonal gift cards, click here.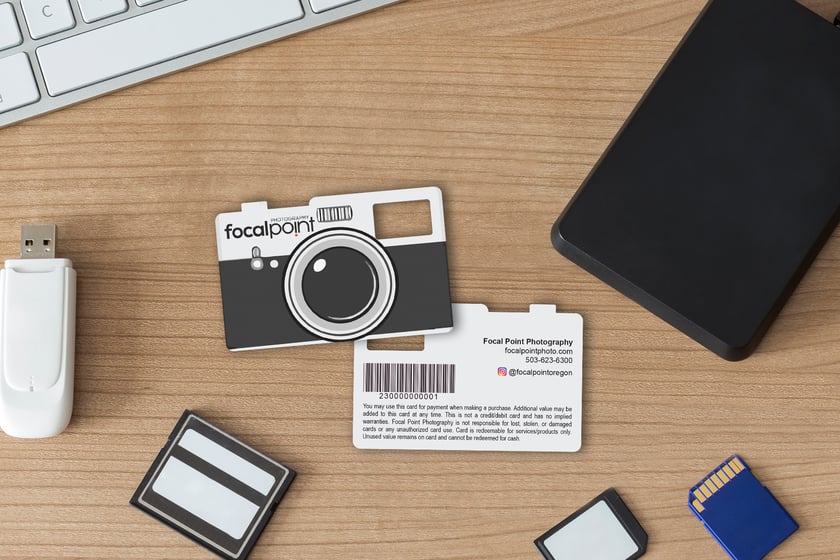 Unique Gift Cards
The more unique your gift cards are, the more they'll stand out. These unique gift cards from Focal Point Photography look like a camera to help capture the attention of customers. Crafting unique gift cards is our specialty, and we are sure to help you come up with a design as unique as your business.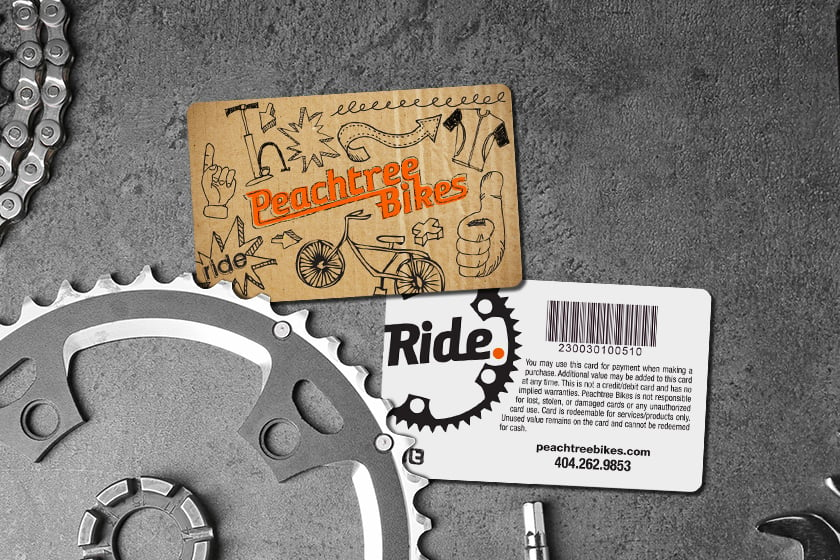 Retail Gift Cards
Retail businesses have a lot of success with gift cards, but the problem is that the competition is fierce. To stand out, you need to be true to your business, like Peachtree Bikes did with their retail gift cards. Their gift card design uses a beautiful art style that reflects their brand in a fun and inventive way.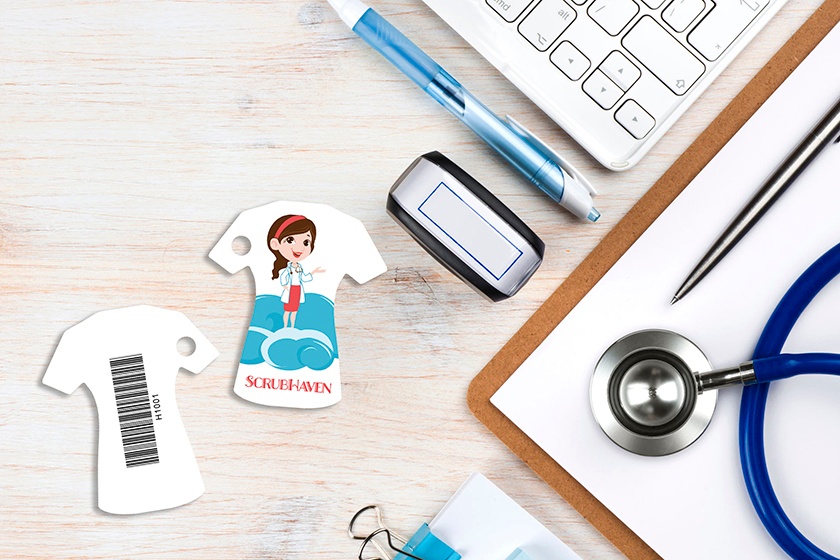 Key Tags as Gift Cards
Ready to have your mind blown? You can use key tags as gift cards! There are several benefits of using key tags as part of your gift card program. First, they are very distinctive and a great way to help you stand out. Next, key tags travel everywhere your customers do, ensuring they never forget them. Finally, key tags help expose your brand every time your customers take their keys out. Scrubhaven's key tag gift cards are an example that your business can do things differently and find success.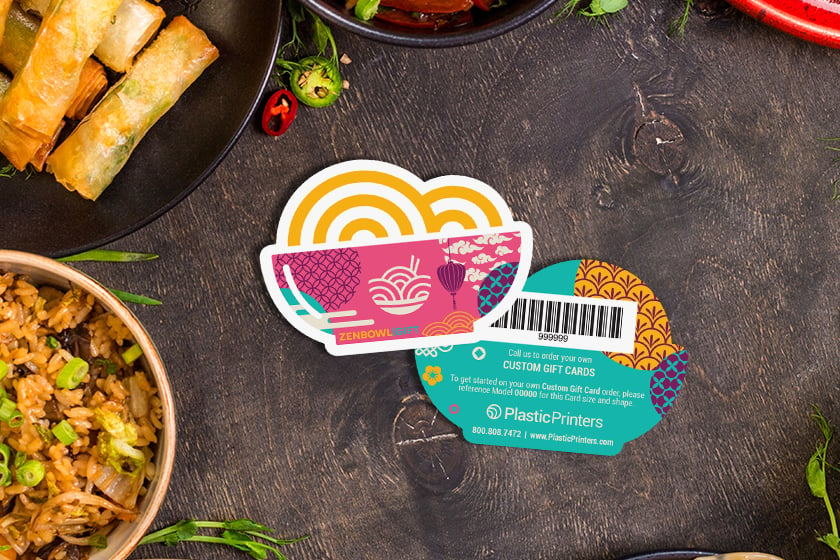 Custom Plastic Gift Cards
ZenBowl wows with these showstopping gift cards. The colors are fun and bright, and the custom shape reminds customers of the bowl of noodles awaiting them. These custom plastic gift cards definitely bring the wow factor.
---
Hopefully, these amazing gift card designs have helped get your creative juices flowing; we can't wait to see what you come up with! If you're still unsure of the design you want, check out our inspiration gallery. We're so excited to bring your vision to life; please reach out to us, we're ready to help!