Did you know that 27 million business cards are printed a day? While many physical mediums have declined over the years, many businesses are still using business cards because they're an effective way to help make a great first impression. However, with so many professionals using business cards, how can you ensure your card stands out from the rest?
To make a memorable business card, you need a fantastic business card design. At Plastic Printers, the options for customizing your business cards are endless. From custom shapes and clear cards, we do it all. Let's take a look at 20 amazing business card designs that could inspire the look of your next cards.
Clear Business Cards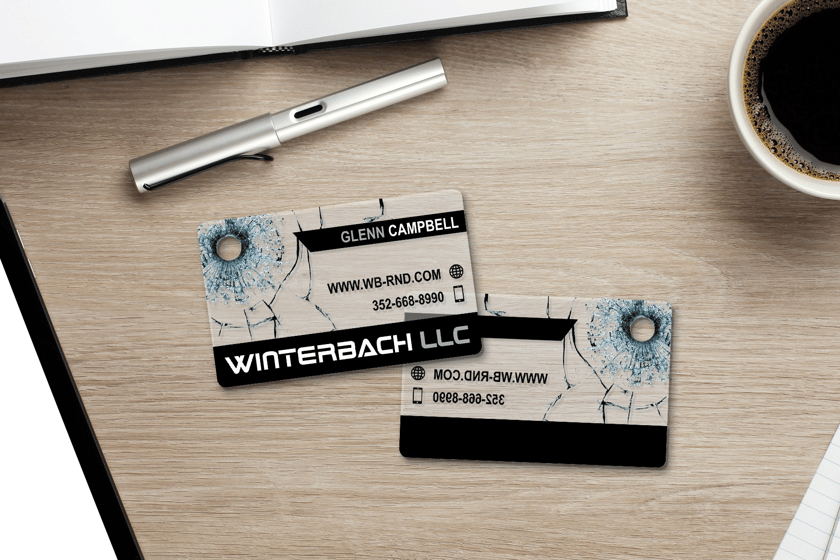 Glenn uses clear business cards to create a striking design that communicates the industry he works in. Utilizing the look of shattered glass in his business card design helps make his clear business cards unique and very memorable.
Square Business Cards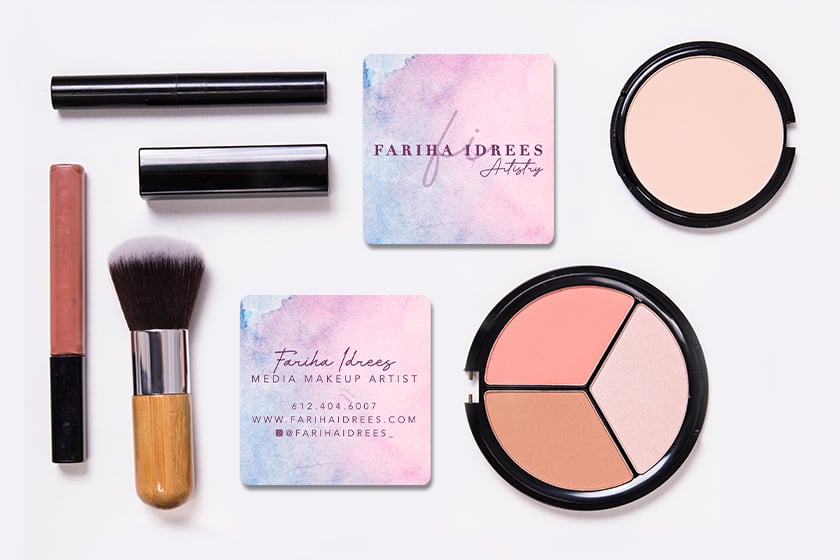 Square business cards are unique on their own, but Fariha uses a watercolor look to set her cards apart even further. Utilizing shapes besides traditional rectangular cards, such as squares, circles, and triangles, helps your card stand out in a business card stack.
Custom Shaped Business Cards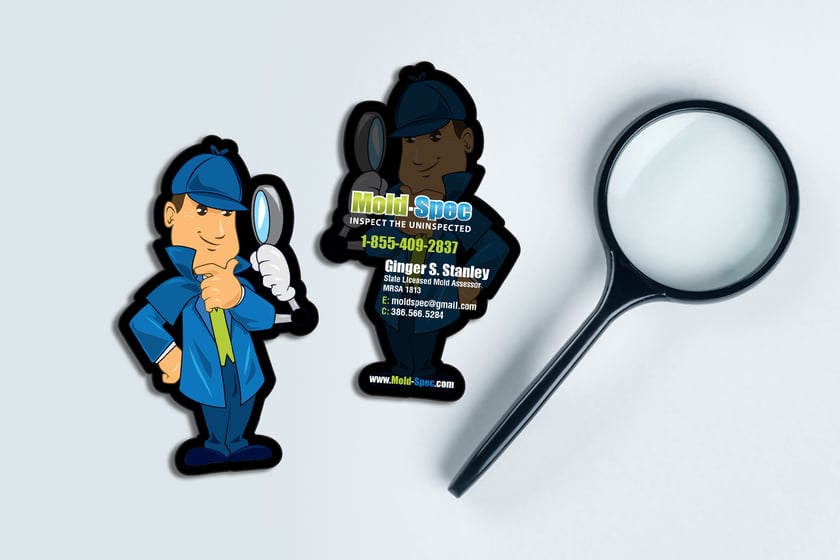 Ginger uses a custom shape to create a one-of-a-kind business card that's fun and unique to her business. In addition to the custom shape, note the cartoon art style, which is very uncommon. In conjunction, the custom shape and fun art style help her create an exceptional business card design that helps attract new business.
Credit Card Style Business Cards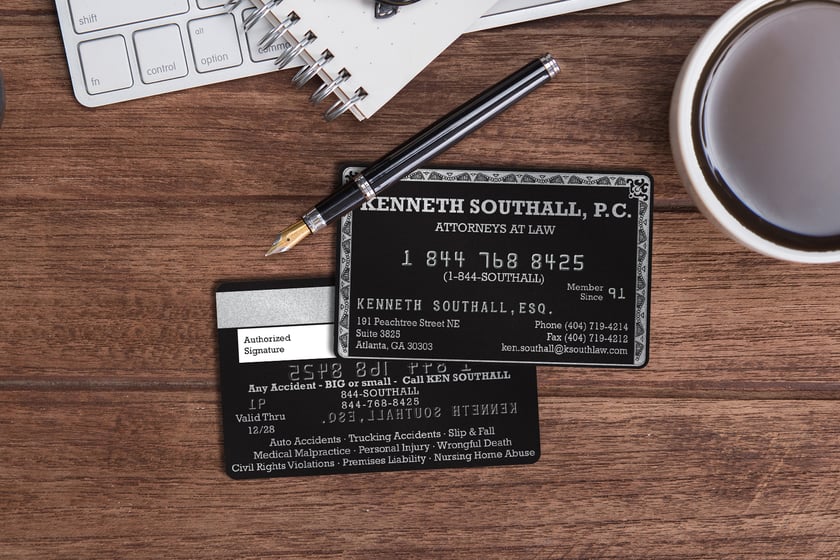 Believe it or not, many lawyers, realtors, and finance professionals use custom business cards that imitate the look of a credit card, as Kenneth did. This plastic business card features embossing, a faux magnetic stripe, and a signature panel to recreate a credit card's look. These highly professional-looking business cards are useful because they are instantly recognizable, highlight important information, and help spark a conversation.
Vertical Business Cards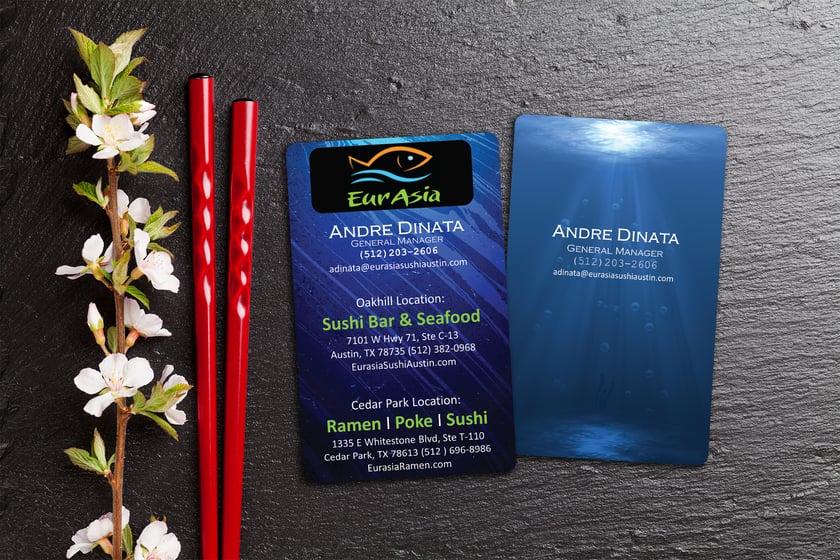 Have you ever noticed that most business cards are designed to be read horizontally? Flip the script and go for a vertical business card design, as Andre did. Because vertical business cards are less common, it will be one of the many things that help set you apart from the competition.
Frosted Business Cards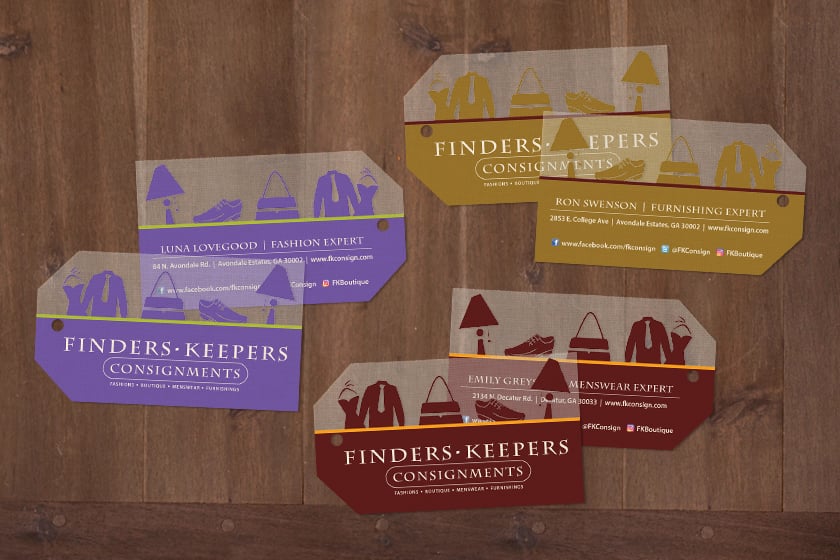 The price tag shape and a frosted look give Finders Keepers Consignments' business cards an exceptional design. Frosted business cards look a lot like clear cards, but they aren't quite as translucent. Frosted business cards also bring a unique satin finish, which gives off a premium look and feel. Frosted business cards are commonly used to highlight branding or an industry uniquely.
Embossed Business Cards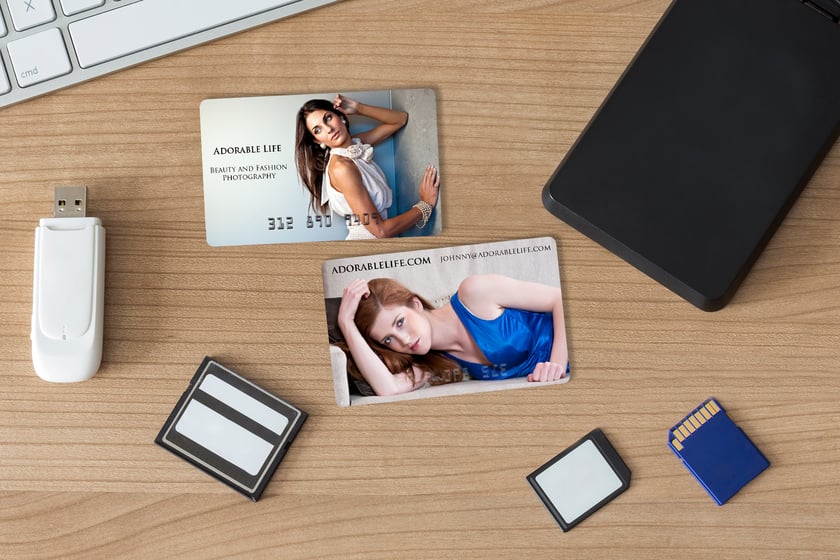 Johnny lets his amazing photography speak for itself with his business card design. Your business card design is the perfect place to show off samples of your photography, art, products, etc. Additionally, he also uses embossing to highlight his phone number, helping to ensure that no potential clients miss it.
QR Code Business Cards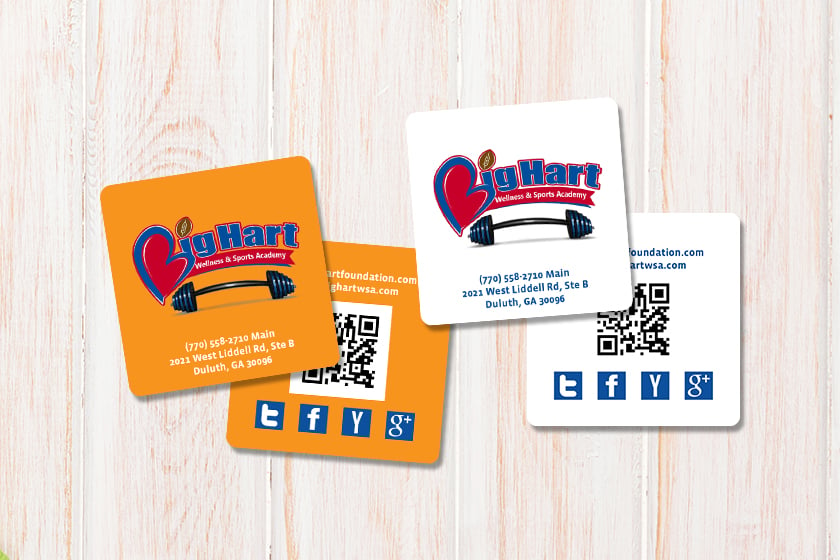 By adding a QR code to their custom business cards, BigHart changes how they network and share information with clients. With a QR code, you can transmit your contact details, business information, and more straight to your client's phone. QR code business cards are a great way to embrace technology to create a unique business card that helps impress your clients.
Foil Business Cards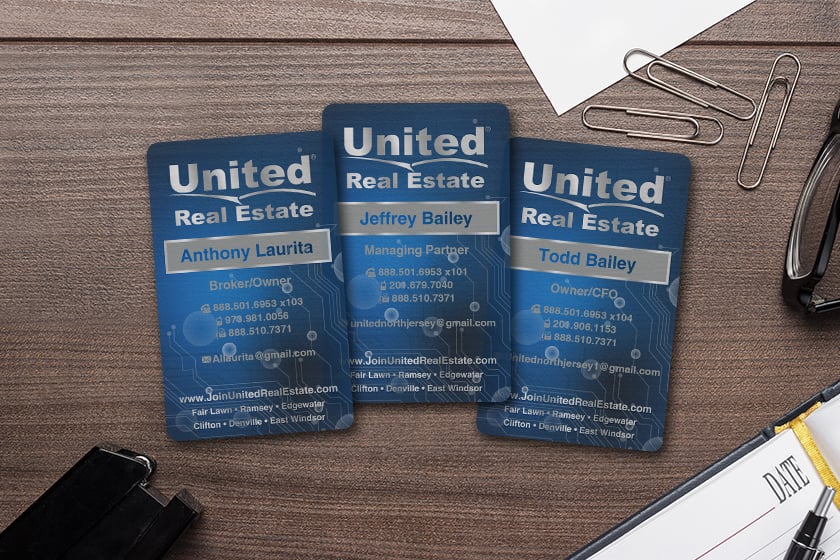 United Real Estate uses foil stamping to help make their branding pop. Foil adds shine to your business cards, which is a great way to attract attention. There are various options for your foil business cards, including silver used in the cards above, gold, and rainbow.
Round Business Cards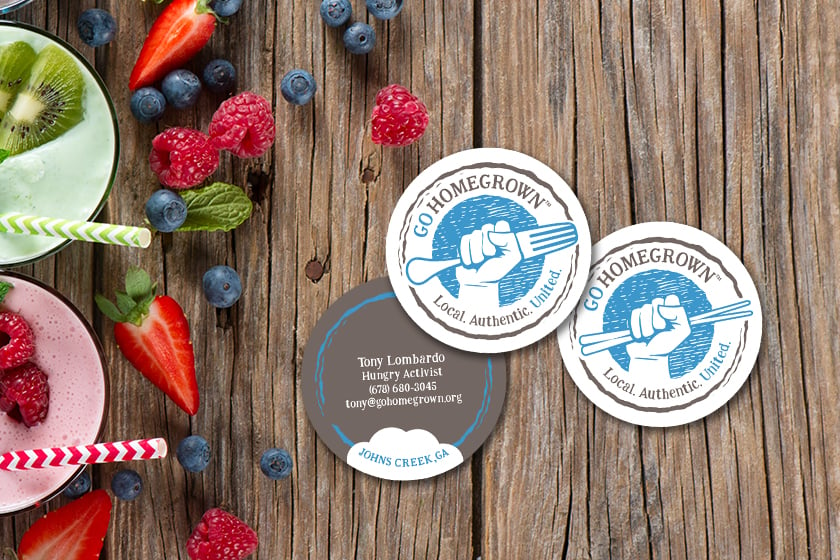 Show off the creativity of your business with round business cards. Round business cards help show that your business isn't afraid to think outside of the box. Round business cards are a great way to highlight your branding and create a unique design to help your business be noticed.
Metal Business Cards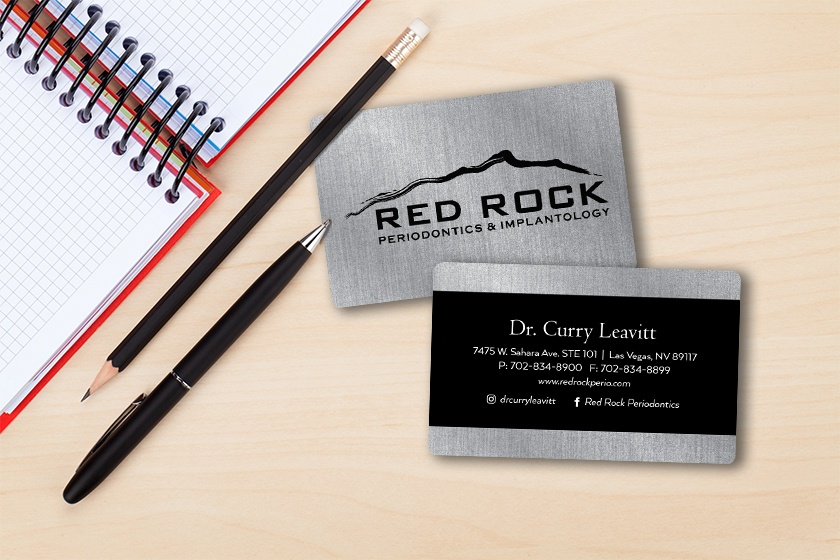 Dr. Curry achieves the look of brushed metal with his metal style business card design. While these cards look like metal, they are really made out of plastic. Plastic business cards are much cheaper than metal business cards, and they offer more design flexibility.
Plastic Business Cards with a Photo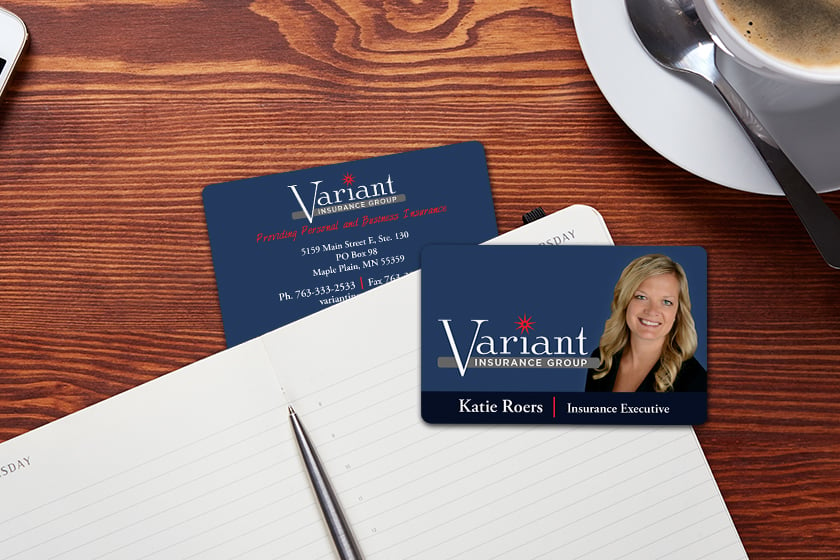 Katie adds her photo to her plastic business cards to make a connection with her clients. Adding your photo to your business cards help make it easier for potential clients to remember who you are. It's also more personal, helping you establish trust, which is incredibly important.
Die Cut Business Cards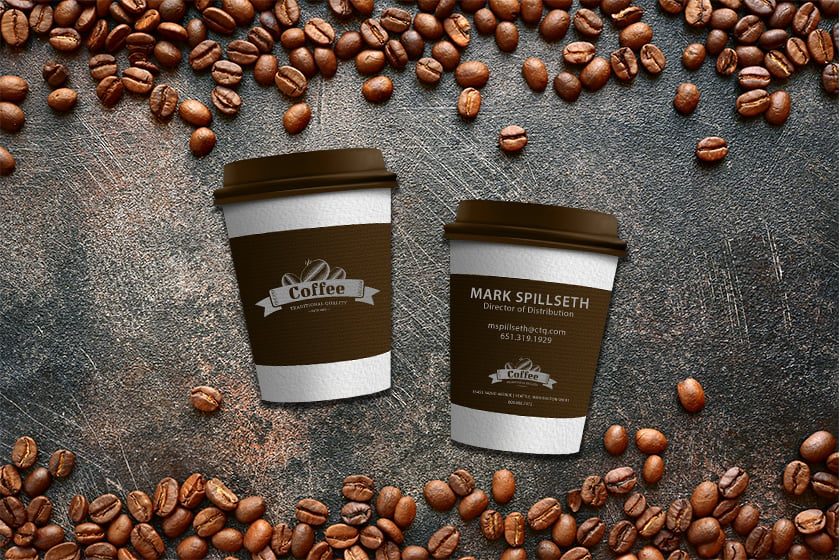 Bring your business to life as Mark did with his die cut business cards. We have thousands of dies on file for you to choose from. Don't see the perfect die for your business card design? We can make one just for you! Die cut business cards are bold and fun, a great way to help make an impactful first impression.
Business Cards With a Promotional Pop Out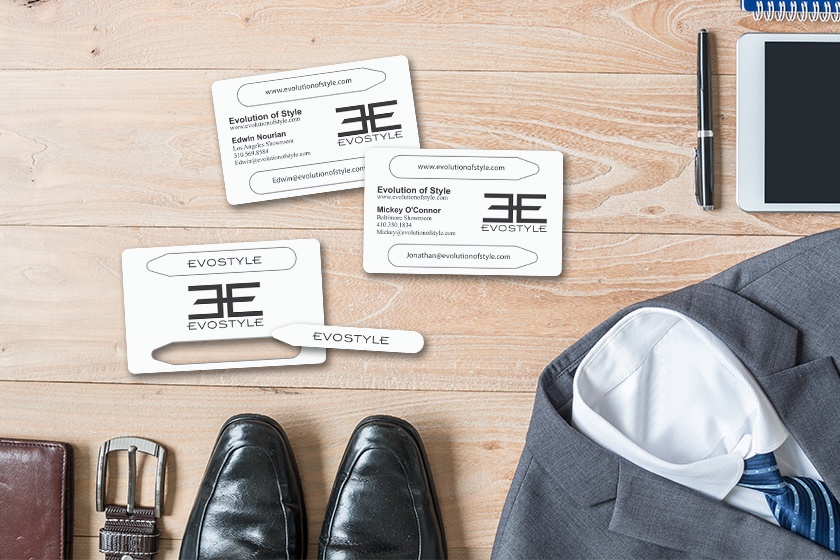 The team at Evostyle wanted to add value to their business cards, so their custom business cards feature pop out collar stays that help ensures their clients always have what they need. This is a one-of-a-kind business card that is unbelievably creative. Consider thinking of a way to provide extra value to your business cards with a promotional tool that benefits your clientele.
Foil & Clear Business Cards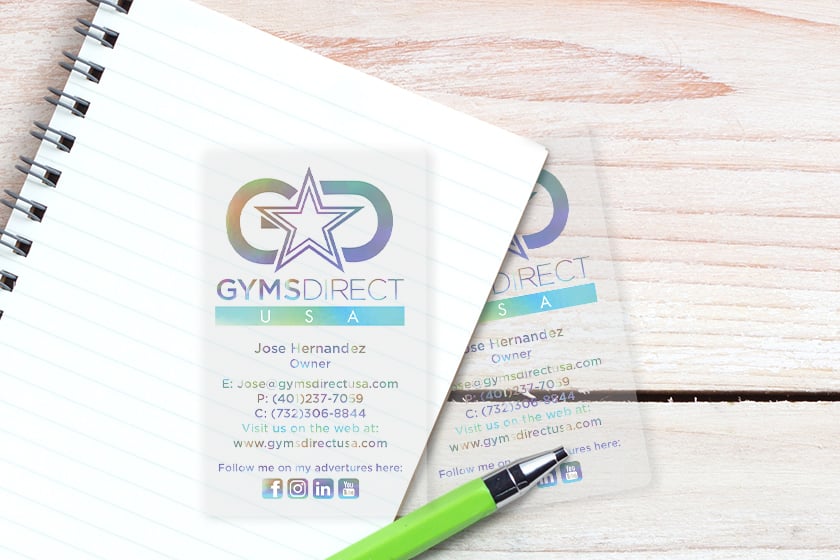 Did you know that your business card design can feature more than one amazing design feature? Jose uses rainbow foil in tandem with a clear card to create an unparalleled business card design. At Plastic Printers, we offer a variety of amazing design features, combining several of them in one business card design can lead to spectacular results.
NFC Business Cards

Near-Field Communication (NFC) technology is changing business cards. With NFC business cards, you can simply tap your card to any smartphone and transmit information straight to the phone. Martina uses her NFC business cards to add her contact information to her client's phone. However, NFC business cards can do more than just transmit contact information; other possibilities include your website, videos, and even directions to your office.
Photographer Business Cards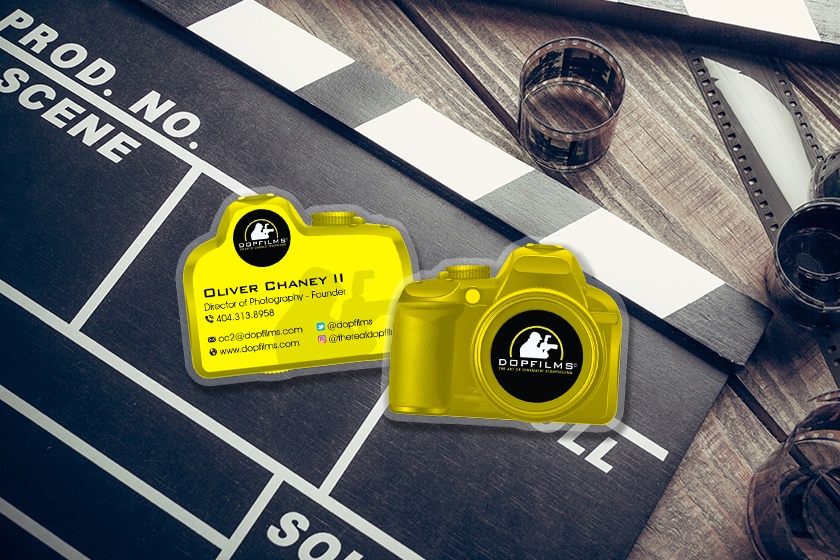 Oliver uses a camera shape to help distinguish his photographer business cards. In crowded and competitive fields like photography, finding a way for your business card to shine is essential. Oliver's photographer business cards are sure to help attract attention with the bold yellow and gold colors and the eye-catching custom shape.
Plastic Business Cards with Directions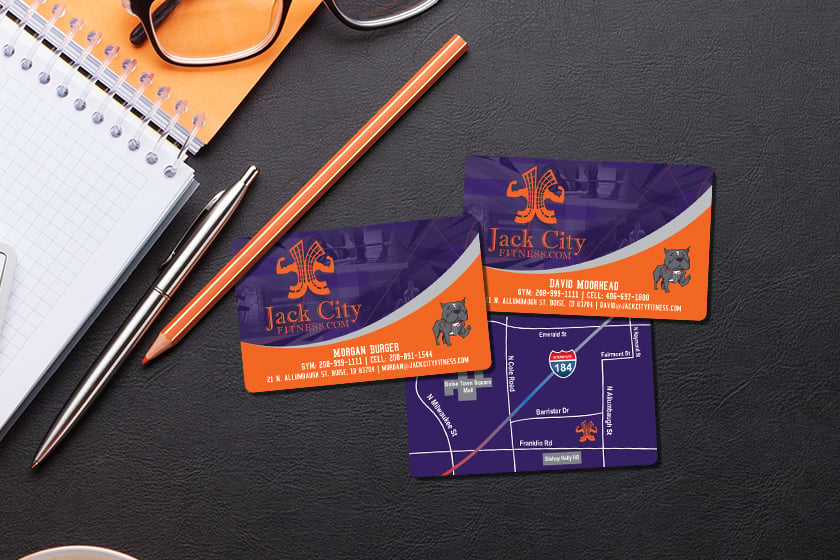 Are you worried about your clients finding your business? The team at Jack City Fitness added a map to the back of their plastic business cards to show their customers where their business is located. It isn't often you see a business card with a map on it, which helps differentiate these cards from the rest.
Circle Business Cards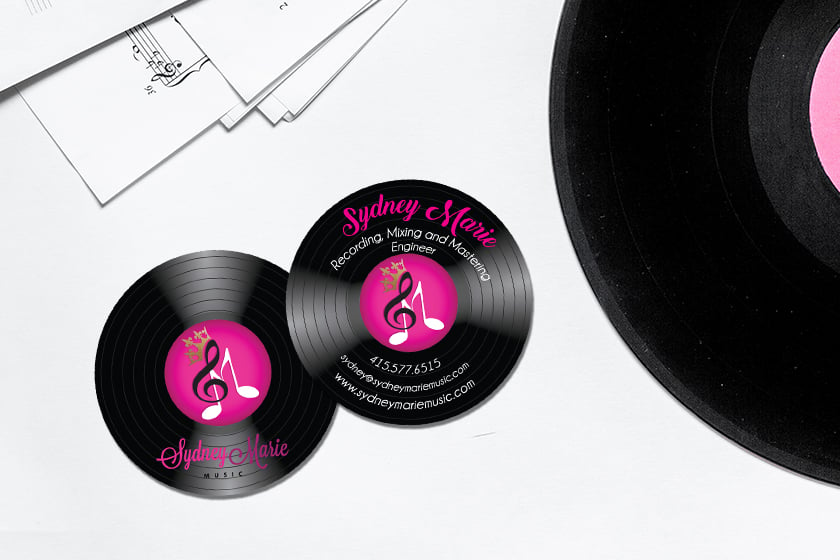 Sydney Marie's circle business cards are a bit of a throwback, as they imitate the look of a vinyl record. Using familiar imagery such as a record in your business card design can help make your cards appealing. These circle business cards use a simple design, but it tells you everything you need to know about what Sydney Marie does.
Clear Plastic Business Cards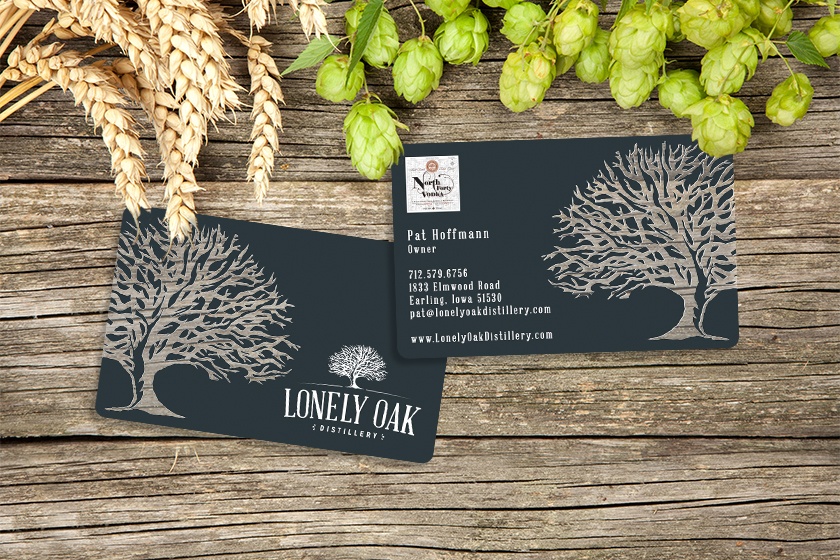 Clear business cards can take a good business card design and make it great. These clear plastic business cards have a pretty simple design, but the clear accents elevate it to a stunning piece of artwork.