When it comes to representing your business, a lot more goes into designing your business card than simply the information on it. The first thing a client or customer sees when they take your business card isn't the writing; it's the logo, the color, the shape, the style, the things that make it pop! So here, we've collected a few of the best business card designs we've seen this year for you to take some inspiration from when designing your own business card.
The Specialty-Shaped Card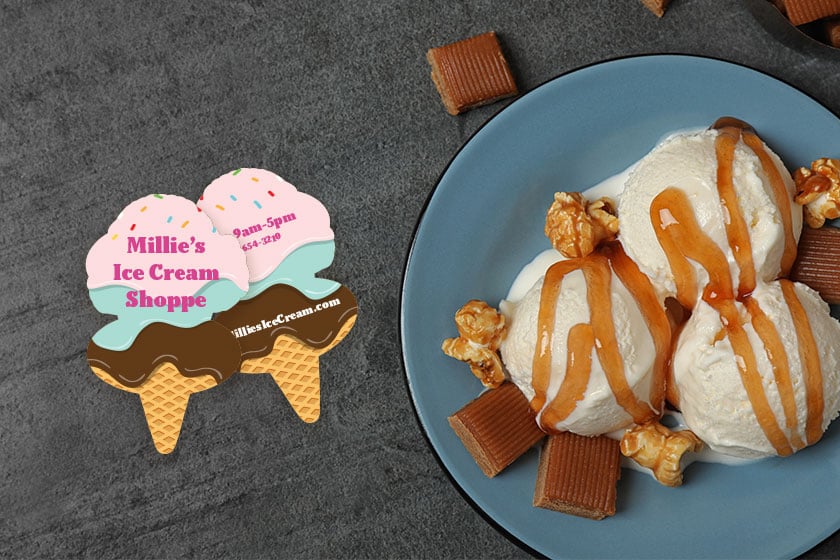 A business card design that many industry professionals and small businesses have gravitated toward in the last few years is the specialty-shaped card or an industry-shaped card. These cards allow you to say something about your business before the customer even reads your information, like the example above.

Creative cards like this can entice customers without them ever even having to enter your establishment, with the shape, bright colors, text color, and font all working together to create a memorable business card. These shaped cards can be used for all sorts of industries as well, like a coffee cup for a café, or a hammer for a construction company.

For more custom shapes, click here.
---
Custom Clear Cards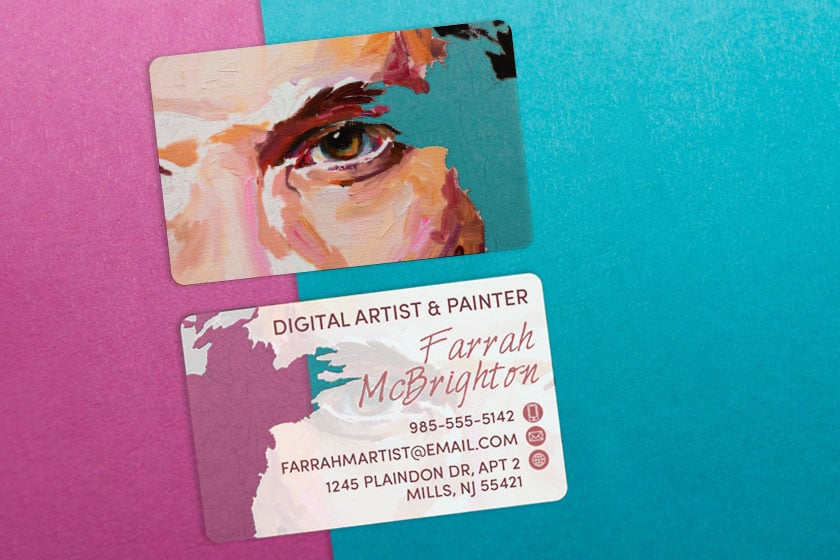 Another way that cards can draw the eye of a potential customer or client is by utilizing transparency. The card above expertly utilizes the clear section of the card to accentuate what the card is trying to sell; the art. While this card is clear in a small portion, you could utilize your transparency in your own unique way. The amount of your card that is printed clear can accentuate text, your logo, or any other information you want to highlight.

Clear cards are the perfect accent to your presentation. The card doesn't have to be simply clear either, the opacity can be changed to match your needs. If you're looking for more of a tint, or to frost the transparency, that can be done with ease!

For more examples of clear cards, click here.
---
Circle Business Cards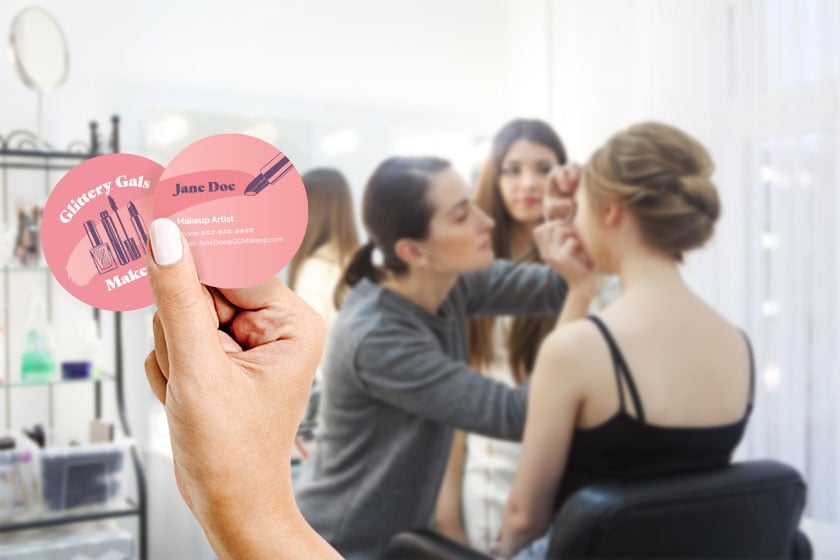 This example of the circle business card is both efficient and appealing; its use of color and art presents a card that is easy to look at, while the information is straight to the point and doesn't overcrowd the card. That's the beauty of the circle-shaped business card; it accomplishes a lot without taking up much space!

They can easily present a logo, name, and information, or use one full side to present a logo front and center. Their versatility is one of the reasons circle business cards are among our most popular! Not to mention that they can also be printed clear of frosted, just like any other card. A circle card is only limited by your creativity!

To see more examples of circle cards, click here.
---
Square Business Cards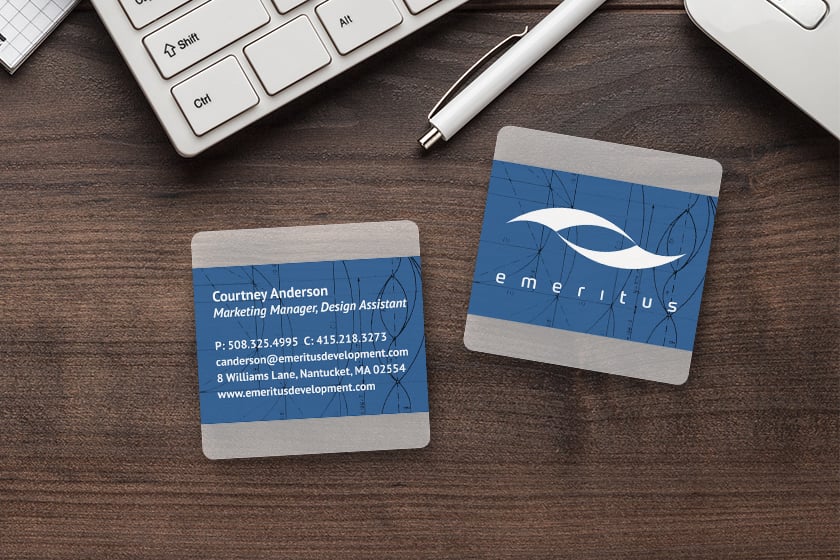 Square business cards are one of the most popular custom-shaped business cards we offer, and for good reason. In many ways they are similar to the circle card; in fact, this card utilizes aspects of each card above it so far! It's got a frosted lining to draw the eye toward the center logo and name, and, much like the specialty shape and circle card, it utilizes its surface area to display all of your desired information.

Custom-shaped business cards like these square cards are built to stand out from the rest of the business card crowd, with extra versatility for each shape. For example, a square card is perfect for a QR code, or much like the card above, it clearly displays the information without creating any unnecessary white space that pulls the eye away from important info.

For more business cards, click here.
---
NFC Cards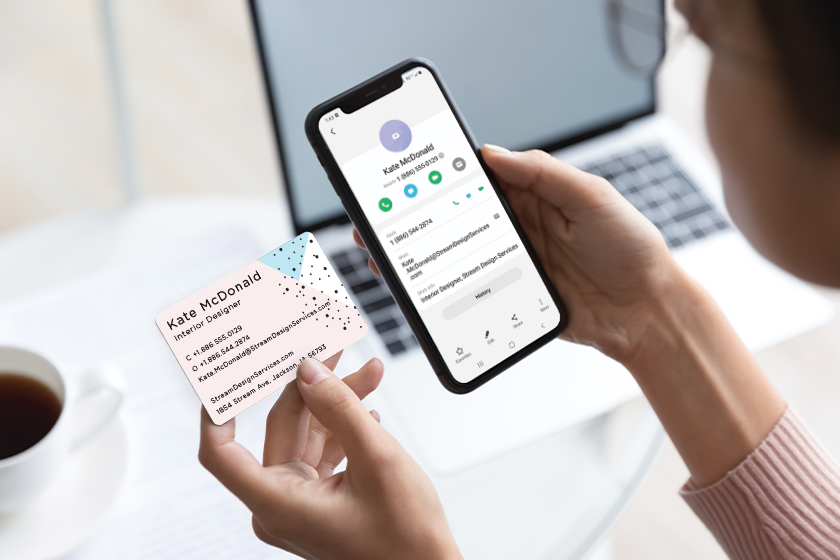 There is a new trend in business cards for the modern era; that's the NFC card. An NFC (near-field technology) card allows your card to send your desired information directly to a client's phone with a single tap. Though sending your information with tech is a pretty neat concept, that doesn't mean you can slouch on the design. For example, check out that card above!

While this card functions as a standard business card with the information presented cleanly and effectively, the chip inside the card can send that information to a customer's phone as well! the colors pop but don't distract from the text, and it exudes an upbeat, cheerful energy. This one example is just one way to design your NFC card; some NFC cards like to use transparency or frost to display the card's inner circuitry, adding to its appeal.

For more about NFC cards, click here.
---
There you have it, five amazing business card designs to look into this year. Do you have more questions about business cards? The experts at Plastic Printers can help! We've helped create business cards for thousands of companies and will assist you in developing a concept, creating artwork, and producing the card. Whether you have questions or are ready to order business cards for yourself, please reach out to us; we're happy to help.