Check your wallet - odds are, you're carrying around a business card. Business cards are commonplace today and have been around for centuries. However, despite being culturally relevant for centuries and being used every day, there are many things about business cards the average person might not know.

Believe it or not, there's a lot of fascinating things to know about business cards. For example, I bet you didn't know that 27 million business cards are printed every day. Learning more about business cards can help shed some light on why these cards have been popular for so long and how you can effectively use them yourself. Let's take a look at ten business card facts that you probably didn't know.
1. Business Cards can be Made of Many Different Types of Materials
Everyone has seen a paper business card, but did you know that business cards can be made of many different types of materials? Plastic, metal, wood, cotton, cork, and bamboo are other options. Recyclable materials are another option, and much emphasis has been made in the industry on producing more business cards made of recyclable materials. Each business card type comes with different pros and cons. For instance, paper business cards are typically cheaper, but plastic business cards are sturdier but slightly more expensive. There's no one-size-fits-all when it comes to business cards; when selecting yours, you should choose the material that best fits your business's needs.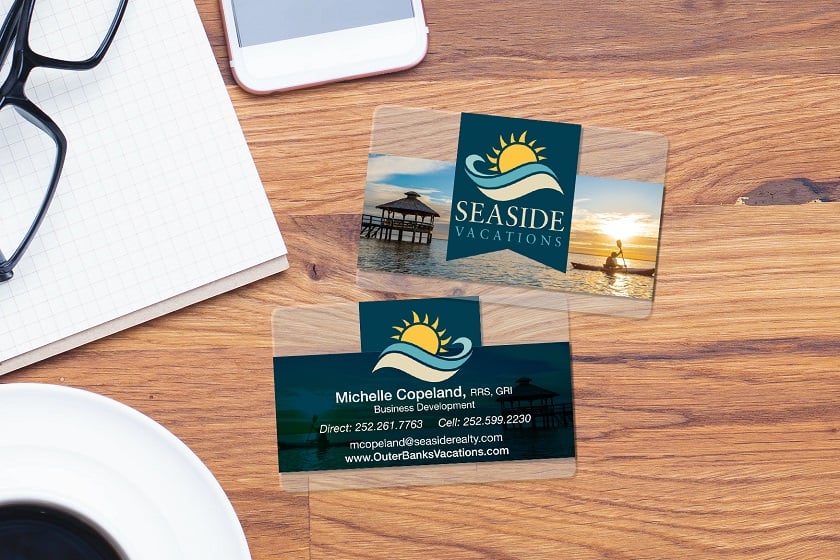 2. The Printing Press Helped Popularize the Business Card
The printing press is often lauded as one of the many great inventions in history, and it was certainly significant to the success of the business card. Thanks to Johannes Gutenberg, replicating books and other works were faster than ever. Since the introduction of the printing press, business cards have come a long way. The production of business cards became much easier than before, so business cards became more common and popular. To learn more about the history of business cards, click here.
3. Business Cards can Make or Break a Business
Business cards can be vitally important to companies. 72% of people judge a company by the quality of the person's business card. The implications of that statistic are huge! It shows that simply having a business card isn't enough; the majority of consumers want to see a quality business card. If the business card is viewed as low-quality, consumers may choose not to do business with that company. This statistic is massively important for showing the power and value of business cards.
4. Custom Shapes Make for Bold, Memorable Business Cards
As previously mentioned, different business card types have distinct benefits. One of the many benefits of plastic business cards is that they can be easily cut into any shape imaginable. Whether you want a business card shaped like a bicycle, an elephant, or a four wheeler, all are possible with plastic business cards. Since business cards are so popular, utilizing unique shapes can help you stand out from the competition and make a bold, unforgettable impression.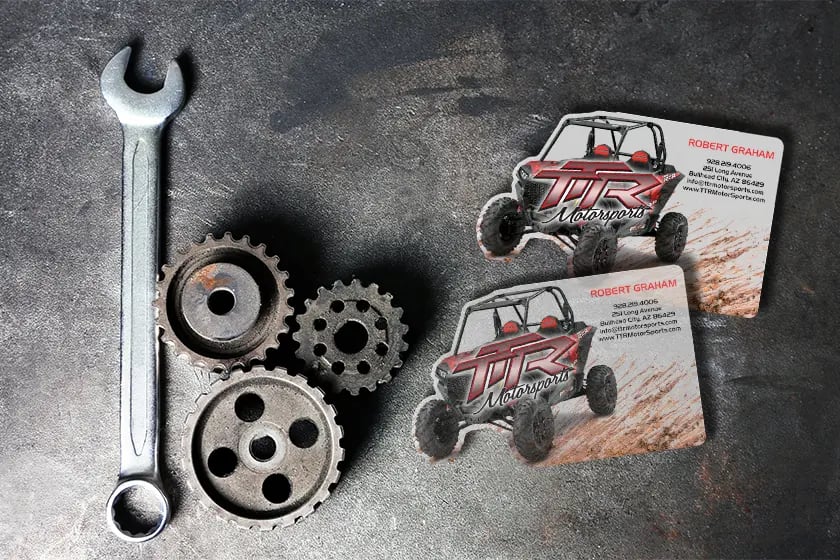 5. Business Card Size Varies Around the World
In the United States, the standard business card size is 3.5" x 2", but that is not the standard across the world. The European standard measures in at 3.35" x 2.17", while the size in China is 3.543" x 2.125". It is worth noting that the standard credit card size is 3.375" x 2.125". Credit card size is a great option for business cards because that size is explicitly designed to fit in a wallet. For more information on business card size, click here.
6. Using Colors Makes a Difference
One of the many reasons people use business cards is that they are a physical reminder of a person or business. One way companies make their business cards more memorable is by using colors. According to research, 78% of people find color cards more memorable than plain white cards. Utilizing color can have a significant impact on business card design and make them more impactful.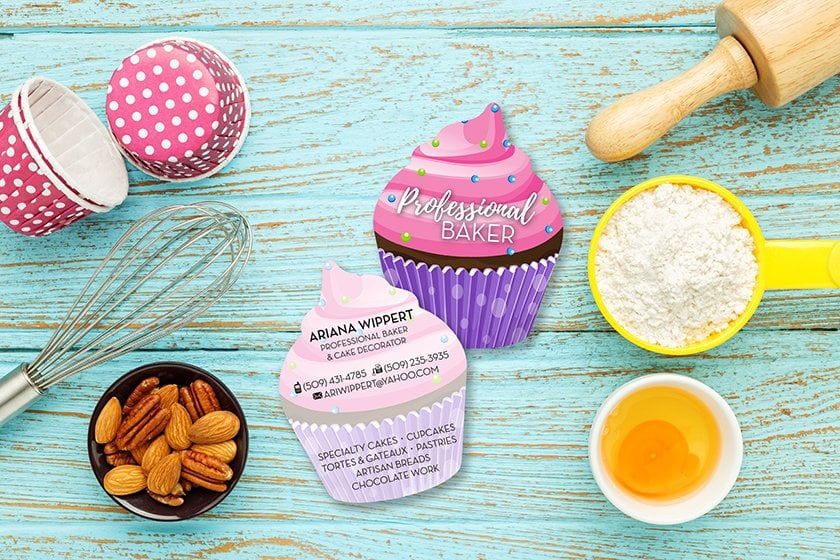 7. Square Business Cards are the Most Popular Shape
Aside from the standard rectangular-shaped business card, square business cards are the most popular shape. Square business cards are popular because they are a familiar shape but still eye-catching. Other popular shapes include round business cards and house-shaped business cards.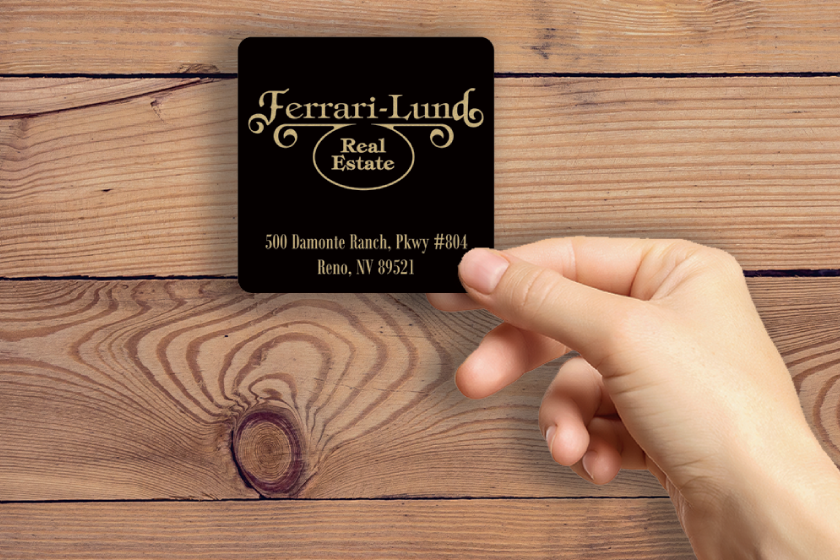 8. Business Cards Help Make a Strong First Impression
Did you know that it only takes a tenth of a second to form an impression of a stranger? Research shows that longer exposures don't significantly alter those impressions. That doesn't seem fair at all, but it's reality. Since making a positive impression is so important for business professionals, they tend to rely on a tool that can help - business cards. With a well designed business card, you will make a strong first impression with potential customers, setting your business up for success.
9. Functional Business Cards are a Thing
Sometimes, a business card is more than a business card. Functional business cards are multi-purpose to encourage clients to hold on to them and use them repeatedly. For example, some business cards contain a mini ruler on the side. Other business cards double as coasters. By adding functionality to business cards, clients are more inclined to hold onto them, and when they use them, they will think of you and your business.
10. Business Cards are Still Evolving
Though business cards have been around for centuries, new innovations and technology continue to push them forward in order to stay relevant. For instance, NFC business cards, also known as contactless business cards, are an emerging business card trend that utilizes 21st-century technology. NFC business cards have a tiny near-field communication (NFC) chip embedded in them. By tapping the NFC-equipped business card to a smartphone, you can transmit contact information, links, social media pages, videos, and more straight to a client's phone. As the business card continues to evolve, we can only speculate as to what they may look like 20 years from now.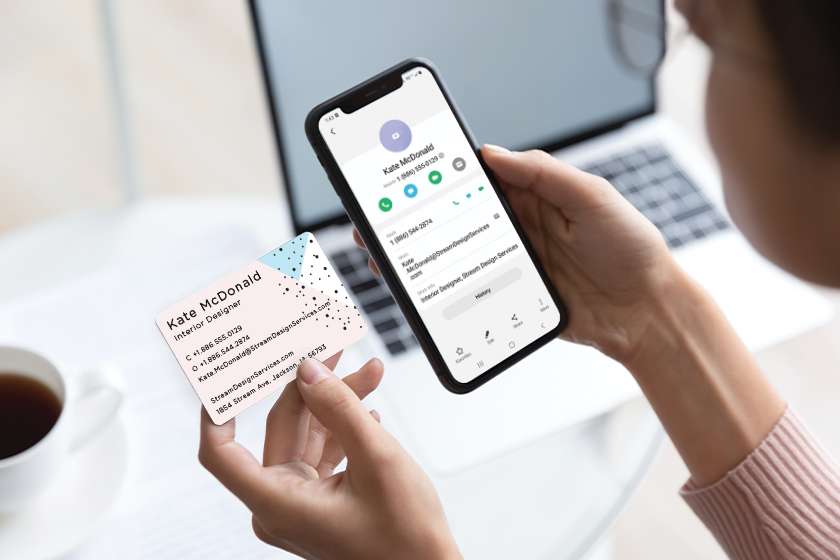 ---
There you have it, ten facts you didn't know about business cards. Do you have more questions about business cards? The experts at Plastic Printers can help! We've helped create business cards for thousands of companies and will assist you in developing a concept, creating artwork, and producing the card. Whether you have questions or are ready to order business cards for yourself, please reach out to us; we're happy to help.