People love their pets. In 2020, $103.6 billion was spent on pets in the United States alone. That number is estimated to rise to $109.6 billion in 2021. With so much pet love, it's no wonder why tons of different pet-related businesses like pet stores, pet grooming, and pet hotels have popped up in recent years. However, with growth comes new competition and continued successful growth can be difficult to accomplish.
That's where Plastic Printers can help. For over two decades, we've helped provide one-of-a-kind marketing tools that help brands, including pet businesses, stand out. And guess what? Your business could be next! Let me show you some of the amazing products we can create to help boost your pet marketing, increase profits, and set your pet business up for success. Let's get started.
Dog Grooming Business Cards
Want to make yourself known as a premier dog groomer? You should consider having business cards that reflect the quality of your work. Everyone knows the saying "don't judge a book by its cover," but right or wrong, people make judgments based on superficial things all the time. In fact, according to a study, you and your business only have seven seconds to make a first impression; that's not nearly enough time for anyone to accurately assess your business.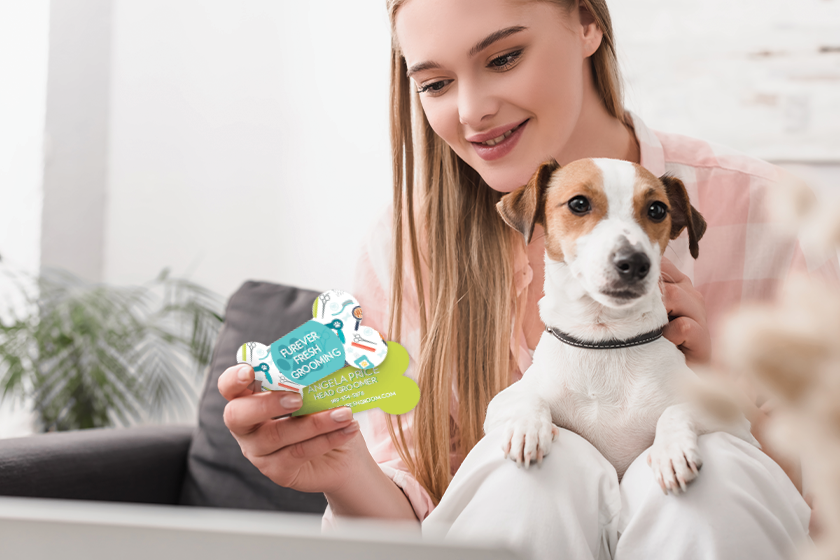 If your business is going to be judged so quickly, you need some fantastic dog grooming business cards that will immediately impress your clients. We have tons of ideas for dog grooming business cards that will make an impactful and unforgettable impression. One of our favorite options is using custom shapes to create a unique design that your clients will love. For example, your dog grooming business cards could be shaped like a bone or a dog. With custom shapes, anything is possible, and you'll create a pet grooming business card your clients will want to hold onto.
Custom Dog Tags
You know what product just about every dog owner uses? Dog tags. Since virtually every dog wears a dog tag, why not offer them at your business? Custom dog tags can be the promotional product your pet store, dog grooming business, or other pet business needs to take your pet business marketing to the next level.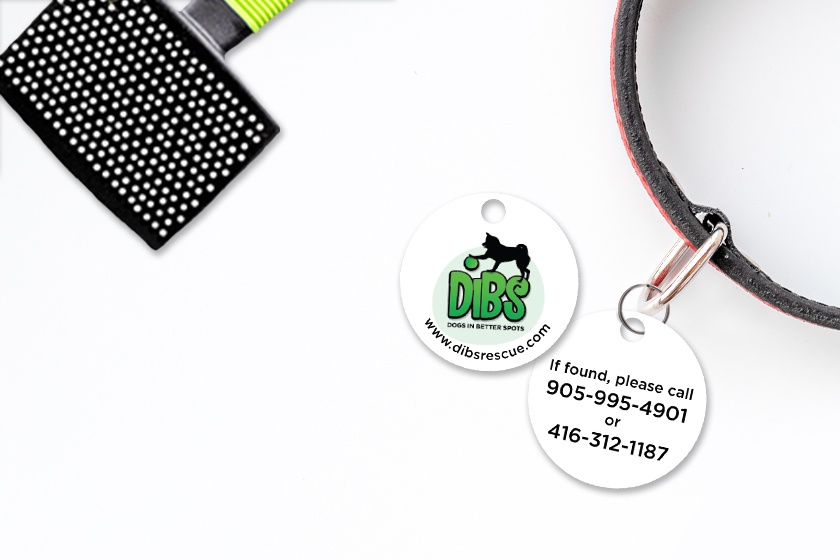 We can help you craft custom dog tags that your customers will love and also promote your brand. Include your logo, colors, fun imagery, or creative quotes to create custom dog tags that will be unique to your business. Give them out to all of your customers; every time someone glances at their pet and sees your custom dog tags, they'll be reminded of your business. Want to see an example of this strategy in action? Auto shops utilize the same promotional strategy when they attach promotional key tags to their customers' key rings.
Dog Grooming Signs
Communicate with your customers and provide a smoother experience at your business with dog grooming signs. The customer experience is huge for pet businesses because if a customer isn't satisfied with their experience, they won't trust you with their pet. That's where dog grooming signs can come in handy. These signs can help clear up confusion at your pet grooming business.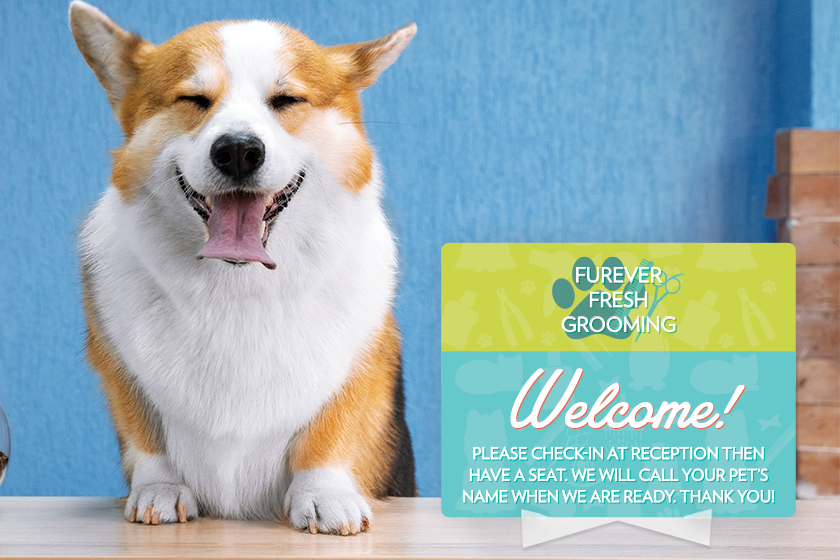 Your pet grooming signs can be customized to fit the needs of your business. Does your pet grooming business have a waiting room? We could help you create a dog grooming sign that indicates the check-in process. Other popular signage options include bathroom signs and open and closed signs. However, we can help you create any kind of signage your pet business needs.
Pet Certificate
Pet adoption is a big deal; many people treat their new pet as a family member. Help your customers celebrate the newest addition to their family with a pet certificate. You can give out a pet certificate every time a pet is adopted; it's something customers will treasure and hold onto forever. Pet certificates are a great way to make the pet adoption process feel a little more special, and your customers will appreciate the personal touch.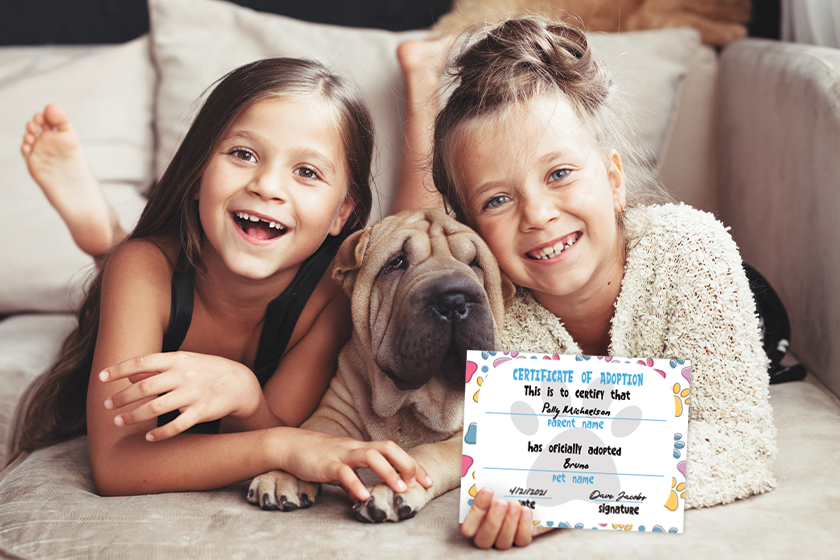 Additionally, you can also give out other types of pet certificates. For instance, if you run a dog training class, hand out a dog training certificate once a dog has successfully completed the course. These certificates can be writable, allowing you to sign and date them by hand to add a personal touch.
The idea behind these certificates is to go the extra mile and offer something to your customers that competitors don't. Don't underestimate the power of making your customers feel special.
Dog Grooming Menu
You can lay out your various dog grooming services with a dog grooming menu. Often overlooked from a marketing standpoint, menus can significantly impact your business. For instance, it might be a good idea to offer take-home menus to give your customers a chance to review all of your different services on their time. With more time to review your dog grooming menu, they might decide to try a new service.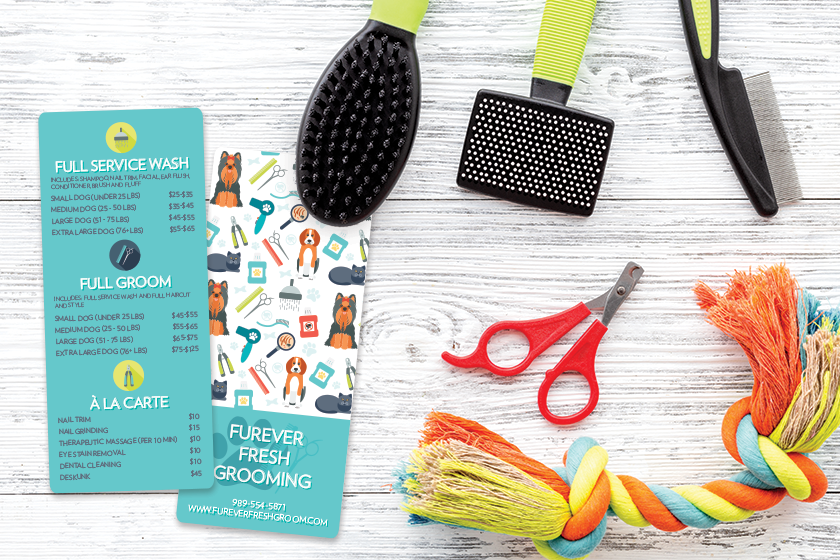 Additionally, you'll want a menu to help your customers in-store. We specialize in creating menus that highlight your branding and are easy to read, encouraging more sales. Just like with business cards and all of the other products mentioned in this blog, your pet grooming menu is completely customizable to make it as unique as your company.
---
There you have it, five customizable marketing tools and products that can help your pet business stand out. At Plastic Printers, we can help you customize all of these products and more. If you're interested in getting custom marketing tools for your pet business, please reach out to us; we're ready to provide all of the custom products your pet business needs.