Your menu is one thing every customer will see and touch at your business, making them an incredibly important tool. However, creating the perfect menu design for your restaurant, bar, or service business isn't easy; there are so many options available that it seems difficult to determine what menu is the best fit for your needs. But don't worry, the team at Plastic Printers has tons of experience creating all different kinds of menus for unique businesses. We can help you make an incredible menu design that's perfect for your business.
Are you unsure of what design you want your menu to have? You've come to the right place; let's take a look at ten amazing menu designs that can help inspire your next custom menu.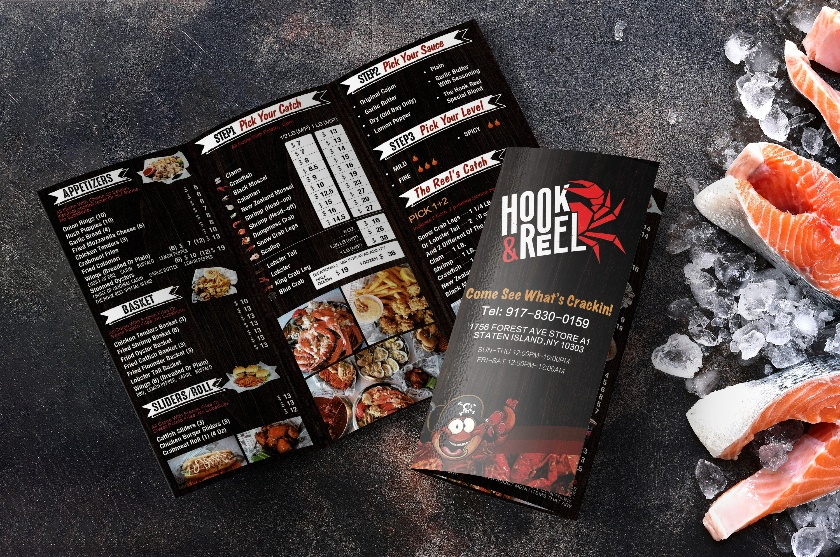 Takeout Menu Design
Due to COVID-19, more businesses than ever before are offering takeout. The majority of takeout menus are printed on paper, but that doesn't mean you can't create an amazing takeout menu design! That's what Hook & Reel did with their takeout menus; by featuring their branding and mouthwatering images, they create a dynamic design that has a premium and professional quality.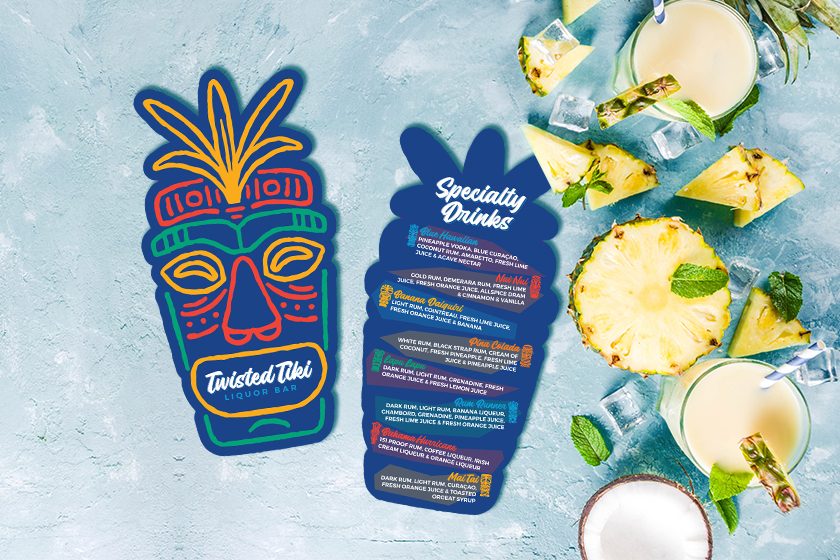 Die Cut Menu
Want to create a menu as unique as your business? Die cut menus can help! With die cut menus, you can print your menu in any shape you'd like. The Twisted Tiki Liquor Bar printed their drink menu in the shape of their logo to create a memorable menu that helps market their business.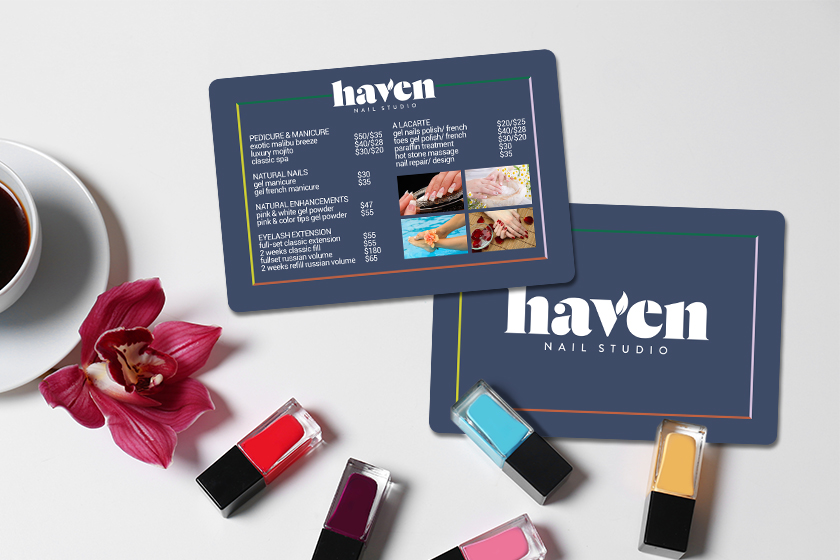 Amazing Service Menu
Creating an excellent service menu design is harder than it sounds; service menus are typically smaller than other types of menus, giving you less space to work with. However, Haven Nail Studio nailed their service menu design - they were able to include all of their services and pricing while also incorporating photos and their logo. It can't be overstated how good images and brand consistency can help elevate your menu design.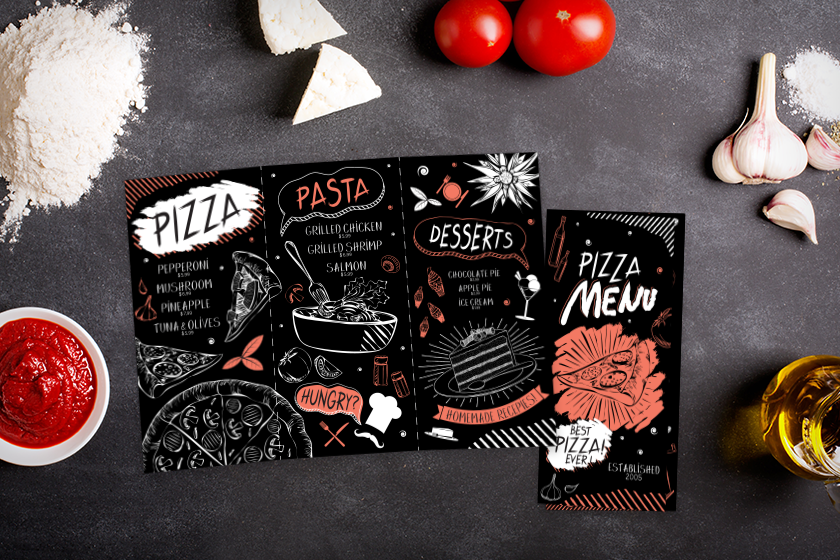 Tri-Fold Menu
Are you looking for a menu that will provide you with plenty of space for all of your delicious offerings? A tri-fold menu could be the right choice for you. This pizzeria opted for a tri-fold menu to allow plenty of space for their food and creative illustrations. Notice how they break their menu into different categories, which is a smart way to make their menu easier for customers to read.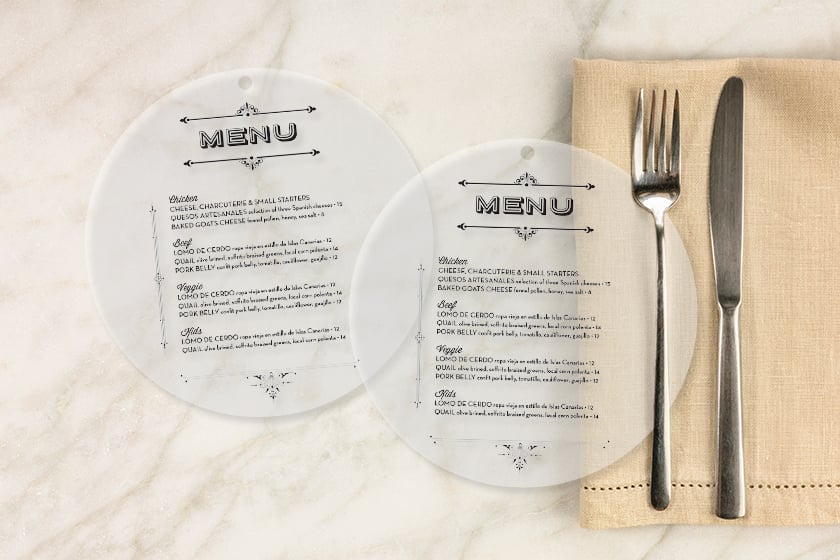 Clear Menus
Wow your customers with a menu unlike anything they've ever seen before by utilizing our clear feature! One of the benefits of printing menus on plastic material is that you have tons of amazing design features at your disposal, like clear, frosted, and custom shaped menus. Clear menus can help make your branding pop and make a fantastic impression with customers.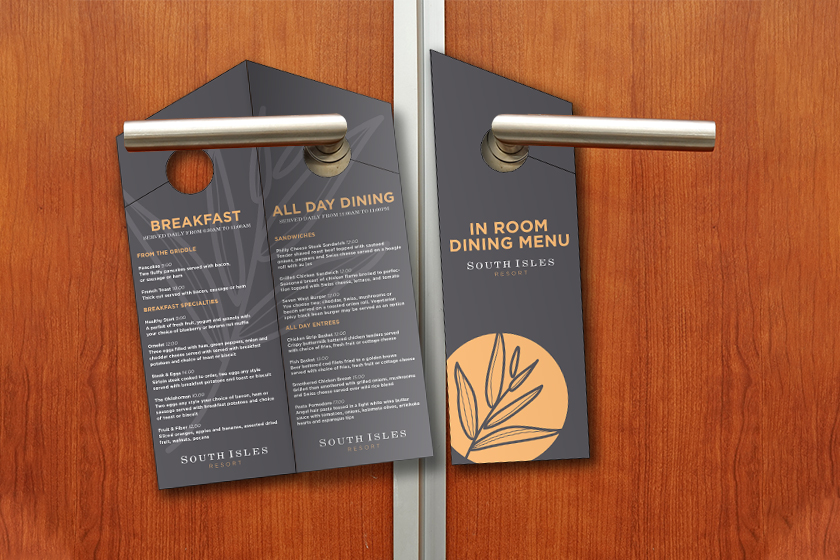 Room Service Menu
Creating a menu that fits your business can go a long way, and this room service menu for South Isles Resort is a perfect example. While most restaurants and service businesses would have no use for a menu that hangs from a door, this menu is perfect for hospitality businesses because they can conveniently display their room service menu right on their guests' doors. Does your business need a unique menu to suit your needs? We can help develop a creative solution just for you!
Custom Shaped Menu
We love custom shaped menus so much we had to include another one in this list! This menu is great for a concession stand or restaurant in a movie theater, and as you can see, their offerings are premium compared to what most cinemas offer. By matching the quality of their menu design to their food quality, Holiday 14 Cinemas sends the message that customers can expect the best when doing business with them.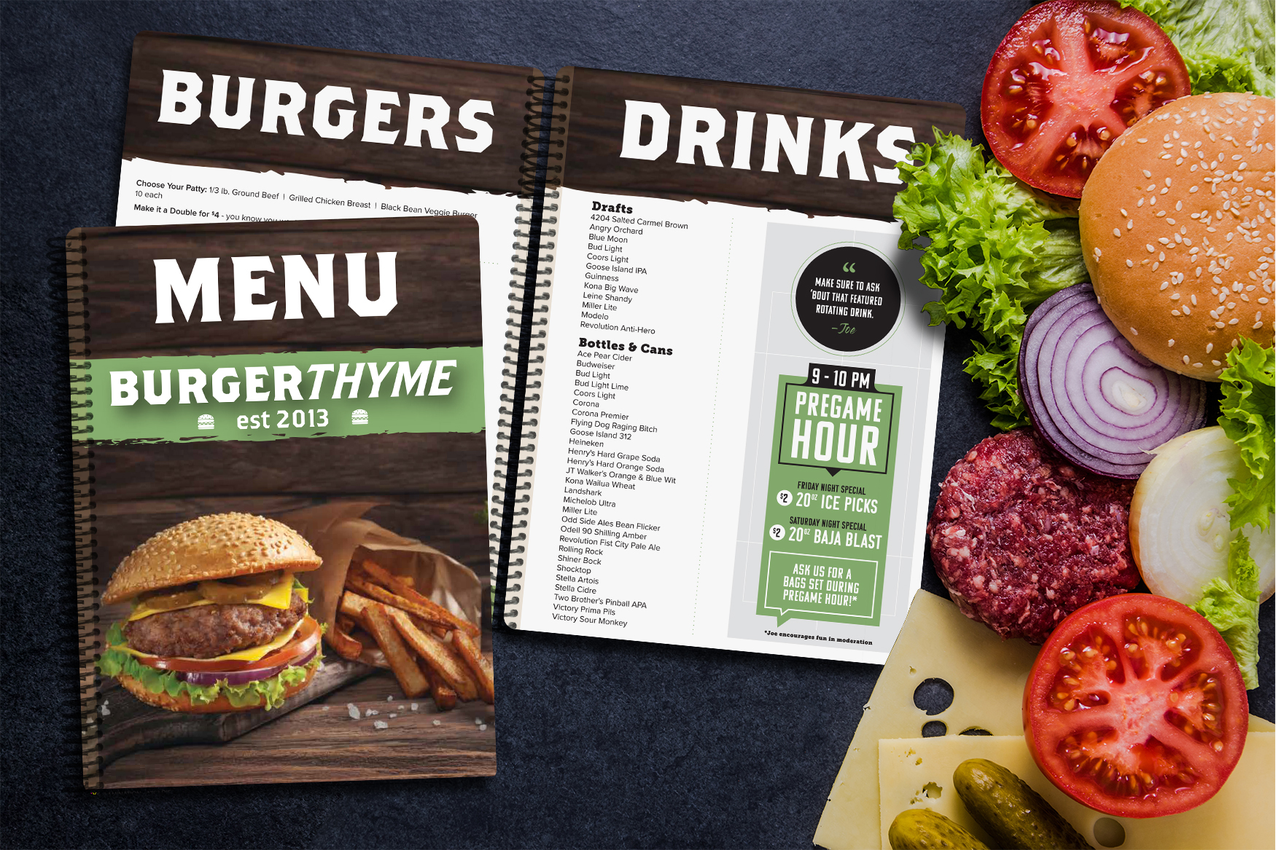 Spiral Bound Menu Design
If you need your menu to have multiple pages, consider using a spiral bound menu. With spiral bound menus, you can have as many menu pages as you'd like! However, try not to overwhelm your customers; it is possible to overwhelm the customer with too many options. With that said, with proper organization, spiral bound menus could be the perfect menu option for your business.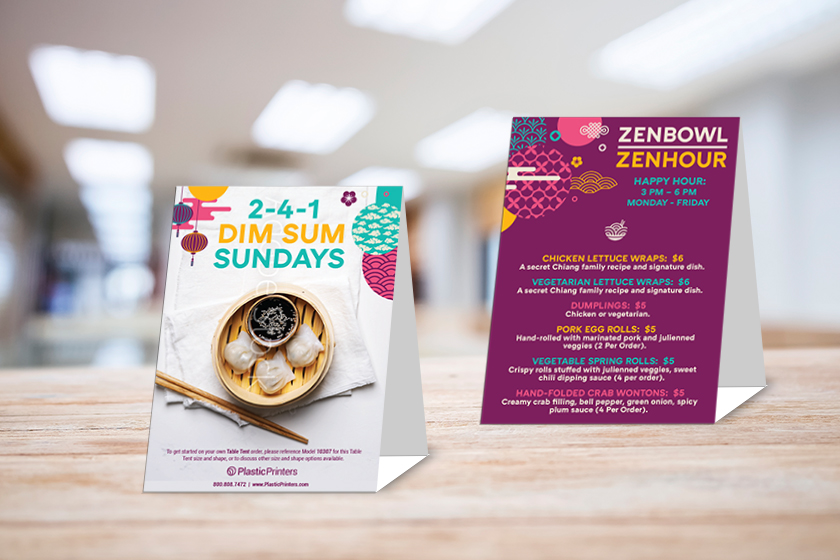 Table Tent Menu
Traditional menus aren't the only way to communicate your offerings to customers; custom table tents can be a terrific complement to your menu. Check out this table tent, which advertises a Sunday special and also pushes their happy hour menu; we love how colorful it is. Table tents are a great way to mark your specials and highlight events at your restaurant.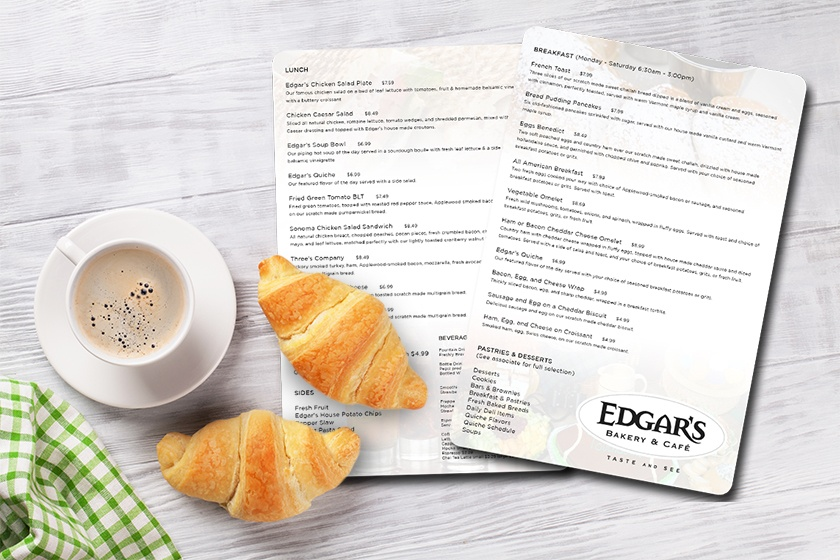 Single Page Menu Design
Single page menus keep things simple. If we're honest, sometimes it's a relief to see a restaurant and realize you don't have to flip through multiple pages. However, just because single page menus only have one page doesn't mean they can't have a great design; check out how Edgar's Bakery & Cafe features their branding and imagery at the top and bottom of their menu. No matter what type of menu you use, you can always make a creative menu design.
---
There you have it; ten incredible menu designs! If you're still looking for inspiration, check out our inspiration gallery. When you're ready to get custom menus for your business, remember that Plastic Printers can help! Our team of professional designers will even help craft a dynamic menu design that customers will love. If you're ready to get started on your custom menus, please reach out to us; we're ready to help!