Going out to dinner is a Valentine's Day tradition for many couples, but how can you get potential customers to come to your restaurant instead of your competitors? One marketing strategy that can help is to create urgency. Creating urgency is a tried and true marketing tactic used by businesses of all kinds to boost revenue.
You might be wondering how you can create a sense of urgency at your restaurant to take full advantage of Valentine's Day, and there's an easy solution - specialty menus. Specialty menus intrigue customers because it's a chance to experience something new, and they know it will only be available for a limited time, urging them to visit your restaurant now. However, a lot goes into creating a specialty menu; here are tips for creating your Valentine's Day menus.
Start with the Food
Most people visit restaurants for the food, so don't overlook the importance of creating appealing dishes for your Valentine's Day menu. Food services usually are the most challenging segment of the restaurant industry to get an immediate impact on, but it's essential for the success of your specialty menu.
You'll want to begin planning your Valentine's Day menu well in advance of the holiday. Work with your chefs to come up with new dishes for the specialty menu. The key is to serve dishes your restaurant doesn't typically offer while still staying true to your brand. For instance, if your restaurant is an upscale steakhouse, you don't want to completely shy away from the steaks your customers know and love your restaurant for. Instead, try supplementing your popular dishes by putting unique spins on them or creating new dishes that compliment your usual offerings.
Striking a balance between your typical food and new offerings is difficult, which is why it's recommended you give your team plenty of time to create your specialty menu. If you're worried about your new menu's reception, you can always do a soft launch with friends and family to get feedback.
Specialty Menu Design
Once you've finalized your specialty menu offerings, it's time to design your specialty menu. Menu design is something many restaurants overlook, but you shouldn't. A good specialty menu design can help generate buzz around your restaurant as well as boost revenue. According to studies, good menu design can increase profits by a whopping 15%. Let's look at some specialty menu design tips that you can incorporate into your menu.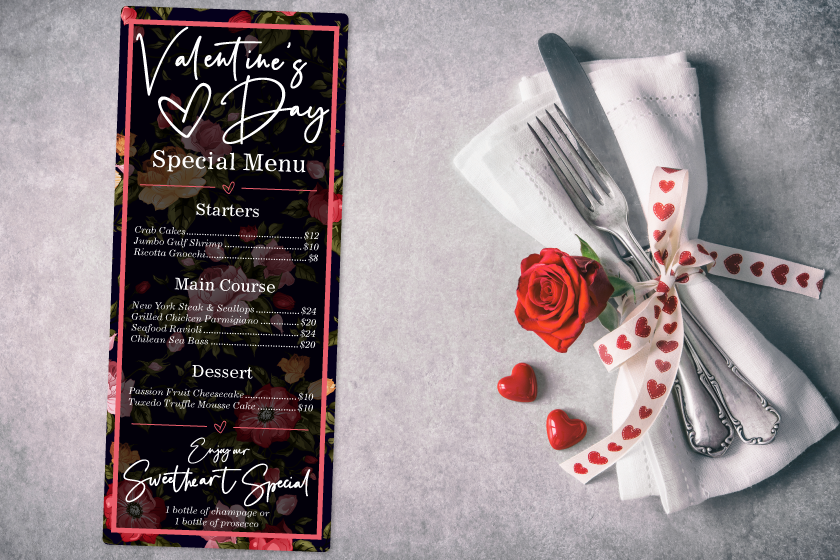 Design Your Specialty Menu Like a Book
Studies show that most customers read a menu like they do a book; from top to bottom, left to right. A big misconception is that the center of a menu is where the eyes gravitate towards, but in reality, there is no such sweet spot. So, instead of putting your main offerings in the middle of the page, it's ok to spread them out. The key is to create a menu that's easy to read; to do that, create headings or titles for each section and use lines to distinguish each section clearly.
Incorporate Appetizing Pictures
Since your specialty menu will feature new dishes, customers might be unsure of what to expect. By using a few appetizing pictures, you can give customers a preview of some of your new offerings. However, be sure not to clutter your menu with photos. Using too many pictures on your menu can make it difficult to read. With just a few well-placed images, you can stimulate your customers' appetites and push certain dishes.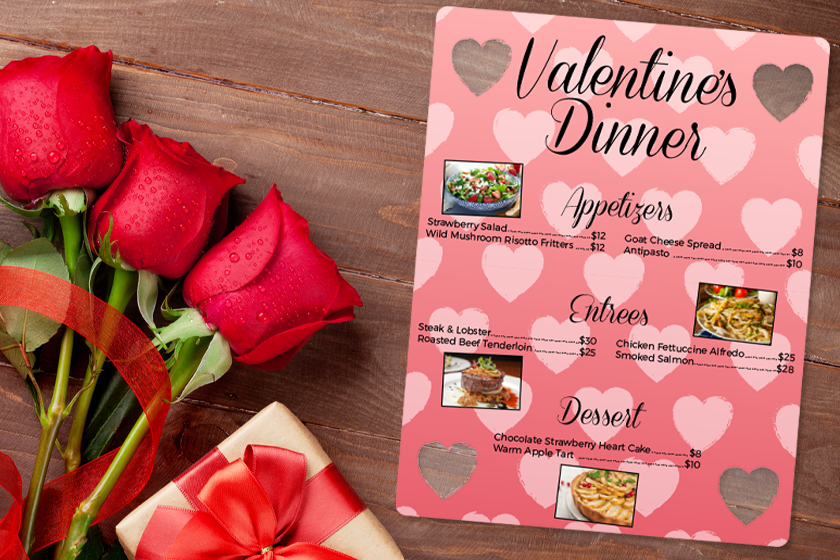 Consider Using Unique Design Features
Your specialty menu is a chance to offer a truly one-of-a-kind experience at your restaurant this Valentine's Day, so why not go all out? With plastic menus, the design features are truly endless. Design your specialty menu on clear or frosted plastic to wow your customers with a menu as they've never seen before. Clear menus are bold and a great way to highlight your offerings, while frosted menus are a little less transparent but feature a matte finish that gives off an elegant look and feel.
Additionally, a custom shaped menu is another way to set your specialty menu apart. At Plastic Printers, we've designed menus in all sorts of shapes, even a hamburger. Whether you want to bring your menu to life by replicating your food or want to create a more elegant shape, we have you covered. Of course, you could also get into the Valentine's Day spirit by designing a heart-shaped specialty menu. Regardless of the shape you choose, a custom shaped menu is the perfect way to design a memorable specialty menu.
---
A specialty menu for Valentine's Day is the perfect way to spark urgency in your customers and increase profits. If you need specialty menus, the experts at Plastic Printers have you covered. We even have a team of graphic designers on staff who can help ensure you get the perfect specialty menu design for your needs. If you're interested in ordering specialty menus or have any questions, please reach out to us; we're always happy to help!