According to the National Retail Federation, Valentine's Day is the fifth-biggest consumer spending event of the year. For your business, that means Valentine's Day is a huge opportunity to boost revenue. While special Valentine's Day packages and sales are effective ways of increasing customer spending around the holiday, many companies overlook the importance of gift cards.

A gift card might not be the most romantic of gifts, but people give gift cards on Valentine's Day for all sorts of reasons. Whether they are gifting a loved one a trip to their favorite restaurant or a day at the spa, gift cards are a great way to give an experience. And you can help increase gift card sales around Valentine's Day by designing your gift cards with the holiday in mind. With a Valentine's Day gift card design or two, you can expect an uptick in gift card sales ahead of Valentine's Day. To help inspire your next design, here are ten incredible Valentine's Day gift card designs.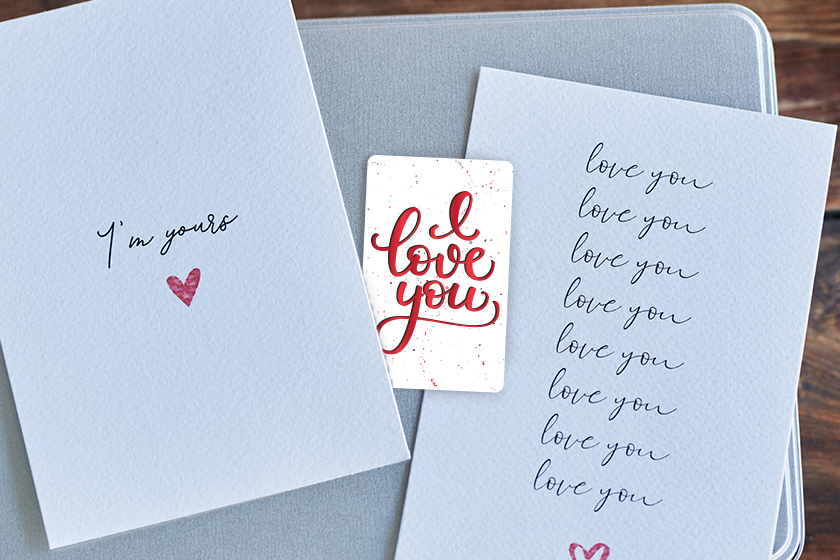 Custom Gift Cards with Red Foil
The color red has long been associated with love, so it's no wonder that it is featured prominently around Valentine's Day. These cards use that to their advantage by incorporating a red font into their gift card design. However, it's not just the color that helps these cards stand out; these cards feature red foil, which shimmers and shines in the light.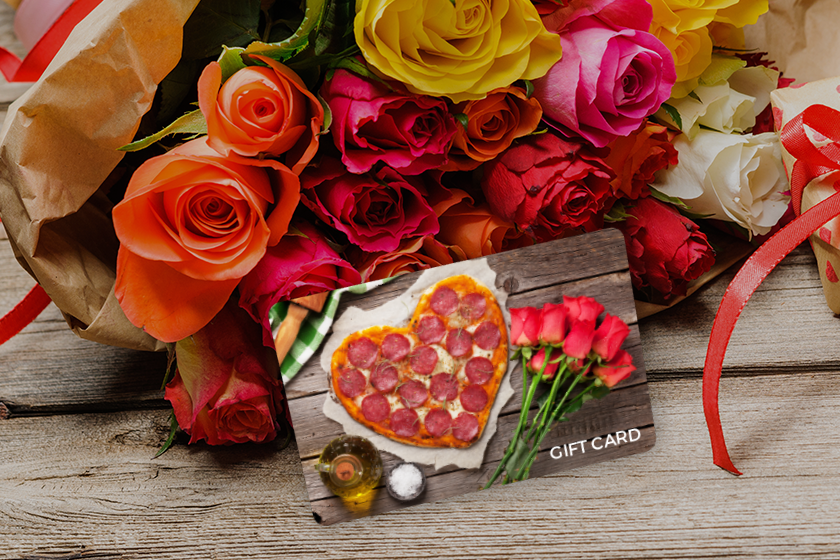 Restaurant Gift Cards Perfect for Valentine's Day
Who says a pizza can't be romantic? This restaurant gift card plays on the Valentine's Day theme by using artwork of a heart-shaped pizza and roses. This gift card design is fun and is sure to stand out to hungry customers shopping for the perfect Valentine's Day gift.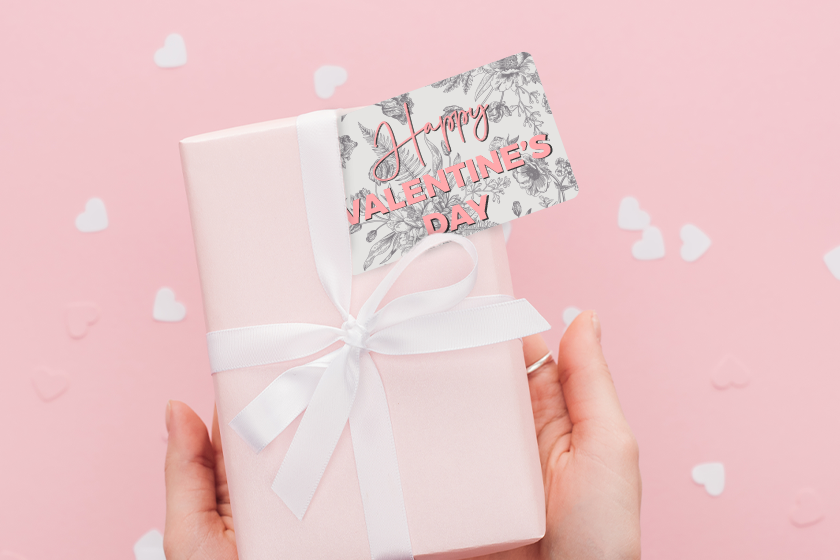 Valentine's Day Gift Cards with a Floral Design
Roses are red, and violets are blue; we hope you love this floral gift card design as much as we do. Okay, so maybe poetry isn't our forte, but this gift card design is a beauty. We love the pink-colored text over the beautiful floral arrangements in the background. This gift card would be perfect for a flower shop but could work in any business.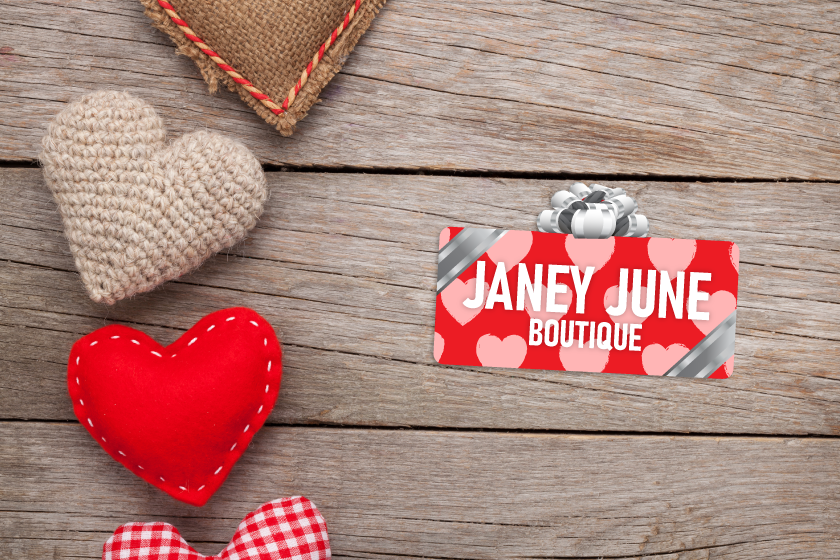 Custom Shaped Gift Card Design
Want your gift cards to get noticed? Using a custom shape is a great place to start! These gift cards are shaped to look like a present; look at the way that bow stands out. When you come to Plastic Printers for your gift cards, you can get any shape you'd like. Custom shaped cards definitely bring the wow factor and are sure to be a big hit at your business.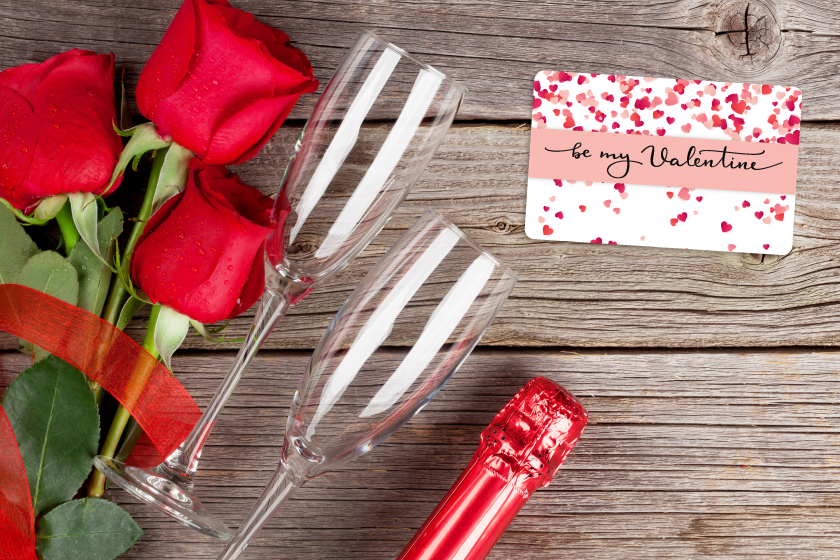 Gift Card Design with Hearts
One of the ways to create a gift card design that's perfect for Valentine's Day is to use colors and imagery associated with the holiday. This gift card design is a perfect example of that concept! This card is covered with pink and red hearts, making it perfect for the holiday of love.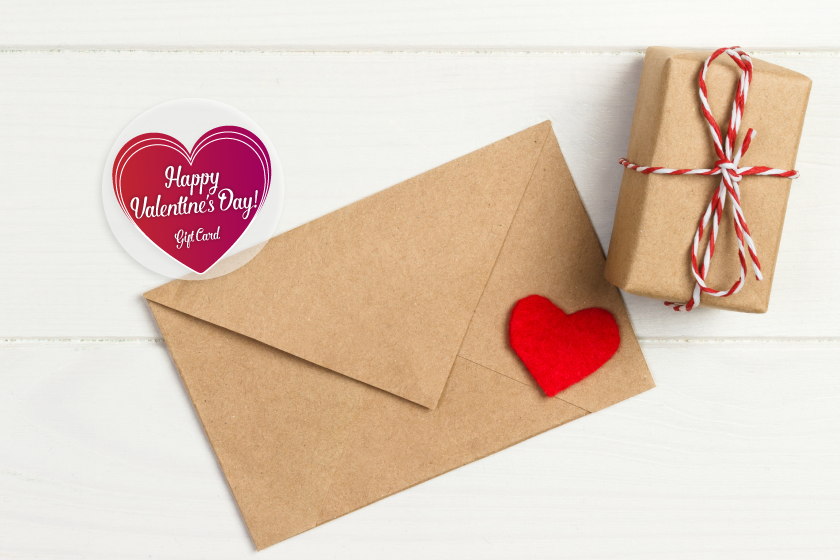 Frosted Gift Card for Valentine's Day
Look at how the frosted feature on this gift card makes the heart pop! Frosted cards offer some transparency to create a bold design, but they also have a matte finish for a premium look and feel. Utilizing clear or frosted cards are a fantastic way to differentiate your gift cards from the rest.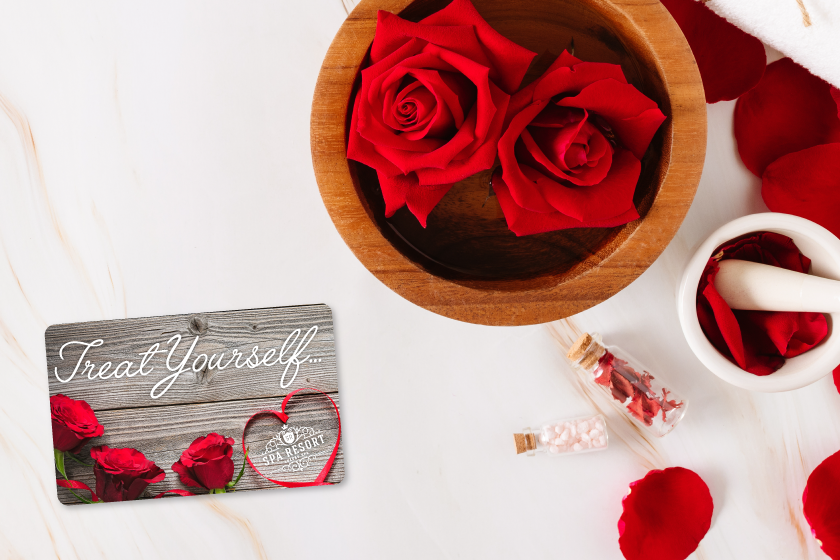 Spa Gift Cards with a Valentine's Day-Theme
When you think of the spa, relaxation and luxury are two terms that come to mind. These spa gift cards give off those feelings while featuring roses and hearts for Valentine's Day. We love the way the heart centers the logo in the bottom right corner.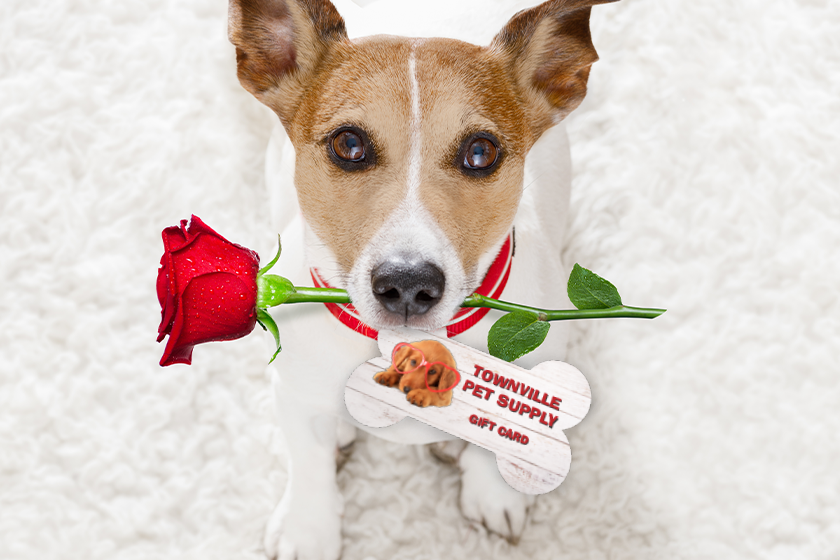 Die Cut Gift Cards
Sometimes a more subtle approach to your Valentine's Day gift card design is the right way to go. This pet store wanted to get in on the holiday spirit but didn't want to go the traditional route with hearts and roses. Instead, their design features the color red and uses its bone-shape to stand out to all of the animal lovers out there.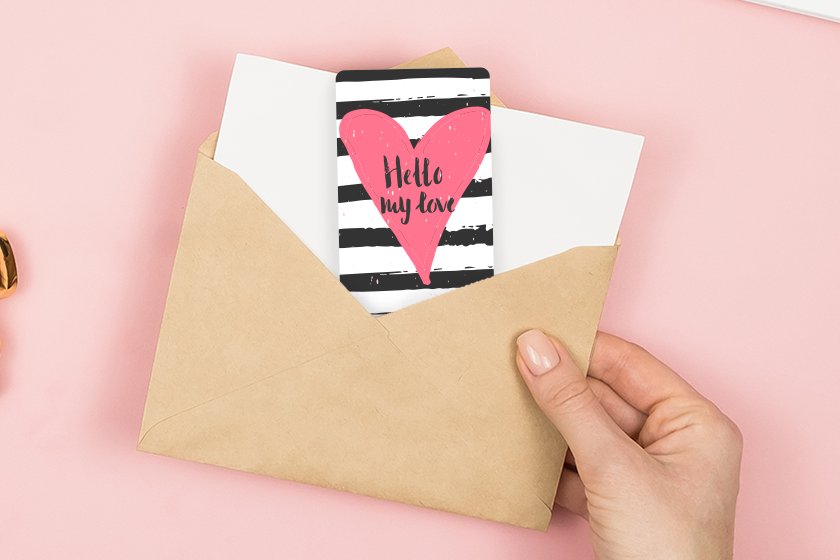 A Gift Card Design for Your Love
Many Valentine's Day gifts are given to a significant other, so why not design a gift card specifically for that? This gift card design is romantic, and the illustrated art style is unique, causing the card to pop. It's a great design for those looking for something a little more sentimental.
Metallic Gift Cards with a Valentine's Day Twist
Did you know that you can create gift cards that replicate the looks of precious metals? This gift card is designed to look like silver; it's a bold look that highlights the red roses extremely well. You can also design your gift cards to recreate the look of gold and platinum.
---
Hopefully, these great gift cards have sparked your imagination for your Valentine's Day gift cards. If you need custom gift cards or gift card accessories ahead of Valentine's day, please reach out to us; we're ready to get started on your Valentine's Day marketing tools.