Do you have the tools your restaurant needs to be successful? While you may have an excellent kitchen or a full menu, you may not have all of the marketing tools you need to boost your restaurant. In the competitive restaurant industry, your business is going to need fantastic marketing tools to stand out. Some may seem like obvious choices for your restaurant, while others can be overlooked. Here's a full list of all of the marketing tools your restaurant will need to help you rise above the rest. Check it out to make sure your restaurant is firing on all cylinders!
Gift Cards
Let's start with a marketing tool that is essential for every restaurant: gift cards. Gift cards are everywhere these days and for good reason. Gift cards are the most requested gift every holiday season, and on top of helping retain current customers, they are the most cost-effective way of acquiring new customers. Not only that, but gift cards are one of the most profitable products your restaurant can sell!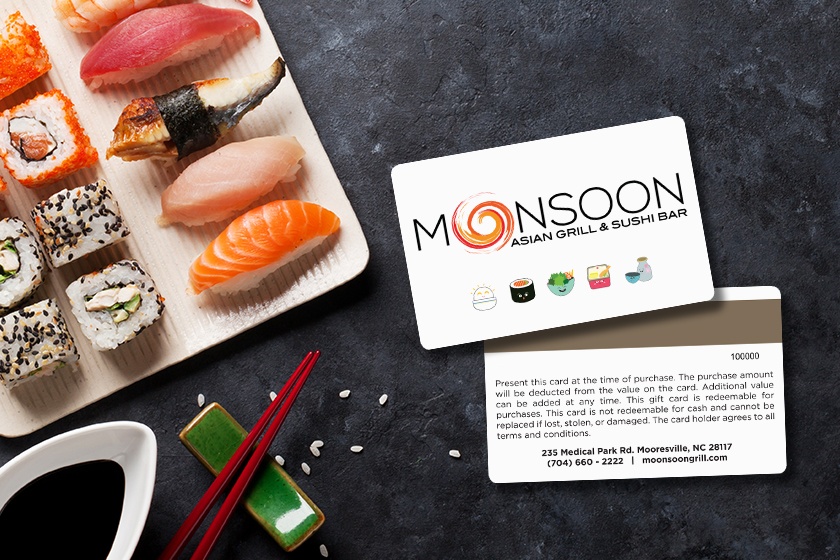 Put your restaurant gift cards on display with customization features that help reflect your brand, drive sales, and reach new customers. There's a ton of great features that can help you create eye-catching restaurant gift cards that your customers will love. Some of those features include clear elements, custom shapes, foil stamping, and more. By using special features, they can help you create a gift card design that is unique and memorable.
Loyalty Cards
While gift cards can help your customer outreach, loyalty cards primarily help you retain current customers. Studies show that loyalty programs can increase overall revenue by 5 - 10%, so you're going to want to think about giving this product a try. With a loyalty program, your restaurant provides incentives for customers to eat at your restaurant, helping push them to come back time after time. For your restaurant, that helps increase revenue and create more regular customers. For your customers, they get rewarded for eating good food at your restaurant.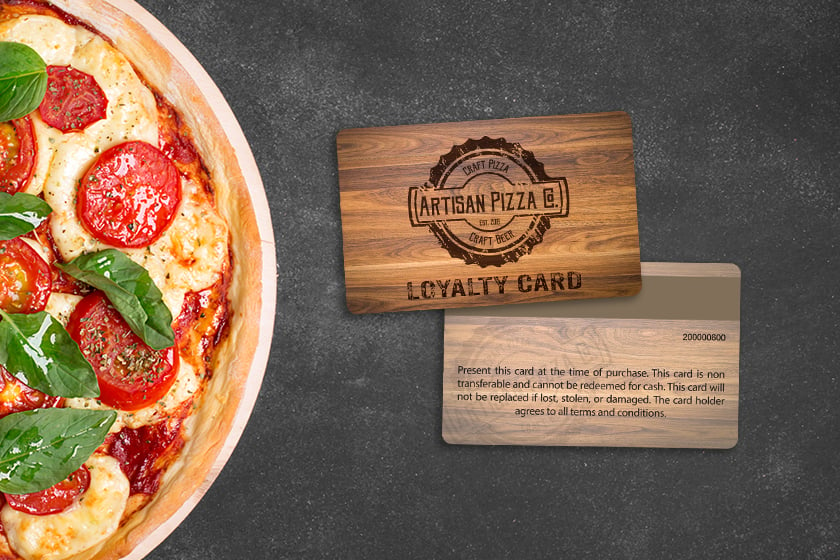 There's plenty of ways to give incentives to customers, but one popular option is food and beverage discounts; most people love a good deal. Another way to reward customers is to provide them with access to exclusive events like a party solely for loyal customers. No matter how you choose to reward your customers, loyalty cards are a fantastic way to help boost customer loyalty and satisfaction. If your restaurant struggles with customer retention, loyalty cards can help assist you.
Menus
Menus are incredibly crucial to restaurants because it's a form of communication with your customers. Your menu is the one marketing tool that almost every customer will see and touch, so this is one marketing tool you won't want to overlook.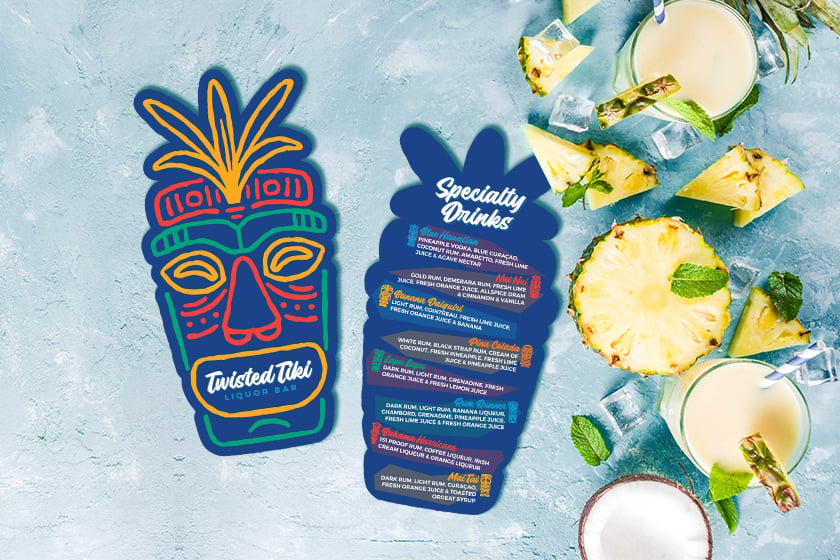 Have you considered using plastic menus at your restaurant? Plastic menus are durable, waterproof, and easy to clean, allowing you to reuse them longer than other menus. Another great benefit of using plastic menus is that you can make your menu out of any shape you want. Own a tiki bar? Use a tiki-head shape. Do you serve up mouthwatering pizzas? Use a pizza shape. The only limit is your creativity.
Table Tents
Table tents are another great tool to help improve your restaurant marketing. Table tents are a marketing tool that puts you right in front of your customers. This tool is excellent for promoting deals, happy hour specials, upcoming happenings at your restaurant, and so much more. Another use for table tents is to use them to mark reserved tables, making things easier for your staff.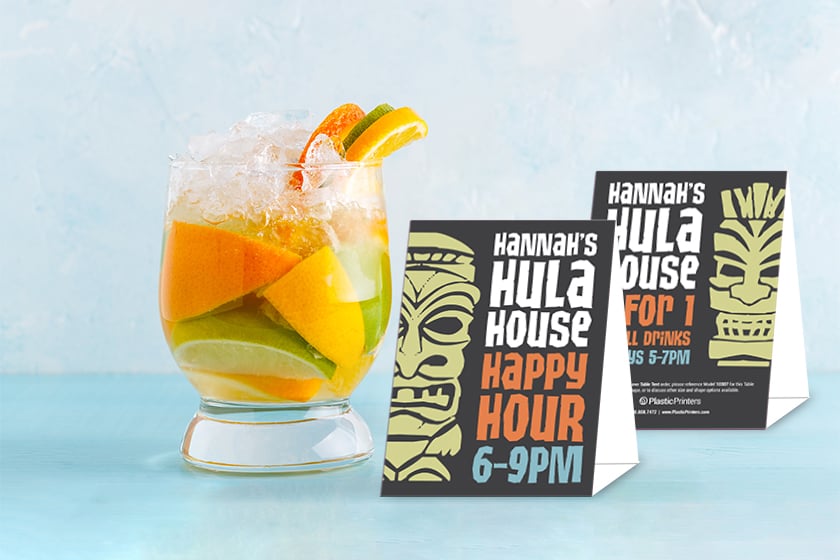 Table tents come in a variety of designs; some are fold-able to stand up on their own, while some use display stands to keep them upright. Look into the different table tent options and find the one that's best for your business; if you have questions, your product specialist is there to assist you.
Coasters
Protect your tables in style with custom coasters. You can customize your coasters to feature your branding, logo, or colors to help enhance your brand and create a cohesive look that customers will associate with your restaurant. Coasters are a highly visible promotional product that can help you communicate with your customers and raise brand awareness.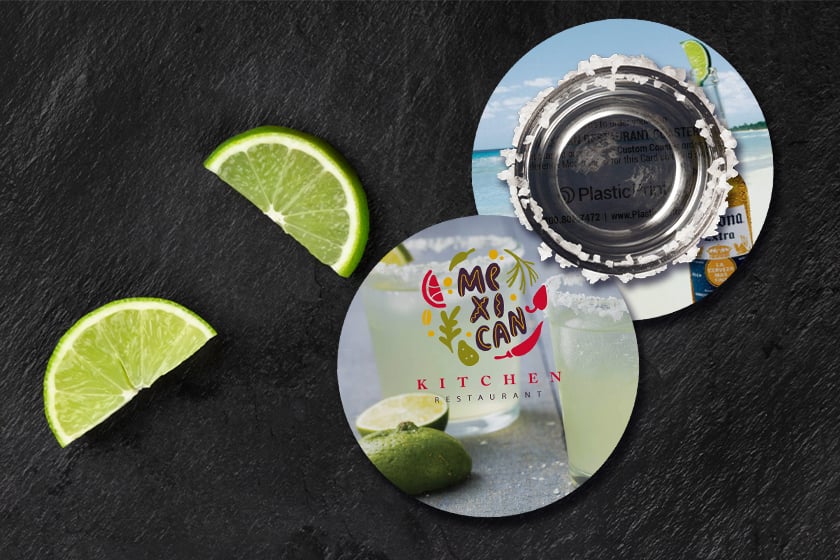 Custom coasters aren't just for your restaurant; they're the perfect product to give away to promote your brand. Consider giving away your custom coasters at your restaurant, or events like parades, fairs, and festivals. You could also offer them to local bars or coffee shops that don't have branded coasters for some cross-promotion. Most restaurants only think of coasters as a way to protect furniture, but they're so much more. Take advantage of this promotional tool that many restaurants disregard.
Business Cards, Key Tags, ID Badges, and More
I've already hit on five crucial tools that can help take your restaurant marketing to the next level, but there is always more for you to utilize. Here's a quick rundown of some other marketing tools that can benefit your restaurant:
As you can see, there are a ton of marketing tools that can help enhance your restaurant marketing and help you differentiate from the competition. Hopefully, you have a greater awareness of the products you can use to increase revenue and foster growth at your restaurant. Have questions about any of these marketing tools? Give the team at Plastic Printers a call; we specialize in creating amazing products for restaurants.