A new addition to your family is a very exciting event, and people love to see updates and photos of your new pride and joy. As a new mom, I know that life can take a huge turn and things that you would have had time for before, like creating baby shower invitations and baby announcements, is suddenly on the back burner. One moment you are welcoming your child in the delivery room and the next you are planning their graduation party.
As a very family oriented company, we understand the need for help with some projects. Fortunately, we have a full design team on site that can help take some of the design burden off of your hands.
---
To get you started, we pulled together some of our favorite boy themed birth announcements.
Hello World Baby Announcements
It's been a long and exciting nine months. Your life is filled with sleepless nights, giggles, and dirty diapers. The last thing you have time to do is think about your baby annoucement. Use the "Hello World" theme for a quick and charming annoucement.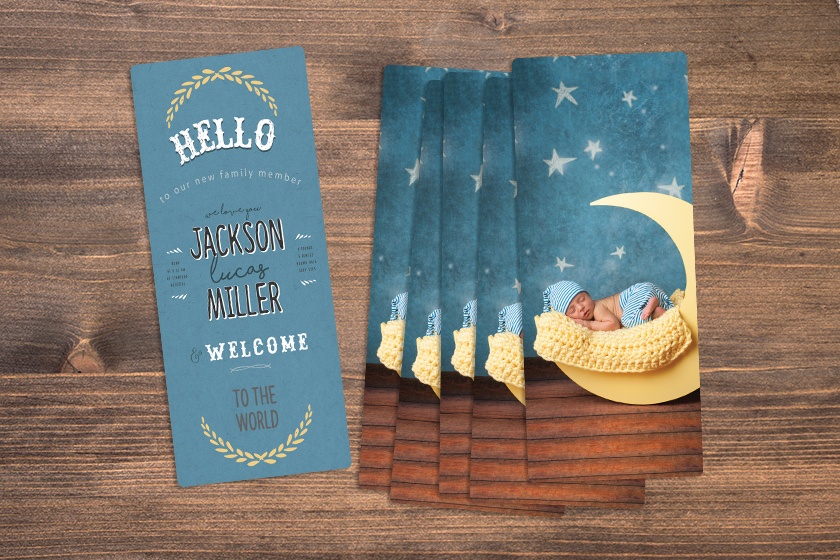 Square Photo Baby Announcement
Utilize the front and the back of your baby annoucement to ensure that you have space for all of the important details. The square photo baby annoucement is a excellent example of how to take advantage of this card. They have all of the necessary information on the back accompanied with an adorable picture of the baby on the front.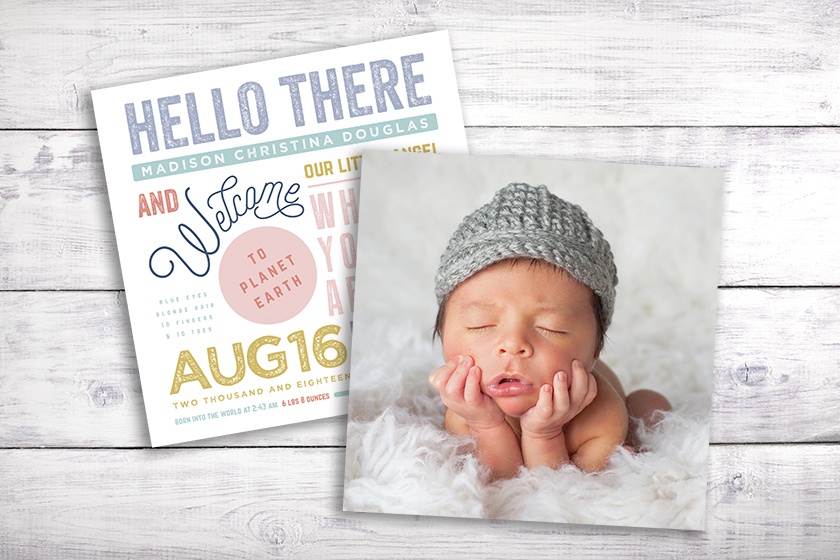 Photo Birth Announcements
It's a blue bundle! Using photo birth annoucements is a great way to display your newest addition to the family. The photos of the baby is a little something extra to show your inner circle that you were thinking of them and it allows them to have a keepsake .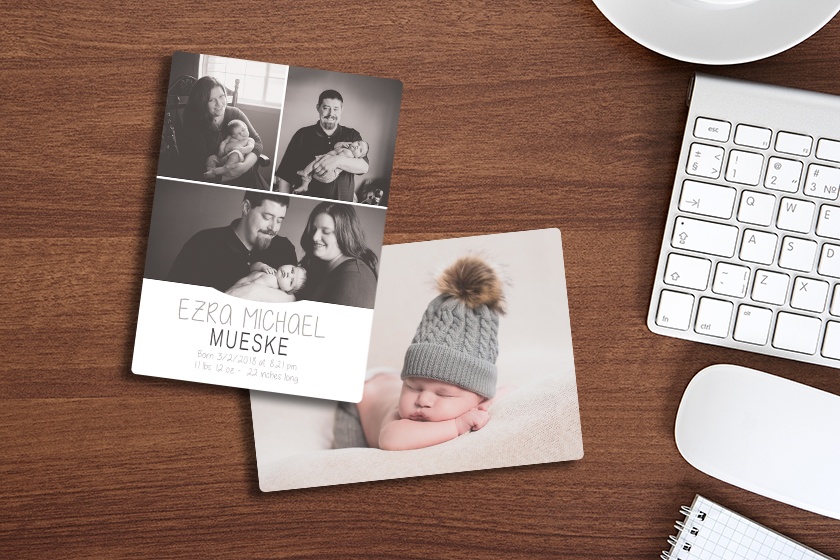 Clear Photo Baby Announcement
Having a baby is a big milestone in a couple's life. Parent's are not the only ones that are anxious for the baby's arrival. This means that everyone is patiently waiting for the baby annoucement to arrive. Impress them with a clear photo baby annoucement.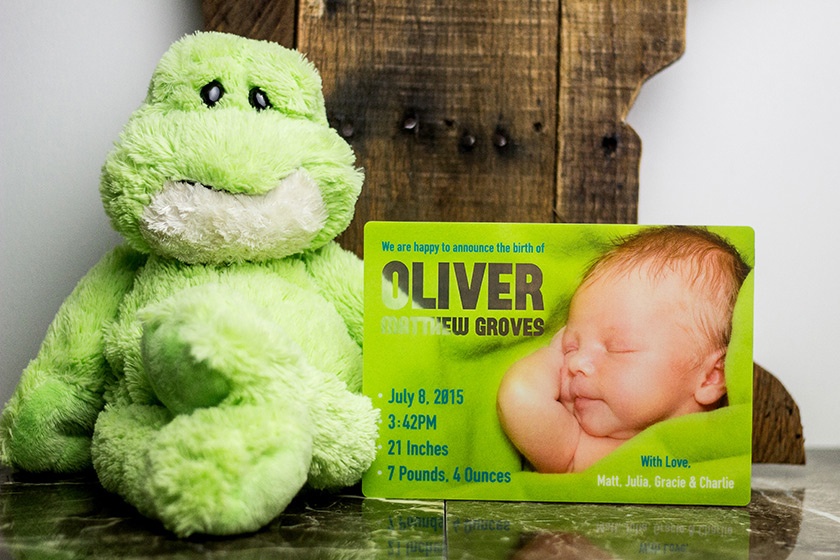 Custom Shaped Announcement
Be creative! Don't send a standard baby annoucement card to your family, friends, and co-workers. A custom-shape is an out-standing addition to your baby annoucement that will set it a part from the rest.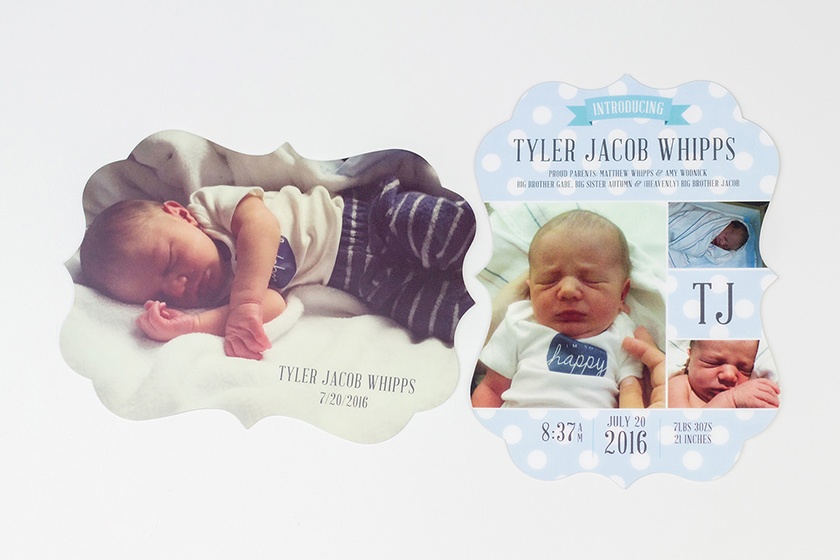 Twin Baby Birth Announcement
With a special delivery of not one but two, things can get a little chaotic. Don't panic, the cuteness of your babies alone will delight your friends and family. Let the photo of your babies be the center of attention.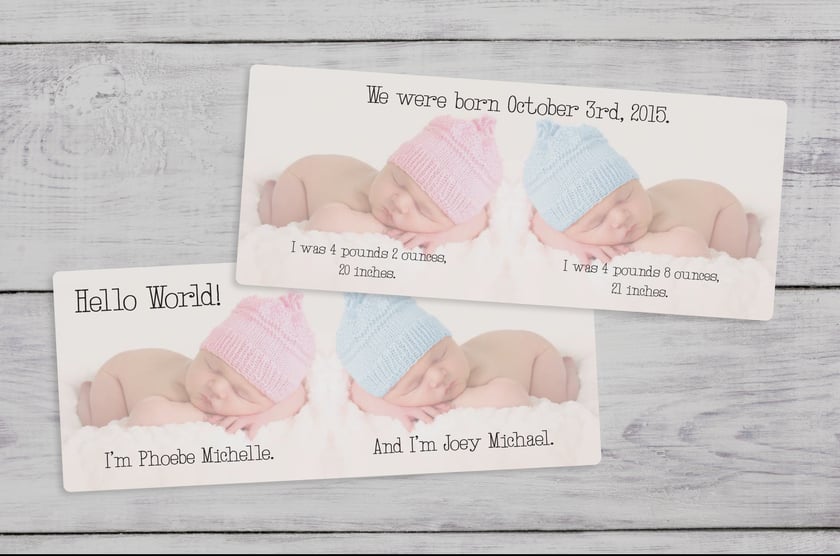 Unique Birth Announcements
Oh boy, you have an extra set of feet in the house. Share all of his first moments on your unique baby annoucement, so that your friends, family, and co-workers can "ooh" and "ahh" over every aspect of your new baby.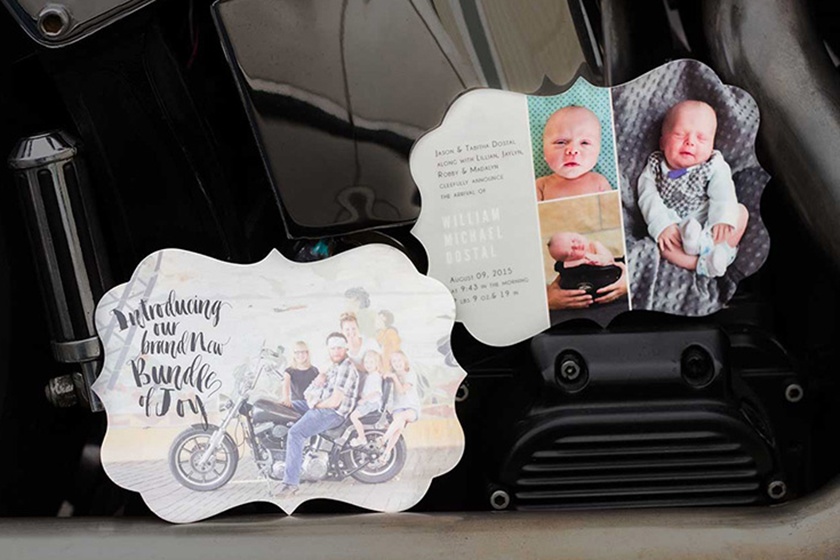 Our consultants along with our team of expert designers work with you to create a one of a kind custom plastic birth announcement. To set up a complimentary design consultation, click the link below!
---