One of the most exciting things that parents experience is finding out whether they are having a boy or a girl. Thanks to the technology, many parents choose to find out the gender of their baby before it is born. This has lead to an increase in Gender Reveal parties, which have become quite trendy. Many people are even combining their Gender Reveal and Baby Shower together.
---
A great way to set the theme of the event is by including it in the party invitations. Our expert designers can take your colors and themes to create a truly one of a kind invitation.
Here are a few of our favorite Gender Reveal and Baby Shower Invitations
Beau or Bow Gender Reveal Party Invitations
Many baby showers and gender reveal parties have used the "Beau or Bow" theme. "Beau" means handsome in French, referring to having a boy. Bow wearing on your head represents having a girl. As this theme has been longstanding, there are a lot of fun props that already exist to put together a successful Beau or Bow party. Put a mustach and a bow on a stick, and let your guest's guess which gender it will be before the big reveal.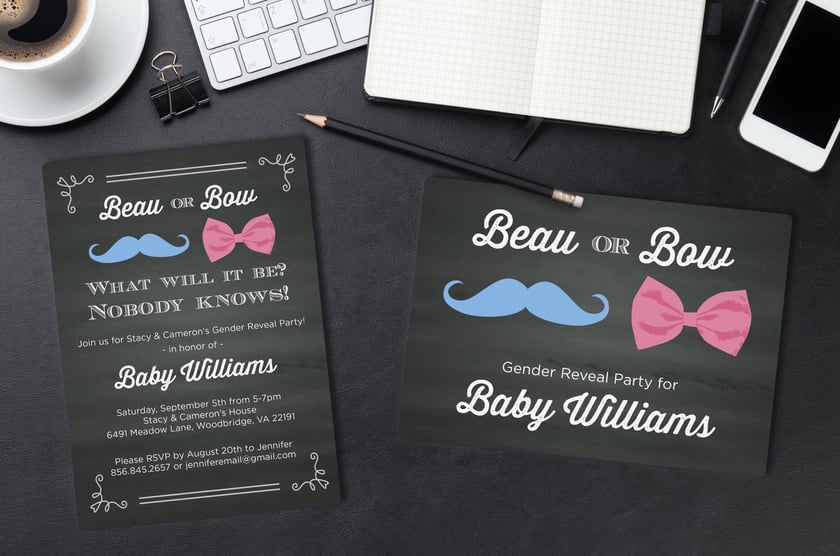 BBQ Diaper Party Invitations
Guys have parties too! Here is a fabulous example of a theme that works for guys that do not want to have too much attention on themselves, but want an excuse to hang out with friends to celebrate their new baby. This theme also works well when having a joint party too. The exchange is a BBQ and some beer for diapers, it makes for a relaxed celebration!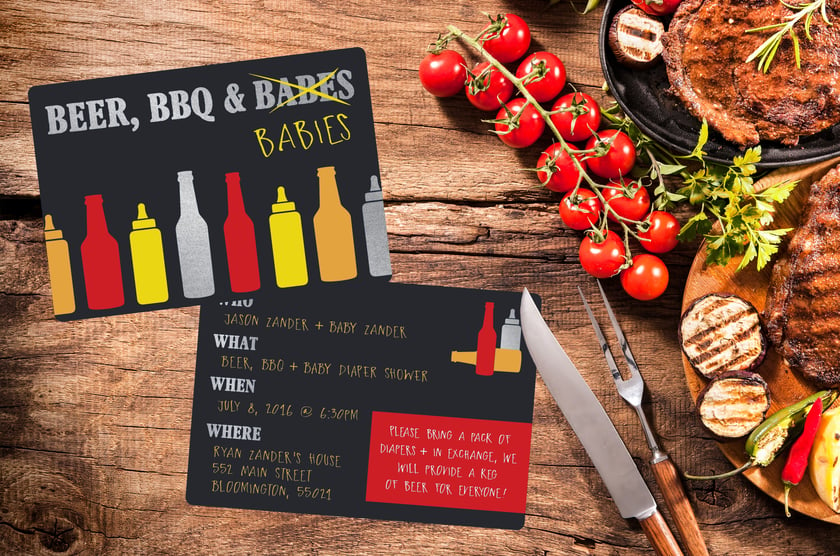 Custom Baby Shower Invitations
There are countless decorations, themes, and games that can be used at a baby shower. A Tea Party baby shower is a unique theme that adds a charming twist to the event. This party caters to the mother by providing delicious delicacies and a relaxed afternoon to celebrate her newest addition to the family. With a custom baby shower invitation, it is easy to integrate the theme into the invitation giving your guests a sneak peak of the festivities that are about to come.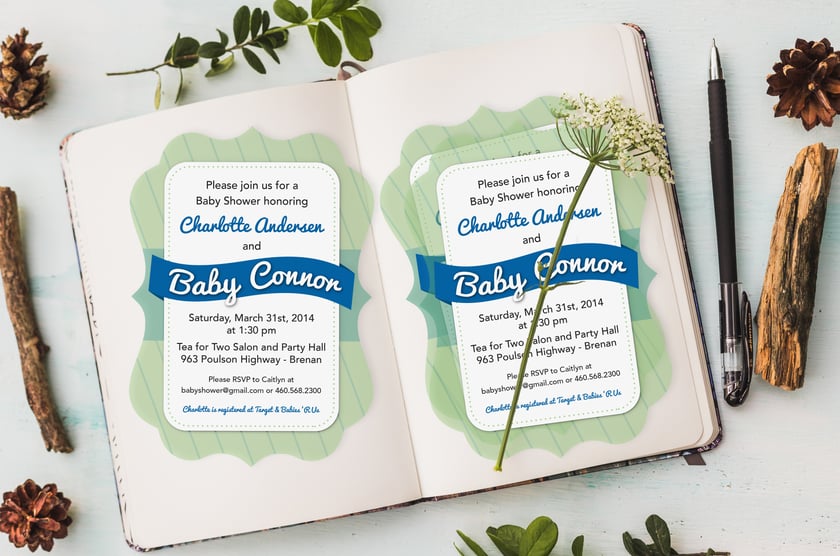 Transparent Baby Shower Invite
The "Ready to Pop" theme is perfect for any type of baby shower. There are so many food and decoration ideas to accompany this theme like eating popcorn and playing "Guess the Belly Size." This neutral theme is not specific to a gender. Using translucent or clear accents in your baby shower invites is just a fun way to have a unique design just for you and your new baby on the way.
Custom Designed Baby Shower Invitations
A custom designed baby shower invitation is a great way to get your family and friends excited for your little squirt on the way. From pin the tale on the whale to an "Ahoy it's a Boy" piñata there are many ways to incorporate this theme into your party.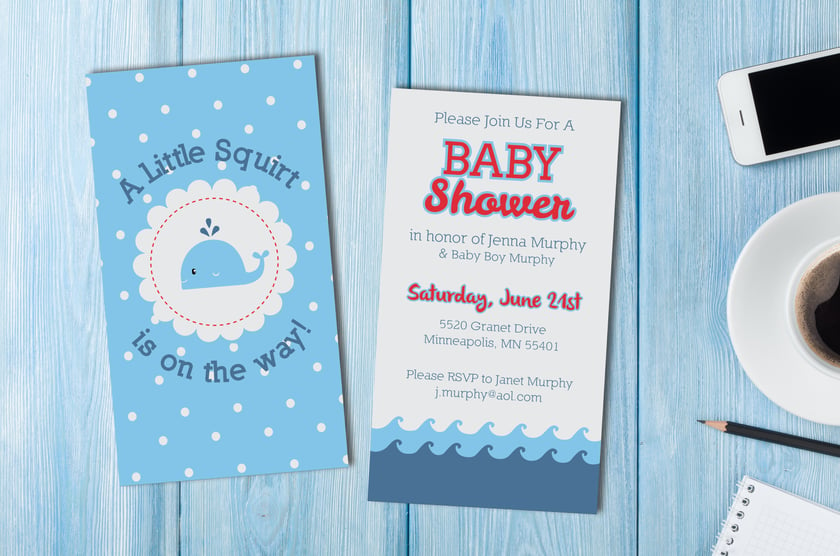 Gender Reveal Invitations
Gender reveal parties are on the rise because they are memorable and it gets friends and family of both genders and ages involved in the celebration. There are many ways to reveal your baby's gender a few popular ideas are cake cutting and baseball smashing leading to the exciting moment for all. Popping a balloon filled with pink or blue glitter is just one more way to reveal the news. A gender reveal party can be an enjoyable event to celebrate both parents excitement.
Square Gender Reveal Party Invite
Want to keep the theme to your gender reveal party a secret? Square gender reveal party invites are a great place to create precious keepsakes for your guests. Keeping the invitation eye-catching, but simple will create excitement surrounding the theme of your party.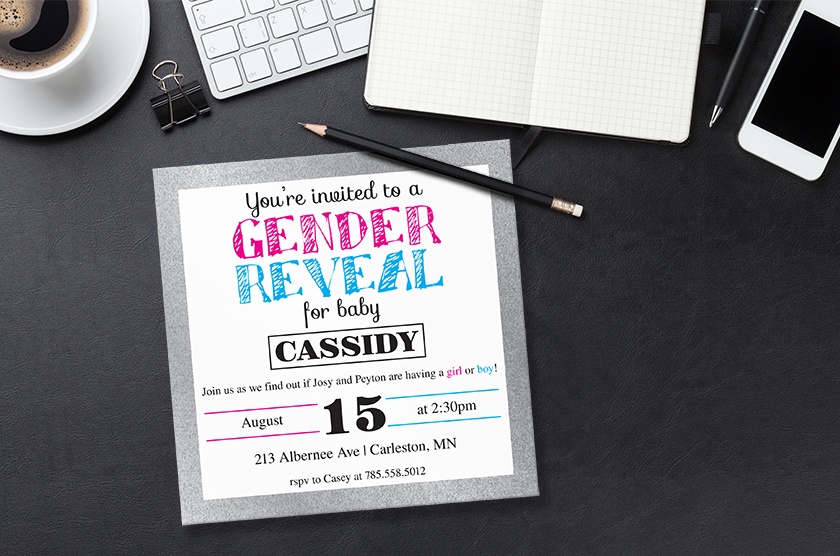 Let our consultants along with our team of expert designers work with you to create a one of a kind invitaiton.

Schedule a complimentary design consultation by clicking the image below!