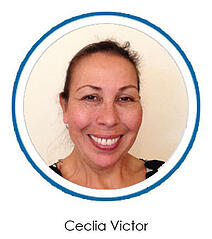 We recently spoke with Cecila Victor about the custom Bar Mitzvah invitations that she ordered for her son.
"While I was in New York, I was browsing for invitations for my son's Bar Mitzvah. I found the exact style that I wanted, but they were charging over $20 a piece and I could not fit that into my budget. My husband and I started searching the internet and found PlasticPrinters.com after speaking with many other companies that could not understand the concept that I was looking for. After speaking with a representative for your company, I knew that I had found the right place."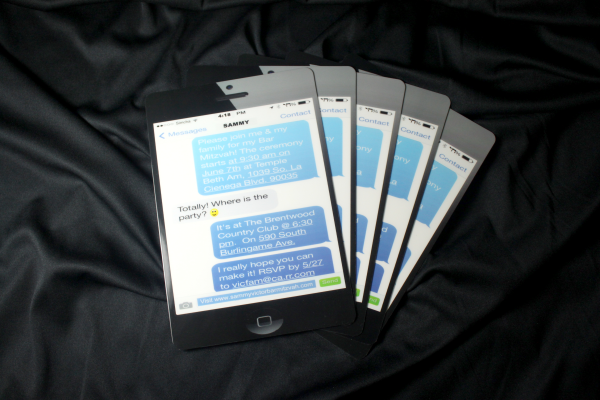 Her son loves his phone and takes it with him everywhere that he goes. She knew that she wanted to incorporate that piece of him. For the design, Cecelia and her husband text each other on their phones to supply all of the information for the party and sent a screenshot of the conversation to us. Our designer was able to transition the conversation to look just like a phone with some extra unique features.
Cecila mentioned, "Anything that you can imagine to put on paper can be transitioned to print on plastic. This simply is not true the other way around."
The invitations really set the tone for the whole event and she could not be happier with the final product. The feedback that Cecilia has received from both adults and kids has been absolutely tremendous. The invitations are definitely unique and she feels that this is a whole new market for plastic cards. Her son's party was towards the end of Bar Mitzvah season, however had it been earlier she stated mentioned that there would have been a lot of replications among her group of friends.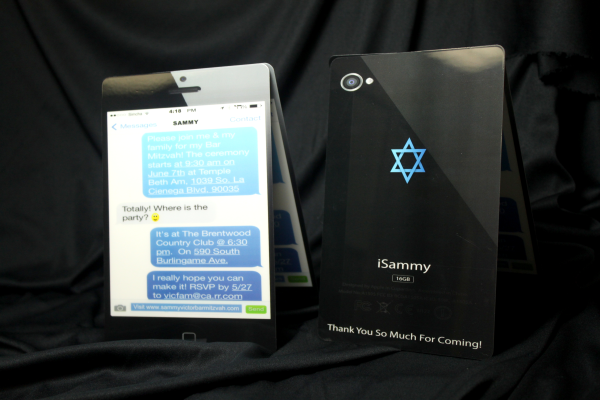 "Everything from the price, initial design consultation and the final product have far exceeded my expectations." - Cecila Victor
Let us design your invitation: