Creating a unique quinceañera invitation can be difficult. There are many companies that offer a few standard designs, but you want something that has been custom designed just for you. One of the benefits to having a full graphic design department, in-house, is that we can completely customize the colors, fonts, and design of your party invitations to coordinate with your quinceañera.
Customizing your quinceañera invitation will allow you to express your personality while giving your guest's a sneap peak into your event theme. Thinking of a design can be challenging, here are a few invitations for inspiration.
Check out some of our

Quinceañera Invitations:
1. Pink Invitations
The color pink represents friendship, affection, harmony, inner peace and approachability. These are perfect traits to be featured with a quinceañera. With its many shades, pink can be used in a variety of themes and designs.
2. Credit Card Style Invitations
Credit card style invitations are very unique and often times guest's keep them as a fun memory. From a matte finish to a metallic design, embossed (raised letters or numbers) text, the look of a credit card chip; the designs on these cards are endless. Using an embossed text allows you to highlight important information to ensure your guest's do not miss any imporant details.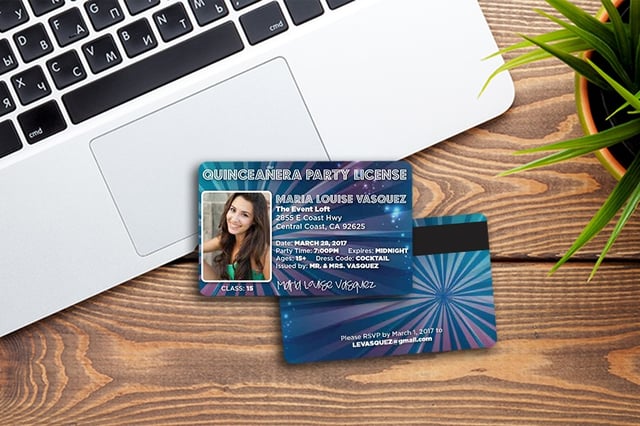 3. Chalkboard Invitation Design
The chalkboard invitation design is trending because of it's functionality and appealing presentation. This design adds a fun twist to your invitation and it can be customized to showcase your theme. This invitation has a fun pop of color and it is the perfect fit for any type of party!

4. Clear Invitation
Creating your quinceañera design on a clear invitation, with a bold font, will really give your guest's that WOW factor. From clear to semi-transparent or frosted cards, the feature of clear in your invitations is awe-inspiring and will be the talk amoungst your friends and family. Often times we find a glitter-like font is the perfect addition to any party invitation.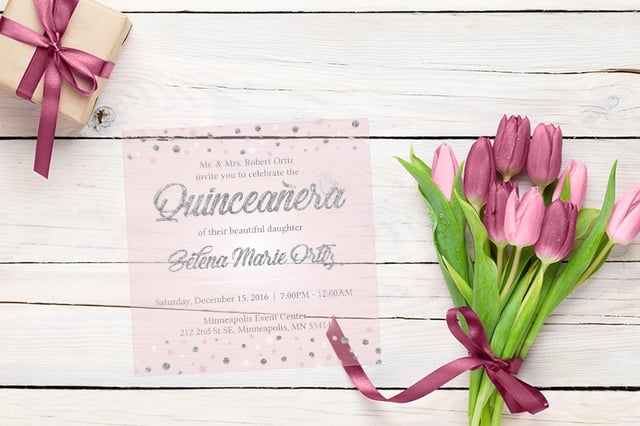 5. Formal Invitation
A quinceañera can be a very luxurious and formal event. It is common to have tiaras, scepters, ballgowns, and bibles or prayer books at this event. This is an extremely important time in a young girl's life, so her guests need to be aware of the dress code and festivities that will be taking place. Formal invitations perfectly portray the expectations that should be withheld.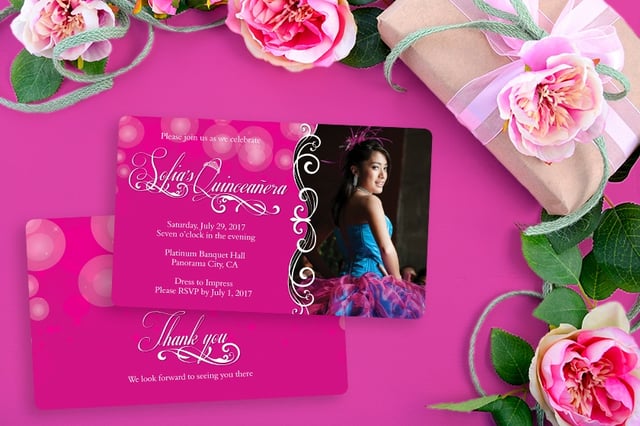 6. Die Cut Invitations
Your invitation does not always have to be a generic shape. There are an unlimited amount of die cuts and custom shapes that your invitation can be in the shape of (sky is the limit)! Customizing your invitation to reflect the host's personality will make your invitation stand out and bring it to the next level.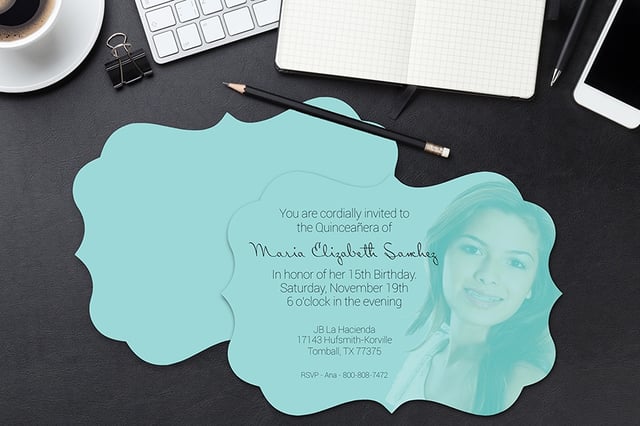 7. VIP Access Passes
The la quinceañera, young girl, will be the center of attention during the quinceañera, so only her most beloved VIPs will be invited to the event. The VIP Access Passes will make her guests feel exclusive and it will increase the excitement for the event.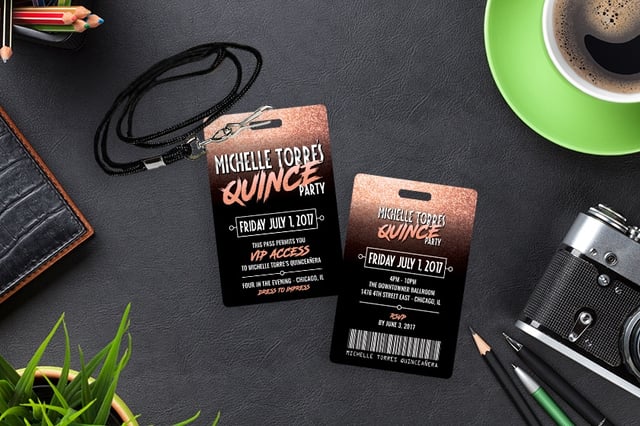 8. VIP Pass
Quinceañera's are one of the most important celebrations in the Hispanic culture. These events can have a large amount of family and friends in attendence. Due to the large amount of guest's and one special young women to be celebrated, VIP invitations are often sent out to ensure family and close friends are able to celebrate with the guest of honor.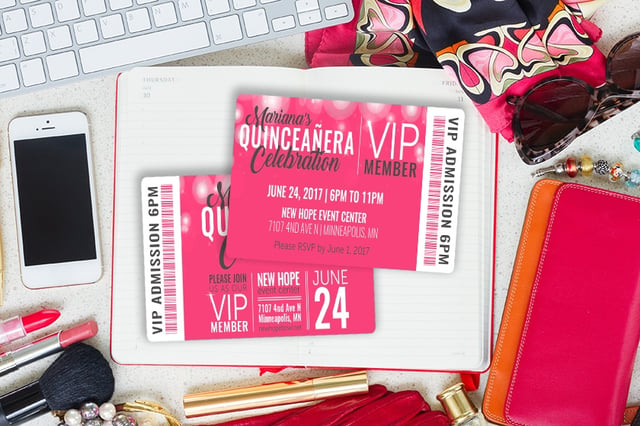 Whether you are trying to match a theme or a color, our team can help you create a one of a kind

quinceañera

invitation that your friends and family will hold on to for years to come.

Let our team of experts help you design your cards with a complimentary consultation.

---