Odds are, that if you've been in the real estate business for a while, you know it's a competitive market. Clients are hard to come by, and easy to lose. So how do you make yourself as memorable as possible?
There are a lot of things you can do. Keeping in close contact, email blasts, mailers. But I'm not an expert in those things. What I'm an expert in, is getting you noticed thru your business card.
In the US, 9 out of 10 real estate agents use the same tired, paper business cards. And while there's nothing wrong with them they're not doing you much good either.
If you're looking to give people your phone number, you can email that to them, and it's way less likely they'll lose it. A business card is about more than that. A business card is a way to show your clients how professional you are, and at least to a degree, how successful. So let's start with the basics:
Plastic Business Cards
Why are you spending money on paper business cards? Don't you want people to keep your cards? Don't you want them to last? Paper cards disintegrate when they touch anything wet. They fall apart in your wallet. And they turn into garbage in someone's pocket or purse.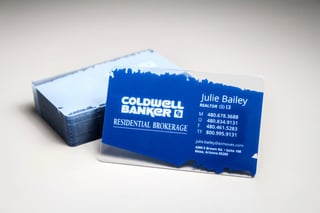 Why not move to something more durable? A plastic card can go through a laundry cycle unscathed. A plastic card can fall in a puddle and will be fine. A plastic card can even scrape your windshield in a snow storm without losing any of the information on it.
But that's not the only reason you want them:
Premium Business Cards
You want your client to be confident in your abilities. Whether buying or selling, you want to give them the reassurance that "I've done this before." But that little VistaPrint logo on the back of your cards sure doesn't spell "successful." It spells "cheap."
Your clients want to feel like they're working with the best. They want to feel like there's nothing you can handle. And that you're so successful you don't even need their business.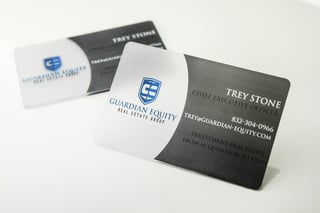 There's no better way to convey that, thanwith a premium plastic business card. You do it with the way you dress, wear you hair... even the car you drive. You don't pull up to a listing driving a 1998 Nissan Sentra with rust holes in it. You drive a new model car, you dress nice. You smile. All these things are to disarm your client, and give them confidence in you.
So why not have the best business cards money can buy? Plastic cards are the Rolls Royce of cards. They look amazing. Especially when on a clear, or frosted background. They feel superior, because they're made of a thick 20-30mil plastic. And they have a custom design that shows people who YOU are.
But, how do you display your individuality?
Custom Shapes
Now, I'm a bit of an old school purist. If you look at my business cards, they look like credit cards. I thought this was a cool look, and I still think it is. But the more I see cards with a custom shape, the more enamored I am with them.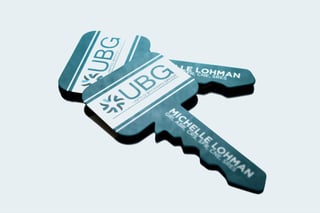 Now, I'm not talking about gaudy shapes. I don't want something the shape of a penguin. But something with interesting corners. Or something that has an interesting feature, now that jumps out at me. Especially when the shape correlates to the business like for a Real Estate Agent the key or house shaped business cards.
Cost
The biggest question people ask next is: "Well, this all sounds great, but what do they cost?!"
That's a fair question, and I'll be honest with the answer. They're not cheap. The price is going to vary depending on the quantities of cards, and design you choose. But you'll likely be spending at least $250 on these.
But that said, what are they worth to you? If you sold 2 more houses this year because of plastic cards, would the cost outweigh the value? What if it's 8 houses? Or 11? I can't guarantee you that you'll sell more houses with plastic cards. But I CAN guarantee you that you'll talk to more interested people. Is that worth as much as the bus bench with your photo on it?
If you'd like to learn more about plastic cards, reach out to me here!