I was recently looking through my plastic business card portfolio, and it's shocking how many tattoo cards I have in my book. This lead me to wonder why I've worked with so many tattoo artists.
I called a few of them to see how the cards have been working out. While I won't mention anyone by name, here are three distinct conversations I had with tattoo artists.
A Personal Touch
An artist in Spokane, WA told me about what made him want these cards in the first place. He told me that, "The business cards I was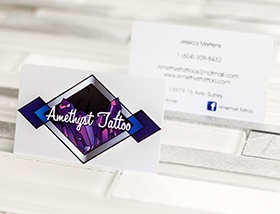 seeing online didn't represent what I wanted to represent. They wouldn't let me be creative, and show off my skills."
And he's right. Most business cards are so "cookie-cutter." They allow you to choose from templates and a few fonts. But this doesn't let you be an individual like a tattoo artist wants.
"I wanted something where I can showcase my art, and my business." How can you argue with that?
Long Lasting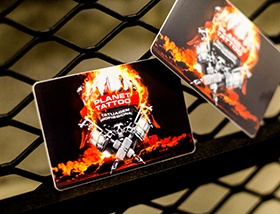 Another artist I spoke to resides in my hometown of Minneapolis. He remarked, "I want cards that last. 90% of my business is referrals. I want cards my customers can show their friends. That's how I get more business."
Talk about a smart idea, right? Plastic cards are almost indestructible. So you can keep it in your wallet, desk, etc. for 20 years and still read it. It can go through the laundry and be fine. It can get put in a fish tank for a year and be fine!
So when your customer is with friends showing off their new ink, and someone says: "Where did you get that done?" They can flash your card!
A Premium Product
The last artist I talked to was a lady in New York. She told me "I take a lot of pride in my work. I don't take walk-in's. I have customers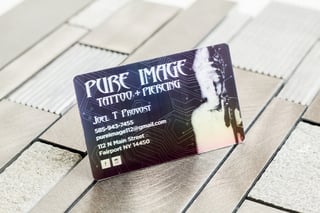 who come up from Boston to see me. I don't want my cards to bring in clients looking for a bargain."
And she's right! What does your card say about you? Do you want your business card to tell people you're the Rolls Royce of tattoo artists? Or the Hyundai Elantra of tattoo artists?
If nothing else, a plastic business card gives the look and feel of a premium product. The heavy plastic is very nice in contrast to paper. The print is especially nice on clear and frosted cards.
You're looking for business cards. And you wanted something special, otherwise, how would you have found us? If you're interested in speaking to an expert about tattoo business cards, or would like to see some examples, take a look here: