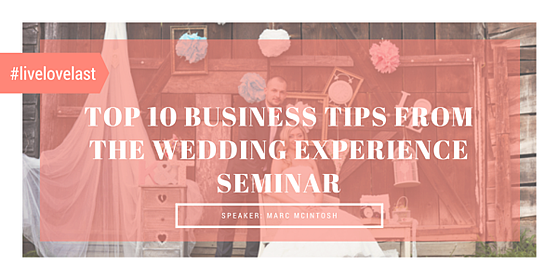 In business, staying current with the current trends in the industry is essential. As you may have heard, our top secret wedding line is launching soon! What does this mean for you?
The bulk of our business has been B2B and brides don't really fit into that mold. To get a better understanding of what engaged couples are looking for, we are going through extensive training. Recently, our marketing team attended a seminar put on by
Perfect Wedding Guide
and
Marc McIntosh
.
A lot of information was shared. We have picked our favorite 10 tips for successful wedding marketing.
1. What NOT to do
Use Facebook incorrectly. Remember that as a business, your
clients must Like your page, not Friend you.
2. What TO do
Offer them something special. A great way to connect with prospects is to offer them information. For instance, offering tips such as a "10 things that will make your wedding unforgettable" given in multiple emails (2 at a time = 5 emails total) just for signing up on a form on your website gives you a way to contact them
and a great way to keep in their mind as they received the

series.
3. Let's get connected

Be active on multiple platforms. After seeing your brand multiple times (email, Facebook, Instagram, wedding expos, etc) your company gains the trust of your prospective couples.
4. Keep it simple
Delete approximately 50% of your ad copy. Don't include everything about your business in an ad. Not only does it overwhelm the reader, but leave them intrigued to gain more information about what you do.
5. What are your "uniques"?
Every business has something that makes them special. Ask your past and current clients what made them choose you over another business. Once you have this information you will be able to highlight your strengths and can better segment your marketing efforts.
6. Get face to face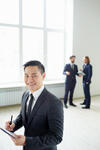 You
will
book more clients by having face to face meetings and interaction opportunities with prospects. Unlike most markets, wedding clientele choose from who they know and feel comfortable with. It is unlikely that a couple will book a wedding planner without meeting or talking with them first. Not everyone is a great fit for one another and meeting in person or over the web with options like Skype and Facetime give you the opportunity to prequality one another.
7. Ask for the sale
Too often, vendors will give all of their information and never actually ask for the commitment or sale. It can be as simple as saying, "When can I pencil you in for your consultation" or "Let me get this written up for you." Don't miss your chance.
8. Have an effective promotional piece
You want to have something unique on your promotional piece so that it does not end up in the trash can. Whether it be a unique shape, bold colors or even attaching it to something.
9. Eliminate the word "we"
Your marketing campaign should focus on solving a problem for the couple. By using "you" instead of "we" it shows your prospect that you care about them.
10. Never Stop - Ever
In the wedding business, you never stop filling your sales funnel. People will be constantly moving in and out of your client list. What you are doing today will
affect
you in 6 months or maybe even a year from now.
Do you have a tip that we didn't include? Let us know in the comments below.