Do you remember your first flight? Despite being pretty young, I still remember sitting on the plane waiting for takeoff. I was so excited and very nervous for what was about to happen. First, there's that slow crawl when the plane leaves the terminal, and then it gradually gets faster and faster until suddenly you're moving at a rapid speed. And finally takeoff! You have officially left the ground and are air-bound to your next destination — what an exhilarating experience.
The takeoff experience may be fun, but for your airline, it's the experience after takeoff that matters most. Everyone knows how hard it is to sit still for so long when you're off on a new journey! That's why airlines have been consistently working on improving the air travel experience. For instance, some airlines have put screens on the back of every seat, allowing you to choose to watch an abundance of TV shows and movies throughout your flight. Some even offer live TV! Other airlines give you a free blanket and pillow to enhance your comfort. In addition to those improvements, airlines are also using several marketing tools to enhance the customer experience. Let's look at some airline marketing strategies that you can use to keep customers happy, informed, and loyal.
---
Airline Menu, First Class Menu, & More
After spending hours at the airport and facing several more hours traveling, most people tend to get hungry. Sure, most airlines offer you a small bag of pretzels or crackers, but that may not appeal to everyone. The snack food is fine, but when traveling long distances it can leave a little to be desired. Thankfully, many airlines have begun to offer meals to improve the flying experience. Hey, it might not be fine dining, but it sure beats a snack-sized package of peanuts.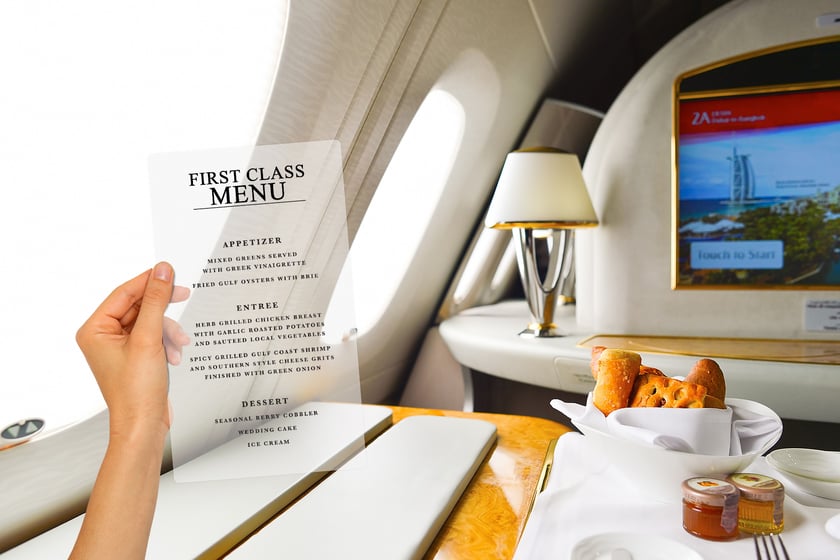 As airlines continue to improve their dining options, they are turning to an airline menu to help with efficiency, give their business an additional revenue stream, and encourage travelers to grab a bite. Many flight attendants have a variety of airline menus on hand to accommodate different needs including drink menus, a first-class menu, and a standard airplane food menu for economy seating. Having this many custom menus is an effective way to keep your dining service efficient. You don't want your flight attendants to be slow as they serve drinks, snacks, and food. Having an airplane food menu gives travelers a chance to see all the options available and not feel like they are holding up the line. Plus, having separate airline menu options for first class and economy class helps give your travelers another reason to buy first class tickets.
The combination of delicious food and custom menus help enhance the flying experience and the adventure that comes afterward. Being fed good food keeps flyers happy, and keeps their brain functioning at its best, preparing them for whatever is next after the flight.
Airplane Guide & Information Booklet
Being up at 31,000 feet in the air can be unsettling to some people, and it's hard to blame them. However, air travel results in fewer tragedies than other forms of transportation. In fact, people are about 2,000 times less likely to have a fatal accident in a plane than a car. Still, there is important information that travelers need to know when flying through the skies. Just in case of emergencies. At the beginning of the flight, a flight attendant will go over this information, but in case travelers want to reference it again, you can offer an airplane guide or information booklet.
These airline guides and information booklets provide instructions in case of emergencies, information on loyalty or rewards programs, and sometimes even a history of the airline itself or a bio of the pilot. This airline marketing tool is there to put passengers at ease, knowing they have all the necessary information accessible at any time. Plus, it can be entertaining to get to know the airline and the staff on-board; that's one piece of information I wish more airplane guides would include. It helps airline marketing by creating a more personal experience, connecting travelers to your brand in a more meaningful way.
Airline Rewards Cards
One of the cool things about airports and planes is that everyone is on their way to their own experience, an adventure they look forward to telling friends, family, or co-workers about. For travelers with this adventuring spirit and love for traveling, you can offer them the perfect marketing tool: airline rewards cards.
Rewards cards make airline marketing easy because of the benefits customers receive from them. With airline rewards cards, travelers earn points that they can put toward discounted flights, seat upgrades, or other travel-related rewards. For someone who is looking to do a lot of air travel, these cards can be very enticing. You can draw attention to your airline rewards cards with in-plane announcements. Towards the end of a flight, have your flight attendants talk about your rewards cards and give passengers an opportunity to sign up. You can also put it in your information booklet or online so that passengers can learn about it on their own time. All methods are effective tactics for you to use to gain rewards members.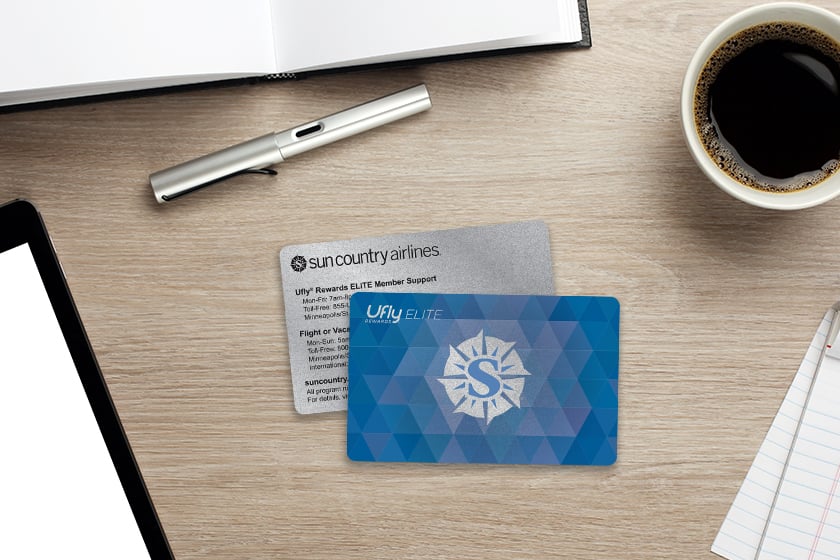 So what do these rewards cards do for your airline? Airline rewards cards help build customer loyalty. Once they are earning and spending points, they have an incentive to fly with your airline. Plus, you can use the data that you collect from these cards to learn about your travelers. This information will help you to market to your customer's needs. So while you reap the benefits of enhanced customer loyalty and more efficient marketing, customers get a cheaper and better flying experience. Airline rewards cards are a true win-win situation.
Airline Marketing Tools for You
From improved dining options to travel information and even cards that earn your passengers points towards their next flight, these tools are helping to improve the flying experience and making airline marketing easier. Ready to design and print incredible airline marketing tools? Give us a call today; we are excited to help!