Everyday hotel employees meet new guests from around the world. They come from a variety of different cultures and speak many different languages. It's a unique and cool experience that makes each day an exciting new adventure. But with the variety that comes with the job, there can be challenges. Since every day is different, hotels need to provide superior, consistent service to everyone that walks through their door.
A superior hotel experience is made up of several factors like customer service, quality of the room and extra amenities. These factors are really important for a guest. If they are not provided with the information they need, their experience can quickly go from great to awful. One way to give your guests the information they need is to put it on a tool they use every single day. Your key cards are a great place to display need-to-know information. Your guests will see it as soon as they check-in and will have it with them throughout their stay.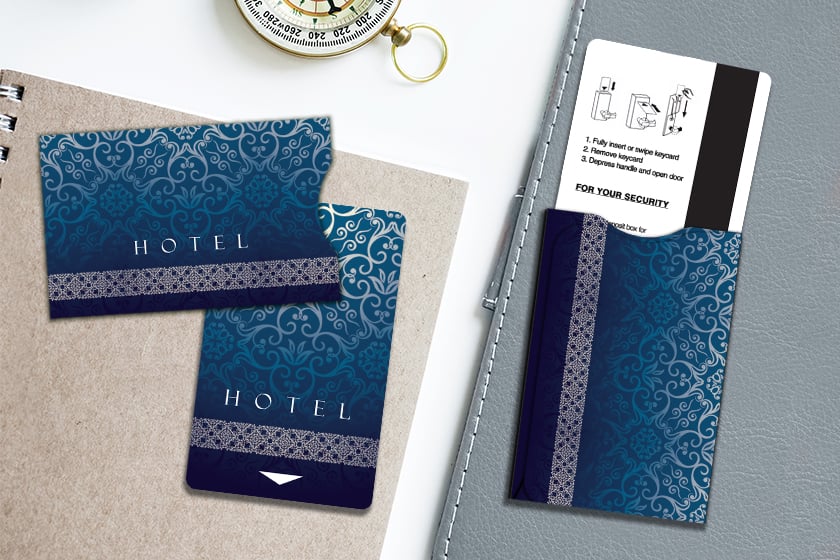 But a hotel key card only has so much space. Complete your marketing tool with a key card accessory. Not only does it give you more room, but it also helps protect the cards and gives your guests a convenient place to store their key cards. So what key card accessory is right for you? And how can you make the most of it? Let's take a look at the interesting world of key card accessories.
Hotel Card Sleeves
Hotel card sleeves are exactly what it sounds like. It's a sleeve that holds and protects your hotel key card. This simple accessory completely encases the key card to prevent it from being damaged or lost. Hotel card sleeves give you a little bit less room to communicate with your guests than other key card accessories. But it is still a very effective way to get the job done! And don't forget that you still can use your hotel key card to communicate more information.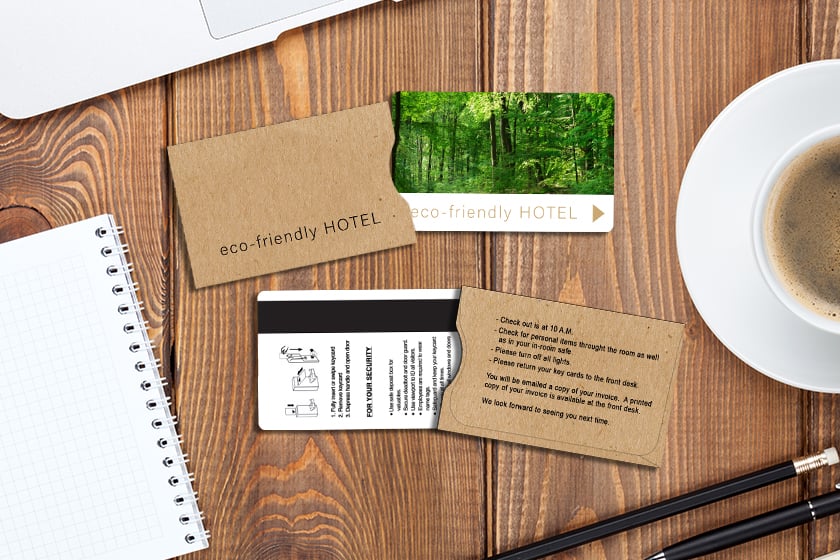 Hotel key card sleeves give you two extra platforms to further your cohesive marketing and strengthen the power of your brand. Use the front to welcome your guests. It's going to be one of the very first marketing tools they touch, see and use so it needs to communicate your message clearly. On the back, you can display hotel safety tips or rules, check out instructions, contact information or advertisements. The key with these accessories is to put the most information on them because you want them to look eye-catching and professional. Not overcrowded and confusing!
Hotel key card sleeves are a great solution for companies that are looking to protect their key cards and communicate a little bit more information to their guests.
Key Card Holders
What exactly is a key card holder? Key card holders almost look like a miniature folder. They open up like a book and usually there is a pocket or two on the inside where you place your key card. This style is extremely beneficial for your key card because it helps protect it, looks professional, and has plenty of space for you to communicate with your guests.
No one wants to worry about their card falling out of their pocket, wallet or purse. Guests just want to enjoy their vacation! This unique design style holds your card securely and protects it from the elements. Helping to ensure that your guests won't have to make that extra trip up to the front desk to get a new key card.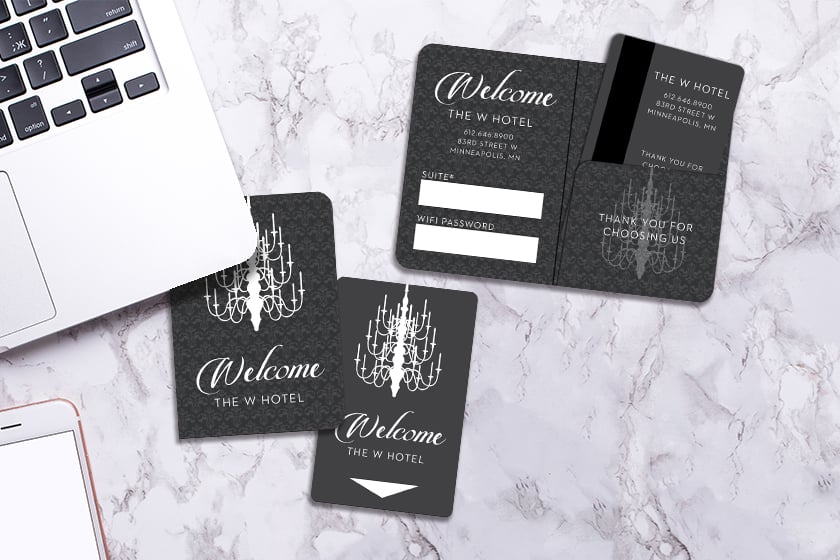 Key card holders give you significantly more space to be creative and promote your hotel. Add your logo, branding, and a eye-catching design to help foster brand recognition and curiosity. Create a design that will make your guests want to look at the information you put inside your key cards.
What information should you include? You can include basic information like phone numbers, the wifi password or the room number. Or you can use it as a promotional tool! If you have a rewards program, your key card holder would be the perfect place to remind guests about it or introduce them to what you have to offer.
Otherwise, you can use the space for paid advertising for other companies. In 2018, travelers in the United States spent $268 billion on food services. This is just one example of an industry that could benefit from using the advertising space on your key card holder. Plus, by putting an ad or two on your key card holder, it can help pay for the cost of the holders.
Key Card Holder or Hotel Key Card Sleeves?
Both key card accessory options are an efficient, professional, and convenient marketing tool that will help protect your key cards and elevate your guest's experience. Which one should you choose? We are here to help you pick the perfect solution for your hotel!