In the construction industry, your card has to stand up to dirt, mud, rain, and (in some areas) snow — durability matters. The ink on a paper business card will absorb the moisture and will start to streak, and in some cases, destroy the card. However, plastic business cards have an added layer of protection. We have even heard from customers that have had their plastic cards go through the washing machine unscathed!
Durability is just one of the features that matter when you use your business card for construction marketing. Even if your card is durable, if you have a boring business card, it has the chance of getting thrown away. You need an eye-catching card that is perfect for your business, and today, we are hopefully going to inspire you to get just that.
Top 10 Business Cards Ideas for Construction Marketing
Here are some of our favorite construction business cards that have recently rolled off our printers.
1. Clear Business Cards
When you are looking for something unique, clear business cards fit the bill. They certainly are eye-catching, and though they are see-through, they don't lose any durability or freedom of customization. There are no real downsides when choosing a clear card!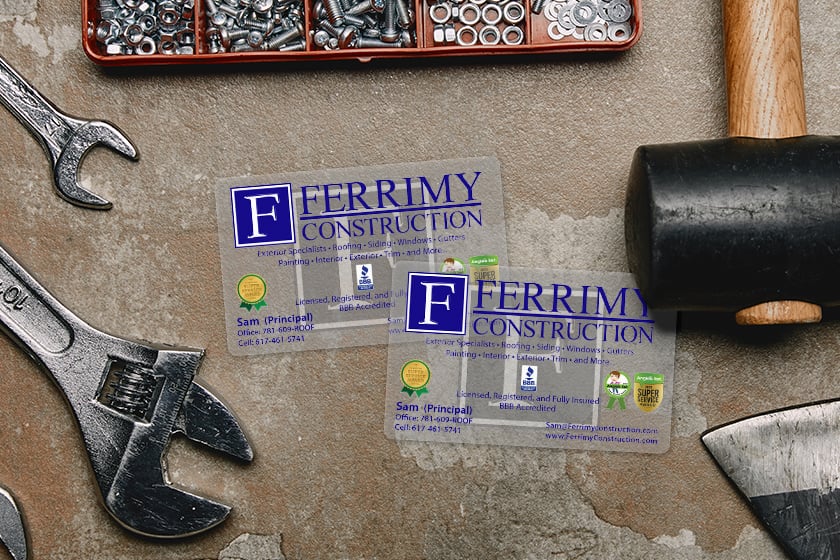 2. Metal Business Cards
Unlike real metal business cards, our metal style has the look of metal with the flexibility of plastic. We also offer several metal foils, each which can emulate a different metal. Your card can be chrome, gold, silver, platinum, copper, and many more!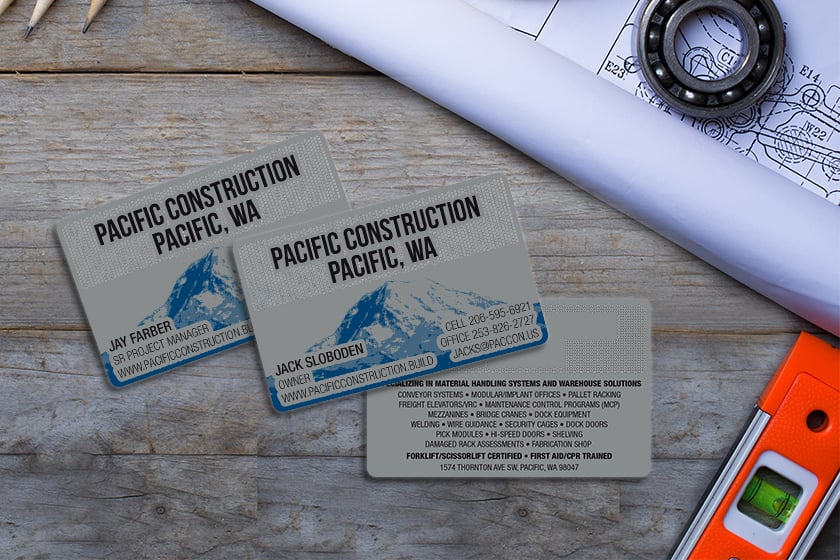 3. Custom Shaped Business Cards
Your card doesn't have to be a standard rectangle; it can be any shape and size you want. You can lean into elements of your business for your custom shape like the example below, or you can just change up the shape and make your card unique, the choice is yours.
4. Fluorescent Plastic Cards
If you need an eye-catching card, fluorescent plastic cards will do the job. Fluorescent plastic cards are available in lime green, yellow, blue, red, pink, and orange.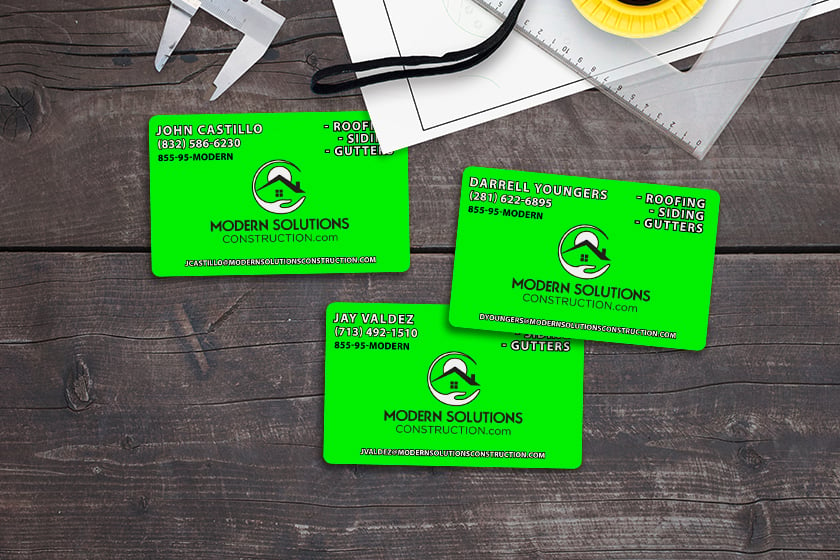 5. Writable Business Cards
Why not get a card that you can customize yourself, whenever you need? A great feature of matte business cards is the ability to write on them with a marker or even a ballpoint pen. This kind of card can be useful, especially in the construction field.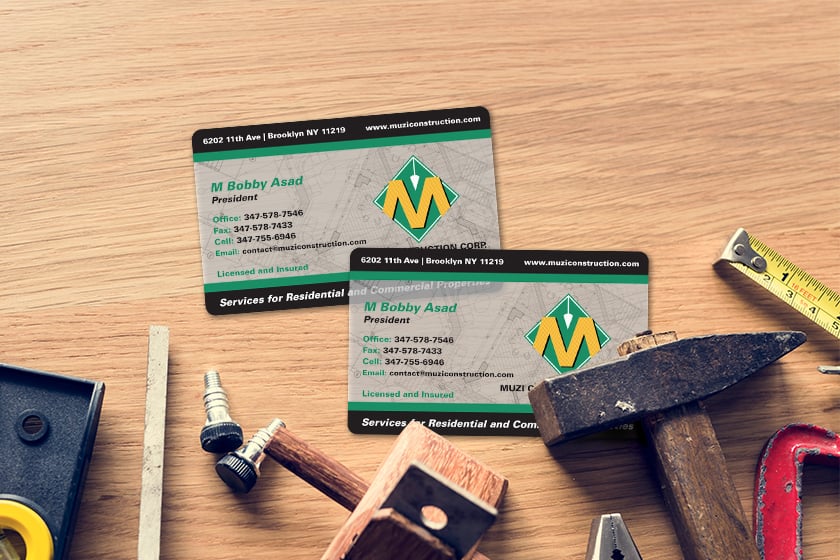 6. Tinted Plastic Business Cards
It is essential to keep business branding consistent. By using tinted plastic on your business cards, you have the look of a frosted card with the luxury of your branding colors.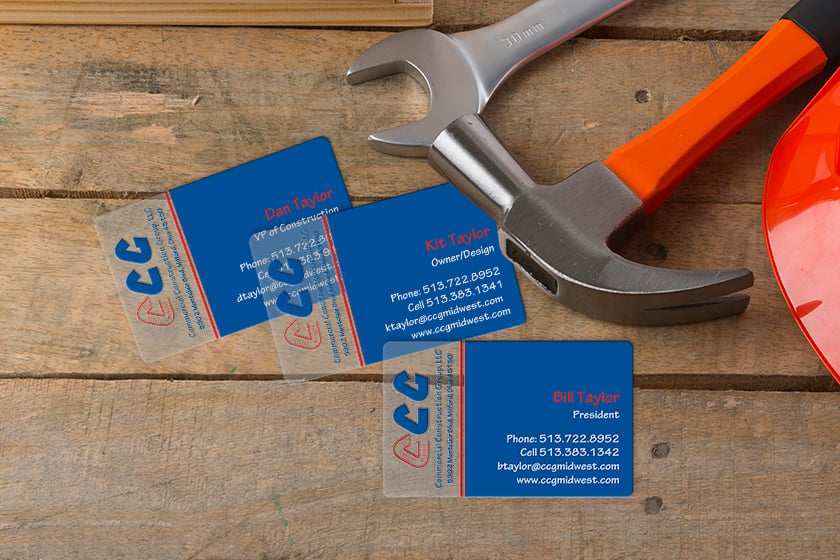 7. Photo Business Cards
Having photo business cards, including either yourself or your work, is a unique way to personalize your business cards.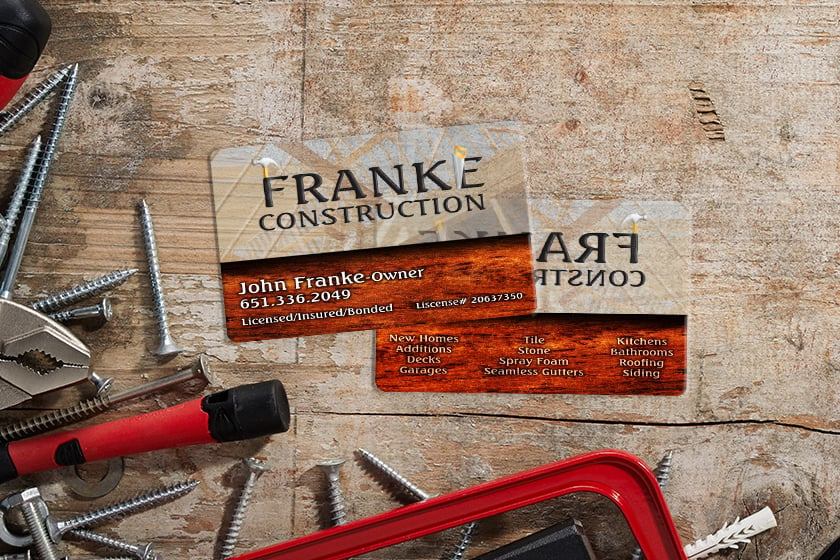 8. Frosted Business Cards
Get the feeling of silk business cards with our premium frosted plastic cards. The frosted look doesn't limit your other customization options either; a frosted look can add premium accentuation to your brand, logo, or name.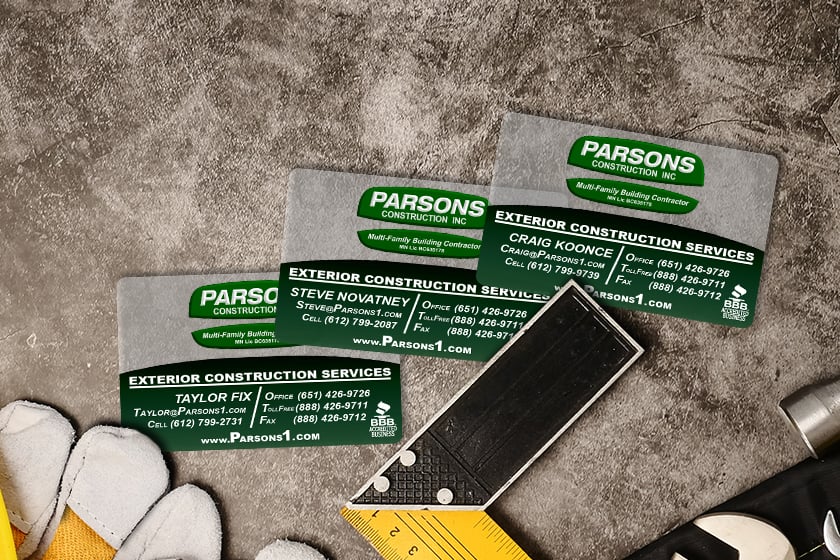 9. Ruler
Adding a ruler to your business cards makes them not only a handy tool but encourages your customers and prospects to hang on to your cards!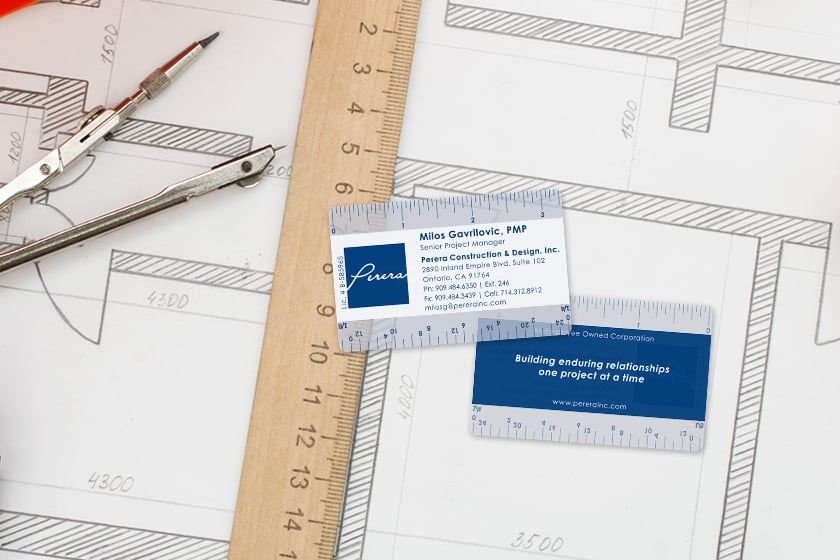 10. Custom Unique Business Cards
Add some creativity by choosing custom, unique business cards. You don't have to stick to just one card design; if you have a bunch of ideas, go for it! Shaking up what you hand out can make you and your customers more excited about your cards.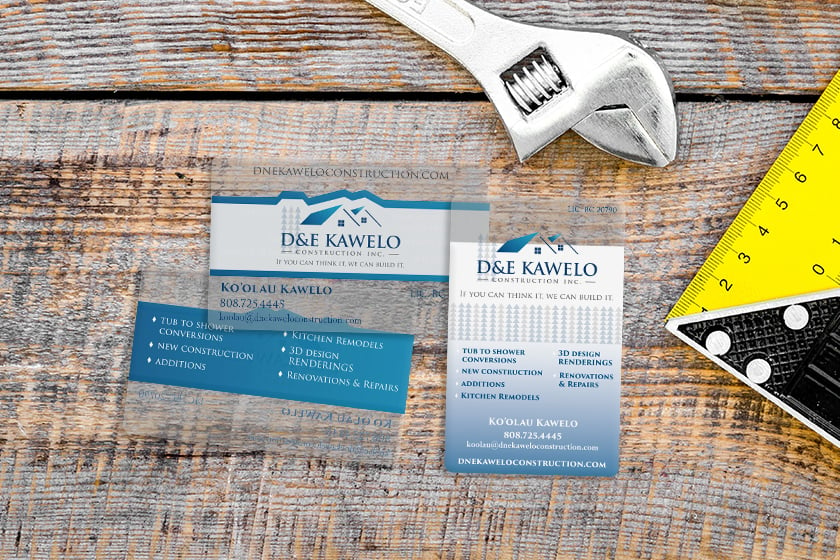 If you're ready to order your custom business cards for your construction, contracting, roofing, or landscaping service, schedule a free, no-obligation consultation with one of our experts today. Click below to get started!
---