The fight against COVID-19 is uncertain. No one really knows when it's going to be done or gone. While most states allowed at least some businesses to re-open, an uptick in cases has caused 16 states to press pause on their re-opening plans. During this uncertain time, your business must take extra precautions to keep employees and staff safe and prevent the spread of COVID-19.
Right now, it is incredibly important to listen to what the experts are telling us. The Centers for Disease Control and Prevention (CDC) is an excellent resource for civilians during the pandemic and businesses. Social distancing is one strategy that the CDC recommends the public practice, and that recommendation goes for your business as well. So, how can you enforce social distancing at your company? Many companies are turning to signage. Read on to learn about the different social distancing signage options and how they can help promote a safe workplace at your business.
Why Use Social Distancing Signage?
Right now, health and safety is almost everyone's top priority. Social distancing is a practice recommended by the CDC to prevent the spread of COVID-19. Under social distancing, people are to stay at least six feet from others when outside of their homes. Per the CDC, "COVID-19 spreads mainly among people who are in close contact (within about 6 feet) for a prolonged period. Spread happens when an infected person coughs, sneezes, or talks, and droplets from their mouth or nose are launched into the air and land in the mouths or noses of people nearby."
For businesses, the CDC says it is important to establish policies and practices for social distancing. Those policies and practices vary from business to business. For some companies, employees can work from home. For others, it means increasing the physical space between employees or between employees and customers.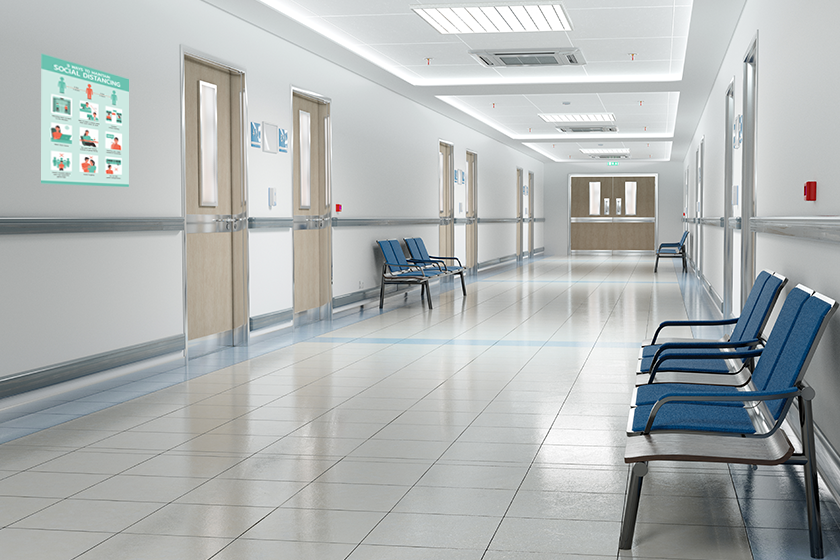 The CDC also recommends that businesses "use signs, tape marks, or other visual cues such as decals or colored tape on the floor, placed 6 feet apart, to indicate where to stand when physical barriers are not possible." By using social distancing signage, your business will help prevent the spread of COVID-19. This recommendation is easy for any business to implement! At Plastic Printers, we offer a variety of social distancing signage, and if you don't see a design you like, we can make you your very own custom social distancing sign.
The Different Social Distancing Signage Options
Social Distancing Signs
Different businesses have unique needs, which is why social distancing signage comes in a variety of options. Some companies use social distancing signs that hang up around their facility. The goal of these signs is to remind customers to practice social distancing. However, simply using the term social distancing may not be enough. If your customers don't know what social distancing is, how can they practice it? That's why it's a good idea to include content on the sign that reminds customers to stand at least six feet apart.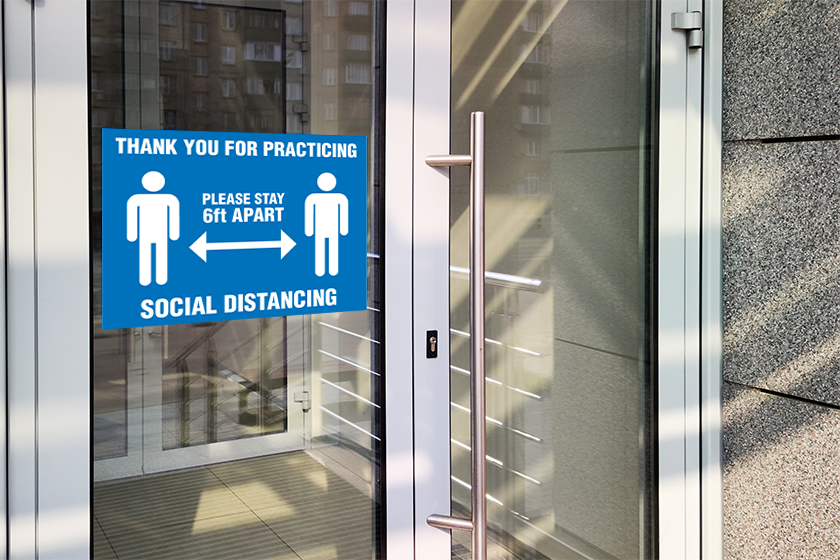 When using social distancing signage, try to place them in highly visible areas of your business. Many businesses place them right on the front door to ensure that everyone entering the facility sees them. Another common location includes places where customers line up like the check out counter.
If your business has a large facility, one sign might not be enough. Consider using multiple social distancing signs to really get your point across.
Social Distancing Floor Decals
Another popular option is social distancing floor decals. If you're unfamiliar with floor decals, they are like signs that go on the floor. Social distancing floor decals both remind your customers to practice social distancing and indicate where they should stand. They are especially useful for businesses that require customers to line up or be in close proximity to each other. Socially distancing floor decals are commonly used at grocery stores, shopping malls, fast-food restaurants, amusement parks, and more.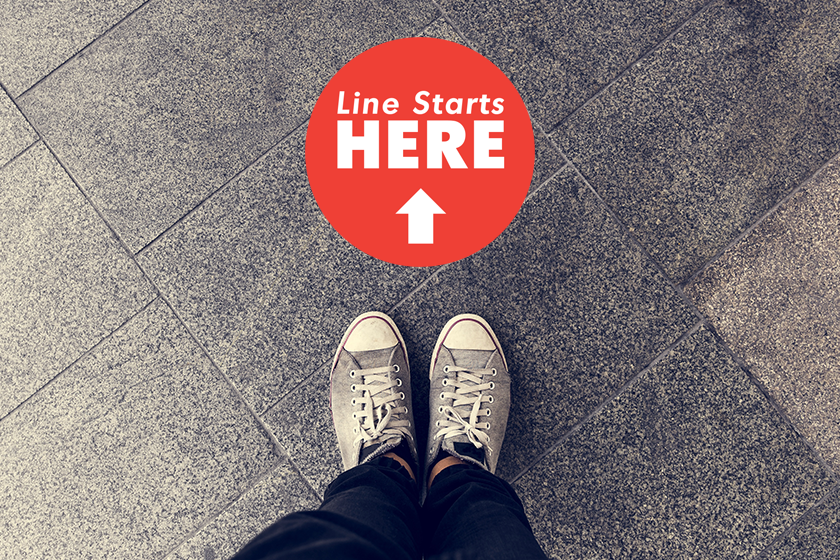 If you haven't used floor decals before, you might have concerns about their durability or the ease of using them. For starters, floor decals are easy to apply and remove. They resemble a sticker for the floor. Second, they are designed to withstand a lot of customer traffic, making them durable. People can walk on them or drive their carts over them. Overall, floor decals have been a popular choice for businesses of all types.
Social distancing floor decals come in a variety of styles. While some designs remind customers to practice social distancing, others simply mark where customers should stand. Other useful floor decals indicate where the line starts, where customers should wait, and arrows that showcase one-way aisle usage. Social distancing floor decals can help increase safety in tons of businesses, and your business could be next.
Social Distancing Table Tents
Another option for reminding your customers about social distancing is table tents. Social distancing table tents are placed on tables or countertops to let customers know that the table or seating area is closed to enforce social distancing.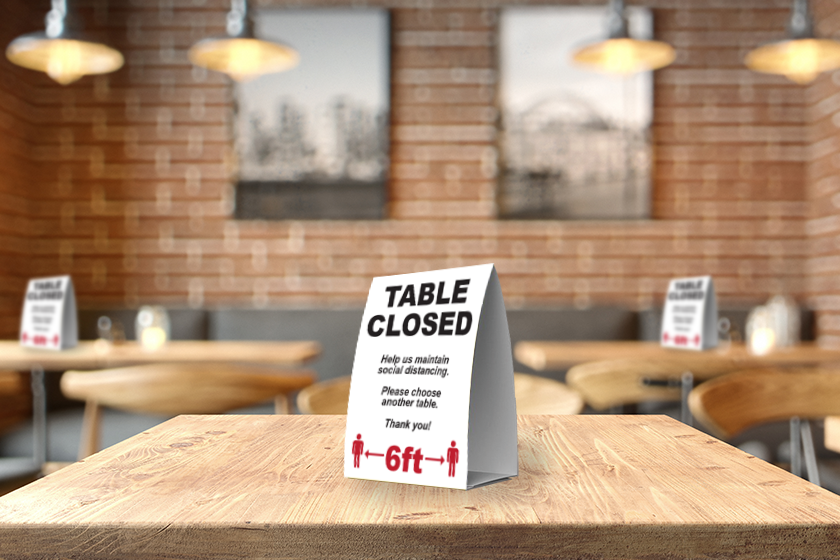 Social distancing table tents are common in restaurants, bars, and coffee shops, but those aren't the only types of businesses using them. Some movie theaters use social distancing table tents to indicate seats that are closed. Other businesses that have a lobby or waiting room place them on chairs to enforce social distancing.
---
Want to see the social distancing signage, floor decal, and table tent designs Plastic Printers has to offer? Click here. Remember, we can also make custom signs just for your business. Thanks for doing your part, and stay safe!