Cleanliness and sanitization is a huge part of keeping your restaurant safe, and one of the most important items in your restaurant to keep clean are menus. Menus are something everyone touches, from your wait staff to your customers; learning how to disinfect properly will both protect your customers and your staff, but also protect your custom menu and keep its shelf life long.
Currently, the CDC is full of information about disinfecting, but the requirements for menus may be different depending on the style. The blanket procedure provided by the CDC is to clean the menu with warm water and soap and then wipe it off with a soft cloth. This cleaning method is always going to be a safe move, regardless of the menu type. It can be plastic or in a covering.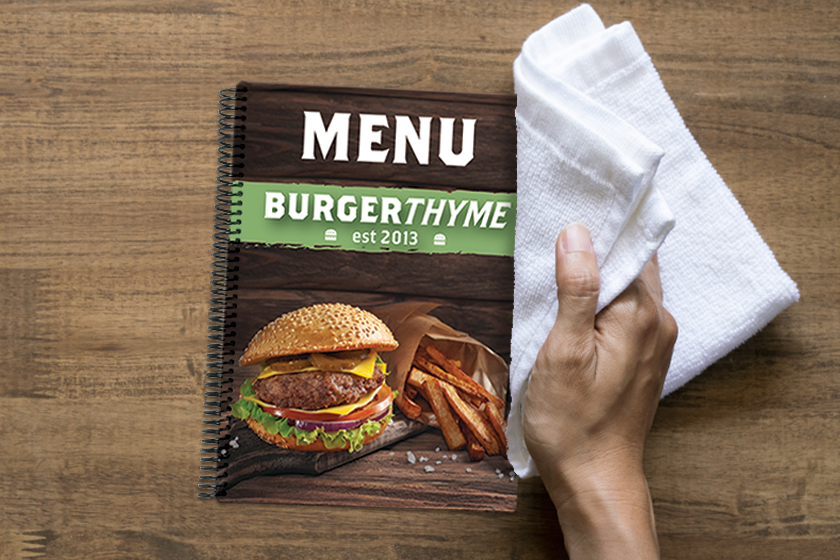 When it comes to disinfecting, the choices become a little more important. The most often recommended option is a diluted Bleach solution, which will perform the task that you desire, but the Bleach will slowly strip away the surface of your custom menu. The same will happen with ammonia, citric acid, and degreasers; its best for the continued use of the menu that you avoid using disinfecting products that include those chemicals.
Instead, the CDC recommends using a solution of 70% alcohol as a disinfectant. These can come in the form of wipes, spray, or solutions, which are easy to find and will significantly increase the shelf life of your menu. Based on sanitization and ease of disinfecting, plastic menus are the easiest menus to manage. While coverings can help protect paper menus, paper menus will degrade rapidly and will need replacement often.

Have questions about custom menus? Give the team at Plastic Printers a call or visit our FAQ Page; we specialize in helping you create a menu your Pizza Restaurant, Bar and Pub, Fast Food Restaurant, Coffee Shop, or Bakery will be proud of.