If you are a business that handles food and then brings it to a customer, there are an incredible number of laws that you will have to memorize to operate. One of those laws is the required signage that has to be up in your restaurant. It is important that everyone has this pertinent information in order to be safe around the food, and putting up informative signs is a great way to remove liability and produce a safe restaurant environment. Here is the signage that you need in your restaurant.
Restaurant Signs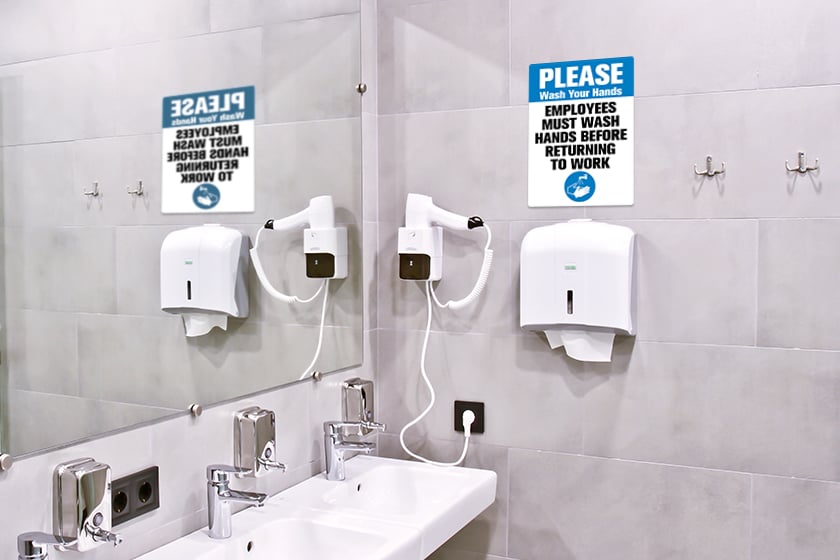 For starters, the FDA requires "posting signage that notifies food employees of the handwashing requirement, as stated by the FDA." How you word your handwashing signage can vary by individual establishment, but the requirement of washing your hands remains the same. The FDA's required handwashing procedure is as follows:
Rinse under clean, warm running water;

Apply soap and rub all surfaces of the hands and fingers together vigorously with friction for at least 10 to 15 seconds, giving particular attention to the area under the fingernails, between the fingers/fingertips, and surfaces of the hands, arms, and surrogate prosthetic devices;

Rinse thoroughly with clean, warm running water; and

Thoroughly dry the hands and exposed portions of arms with single-use paper toweling, a heated-air hand-drying device, or a clean, unused towel from a continuous towel system that supplies the user with a clean towel.
So, when it comes to your handwashing signs, according to the FDA, you are responsible for reminding your employees of the handwashing requirement through signage. Remember, it is also your job to train them on the procedure outlined above, the sign will do no good if they do not know the proper procedure to follow.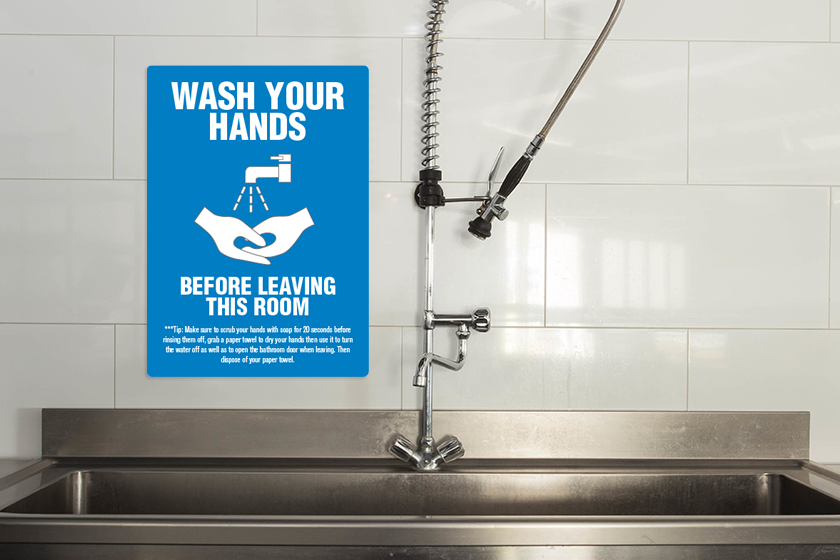 As for the design of the sign, the way it is said, the layout, and anything else you may choose can be customized, as long as you meet your state's requirements. How and where this information must be posted does also vary by state, and an incredibly detailed and thorough listing of the state-by-state requirements can be found here.
That isn't the end of it, however. There are other restaurant signs both required and recommended, and your ability to customize them creates new opportunities for branding. For example, different states have different requirements for restaurant signs regarding rules for outdoor dining with dogs, and your ability to customize this sign allows your brand's personality to shine through. Make it funny, make it efficient, and make it yours, and customers will respond to it.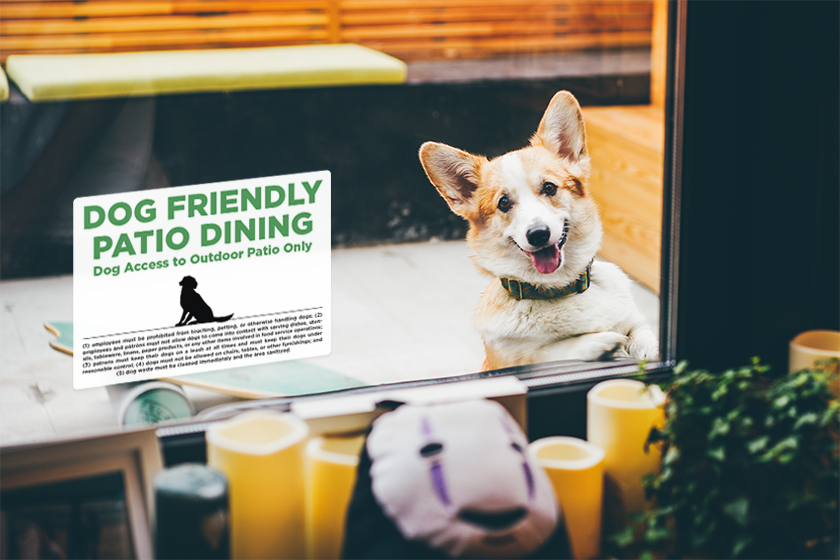 Some signage can be handled in menus or other places, like food allergy posting or alcohol pregnancy warning signs. All of these signs can be utilized in the same way to boost brand awareness throughout your restaurant while also covering your bases and informing your customers. How you do so is up to you, but more restaurant signs is always better.
So, where can you get your restaurant signs? The team at Plastic Printers has all the solutions for your restaurant needs. Click below to get started or to speak with one of our experts today! Or, if you are looking for other restaurant marketing ideas, visit our industry page here.