Plastic key tags are intriguing marketing tools that have the ability to serve many different purposes. For that reason, businesses of all sizes and industries use key tags to fulfill their specific needs. Whether you're interested in trying out plastic key tags at your business or are looking for information on how to get the most out of them, this blog will serve as an ultimate guide on key tags by answering frequently asked questions about key tags. Let's get into it!
What Are Plastic Key Tags Used For?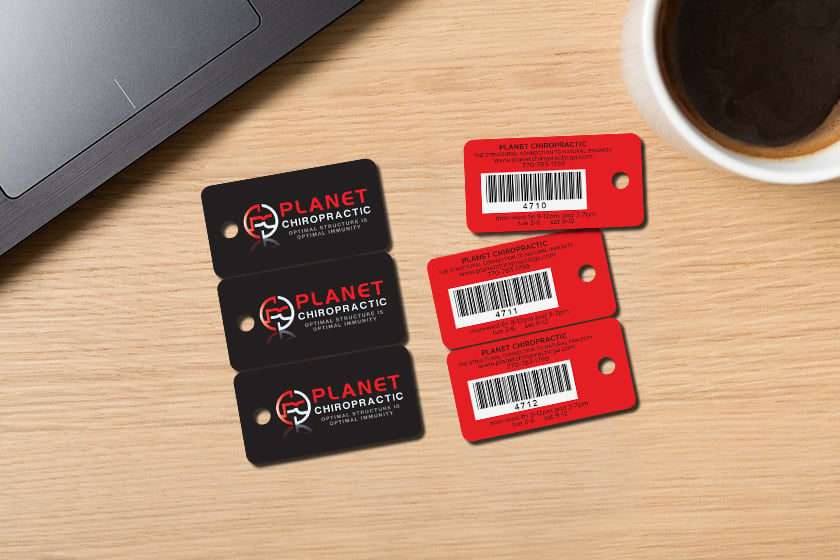 One of the biggest benefits of using plastic key tags is that they aren't used for one thing; they can serve many different purposes. From enhancing the customer experience to promoting your business, plastic key tags can do it all.
Membership Key Tags
Many businesses use their plastic key tags as part of their membership program. Companies choose to use key tags for their membership programs because they are convenient and cost-effective.
With the addition of a barcode or QR code to your key tag, it can be scanned just like a membership card would be. This can allow you to collect customer data, swiftly check-in members, or even grant access to your facility. Some industries that commonly use membership key tags include fitness and retail.
Loyalty, VIP, & Rewards Key Tags
If your business offers a loyalty, VIP, or rewards program, key tags can help boost your program. These programs are designed to increase customer loyalty and spending. You're probably wondering how plastic key tags can help with that. By adding a barcode or QR code to your plastic key tags, we can make them compatible with your point of sale (POS) system, allowing you to track customer spending, dish out rewards, and help boost your customer's experience.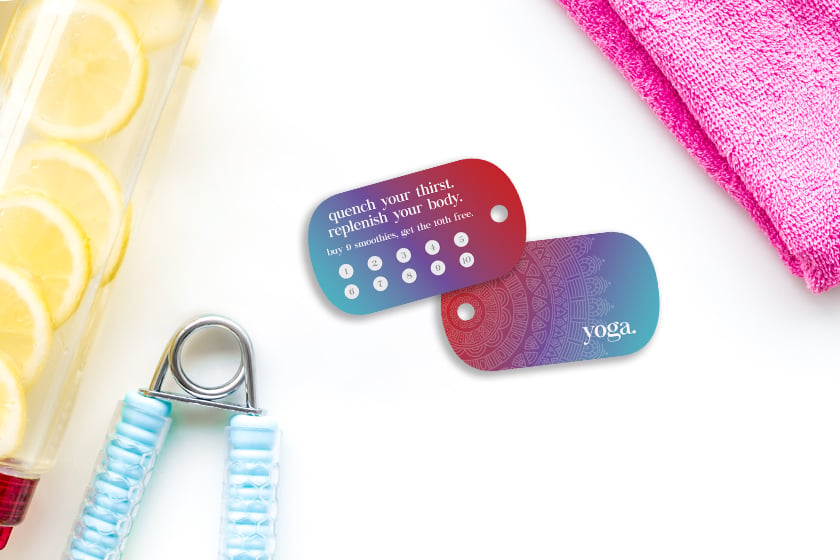 Additionally, you can also add punches to your key tags to keep track of customer loyalty manually. Every time a customer makes a purchase, simply punch their key tag to record it.
Promotional Key Tags
Custom key tags go everywhere your customers do, making them an excellent promotional tool. Every time your customer takes out their keys, which is multiple times, your brand will be right in front of them and the others around them. So, not only will your plastic key tags remind your current customers of your business, but they can also help attract new customers.
Other Uses For Plastic Key Tags
I could spend this whole blog going over unique uses for plastic key tags, but there are other things to cover. Here's a quick rundown of other uses for custom key tags:
Alternative To Gift Cards

Access Cards

Product Label

Service Tags For Auto And Other Repair Businesses

ID Cards

Library Cards
The potential uses for plastic key tags are endless! If you have a different idea on how to utilize custom key tags at your business, go for it!
Why Plastic Key Tags?
Key tags can come in many different materials, such as paper and metal, but we primarily focus on plastic key tags. There are a couple of reasons why we prefer plastic key tags. For one, we can print barcodes and QR codes on them, making them more useful for businesses. Second, plastic key tags are durable but inexpensive. While paper key tags can rip or will be ruined when wet, plastic key tags can stand up to whatever is thrown at them, which is good since they are constantly on the go.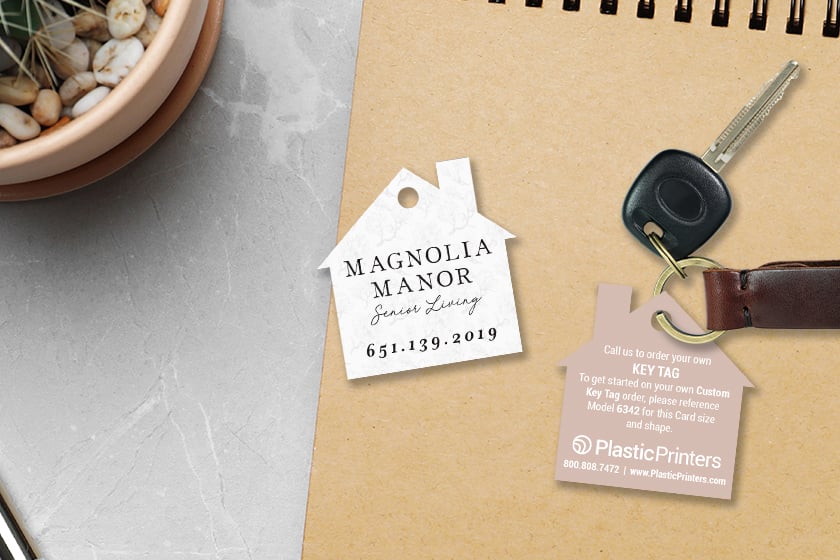 Finally, using plastic key tags allows us to create key tags in different shapes. We can create a custom key tag for you in any shape you want, thanks to plastic. Being able to print in different shapes gives businesses more choices, and unique shapes can also help make key tags stand out. For instance, we can create a house-shaped key tag for a realtor or a pizza-shaped key tag for a restaurant. Using different shapes helps make your key tags more interesting and can enhance their effect on consumers. Check out our catalog of custom shapes we can make for key tags. Don't worry if you don't see the shape you want; we can make one to your exact specifications.
Do You Have Any Design Tips For Plastic Key Tags?
Since key tags are smaller than other types of cards, they can seem more challenging to design. However, our team of graphic designers are experts at crafting incredible key tag designs. The number one tip from our design team is to keep the key tags minimal. The more you add to your key tag design, the smaller everything gets, and the harder it is to read.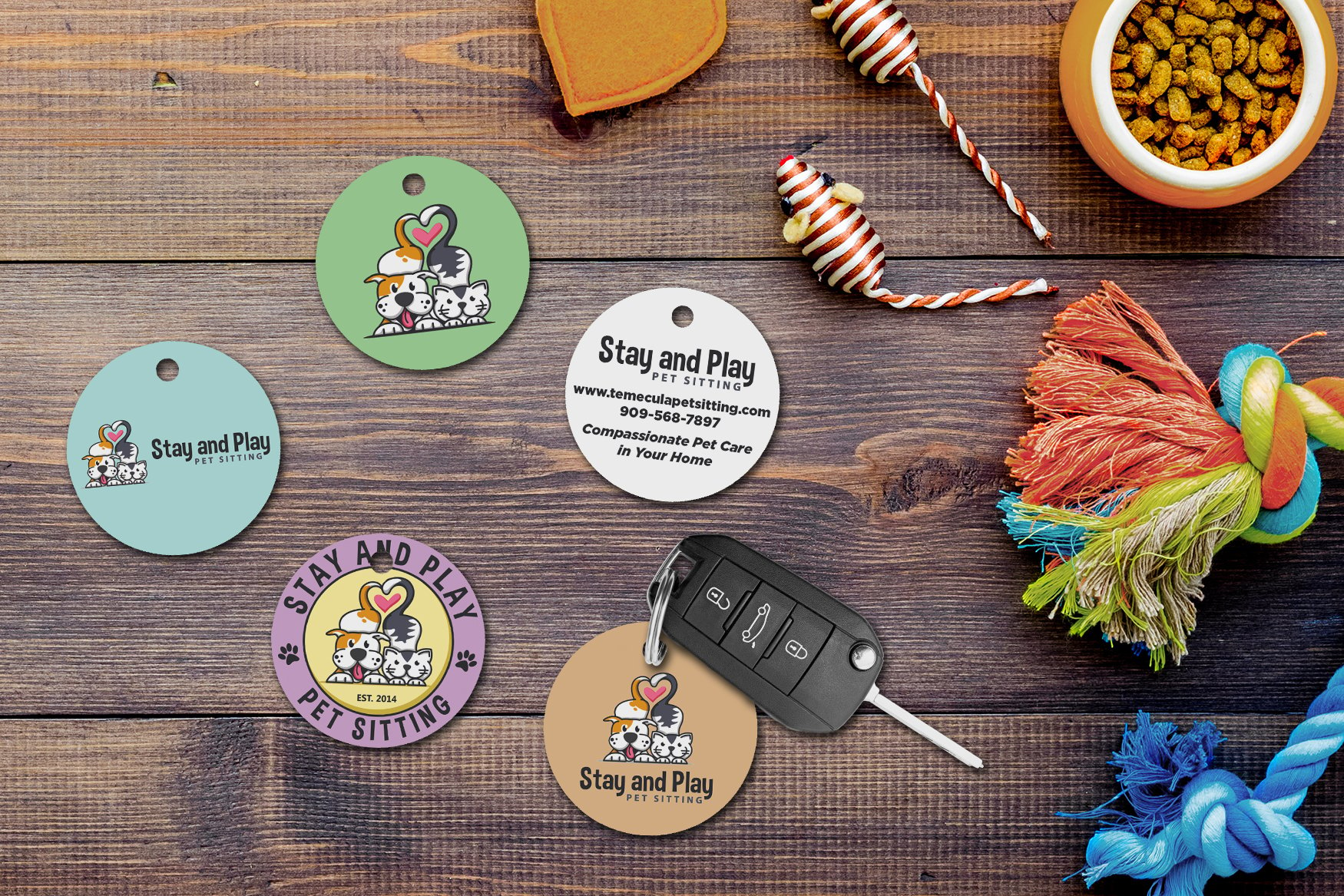 Since key tags are a great way to promote your brand, it's important to consider including your logo and contact information on your key tag design. When it comes to sizing your logo, our experts recommend making the logo fill up the majority of one side of your key tag. As for font size, using a 7 or 8 point font on your custom key tags is recommended to make it easy to read.
Additionally, if you're interested in using your key tags as part of your gift card, membership, or loyalty program, we encourage you to make them compatible with your POS. In that case, it is also important to include a barcode or QR code on your key tag design to ensure that they work. Usually, these are placed on the key tag's backside, but that decision is ultimately up to you.
However, take these design tips as a grain of salt. Your custom key tags are yours, and you should design them however you like.
---
We hope this guide on plastic key tags has been helpful for you. If you have any other questions or want to get started on getting custom key tags for your business, please don't hesitate to reach out to us. We pride ourselves on delivering five-star customer service and providing incredible key tags that exceed expectations; give us a call today!