To help reduce the spread of COVID-19, the Centers for Disease Control and Prevention (CDC) recommends people wear face masks when out in public. Face masks have become commonplace, even mandated, as people try to minimize the spread of COVID-19. However, face masks aren't the only piece of personal protective equipment (PPE) that can potentially help prevent the spread of COVID-19: face shields are sometimes worn in addition to face masks. While the CDC says that face shields aren't a substitute for masks, they can offer additional protection when worn in conjunction.
While you're probably familiar with face masks and the many benefits that come with wearing them, face shields are less common. Let's go over some of the benefits of face shields and why you should consider pairing your mask with a face shield.
What's a Face Shield?
A face shield is a form of PPE that provides barrier protection for facial areas and mucous membranes. The wearer places the face shield on their head with the clear plastic shield covering their face. Unlike masks, you can see through face shields. Another benefit of face shields is that they are easy to disinfect, and they are reusable. The CDC explains how to clean face shields for reuse here.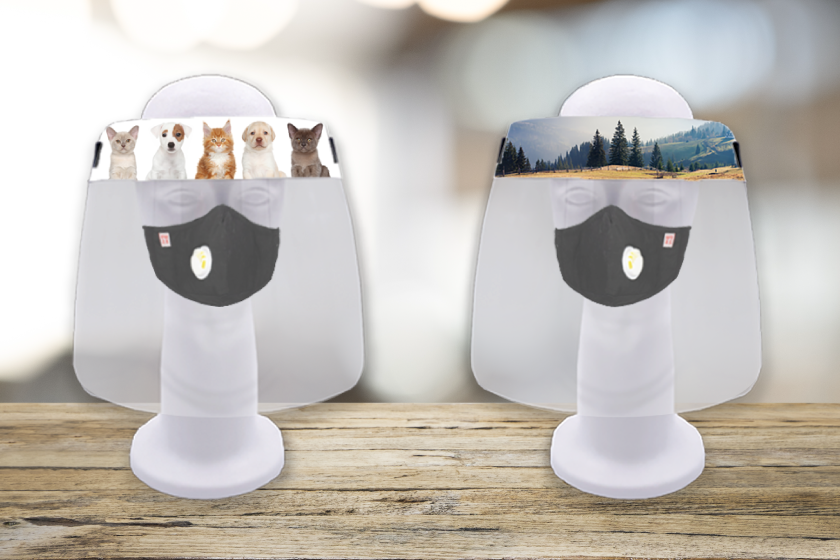 Traditionally, face shields have been used to protect medical professionals during a procedure that might expose them to infectious fluids. They have also been used in military, law enforcement, and construction environments for additional protection. However, due to COVID-19, everyday people wear face shields for more protection and to help slow the spread of the virus.
Why Should I Wear a Face Shield With a Face Mask?
As previously mentioned, you shouldn't wear your face shield as an alternative to a face mask, but you should consider wearing them together. In an Instagram Live, Dr. Anthony Fauci, the director of the National Institute of Allergy and Infectious Diseases, said, "if you have goggle or an eye shield, you should use it."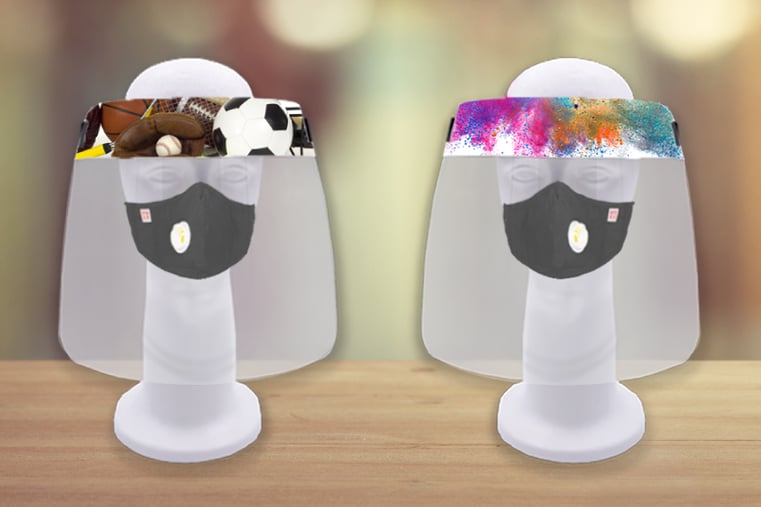 While COVID-19 is primarily spread by respiratory droplets entering the nose and mouth, your eyes are also vulnerable to infection. Though a face mask covers the wearer's nose and mouth, it offers no protection of the eyes. However, face shields fully cover the eyes. So when paired together, face shields and face masks help cover the user's most vulnerable areas.
Additionally, it is worth noting that the use of goggles or a face shield in addition to a mask is required for medical patients being treated for COVID-19 and the healthcare workers helping them. It speaks volumes that medical professionals and COVID patients are required to wear these items together. While the CDC doesn't officially recommend that the general public wear face shields with face masks, their requirements for COVID patients and healthcare workers support the idea that the pairing of these items provides the wearer with more protection.
How to Make Wearing Masks & PPE More Comfortable
While wearing PPE such as masks is essential right now, it isn't always the most comfortable. Masks with ear loops can rub up against the ears, causing irritation. Ear guards can help; they are designed to minimize irritation by placing the ear loops to an anchor, not the ears. It's worth noting that you can use ear guards while wearing a face mask with your face shield. For more information about ear guards, click here.
---
Hopefully, now you understand the benefits of wearing a face shield in addition to a face mask. Do you need PPE? We have you covered! Choose from face shields, face masks, ear guards, and more! If you have any questions, please don't hesitate to give us a call; we're always happy to help.