Back to school is looking a little different this year. Usually, around this time, teachers would be prepping their classrooms, parents are shopping for school supplies, and kids are trying to get the most out of the end of summer. Due to COVID-19, things are more uncertain. As states start to unveil their guidelines for the upcoming school year, some are allowing students back in the classroom, others are opting for a learn from home model, and some are using a hybrid of both.
As a teacher, principal, or other school employee, we know that things are stressful for you right now. We want to help. While there is different requirements for each state, there are some universal things you should consider before the school year.
Note: To find your state's most up to date school requirements, visit your state's website.
Going Back to School
If your school is to reopen with students and staff, there's a lot to consider. Health is the number one priority, so schools are considering what new safety protocols must be put into place. As you probably know, COVID-19 is primarily spread from person to person through respiratory droplets going from an infected person to others. These droplets are primarily spread by sneezing, coughing, and talking. As such, maintaining distance and using protection can help prevent them from being spread.
Social Distancing Signage & Floor Decals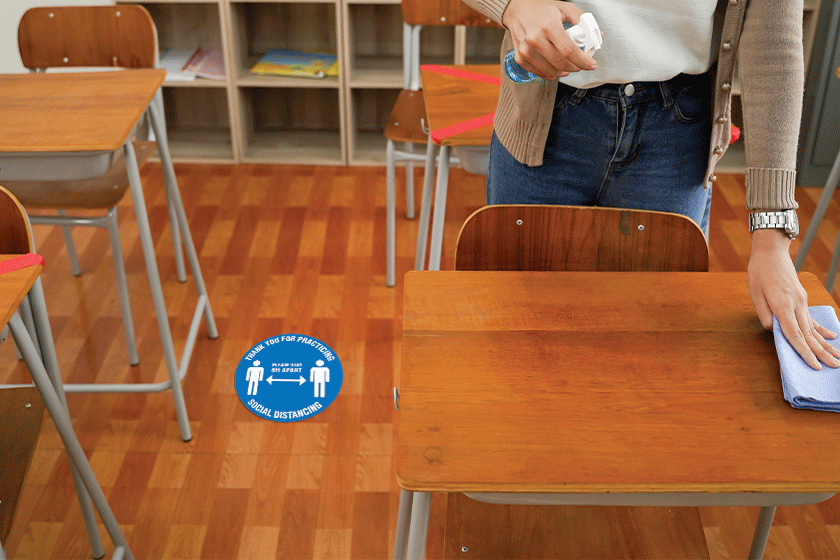 Luckily for you, there are products that can help you with that. To enforce social distancing in your school or classroom, consider social distancing signage and floor decals. These products can be placed around your school, classroom, or cafeteria to remind students to practice social distancing. We can create custom designs that correspond to the student's age, or we have multiple pre-designed signage and floor decals available here.
Sneeze Guards & Desk Dividers
Sneeze guards are another tool that can help ensure safe interactions. You've probably seen sneeze guards used at a convenience store or grocery store, but now they are being used in all types of environments. The benefit of sneeze guards is that they allow for close-proximity interactions while still providing a barrier for extra safety to reduce the spread of respiratory droplets. At your school, sneeze guards could be placed on the front desk or in the cafeteria.
Similarly, desk dividers are another way to create a barrier of protection and enforce distancing. Desk dividers are placed on students' desks, creating a divider between them for additional safety.
Face Masks
Perhaps the most common tool to combat the spread of COVID-19 is face masks. Many states that allow students to get back into the classroom require teachers, other school staff, and students to wear masks. At Plastic Printers, we offer comfortable face masks that come with a PM2.5 filter. Additionally, the masks have an air-valve for increased breathability without compromising protection. The mask has three layers of cloth between the valve and your face helping to block you from droplets and others from your droplets. The mask also has a moldable nose piece and adjustable straps for added comfort.
Ear Guards
Since you and your students will likely have to wear a face mask for extended periods of time, now is a great time to talk about mask accessories. Ear guards are a product designed to help make wearing a face mask more comfortable; instead of placing the ear loops of your mask around your ears, you'll place them around a notch on your ear guards. We offer three different styles of ear guards - ear relievers, ear savers, and comfort bands. For more information on ear guards, click here.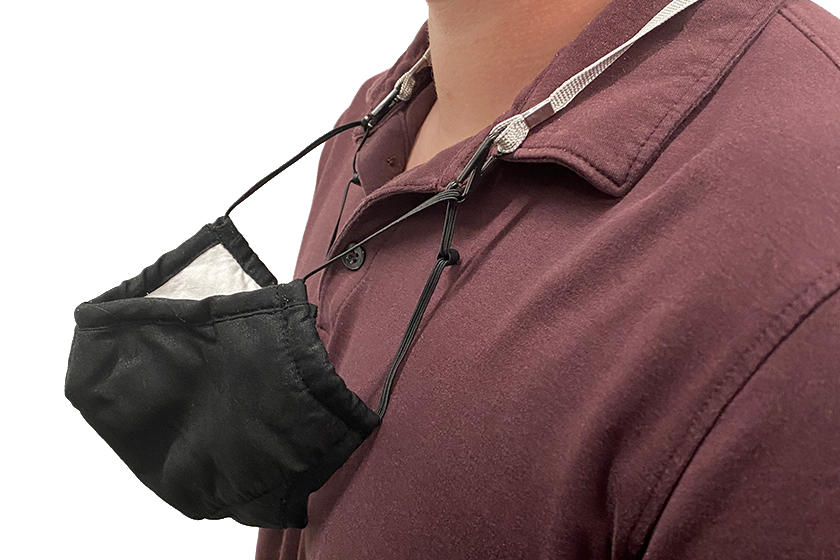 Face Mask Strap
Another mask accessory that can come in handy is face mask straps. This product securely holds your mask around your neck when you're not using it. Face mask straps are extremely convenient and help ensure you have your mask with you at all times. This can be an excellent product for younger students to ensure that they do not lose their masks.
Face Shields
Face masks aren't the only safety tool that can help keep your face protected; face shields can also help. Combine your face mask with a PPE face shield for even more protection. Face shields provide the wearer with protection for facial areas and mucous membranes. They are not an alternative to masks but can be worn in conjunction with face masks. You can customize your face shields to feature your school's mascot, display your name or student's names, or a fun design for kids.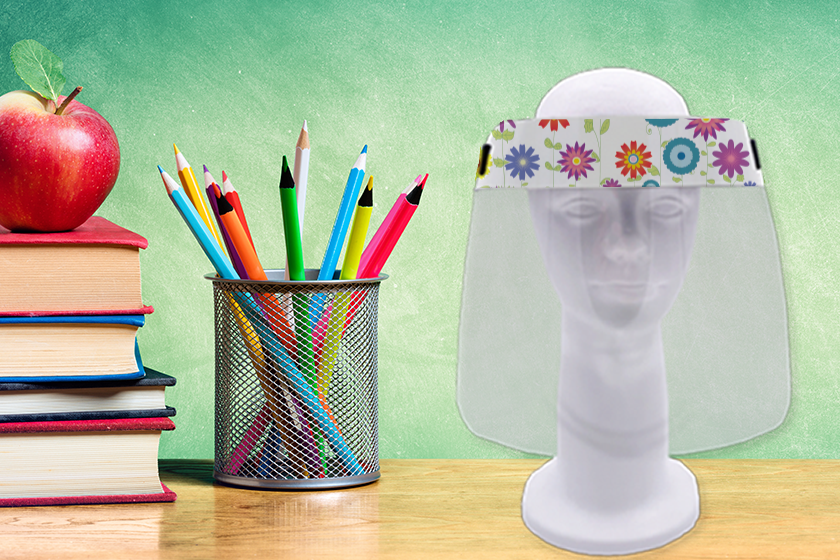 Sanitizing Wipes
Since COVID-19 is spread so easily, you must take extra care in cleaning desks, lockers, doorknobs, and other surfaces. Sanitizing wipes can help. Some sanitizing wipes can kill the coronavirus, but be sure to read the label; the label will tell you what the wipes will do. If the wipe is described as antibacterial, it will kill bacteria, but not viruses. Using sanitizing wipes at your school is another quick and easy way to help prevent the spread of COVID-19.
Preparing for Distance Learning
Teachers and Parents
Are you preparing for distance learning? While you might not have to worry as much about the safety component of your child being in school, there are still some things that can help distance learning be easy and more effective. We offer a selection of educational tools that are customizable to fit your student's or child's needs.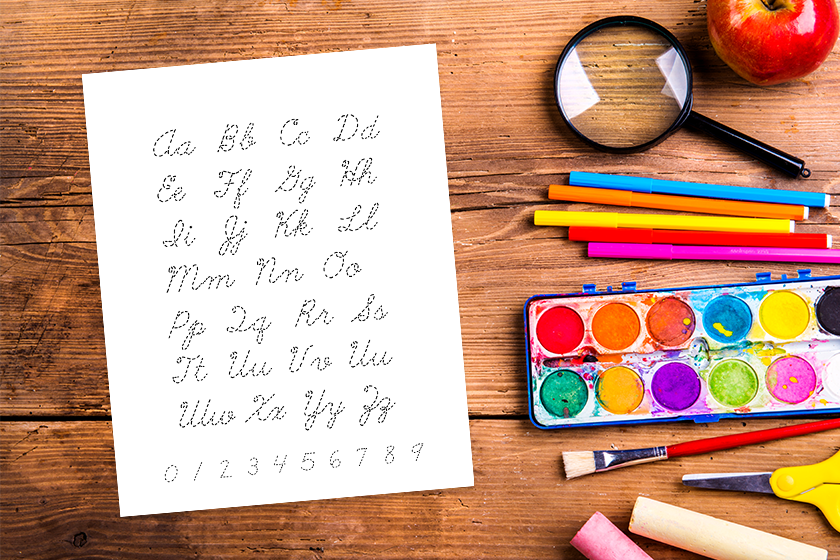 Some of our popular educational tools include ABC mats, flashcards, and cursive writing tools. Our flashcards can be used to help your students or children retain the information they're learning. Meanwhile, the ABC mats and cursive writing tools help teach students or children how to read and write.
Communication Tools for Teachers
We can also set you up with business cards you can send to your students and their parents. By sending out your custom business cards, you can be sure your students will always have your contact information with them. Appointment cards can also help remind students and parents of conferences, meetings, or major due dates. We can also print class schedules that will help you and your students stay organized.
---
Whether you're going back to school, sticking with distance learning, or preparing for a hybrid model, we have you covered. From custom face shields and ear guards to educational tools, we are ready to help you get ready for back to school. Please reach out to us if you need anything, even if it seems like something we couldn't do. We have access to many resources and will do our best to accommodate your needs.