How secure are the ID badges you buy? And how secure do you need them to be? Many businesses are adding security features to their ID cards to help increase security in their business and prevent their cards from being duplicated.
The technology to make fraudulent ID cards is only becoming more available. So the added security features are a great way to help create a safe and secure work environment.
Let's examine three different types of security features that you could use for your custom ID cards:
Hologram
Foil Stamping
UV or Watermarking
Hologram
A hologram is a great place to start when looking for a security feature for your cards. But they are not usually what people think they are.
Companies put holograms on plastic cards with an overlay; this is a particular type of ribbon that goes in a desktop printer. Once it is in the printer, it lays clear ribbon with a hologram on it over your ID badge. It would look like the picture below.
These overlays serve a couple of different purposes.
First, it allows you to add the hologram to the card. Holograms are available in pre-designed configurations from the manufacturer. They are NOT customizable unless you're prepared to pay thousands of dollars. If you would like a hologram, we have designs available for you. But if you want your logo on the card, you'll have to choose from our two other options below.
Second, the hologram film is going to add a transparent protective layer to your cards, which will add longevity to your cards and help prevent scratching.
Foil Stamping
Foil stamping is taking a metallic foil and pressing it into cards with a hot foil stamping machine. Foil creates a look that's very tricky to replicate as it requires expensive equipment and knowledge of plastic card manufacturing.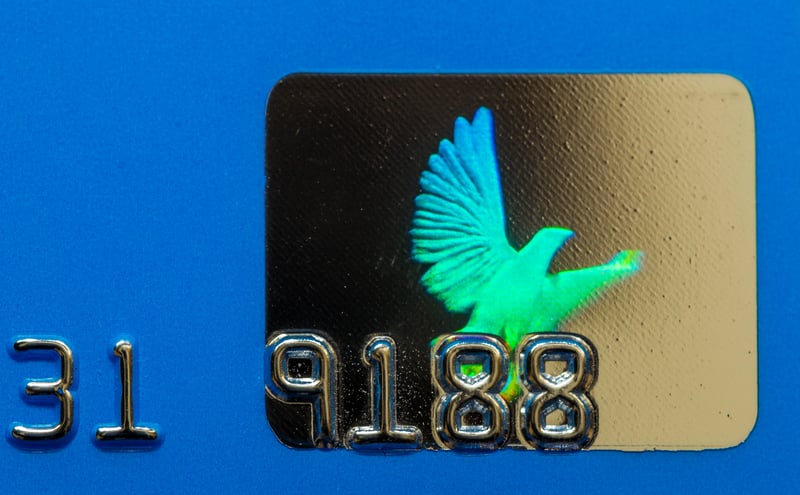 Credit and debit cards are perfect examples of hot foil stamping. In the image above, the last four digits of the debit card have a silver foil stamp with a hologram printed over it. For more examples of foil cards, click here.
Foil can be customized a little more to your liking. The shape or design can be custom, so we can foil stamp your custom ID card or foil cards with a specific symbol.
This technique is expensive to recreate and would be easy to spot if not done right. Thermal and other cheap foiling options are only available in a couple of colors. Also, the way the foil feels on the card would be different, and the placement of the foil would be off. Foil stamping can be a very effective deterrent to card duplicators.
UV, Watermarking, or Fluorescent Print
This technology is newer and very exciting. It works like a holographic film and prints with a thermal device, but unlike holographic film, it's customizable.
Let's start at the beginning. What is UV? ID badges often have UV coating for a gloss finish. But in this case, rather than coating the whole side of the card in UV, we'll use it like ink and print with it.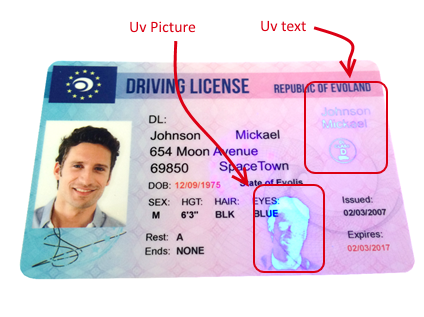 Image by Evolis
First, we will take your already printed cards and run them through our re-transfer device. This device marks film with UV/fluorescent ink. Next, the film adheres to your card, which produces a custom watermark adding a sense of security and an extra layer of durability.
Which of these methods are right for me?
This blog can leave people with a lot of questions. What should you use in your situation? Should you be adding these security features with your own printer, or should we? Do we need security features at all?
All are good questions, and best discussed with one of our highly trained sales reps. They can help guide you through the difficult questions you may have.