For hundreds of years, business cards have been mostly the same size. Generally, business cards are about 3.5" x 2" in size; they have square corners and are on paper.
This may have been the case for many years, but at Plastic Printers, we're outside the box thinkers. We print everything on plastic, which you probably assumed from our company's name. What you probably DON'T know is that we recommend a different size business card to help you get the most of your marketing tool.
Ask yourself, "What's the goal of a business card?" There are a couple. First and foremost, you want to gain more business. The best way to do this is to get the potential customer to hold onto YOUR card. So how does a business card get you more business? They help provide you with a secure foundation for future services with a potential client, customer, vendor, or partner.
How can you make them hang on to your card? How do you stand out from the crowd and get your cards to bring you more business, and make you more money? I am here to answer all of your questions.
1. Which is the best business card size? A 3.5" x 2" standard business card size or credit card size?
Let's start with the easiest topic — the overall size of your card. Whenever I hand out a business card, I want it to go right into your wallet or purse. I know that once it's in that wallet, it's not getting thrown into the garbage anytime soon. So at Plastic Printers, we like to recommend "credit card sized" business cards, which are 3.375" x 2.125" — the same as the standard credit card.
Why would we shape the cards like a credit card? Simple, IT FITS IN YOUR WALLET! If you want a card that goes into a wallet and gives a premium look and feel, one of the best places to start is with the perfect wallet card. The standard size or 3.5" business card size cards are just too wide. You don't want someone to throw your card out because it won't fit.
A credit card size card also gives an implied value to the card. People unconsciously relate a 30mil plastic credit card size card with a bank card or membership card. They're significantly more likely to hang on to them. And the more they hold on to them, the more often they'll look at them, and the more likely it is that you'll get their business. Or better yet, they'll show off your card to others and help you gather word of mouth referrals.
2. What about custom shaped business cards? What shapes should you use?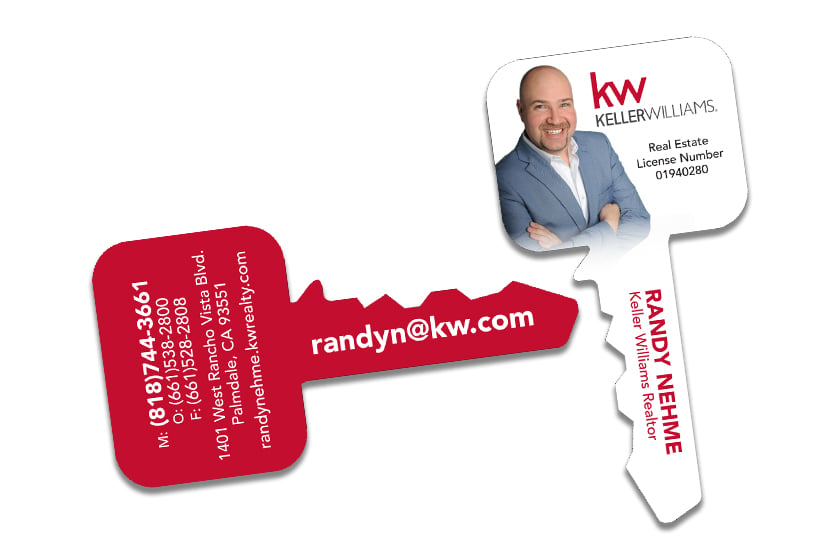 Any shape you want! Why not make a circular, triangle, or square business card? Why not a card shaped like a school bus? They're all great ideas! You want your card to fit your business and your style. If you're a baker, I can make a card shaped like a cupcake! If you're a real estate agent, I can make you a card shaped like a house or a key! If you're a dog groomer, I can make a card shaped like a dog or a dog bone! The options are endless.
3. What about small business cards?
Be careful not to make the cards too small. You want the card to be noticeable. You don't want it to get LOST in your client's wallet, either. Small cards also won't hold as much information, so you might not be able to get as much contact information or information about your business on the cards unless you want your business card also to work as a key tag.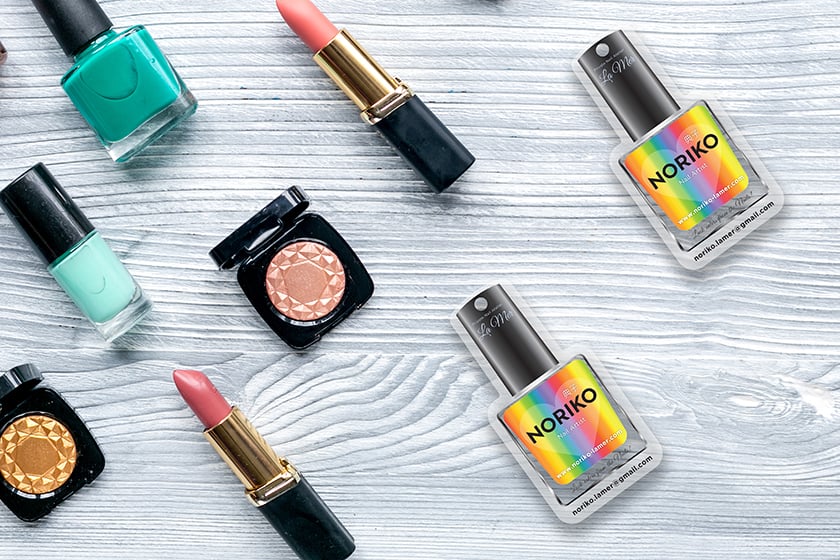 Make sure that the card you choose will allow you to show people who you are, what you do, and convey the information you want them to have.
4. What about a HUGE card—will that help people remember me?
For some businesses, a huge business card is a GREAT idea. Oversize cards grab attention and offer you plenty of room to market yourself and convey information about your business. A large card will also really stand out in a stack of cards.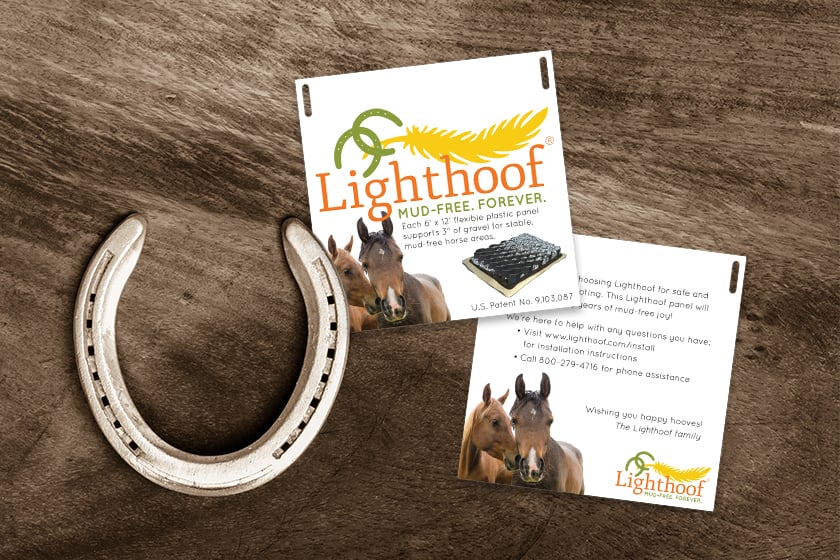 Of course, the downside is that the oversized cards won't fit into a wallet (which can be a bit of a problem). One solution is to make a large card that has a business card sized card that snaps off and fits in your wallet. Imagine what prospective clients will think when you've handed them a two-piece breakaway card that's 3x5" or 4x6"! Or make sure your card has a dual purpose that your customer will often use: think coaster, ruler, bookmark, or another shape meaningful to your business.
5. What about the corners?
Traditional square corners used to be the most common design on business cards. But that's changed quite a bit. The popularity of the square corner shape had a lot to do with the way cards were produced. Traditional cards have square corners because most often, they're cut with a paper cutter of a guillotine style. As a result, it's challenging (to impossible) to cut paper business cards with rounded corners. This alone can create additional expense if you DO want rounded corners, as it requires a method called die cutting.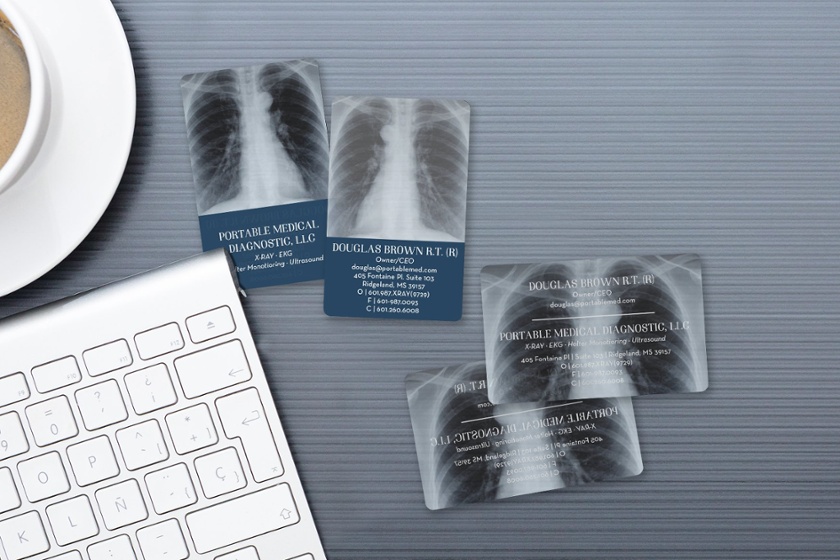 With plastic business cards, however, it's just as easy to cut rounded corners as it is to cut square. The majority of plastic cards are die cut; this method resembles a cookie cutter. Die cuts make it easier to do a non-traditional shape—or add round corners for free (an often expensive feature on paper cards.) In fact, we recommend rounded or slanted corners because they feel better to the touch.
What Can You Do to Set Yourself Apart?
If you're in a competitive business where your clients are going to throw your card on a stack of others, it's essential to think about how to make your card more memorable. When I was in the remodeling industry, we would work home shows and hand out business cards to the people who stopped by. Every time we gave out a card, we knew that they were receiving five or more other cards from our competitors on the same day!
Part of the answer is the intent of the cards. A good offer, such as "20% off your estimate when you show this card," can help. But more often than not, the business card design is what makes it most memorable. The most eye-catching way to stand out is with a unique shape, card shape, card size, and premium material. Sometimes merely handing out a plastic card (instead of a paper one) is enough to make your business card stand out in a pile. Plastic cards are such a fantastic marketing tool because most people have never seen them — especially a 30mil card, which is our standard. A custom shaped card, however, will also blow away most of your clients.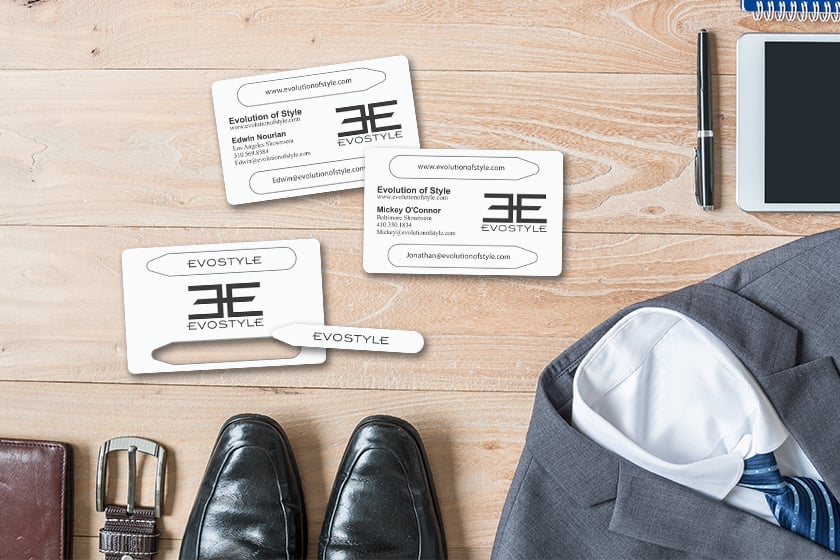 Just make sure that whatever card you choose, think about your target market of customers. If your clients are conservative investment bankers, a custom shaped neon green card won't likely be right for you. If, on the other hand, you have a fun business like an event planner, CrossFit instructor, DJ, or entertainment business, the custom shapes would be a great fit!
The point of this is to remember that at Plastic Printers, we're plastic card experts. If you're interested in learning more, the best way to contact us is to give us a call! We're not high-pressure salespeople, we just want to get you the best cards to represent your business the way you want it represented.
---