Growing up in my town, everyone knew which households had a trampoline, and you could usually find a bunch of kids jumping on them. There was something incredibly fun about springing around with friends and unleashing your energy to soar to new heights. Today, if a family doesn't have a trampoline, they have access to different options. One of them being trampoline parks.
In 2011, there were only 35-40 trampoline parks in operation. By 2017, the United States had 600. Trampoline parks have seen an explosion in popularity, and the trend shows little signs of slowing down. Some entrepreneurs are innovating on the trampoline park idea by adding additional activities like rock walls, ropes courses, arcades, and other non-trampoline fun. These action parks or adventure parks are creating their spin on trampoline parks giving the competition a new twist. It's pretty amazing how, in a decade the trampoline park business went from almost non-existent to a nationwide phenomenon with unique niches.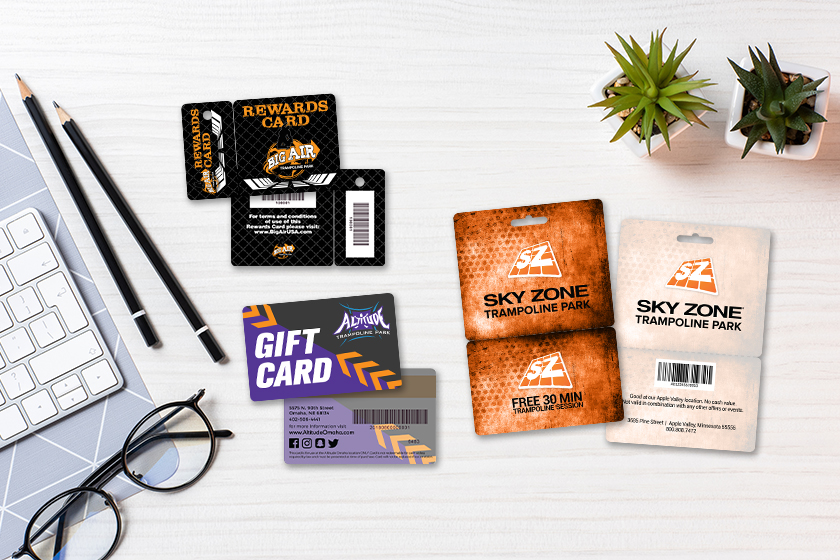 Are you planning on jumping into the trampoline park business? It's hard to blame you for wanting to get in on such a fun and exciting business opportunity. But just like with any business, you need to be prepared before you launch your trampoline, action, or adventure park. Let's take a look at some unique marketing tools that can help your park standout and succeed in the face of intense competition.
Earn Revenue Before You Open with Pre-sale Membership Cards
One of the biggest problems entrepreneurs face is money. Starting a business is expensive. A large trampoline park? Yeah, that's going to cost quite a bit of dough. Plus, you have to take into account all of the unplanned costs or setbacks. By the time the business opens, many entrepreneurs have little in the way of cash left, so if the company doesn't take off right away, it could be very stressful.
But what if I told you that your action park or adventure park could start earning revenue before it even opens its doors. Sounds amazing right? To do this, you could have a pre-sale on your membership cards or jump passes. Having revenue coming in early will relieve you of some stress by putting money in your pocket. Another benefit of pre-sale is the buzz surrounding it! People get excited when they are a part of something new or if they get a great deal on something. And they have to talk about it. Word of mouth is a very effective way to give your marketing a boost with minimal effort.
Whether you decide to go the pre-sale route or not, membership cards are a must-have tool for any trampoline, adventure, or action park. Most members are your avid jumpers that return time after time. But just because someone has a jump pass or membership card doesn't mean they are done spending money at your park. They can still buy snacks, drinks, or gift cards. Better yet, they could bring a friend or have their birthday party at your location, introducing their friends to your business. Your members could end up being your best customers! So promote membership cards, and build relationships with your members that are built to last.
Generate Buzz with Promo Cards
You may find that some people are skeptical of your action park. They're concerned that these type of parks are dangerous, and others simply don't understand the concept. Win them over by offering promo cards for a free session at your park. This gives them a chance to get into your adventure park and experience it firsthand. It also allows you to showcase your fun, energetic, and safe environment.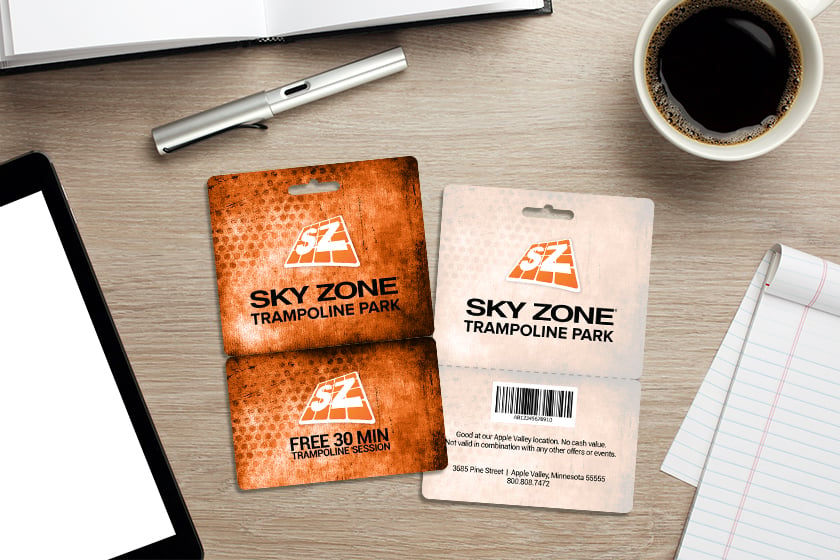 Promo cards are not just for skeptical customers; they are marketing tools that you can use for any customer. Reach out to schools about giving promo cards out at pep rallies or as a nice treat for the kids. Establishing and growing a relationship with schools could be huge for your adventure park because it could lead to future field trips to your park. Another option is to give out your promo cards at parades, fairs, and other large events. Both marketing techniques are fun ways to build brand awareness and get new customers in your door.
The Perfect Gift - Trampoline Park Gift Card
Now that you've generated plenty of buzz for your action park, it's time to jump to a familiar marketing tool: a trampoline park gift card. Pretty much everyone has either bought or received a gift card. They have become so commonplace that customers expect businesses to carry them. But what do these cost-effective marketing tools do for you?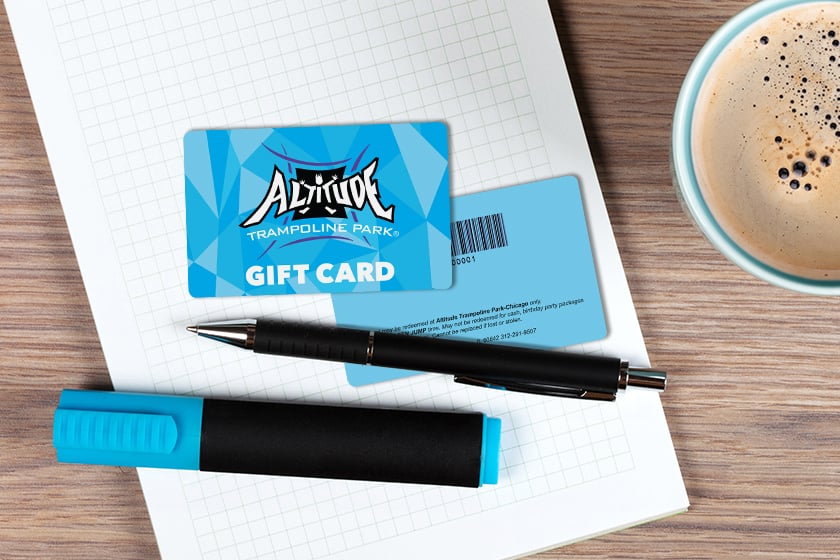 These lead generating machines help you bring in new customers and keep loyal customers coming back. Think about it. If I give my little cousin a trampoline park gift card, I am recommending their services to my cousin, or I am giving him the option to go back to a place that I know he likes. Talk about a great referral!
Trampoline Park Marketing Tools
With custom gift cards, promo cards, and membership cards, your trampoline, action, or adventure park will have the marketing tools necessary to get your business off to a great start. Launching a business is tough, but these unique marketing tools will set your park up for success. Ready to order or still have questions? Give us a call today; we are ready to help!