Communication in the medical industry has always been important, but it is even more so now due to the ongoing pandemic. We're in uncharted territory, and proper communication can inform patients and visitors at your medical facility proper procedures to help ensure health and safety. But how do you effectively communicate with everyone who walks through the doors of your medical facility?
Custom signage is one tool that many medical facilities and other businesses use to help inform the people they serve. Don't know much about signage? Don't worry; soon, you'll learn everything you need to know about getting signage for your medical facility, the types of signs you should consider having, and some required signage that your medical facility needs to have. Let's dive deep into the world of medical signage.
Important Medical Signage to Consider for COVID-19
There are all sorts of signage your medical facility could consider using, but during COVID-19, there are some that take precedence. These signs are primarily used to help keep your medical facility a safe place for everyone.
Social Distancing Signs
As you know, the CDC recommends that people practice social distancing when they are out in public to attempt to prevent the spread of COVID. Those guidelines may apply to your medical facility and other businesses, so communicating them with your patients and visitors is essential. To see your state's guidelines, click here.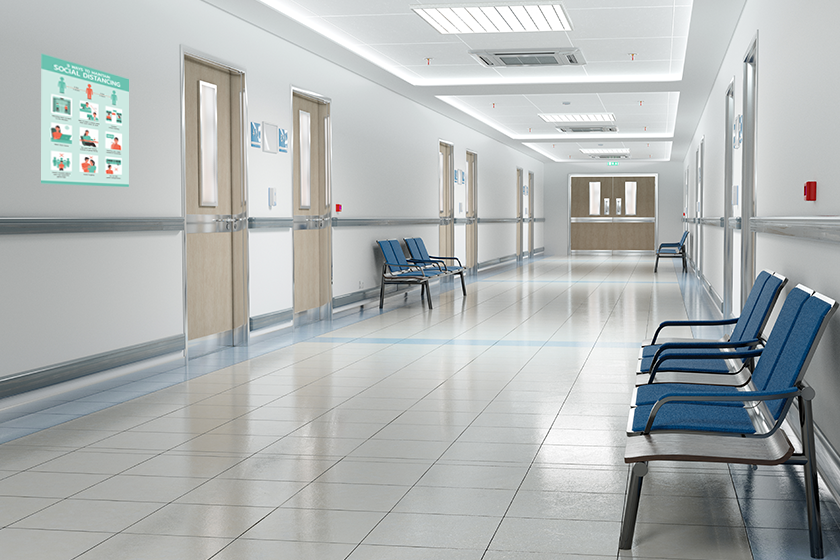 Social distancing signage serves as a reminder to patients to practice social distancing, both inside your facility and outside. As a medical facility, you have a responsibility to educate patients and visitors on this crucial health issue. You can determine what you want to include on your signs, such as educational statements that explain why social distancing is important or the proper procedures for social distancing. Education helps lead to better understanding, and if one understands why social distancing is important or what is expected of them, hopefully, they are more likely to practice it.
Mask Required Signage
Like social distancing, another strategy to stop the spread of COVID-19 is wearing masks. Some states require people to wear masks while out in public. Even if the state doesn't require it, some medical facilities are taking it upon themselves to require all patients and visitors to wear masks.
If your medical facility requires patients and visitors to wear masks, these signs are a great informational tool. Mask required signs should be placed at the facility's entrance, so everyone is aware of the requirement before coming in. On mask required signs, its a good idea to have an image or a graphic of someone properly wearing the mask, so people know what is expected.
Hand Washing Signs
Hand washing is always important, but even more so during the pandemic. Unfortunately, many people don't take hand hygiene seriously and rush through it or skip it altogether. That's where hand washing signs come in. Place hand washing signs inside your bathrooms to help remind patients and visitors to wash their hands before leaving.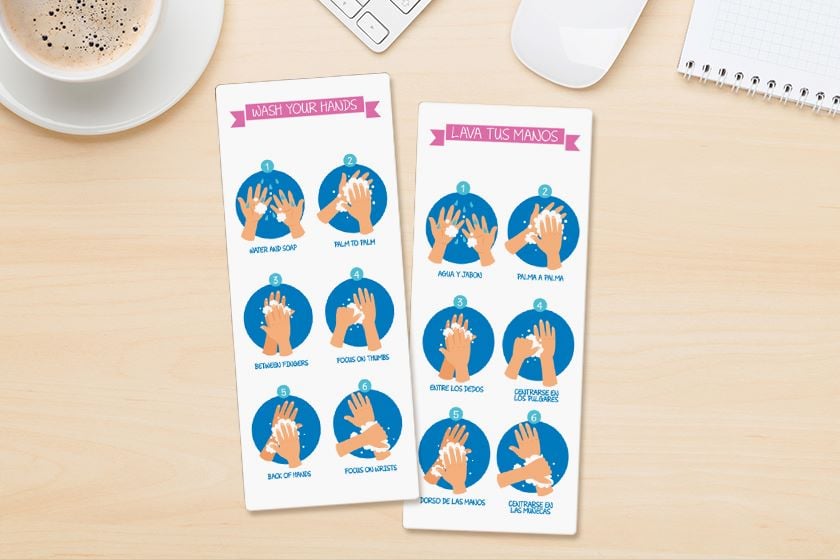 So, what is the proper procedure? The CDC recommends 20 seconds of hand washing with soap. Hand sanitizer with at least 60% alcohol is also acceptable, but it isn't effective with dirty or greasy hands. On your hand washing signs, not only can you help remind people to wash their hands but also educate them on the proper way to do so. At Plastic Printers, we even have hand washing signs that demonstrate the entire hand washing process with visual aids.
Other Important Signage for your Medical Facility to Consider
While COVID-19 at the forefront of everyone's minds right now, there is other prominent signage that you should consider having at your medical facility. One important sign is restroom signs; they allow you to indicate to your patients and visitors where your restrooms are.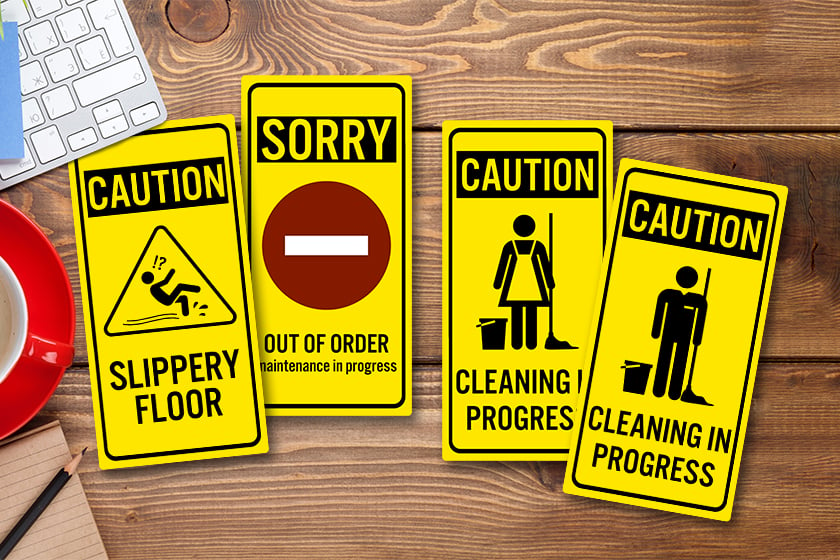 Caution signs are another sign to consider. Caution signs implore patients and visitors to be careful to ensure their safety. We make a variety of caution signs for different occasions, such as a slippery floor, out of order, and cleaning in progress. However, if you need a different type of caution sign, we can make one for your medical facility's specific needs.
One more type of signage that your medical facility should be aware of is signage that prohibits the use of something like smoking and phone usage. Smoking is a no-go inside any medical facility, and your no-smoking signs will serve as a reminder to patients and visitors that your facility is smoke-free. Additionally, many hospitals and medical facilities don't allow cellphones in certain areas or patient rooms. As no phone policies are less common, its very important that you have a no phone sign up to make everyone in your facility aware of the rule.
Required Medical Signage
The signage required at medical facilities varies from state to state, but three are almost universally required. First, there are exit signs. Exit signs indicate where an exit is in case of an emergency. Hopefully, there's never an emergency at your hospital or other medical facilities, but if there is, these signs are critical. Exit signs can help save lives, which is one of the reasons that they are required.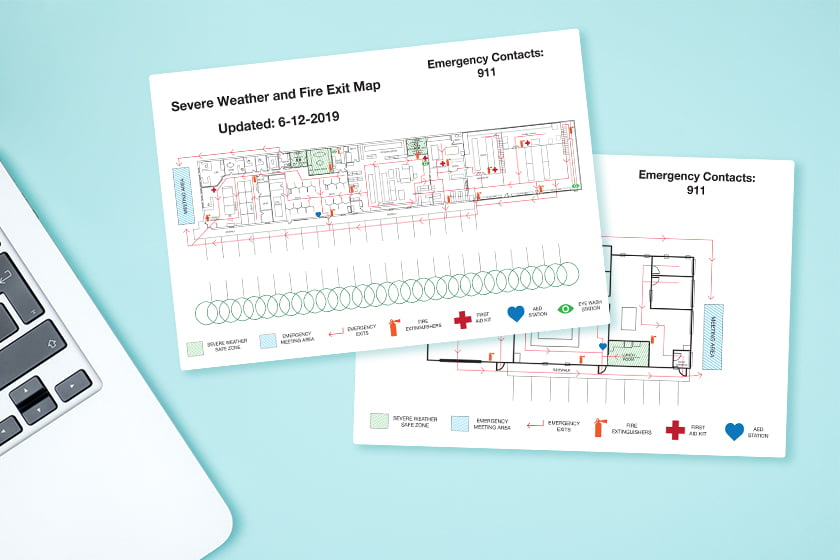 Second, fire/evacuation signage is also required. Per the Occupational Safety and Health Administration (OSHA), "a disorganized evacuation can result in confusion, injury, and property damage." That's why having fire/evacuation signage is so important. These signs show a map of your facility and show how people can get out in case of an emergency. These signs also include conditions under which evacuation is necessary.
Finally, there are accessible parking signs. These signs go in your facility's parking lots to indicate where accessible parking spaces are. Accessible parking spaces help ensure that your facility is available to disabled patients and guests.
These are just a few required signs for medical facilities. Be sure to double check and look into the required signage for medical facilities in your state to see if these signs apply to you. Failure to comply with signage requirements can lead to heavy fines and requirements to become compliant.
---
No matter what type of signage your medical facility needs, the experts at Plastic Printers have you covered! Didn't see a sign you need for your facility mentioned in this article? Don't worry; we can create custom signage just for you. If you need signage or have any questions, please reach out to us; we are happy to help!