Realtors depend on business cards as they are a professional way to leave clients, other realtors, mortgage lenders, and title companies their contact information for future services or meetings. They are also a great way for real estate agents to separate themselves in a crowded industry.

According to research, 39% of working people would not do business with someone if they had a poorly assembled or cheap looking business card. Realtors need to keep that statistic in mind when it comes time to order their business cards. Plastic business cards are an excellent alternative to paper business cards, and they bring more prestige. Plastic business cards are sturdier and have a premium quality that paper cards lack. Plus, they have more design features. Let's take a look at some amazing real estate business cards that are printed on plastic.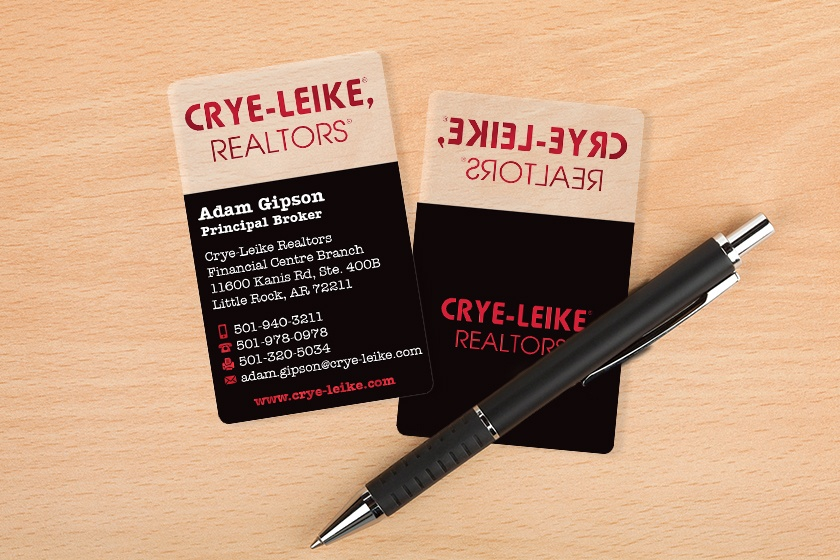 Clear Business Cards for a Realtor
Crye-Leike, Realtors make their business cards stand out from the competition by printing on clear cards. Clear business cards bring the wow-factor; many clients have never seen clear business cards before, so they make a big impression. They also spice up their card by using red foil on their company name at the top of the card. Foil shimmers and shines in the light to attract even more attention to their business cards.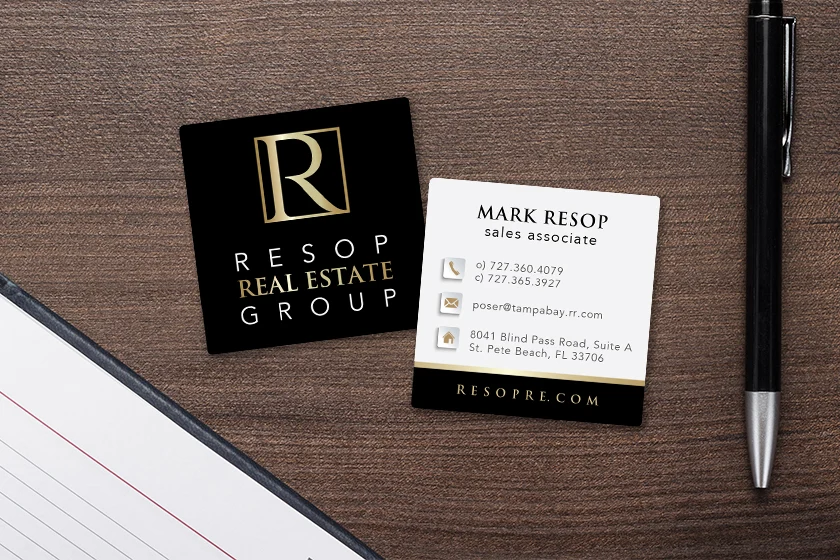 Square Business Cards
The traditional rectangle shape is a business card classic, but utilizing a different shape can differentiate your cards. Resop Real Estate Group chose square business cards to create a different look and show clients they do things differently. With plastic business cards, you can create your cards in any shape you'd like!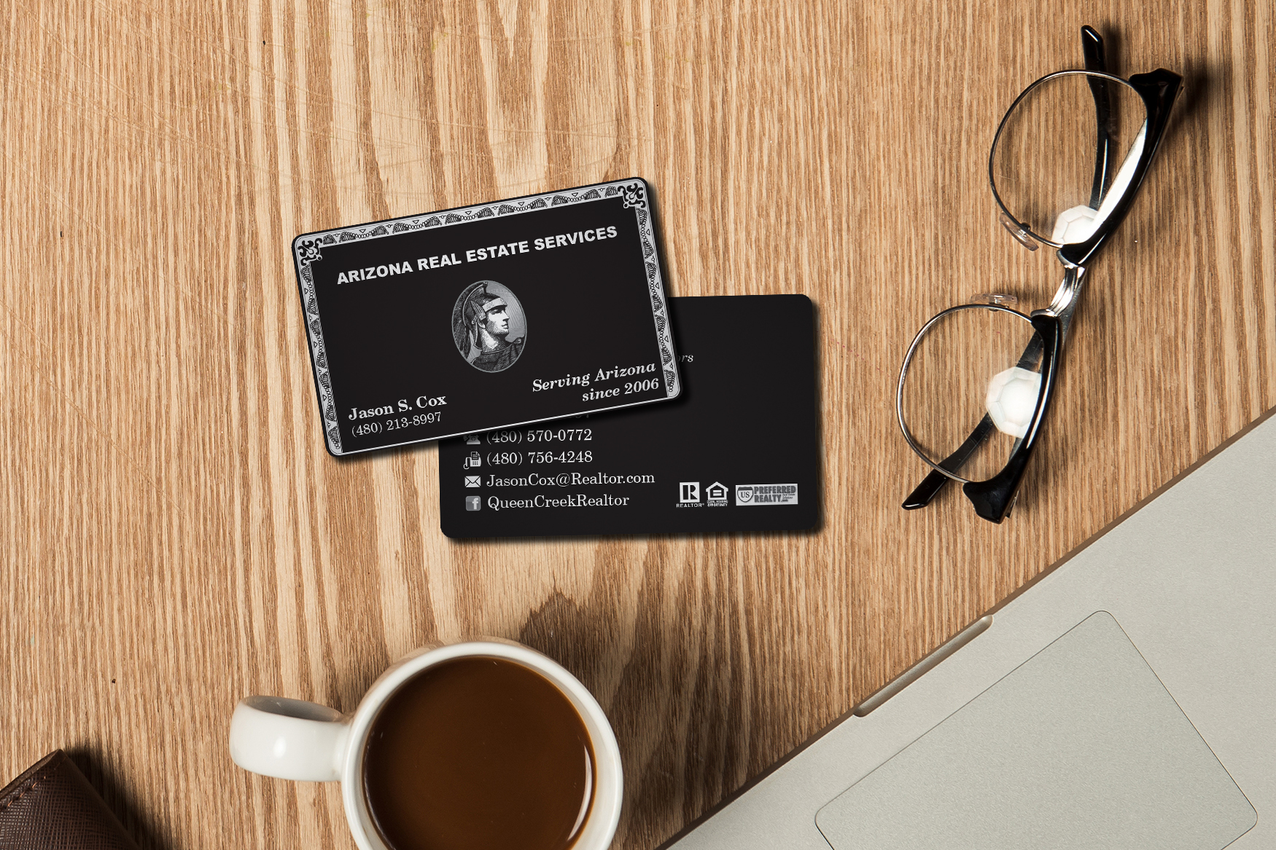 Realtor Business Cards that Imitate Credit Cards
Arizona Real Estate Services designed their business cards to look like credit cards. Their business cards look very professional, and we love how the front of their card highlights their logo. Remember, you have two sides to your business cards, so you can put your information on both sides instead of cluttering the front. This card is a perfect example of how to use space effectively.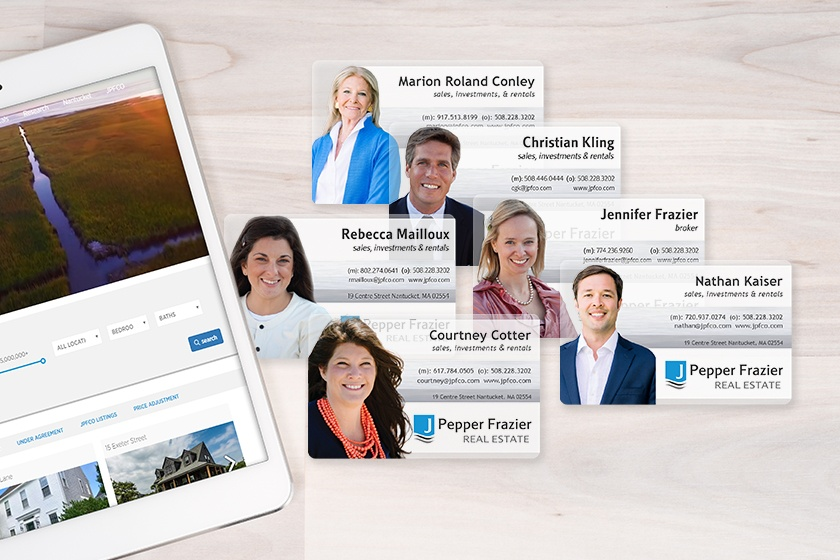 Real Estate Business Cards with your Photo
Part of the goal of business cards is to help potential clients remember you. Pepper Frazier Real Estate added their agents' photos to their business cards to help put a face to their business. Photos can help make your business cards and business as a whole more memorable to your clients.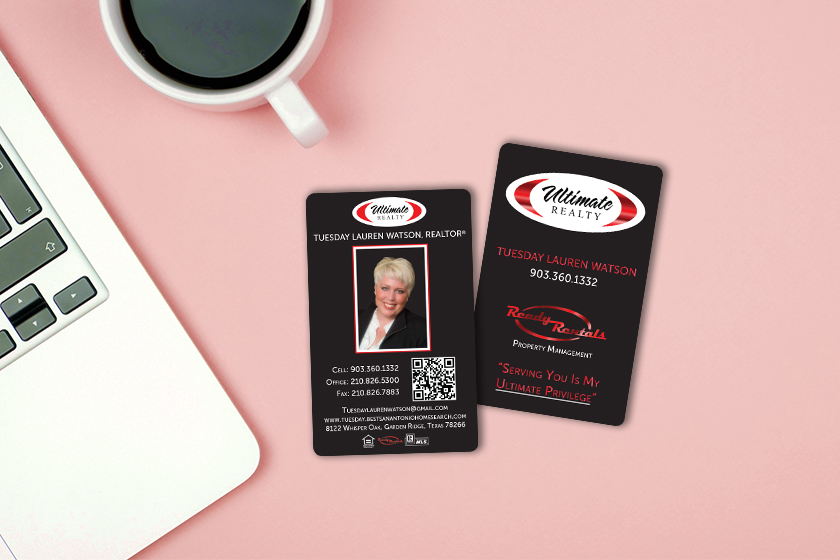 Realtor Business Cards with a QR Code
ncrease the functionality of your custom plastic business cards by adding a QR code! By adding a QR code to your business card, customers can scan it and receive important information on their smartphones. For example, you could use your QR code to send clients to an informational page about your business or directions to your office.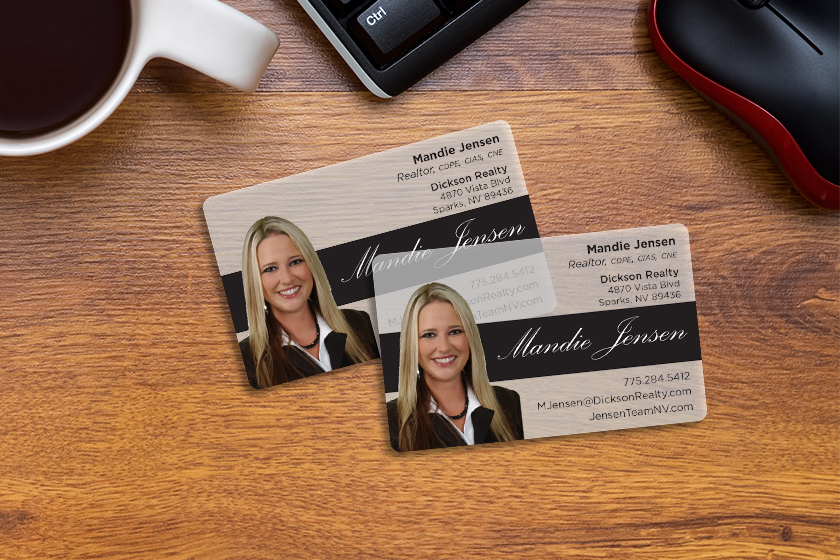 Frosted Business Cards
Frosted business cards are similar to clear cards, but they have a matte finish that makes them less transparent. The matte finish also adds a premium feel to your cards. Mandie Jensen's business cards have a quality look and feel that separates them from flimsy paper cards.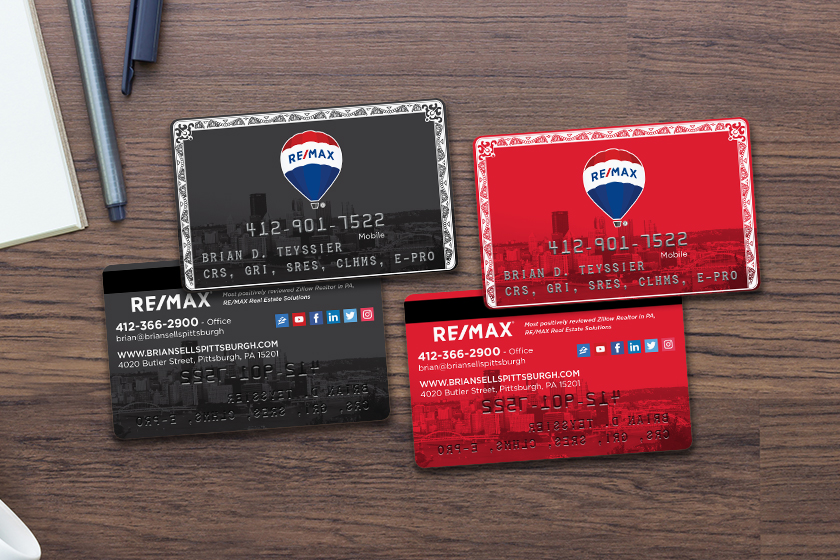 Embossed Business Cards
Give your real estate business cards an extra dimension by embossing them. On Re/Max's business cards, notice the phone numbers and information on the front is raised slightly, like the numbers on a credit card. That's embossing, and it's a unique feature only possible on plastic business cards.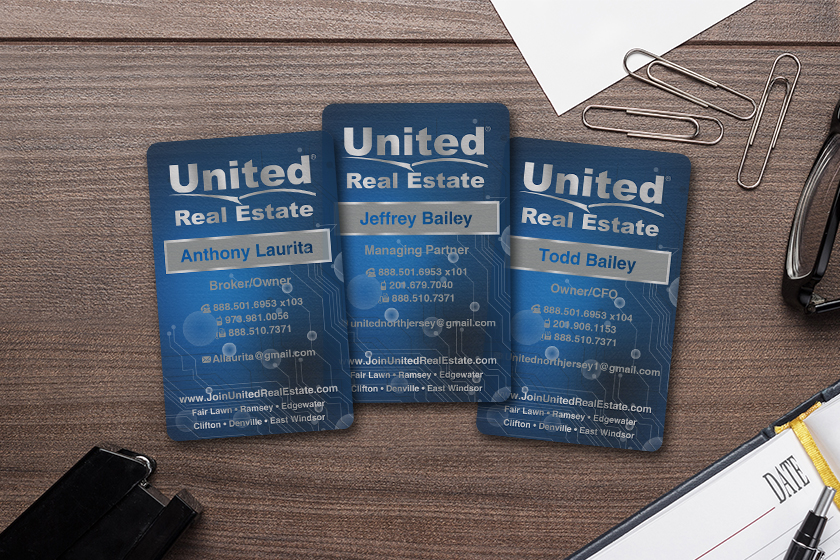 Realtor Business Cards with Silver Foil
United Real Estate used silver foil on their plastic business cards to add shine to their design. Foil is a great feature for grabbing your clients' attention and creating a business card design that is as unique as your business. Foil comes in all sorts of colors, so you can get the color that best compliments your brand.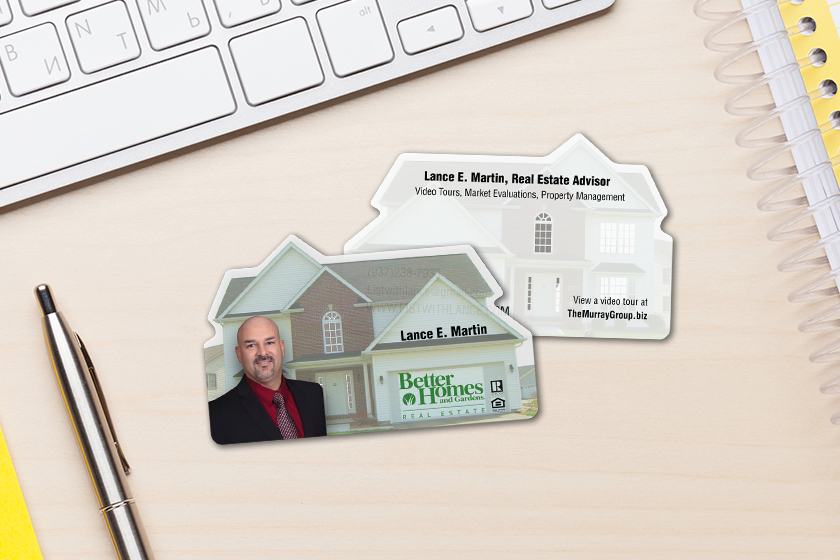 House Shaped Business Cards
Do you want to create a memorable first impression? Using a custom shape is the way to go. Better Homes and Gardens Real Estate designed their business cards in the shape of a house. Using a house shape is the perfect way to reflect the real estate industry in your business cards and to create a one-of-a-kind card your clients will want to hand on to.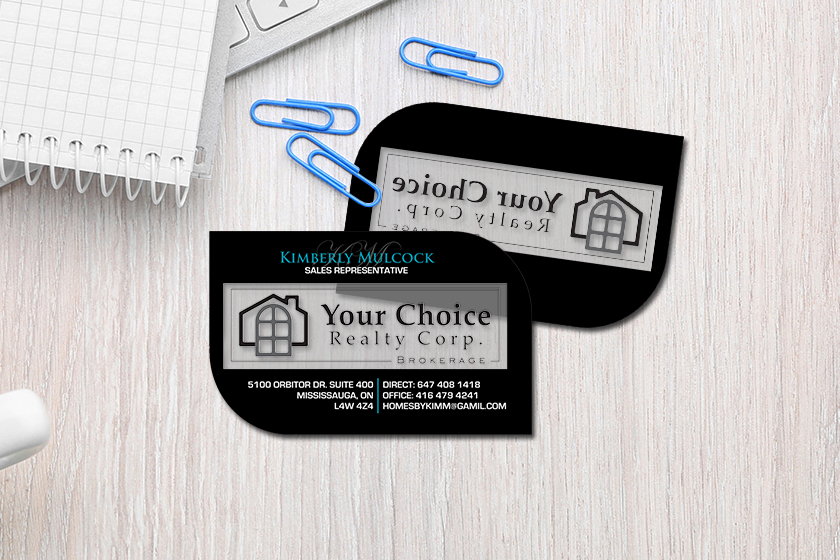 Unique Realtor Business Cards
One of the great things about plastic business cards is that you can use more than one amazing design feature in your design. Choice Realty Corp combines two incredible features, custom shapes and clear to make an incredibly unique and unforgettable business card.
---
Hopefully, these real estate business cards have shown you some of the amazing benefits of plastic business cards, and you now understand why plastic business cards are a must for your business. If you need plastic business cards, please reach out to us. We offer consistent, quality results, fast turn times, and five-star customer service. Reach out today; we're happy to help!