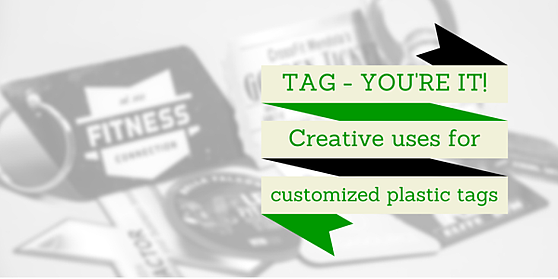 Sure, our customized luggage tags make typical black bags standout in a sea of suitcases at baggage claim. And yea, these quirky tags will keep you in the minds of your customer all vacation long… but have you thought about what else these mini marketing tools can do? Well we have! Whether you want a novel way to invite guests to your wedding or you're an employer building excitement for your next retreat, these seemingly simple tags can bring excitement to any event or membership.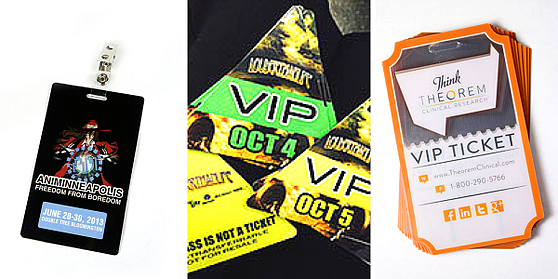 1. VIP Ticket – Conventions/Sponsors:
Loyal advocates are the foundation of any business, big or small. These supporters not only provide you a constant, necessary flow of revenue but bring in new clients in the form of friends and family. Which is why many stores, salons and establishments hold exclusive VIP events for their most avid customers, showing them gratitude for their continued patronage. Going the extra mile by using personalized, die-cut passes gives your event that extra professional feel. Your guests leave feeling appreciated and catered to, plus you've given them a slick keepsake to show off to all their friends!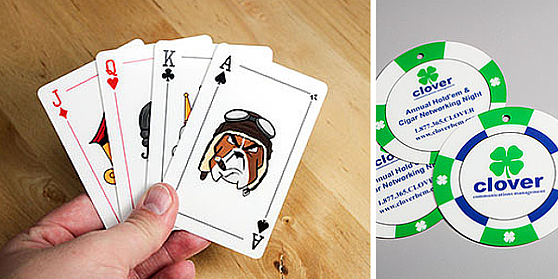 2. Poker Chip Key Tag – Networking Event:
Texas Hold 'em Networking Event? Bingo for Baseball Fundraiser? Adding some personal flair to a card game event gets invitees amped up to attend. Create tickets in the form of a playing card or poker chip as way to tie the theme of your event to the means of admittance; it lessens the probability of attendees losing their ticket and creates a professional ambiance for the occasion. You can also add a barcode to the back and scan the poker chip to keep track of attendendace or directly promote your business with a discount or coupon code.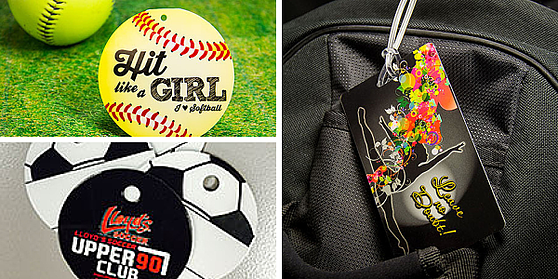 3. Bag Tags – Sports Equipment Bags:
What better way to keep your members than to give them a gift. Do you own an ice arena, dance studio, soccer club, health or fitness center or maybe even you are a coach or team captain? Give your members the gift of a bag tag. Pop a QR Code or barcode on the back and you can send them straight to your website, or even make it their membership card.
Whether it's a mascot, a symbol of the sport or an inside joke, customized sports bag tags are a fun way to distinguish your team from the competition. Your team will never have to worry about getting their bags lost at a tournament and the posterior name tag helps prevent accidental bag swapping at the end of the game.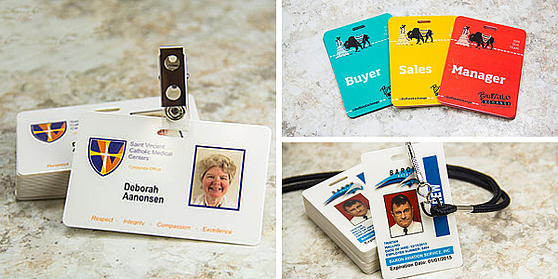 4. ID Badges – Employee/ Student:
Do away with drab, ordinary ID badges for your students or employees. Give them ID's that have some personality. Why not use some bold colors to distinguish different departments or grades? Got a fun logo or mascot? Fashion the ID cards in that shape for some added solidarity. How about creating a picture frame where their photo will go for some extra personality. Make contest for students or employees to develop their own design for the badges as an easy way to team build and get everyone involved.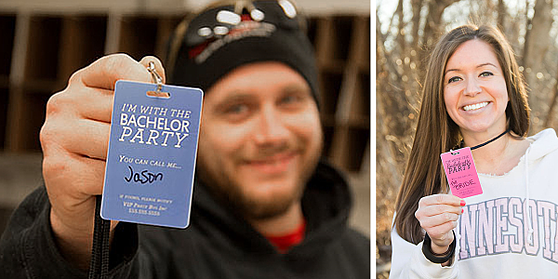 5. Bachelor/Bachelorette Party – Party Bus Company:
Bachelor and Bachelorette parties are notorious for a good time…. Sometimes too much of a good time, especially if you're in charge of reigning the fun in. Help your Party Bus goers find their way back should they get lost. Create a unique tag for your bus company with your name and number on one side and the ability to fill in their contact (or emergency contact) information on the other side. This will help ensure they find their way back if they stray.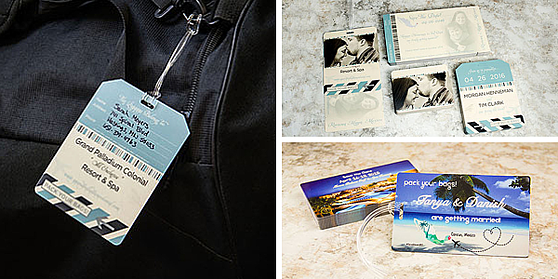 6. Destination Wedding Luggage Tag - Wedding/Event Planner:
Heading to the Caribbean for your big day, or are most guests coming in from out of town? Give them a reason to be just as excited as you for your destination wedding. Send them a unique 'Save the Date' and/or Invitation in the form of a luggage tag to prime them for the upcoming excursion. Get guests in vacation mode from the get go and they're sure to remember your big day with such an unprecedented invitation. They can even use the tag on their bags while they are traveling!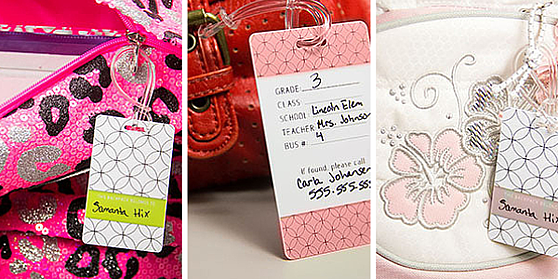 7. Backpack Tags – Schools:
Children are notorious for leaving their bags on the school bus, in the classroom, on the playground, and just about anywhere they venture. We've got the perfect solution! Welcome each student in your school or classroom at the start of the year with a customized tag for their backpack. You can even design a different tag for each grade, classroom or team to create some variety throughout the school. Lost bags can easily be retrieved with the name of the school clearly shown on the front and the child's information placed in the backside, transparent sleeve.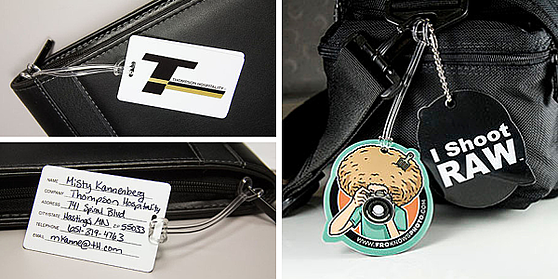 8. Equipment/Computer Bag/Laptop Bag - IT/Retail:
Whether you're a college selling lap tops at the Union or a business handing computers out to employees, supplying the user with a contact number for IT assitance is essential. Attach case tags with the company's logo/slogan and customer service line to every laptop bag to give customers an easy way to reach you should they have a question. Most people will want to keep identification somewhere on their laptop or computer bag in the event they leave it sitting somewhere; pre-attaching a company tag reminds people to fill out their contact information as well as reminding them to return to you for service.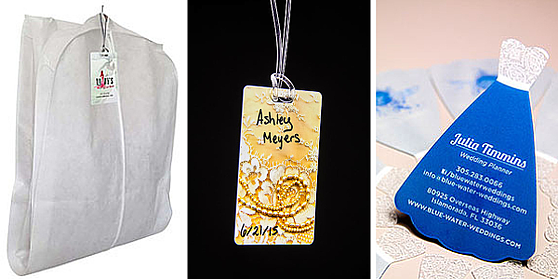 9. Gown Bags - Bridal Salon/Wedding Shoppe:
Fastening one of our die-cut tags to each one of your shop bridal and bridesmaid gown bags helps keep the bridal party organized and your customer's belongings clearly marked.
The backside sleeve provides the wedding party a simple way to secure their name to the dress without having to worry about adhesive falling off or the potential damage caused by safety pins. Giving your shop's tag a bright, engaging design will keeps you in the minds bridesmaids whom may be next in line to walk down the aisle.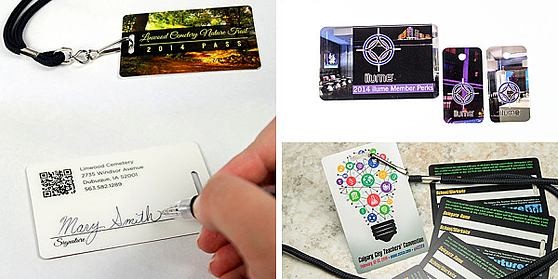 10. Association- Membership Passes:
Instead of using laminated paper cards for your membership cards, upgrade them to a more professional look. Using a customized tag, members can keep their membership cards handy by attaching it by lanyard around their neck or fastening to a bag or backpack. This can also reduce the number of cards getting lost, ensuring members will have their cards with them for every meeting. Not to mention that you can track attendance with the simple scan of a barcode printed on the back.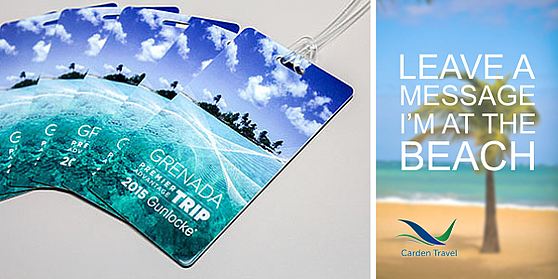 11. Luggage Tag – Travel Agent:
This one is kind of a no brainer, but we had to throw it in here! Creating an original, customized luggage tag for your clients not only reminds them of you throughout their entire vacation but helps them distinguish their luggage at baggage claim. Getting creative with an image or funny slogan gives your business personality and increases the likelihood of them calling you when they need help planning their next trip. Hand these babaies out at any trade show, event, wedding show or any other networking function to build awareness to your company.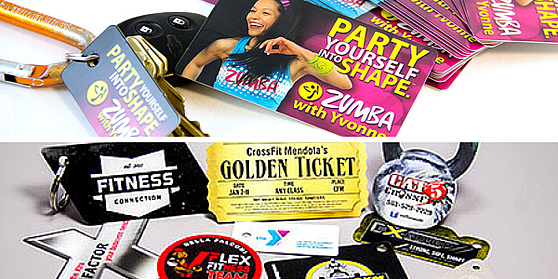 12. Gym Membership Cards- Fitness Center:
Give your members an easy way to access your Gym by creating unique key tags that attach right to their keyring, bag or purse. Shape the tags in the form of barbells, tennis shoes or even your logo to make them easy to find on messy keychains and they make for a great conversation starter among friends. Want to give your members the option of a standard card?
We have keytag/card combos to give users an option! This is a great way to have one on your keyring and another in your wallet or an even better option when the membership card allows for multiple member plan.
Now these are just a few of the ideas we came up with. We'd love to see what creative things you can create. The possibilities are endless, we can produce any shape or imagery that you can dream up and our design experts are always here to make your vision a reality.
Need more inspiration? Check out our easy to use, fully editable templates!