From food critics to your grandmother, everyone has a love for pizza! There's something about biting into a hot, cheesy slice that really gets your taste buds firing on all cylinders. Just thinking about it might make your mouth start to water. The power of pizza is astounding!
While we can all agree that pizza is amazing, there are disagreements about what kind is best. Some people swear by Chicago style deep dish while others favor Neapolitan. But here's the thing about pizza: all the variations are delicious! Each bringing unique sauces, meats, cheeses, vegetables, and cooking styles to the table. These divergent characteristics make trying different pizza restaurants fun and exciting. People get a collector's mentality, they want to try them all!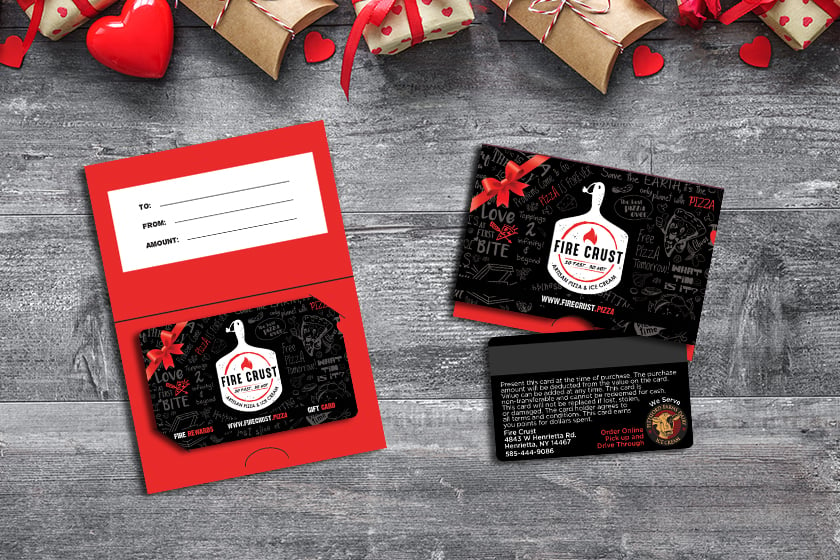 As a manager of a pizza restaurant, your goal is to capture the minds (and stomachs) of customers. In order to do this, you need to embrace the collector's attitude. Encourage your customer's to experience everything you have on your menu. Because if you don't, another pizza restaurant will. So how do you grab their attention? With a marketing tool, of course! And not just any restaurant marketing tool, but one that helps create loyal customers. A pizza rewards program is what's on the menu for today, and you and your customers are going to love it. Even big chains like Domino's and Pizza Hut use these programs. So let's take a look at how you can implement a pizza rewards program that's perfect for your restaurant.
Pizza Rewards
When you get a craving for pizza, where do you go? We all have that favorite pizza restaurant! Pizza has been and still is a popular food choice across the world. A third of consumers eat pizza once a week. Meaning, you have new customers coming in your doors every day. But how do you get them to come back?
Use an enticing pizza rewards program that encourages your customers to return. You can reward your customers with discounts, special coupons or free food. With pizza, earning reward points has never tasted so good! Keep in mind, that your rewards program should be attainable. If the price of the reward is too high, your customer's will be less likely to sign up.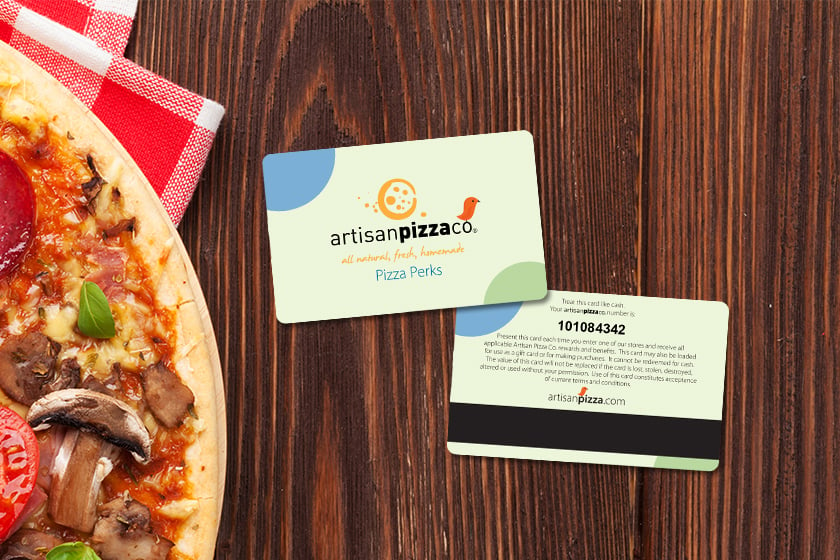 Why is it important to encourage customers to come back? Loyal customers are the foundation of any business. Repeat customers generate 3 times more revenue per visit. They are a key component in growing and expanding your pizza restaurant. Give them another reason to walk through your doors! Match your amazing customer service and delicious pizza with an interactive rewards program.
Another benefit of having a rewards program is the valuable data you get. Connect your program with your point of sale system to analyze your customers' spending habits. Allowing you to further personalize their visit and create a delicious pizza experience.
Rewards Cards
To launch your pizza rewards, you are going to need rewards cards. Designing your rewards card is fun because you are able to get your creative juices flowing! A rewards card can come in different shapes, sizes and features. The possibilities for your rewards card is endless! Regardless of the type of rewards card you get, the focus remains the same. To create an eye-catching tool that earns points and reminds your customers to visit again.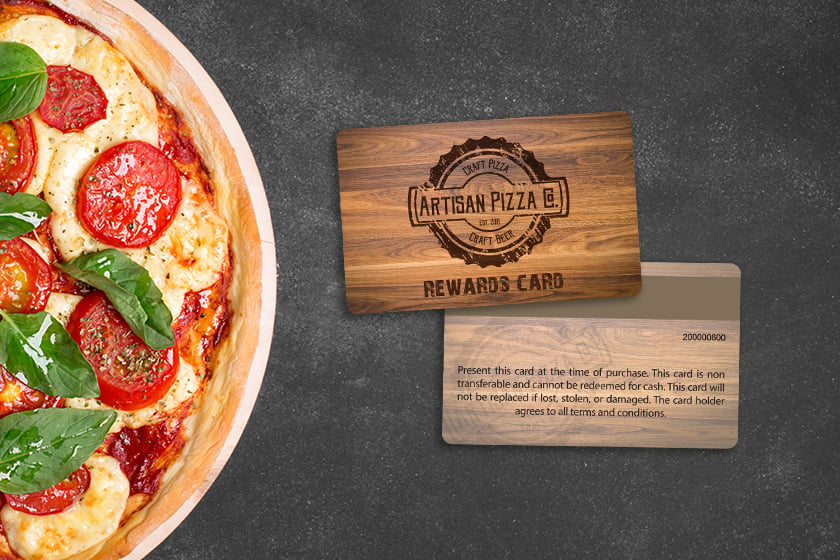 As previously mentioned, there are several different types of rewards cards. Some companies choose to use punch cards. Punch cards have specific icons that get a hole punched into them every time you participate. After so many punches, the customer receives their reward. Plus, punch cards do not need a POS system, so they are a simple solution for everyone. Another option is to use a barcode or magnetic stripe. This type of rewards card is scanned after purchase, so the points are stored on the POS system. No matter what style of rewards card you choose, these cards are all well equipped to get the job done.
Now that you know how your cards can work within your business, it's time to talk about design. You want to design a card that drives brand recognition and makes your customer's stomach want pizza. Add your logo, a picture of your food, or think outside the box and get creative. These cards are a representation of your pizza shop. With an amazing design, you can give your customers a little slice of your flavor. Reminding them of the delicious food waiting for them at your restaurant.
A Rewards Program for You
These are just a couple of tips for creating an appealing and mouthwatering rewards program. Just remember that you want to create a rewards program that is enticing to your customers. Whether that be earning points towards a free pizza or a completely new idea. If you have any questions on how to implement a rewards program at your restaurants, schedule a consultation and our experts will help guide you through the process.