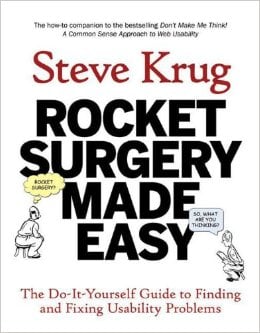 Selling gift cards to your customers might not be rocket science (or Rocket Surgery if you're a Steve Krug fan)...

But when you are running a small business you may not have time to devote to a detailed plan on how to sell more!

Over the past 18 years of printing them and talking to customers we have found that there are some secrets small businesses can adopt to easily increase their sales.
Consider Implementing A Few Of These Simple Gift Card Marketing Tricks
Use custom gift cards as marketing tactics to support your sales and introduce new products. Gain return customers from promotions offered on gift cards. Try offering rebates or addition percentages off products with used gift cards.

Plan gift card printing needs in advance. Market these cards in the weeks prior to the holidays and continue throughout the holiday season. Be aware that consumers put off purchasing gift cards until the last two weeks before the holidays or birthday.

Grow your brand and expand your products. Try something new. Gift cards can be used to drive trial products and turn these products into permanent items. Give special sale prices for customers who use gift cards.

Add gift card displays to the merchandise that is on sale. Always place gift cards next to promotion products. Put gift cards in a place where consumers can quickly grab them. The checkout counter is perfect.



Have an out of stock item? Offer gift cards in place of "rain checks." Consumer may hold the cards until the item comes in, or they may purchase something different. Studies show that gift card shoppers usually spend 40% more than the face value of the card.

Custom gifts cards, if used properly and marketed effectively, can get a passive audience to engage with your brand. Use your store logo on a gift card. Make it shout by using catchy colors and unique styles.

Advertise your gift card as a personal spending card. Even consider branding the gift card like a store credit card.

Emphasize the fact that your specific store gift card is an awesome budgeting tool. Consumers are still focusing on finances and bargains.

Combine your gift card with a reloadable option will help your gift card sales. Increase interest by appealing to customers with a card listed as a spending card rather than a gift card.

Make the cards user-friendly and incorporate a loyalty program.

Use specific messages on your gift cards. For example, "for your wedding," "for your birthday", or gift for Mom," or any other type of personal promotion to increase relevance and make them the perfect gift. (We can print several versions while maintaining your original quantity – Get a Quote Here)

Launch a promotion where customers purchase certain items, and they will receive a gift card for a comparable value.

Consider giving a free small face value gift card with the purchase of a gift card. Example: purchase a $50 gift card and get a $10 gift card for use in 30 days.

The Consumer Pulse Survey found that consumers purchase gift cards for basic needs like food and clothing. Associating your card with essential products that consumers cannot do without, will increase your cards appeal and directly impact sales.
Since 2008 plastic gift card sales have exploded and are past the $100 billion mark in 2014. People buy gift cards for a holiday, birthday, and wedding or "just because" gifts. Shoppers can choose from open loop and closed loop cards. Open loop cards are sold by financial institution and used at any business. Cards used only at specific stores are closed loop cards. Watch out for expiration dates and dormancy fees.