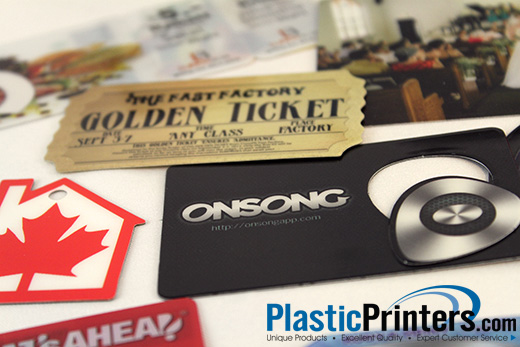 No, the use of the word "aggressive" here doesn't mean blanketing the city in business cards. There's more to aggressive business card design than to simply hand a card to everyone you see. This is actually an effective form of marketing.
By designing your business card around an alternative use, you get people to automatically refer back to it or take a second look. At Plastic Printers, we print a lot more than just business cards. Our designers can show you how:
Putting a card to a new use
An innovative design
Designing something other than a business card
These strategies and more can work for your business.
The "Other Than" Category
Businesses spend a lot of time talking about their cards. Sometimes, it's easy to forget that aggressive business card design can be put to good use in other promotional places.
One of the most popular alternatives is either loyalty programs or coupon campaigns. On the one hand, a customer continues to use the card in order to take advantage of the "buy 10 get one free" promotion. On the other, the card itself is the coupon. The catch is they have to use the coupon by the specified expiration date that's printed on it.
This qualifies as aggressive business card design because the cards have a built-in catalyst that drives home the call to action in a beneficial way, both to you and to the customer; they get the deal and you get customer retention and analytics.
If it's purely information you want, be upfront about it. Print card-sized surveys and hand them out to people with an added incentive thrown in: if they complete the survey, they get an exclusive discount or promotional gift. All this for answering a few quick questions. Attach your official business card to all of the incentives you hand out.
You can practice this strategy with any brand identifier you hand out, including:
Key tags
Name tags
Tickets to a promotional event
Greeting cards sent with promotional gifts
Remember to write a small personal note on all of your outgoing correspondence. This is well-received by customers and adds a personal touch to any promotional campaign.
Not just Form, but also Function
How do you guarantee that someone will reuse your card? Well, there are no guarantees, but it is possible to achieve that goal between 90 and 94 percent of the time; especially if you give your card a job to do.
Referral and appointment cards are extremely effective because they contain information the recipient needs to remember. Use double-sided printing so that you can put your contact information on the front of the card and the appointment or referral information on the back. This "business on the front purpose on the back" format works almost every time.
The right kind of aggressive business card design can have a big impact on your business. Our designers can help you make the most of this valuable tool all you have to do is either go online to www.plasticprinters.com or contact us to learn more.
Our company can help you reach new promotional heights this year.