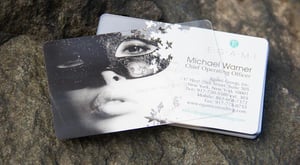 When you're making your new business cards there are a lot of things to think about... what kind of font you should use, what information you should include, what graphic or colors to use, and more. It can be overwhelming, but here are 7 great tips for making your business card stand out.
Have them professionally printed: There are too many people who print their business cards out on card stock and cut it out. Don't underestimate the driving power of a wobbly-cut card or cheap paper business card, it can push away customers faster than you can make those cards. Make sure your cards are printed with a professional company
Use thicker paper or different material: Let's face it; most people print their cards on the regular card stock to save money. But that's where you can use that fact to take advantage of your competition. Print your cards on thicker paper, or better yet on plastic. We even have varying levels of card stock thickness that you can choose from to get the perfect card!
Get a custom die-cut-card: A card that has a custom die cut can really turn some heads! Going the extra step to create a card that is as unique as your business really shows your customer that you are willing to go above and beyond for them! We have tons of die-cut cards to choose from on our website, or you can create your own custom cut die card!
Emboss or Foil Stamp it: The little extra touches and flourishes that you add to a card can really give it that extra oomph that will push it way above your competition. If you don't know what foil stamping is, we've got a great video that you can check out to see the difference! Foil stamping can really create a wonderful look for your card and add a touch of sophistication or cool factor!
Pop it out: Along with our die-cut cards, we offer many pop-out card options. One of our most popular one is a card that offers a pop-out guitar pick that really works! It's useful and practical so every time they use it they'll think of you! We also have many other free die-cut card templates including one that has collar pop-outs!
Round your corners: When you think of a standard business card, usually they do not include rounded corners... but with Plastic Printers you don't even need to worry about that -- all of our card stock has rounded corners that will create a classy look that will impress anyone!
Make it big, make it small: There is a standard size for business cards but why should you have to conform to that? We offer plenty of sizes and shapes for you to choose from so that you can make your card really stand out! Give yourself more real-estate to include more information or writeable-space. Whatever you do, if it's out of the norm people will take a second look!
Hopefully you've found some inspiration in these tips and you have some ideas to create an awesome business card bouncing around in your head. Whenever you're ready, Plastic Printers is here to help! We offer free consultations with our business card experts! Simply click the button to the right to get started!