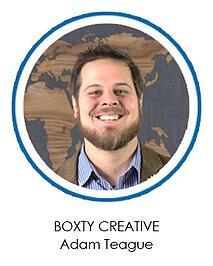 BOXTY CREATIVE is a design firm based out of Tulsa, Oklahoma. They help people who have unique products and successfully bring their products into the market by selling them online in an e-commerce environment. With tried and true methods that get projects past the concept stage they are certain to get your project through completion into the market quickly, afford-ably and effectively.
While working with clients that have truly unique items, BOXTY CREATIVE needed a business card that would not only hold true to their unique branding, but help their business make a distinct statement and stand out from the crowd.
After finding PlasticPrinters.com online, Adam with BOXTY CREATIVE, worked with their sales representative to create a unique business card that would work within their budget. They have received very positive reactions when handing out their new cards and the clear plastic cards have made quite a return on their initial investment.