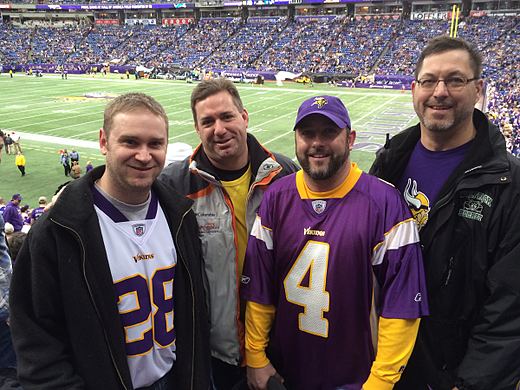 Some of the team here at Plastic Printers ventured out late last month to attend the last Vikings Football game to be held at the Minnesota Metrodome.
Pictured from the left, Scott (Team 2 Manager), Luke Lingle (Owner), Jeff (VP of Sales), and John (Sales Representative).
After years of debate, it was finally decided that Minnesota would have a new outdoor stadium for the Vikings Football team. The group of four from Plastic Printers went out on Sunday the 29th to experience the final game to be held in the metrodome.
"It's always nice to get together with your fellow employees and the owner outside of work and just have a great time!" Scott recalled.
The new stadium is going to be 1.75 million square feet with 65,400 seats and will have the capability of hosting a Super Bowl game, although it may be a bit chilly here for that!
When asked what Jeff remembered most about the game, he responded, "Game was good, very cool experience to be there for the last home game and last event at the dome before demolition. There was a lot of past players and coaches that were recognized and remembered throughout the game."
So long, Metrodome, and thanks for all the hot dogs!