Last year we debuted one of the PlasticPrinters.com drag race cars on our blog (PlasticPrinters.com in the Fast Lane) driven by Michael Kritzky. In the Kritzky family, racing is a family tradition with Don Kritzky, his son (Michael Kritzky) and granddaughter (Alexis Kritzky) all very accomplished drivers. With both Don and Michael working hard at PlasticPrinters.com, we are extremely honored to be a part of this racing family.
The weekend of August 16th, 2014 was the 33rd Annual Lucas Oil NHRA Nationals at Brainerd International Raceway with both Don Kritzky and Michael Kritzky fighting for the win. After qualifying, both racers were working their way to the finals until the race on Sunday, August 17th where Don Kritzky and Monte Green were up against each other. Green pulled into the lead right off the line, but it appears that he looked to Kritzky's lane right before he began to lose control and started fishtailing eventually beginning to roll. Don was almost out of the clear until a minor correction to avoid a collision with Green, in combination with the dew filled track, led him to lose control as well. With speeds nearing 190 mph, Don's car jolted into the barrier and began to unravel as his body was thrown from side to side in the cockpit of his dragster only stopping when his head would bounce off of the roll cage. After colliding with the wall, Kritzky's car continued back across both lanes and started to roll until finally stopping and bursting into flames.
The Safety Safari were able to dodge Green's nitrous bottle as it rocketed around the track and were quick to extinguish the flames that bellowed from Don's car. They were able to cut Kritzky out of his car after an agonizing 30 minutes and airlifted him to North Memorial Medical Center in Minneapolis, Minnesota where his wife was waiting for him. He won that race due to Green crossing the center line and had one more scheduled before he would have been racing against his son (Michael Kritzky) for the final title.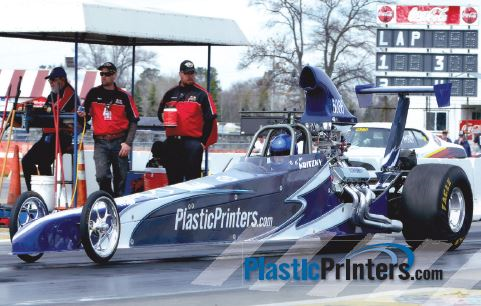 VIDEO: 180-mph double crash during Brainerd drag race
Don Kritzky on double crash in Brainerd
Green was treated and released at the scene. After just days in the hospital, Don returned home with a broken pelvis, fractured hip and broken leg. Many funds have been created to help the Kritzky family as their medical bills continue to come in.
#14 on CNN's "What a shot! 40 amazing sports photos"
Merchants Bank in Hastings, Minnesota has established a fund for donations as well as few other organizations. For further information, please visit the Don Kritzky Fund - Facebook Page or Don Kritzky Family - Go Fund Me
A benefit is in the works and we will have further information soon with details. If you would like to donate items to the silent auction, please send an email to Tabitha@PlasticPrinters.com or Shipping@PlasticPrinters.com