Another day, another giveaway! We are thrilled to brighten YOUR day by announcing that our 12 Days of Giving partner is The Happy Sol!
Women's Clothing Boutique
When you go shopping is your soul happy? That was the goal for Stacey Roberts and Gina Lieser when they created The Happy Sol. These two friends worked together for 5 years before they started on their journey to create a fashionable women's clothing boutique. They both were unhappy with the lack of choices for women in their area. So they took matters into their own hands!
While it was a revelation for them, this is a problem in so many areas. Just because you don't live in LA or New York shouldn't mean you can't buy something amazing. With so much emphasis on women's fashion and so many companies offering different styles, it should be simple to find something you like. But it isn't always the case!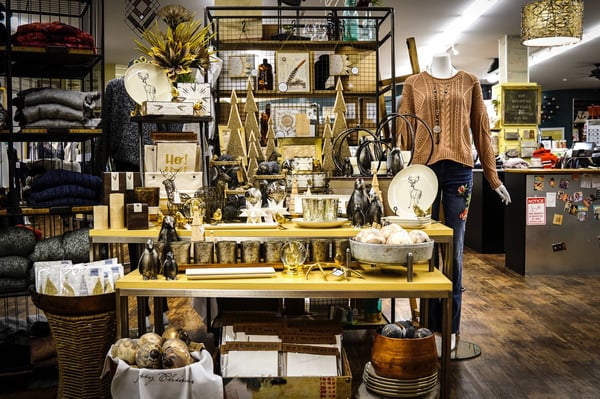 So with passion, determination and a lot of hard work, they created a solution to this problem. Stacey and Gina wanted The Happy Sol to be more than just a women's clothing boutique. So they focused on creating a great experience centered around putting their clients first. By specializing in top-notch customer service, fashion and quality they created a unique environment. Perfect for retail therapy that's good for the soul!
The Happy Sol offers a wide variety of products. Looking for a fun pair of jeans? They have them. A statement top? You bet. Spa gifts? Look no further. Even home décor items are offered! Their extensive assortment of clothing and gifts makes them the go-to shop for women of all ages in West Central Minnesota.
Men's Clothing Boutique
After running The Happy Sol for a few years, Stacey and Gina decided that the guys deserved some love too. So they created a men's clothing boutique called The Rugged Sun. This store is very similar to The Happy Sol, but it's tailored to fit the needs of men. With clothing for a variety of lifestyles, this men's clothing boutique has all the things a guy would want!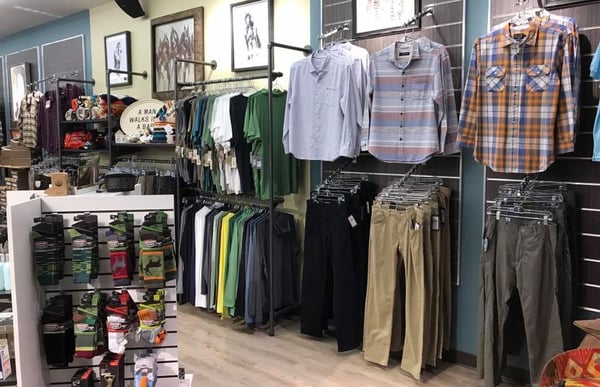 Running two different stores is no easy task, but Stacey and Gina have dedicated themselves to building amazing stores that have styles and gifts for everyone. And on top of all of that, they also run the online store for both businesses. So they can provide their products to people around the country. It's pretty amazing to hear about all the things that they do!
Cohesive Branding
The Happy Sol and The Rugged Sun have learned what so many new businesses might overlook. Branding your business is very important. And you want to make sure stand out! Stacy and Gina understand the concept of simple and elegant branding. They use company colors that catch your eye. And unify their branding across both platforms to help create a cohesive company brand!
That's why their gift cards are so unique! The Happy Sol didn't want a simple marketing tool. They were looking for a gift card design that would pop! A design that would allow them to use the gift cards for what they do best. Acquiring new business and hanging on to current clients.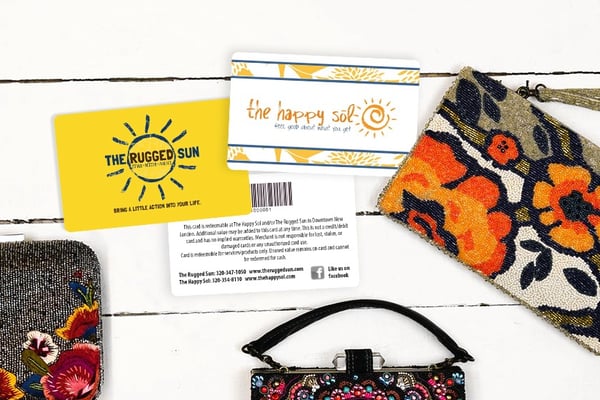 We have had the pleasure of working with The Happy Sol to design gift cards that personify their sunny business. We are so glad we got a chance to learn more about The Happy Sol and The Rugged Sun. For a chance to win today's giveaway, follow the instructions below.
Enter to Win:
Today's Prize: $25 Gift Card
To Win: Tag a friend, family member or co-worker that you think would love this prize! We will select a random winner from our participants on January 11th, 2019. We will reach out to you through the social media outlet that you contacted us through.
*See full rules for 12 Days of Giving here.