A new day, a new contest. We are having so much fun interacting with our followers and being able to give back to you with these fun prizes! Today, we are partnering with another amazing company called ESI Grips. If you're a fan of riding any kind of bike, this is the contest for you!
What is ESI Grips?
ESI (Extreme Steering, Inc.) was founded by Gary Stewart in 1999. With his background in aerospace engineering, it's clear Gary has a serious need for speed. Bikes were a passion of Gary's from a young age. Unicycles, bicycles, mountain bikes, dirt bikes and motorcycles. Gary rode them all. His passion lead him to even race motorcycles for several years and transition into racing mountain bikes. All his experiences eventually lead him to create ESI Grips, a family business founded to eliminate pain and discomfort while riding bikes. We can all agree, it's not fun to ride your bike while you are in pain.

So Gary decided to develop a couple products to create a better biking experience for everyone. His first product was for mountain bike enthusiasts. It's purpose? To cut high speed wobble and increase cornering stability on mountain bikes. Next, he wanted to eliminate the pain in his arms and hands that he had while riding his bike. A common problem for bikers everywhere. To reduce this issue, he created ESI MTB Grips.
Why Are They So Amazing?
What sets ESI grips apart from their competition? The material they use. Most grips get manufactured with rubber. ESI uses silicone which provides many benefits to the rider. A silicone grip gives the rider a better grip, so they can withstand a variety of terrain. Their design allows them to withstand extreme conditions so you won't have to keep buying a new product. Finally, the grips have a memory. This confused me too. What do they mean by a memory? It means that as you use them they become fitted to your hands. Amazing, right?
Creating a solution to one problem in the biking world led to searching for ways to solve others. Their product line began to expand to include motorcycles and dirt bikes. Today, they offer products ranging from their original MTB Grips to wraps, silicone tape and other accessories.
A Family Business
Gary and his wife, Maria, have been providing products for the bicycle industry for almost 20 years. Their family's passion and dedication for creating excellent bike products has made them a trusted business in the cycling industry. And they are not done growing yet! Gary and Maria moved their family to Arizona, so they could continue to work in the cycling industry. They have big dreams for this company and we are excited to see what they accomplish.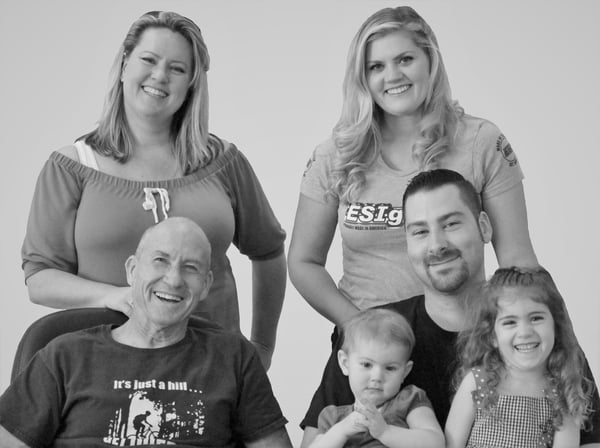 Their products have resonated with customers in a way that most do not. Just take a look at where you can find ESI products. You can buy them around the globe, they're found in 49 different countries!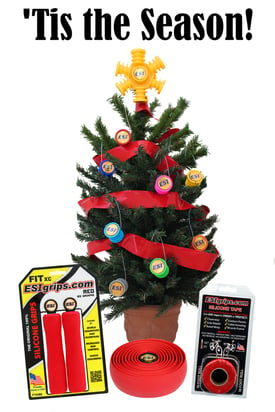 Prizes, Packaging and More
At Plastic Printers, we have had the pleasure of working with ESI for a very long time. We design and print their custom packaging for their bike grips. This marketing tool does A LOT more than just hold their product. It puts their innovative bike grips on display for their customers while accenting their branding!
Working with such an innovative company has been a lot of fun for us. We are very happy that we had the opportunity to learn more about their brand and partner with them for 12 Days of Giving. ESI has generously donated a gift bag full of their bike products for our competition. Find out how to win them below.
Enter to Win:
Today's Prize: Gift Pack of Bike Products. The Gift Pack will include: 1 Pair of Chunky Black Grips, 1 Black Silicone Tape, 1 Water Bottle and 1 Pair of Packaged Bar Plugs.
To Win: Browse their inventory and let us know what your favorite item is in the comments section. We will randomly select a winner from the comments on January 11th. We will reach out to you through the e-mail that you contacted us through.
*See full rules for the 12 Days of Giving here.